The new Model MX-1 propeller from Sharrow Marine is poised to shake up the boating industry.
By Gregg Mansfield
When it comes to picking a new propeller, boaters are often faced with having to make a sacrifice. A propeller that improves midrange performance may cost top-end speed or greatly affect the holeshot.
A "loop propeller" from Sharrow Propellers could change the way boaters look at one of the most important components on their boat. The Philadelphia, Pennsylvania company says the Model MX-1 propeller greatly improves performance and reduces noise and vibration.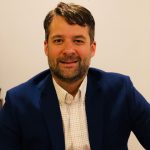 The design is the brainchild of Greg Sharrow, president and CEO of Sharrow Engineering, who spent seven years designing, testing and developing the patented technology. Sharrow didn't set out to design a propeller for the marine industry, instead he was developing a blade to quiet drones that are used in the entertainment industry.
Sharrow, who had worked as a producer and director in the video production industry, was serving as the chair of the audio-visual department at the Curtis Institute of Music in Philadelphia when he decided to focus full time on getting his propeller to a wider audience.
"It was during the show that I was directing for classical music that became the inspiration for the Sharrow Propller," he said. "It was for an idea that I came up with to develop a drone that was ultra-quiet I could use in the entertainment industry that I thought would also have purposes for government where noise is a critical factor."
It was during the design process, Sharrow said, that he realized it had applications well beyond drones. Initially the Model MX-1 was designed for large ships such as freighters and tankers but could be scaled for outboard engines from 100 to 450 horsepower.
"When we put it on those motors to test our theory of operation and scaling effects, we found out these work incredibly well for outboard props," he said. "And then we decided to hone in on some designs for those specific applications."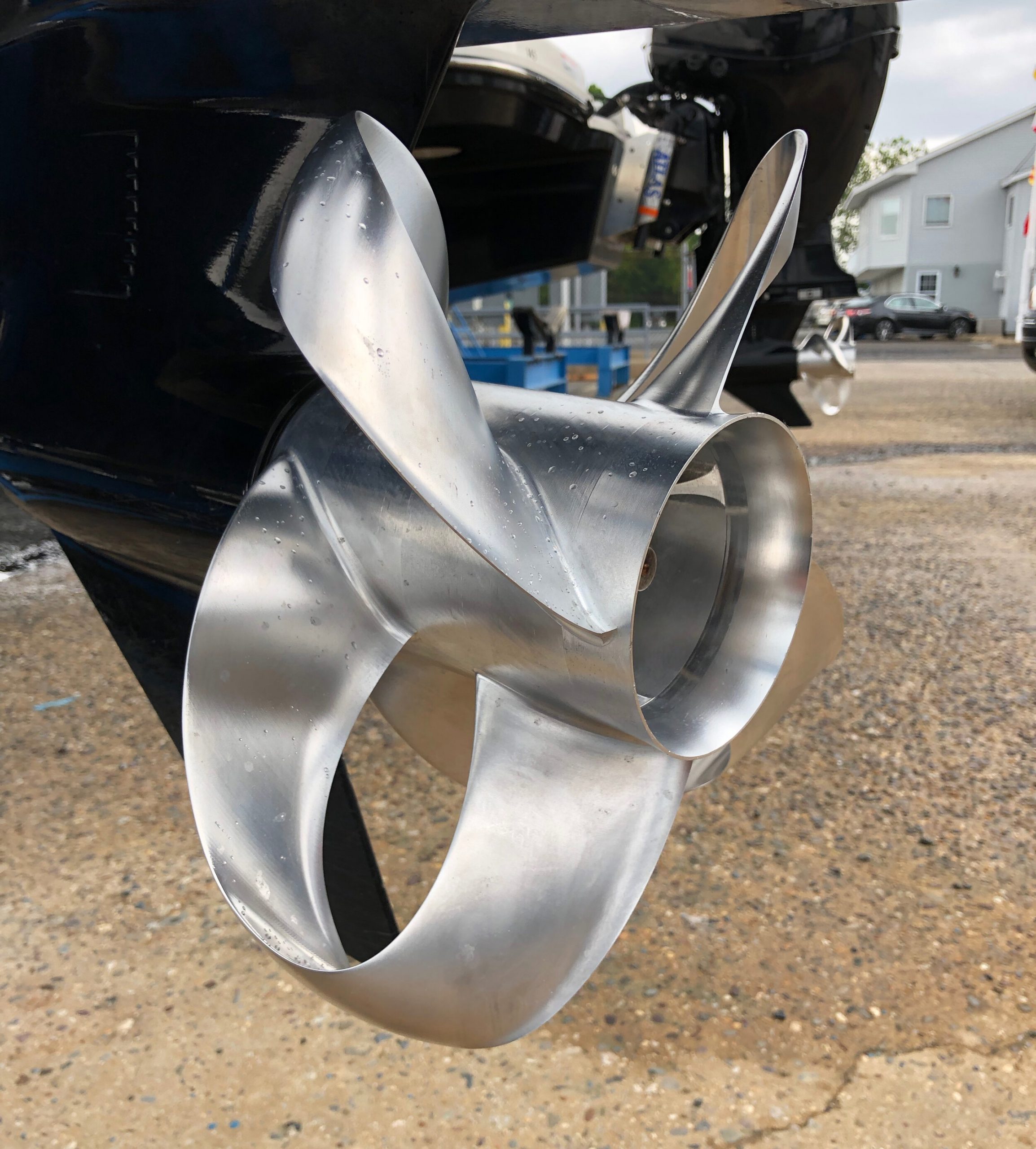 Pull the Sharrow Propeller from the box and it looks nothing like a traditional propeller. There are no blade tips, rather three loops that connect to a hub. Rather than a single connection point with a stock propeller, each loop has two connection points to the hub and provides far more surface area. Think of the Model MX-1 as a six-blade propeller with just three blades.
In testing, Sharrow said the Model MX-1 has 9 to 15 percent greater efficiency than traditional propeller designs. The propeller was reportedly 18 percent more efficient at cruising speeds, reducing fuel consumption. The other benefits include the boat getting on plane at a lower rpm and a higher top-end speed.
Sharrow said that boats have improved handling in turns and better overall maneuverability, especially at the docks. Because the propeller reduces vibration and noise, it creates less wear and tear on engines and the boat, he said.
"Those attributes on top of the efficiency gains make this a game changer, changing technology for the entire recreational industry, but particularly for that high-end boater who's interested in being an early first adopter," Sharrow said. "This is something that gives them that added edge that they can't find anywhere else."
The Model MX-1 propeller is made from a proprietary alloy but Sharrow wouldn't elaborate. "Our blade will be stronger than the blade you are replacing," he said.
The Model MX-1 series of propellers is custom made from a block casting or a solid piece of billet using CNC machines, so there is no stockpile of props sitting on a shelf in Philadelphia. The company has manufacturing agreements in the United States and internationally.
Sharrow said the propellers are machined to standards that are over 10 times the industry standard for blueprint accuracy. "We are making these as the order comes in, that's when we begin our manufacturing process for that particular propeller," he said.
When a customer calls to order a propeller, Sharrow said the company's engineers will ask them what is most important to them whether its top-end speed, greater midrange efficiency, holeshot or vibration. 
 "We take all that into consideration when sizing the Sparrow propeller for them, so it's the customer service that they get for the particular design," he said, later adding, "so you're getting a premium, high-end product that until now has never been available to the boating community."
Sharrow said it can take up to a couple of weeks to make a single Model MX-1 propeller, while traditional propellers are poured into a mold and then machined, which allows manufacturers to produce higher quantities. A Sharrow Propeller ordered in late January is expected to ship in May or June, according to the company.
A CNC-machined Model MX-1A aluminum three-blade propeller sells for $4,500 and the CNC-machined stainless steel Model MX-1S starts at $9,000. 
The company offers a 30-day satisfaction guarantee and will swap it for a new pitch propeller exchange it for a full refund. The Model MX-1 is covered by a one-year warranty against any manufacturing flaws or defects and 12 months of the Sharrow Care Protection Plans that covers replacement in the event of damage during normal operation use. An optional protection plan will provide coverage for an additional 36 months. 
Sharrow recognizes that some buyers might be reluctant to adopt new propeller technology since the design has been stagnant for nearly a century. No doubt today's propellers are better than those manufactured just a few years ago thanks to computer-aided design and superior metals but the design is essentially the same.
"Typically, when new technology is introduced in the market, business do face challenges getting people to adopt it," he said. "We have the exact opposite problem. The demand for our product is much higher than we can currently manufacture for. When I'm at the dock and I am swapping out my prop, people see if from a hundred feet away and they come up to me and they ask me questions about it and they say, 'I've never seen that before and I've been boating my entire life.'"
Sharrow founded the company in 2012 and it wasn't until last year the Model MX-1 was publicly announced because the patent process took so long. He said the company has more than 45 patents filed for the propeller.
"They say overnight successes are five years in the making," Sharrow said. "I guess we're seven years in the making."
Contact Information
Sharrow Marine,
www.sharrowmarine.com
 
  

best boat, Best boat buying website, best boat marina website, best boat travel website, best place to rent a boat, boat accessories, boat angler, boat boondocking, boat buyers guide, boat camper, boat camping, boat dealers, boat DIY, boat Fishing, boat Fixer, boat Home, boat information, boat insurance, Boat Maintenance, boat marinas, boat marinas in Alberta, boat marinas in BC, boat marinas in Canada, boat marinas in Manitoba, boat marinas in Saskatchewan, boat marinas in the USA, boat marinas near me, boat products, boat rentals, boat repair, boat road test, boat sharing, boat sites near me, boat supplies, boat Tech, boat tips, boat touring, boat trade, boat Travel, boat traveling, boat travelling, boat vacation, boat vacation cost, boat websites Canada, boating Canada, Boating Canada's Boat Lifestyle Magazine, Boating Lifestyle Magazine, boating website, Canadian marina websites, expert boat information, find a boat dealer, how much does a boat cost, how much does marina cost, how to choose a boat, how to drive a boat, innovation, marina products, marina supplies, motor boat, power boating magazine, propellers, sharrow marine, top boat website, used boat reviews best boat, Best boat buying website, best boat marina website, best boat travel website, best place to rent a boat, boat accessories, boat angler, boat boondocking, boat buyers guide, boat camper, boat camping, boat dealers, boat DIY, boat Fishing, boat Fixer, boat Home, boat information, boat insurance, Boat Maintenance, boat marinas, boat marinas in Alberta, boat marinas in BC, boat marinas in Canada, boat marinas in Manitoba, boat marinas in Saskatchewan, boat marinas in the USA, boat marinas near me, boat products, boat rentals, boat repair, boat road test, boat sharing, boat sites near me, boat supplies, boat Tech, boat tips, boat touring, boat trade, boat Travel, boat traveling, boat travelling, boat vacation, boat vacation cost, boat websites Canada, boating Canada, Boating Canada's Boat Lifestyle Magazine, Boating Lifestyle Magazine, boating website, Canadian marina websites, expert boat information, find a boat dealer, how much does a boat cost, how much does marina cost, how to choose a boat, how to drive a boat, innovation, marina products, marina supplies, motor boat, power boating magazine, propellers, sharrow marine, top boat website, used boat reviews