Prevent problems instead of fixing them.
One of the most neglected parts on a boat is the sterndrive and transom assembly. Usually, it's ignored until there's a major problem. The first time many boat owners have their drives serviced is when an underwater collision with an immobile object (which is often unpreventable) occurs!
Preventative care and maintenance – as listed in your owner's manual – for your sterndrive won't prevent accidents, but it is still very critical and may reduce unnecessary expense and downtime in our short boating season.
You should follow the manufacturer's recommended maintenance schedule, remembering that the intervals should be shortened for high-performance or commercial applications. Most manufacturers recommend the removal of the drive at least once a season to inspect for wear and tear of the engine couplers and related bearings in the transom assembly.
This is the time to check engine alignment to the assembly – misalignment will cause premature wear of the engine coupler and possibly the input shaft spline. Your local marina will have the proper alignment bar to do this check.
Servicing the gimbal ring and transom assembly is done by retorquing the steering and hinge pins. Make sure the servicing dealer inspects all bellows, U-joints and splines; lubricates all grease points; and replaces any worn parts.
A good indicator of a loosened hinge pin is the failure of the trim limit or trim sending system on your boat. If you notice drastic fluctuations in either of these electric systems, have your local dealer check this out and do necessary repairs.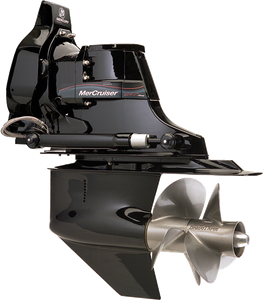 Preventative care may reduce expense and downtime.

The appearance of your drive is more than a vanity issue. Since the drive is immersed in water at all times, the paint finish is crucial to fighting corrosion. Any nicks and scratches on the drive should be touched up using factory-approved primers and paints. This will ensure corrosion is kept at bay. (The drive can still be refinished even if it becomes badly corroded.)

Although this is expensive, it's important to protect the bare aluminum case from the elements in the water. Paint manufacturers have in recent years developed superior primers and topcoats that will adhere to the aluminum under water, and fully protect the drive while it's immersed.

Oil changes, as recommended by the manufacturer, are done annually; more often in high-performance and commercial applications. The draining of the oil is the key to determining the condition of the internal rotating parts of the drive. Milky oil indicates water is leaking into the drive. A simple pressure or vacuum test that can be done by your local dealer will indicate where the leak is coming from.

Your dealer also will be able to help you out with the repairs. Seals that leak always should be repaired immediately – water is death to the gears and bearings inside the drive. Blackened or burnt oil indicates a failing or failed bearing. 

Metallic fragments found on the drain plug magnets indicate a more severe problem with the drive, usually a failed gear. These problems should be addressed immediately and fixed only by factory-trained technicians, with the proper specialty tools required for your particular application.

When a collision has occurred, your boat should be removed from the water immediately and the damage assessed. If the propeller is damaged, you should pay careful attention to the condition of the propeller shaft. 

The propeller shaft and splines should be checked for straightness and collected as required; the propeller also can and should be repaired at this time. A bent or improperly repaired propeller will run out of balance; this will cause a vibration and could damage the shaft and shaft seals.

Skeg damage can be repaired by welding on a new piece. Parts for skeg repairs come in different sizes, depending on how much has been removed during the collision. Although the propeller) will give you forward thrust, and the sterndrive allows you to steer, a shortened or missing skeg will greatly impair handling of the boat.

Nose cones, when properly installed, are quite an effective way to help the hydrodynamics of the stern-drive. They are available for most sterndrives and outboard gearcases. Some models of nose cones have a built-in, low-water pick up. 

This is especially helpful in high-performance applications, where trimming the engine higher than the factory water pickups is essential for the higher speeds attained. Shower caps, when used in high performance, applications, will direct water to the upper part of the drive shaft housing to help cool the upper bearings.

Follow these preventative maintenance suggestions, and you should have many years of trouble-free boating! 

best boat, Best boat buying website, best boat marina website, best boat travel website, best place to rent a boat, boat, boat accessories, boat angler, boat boondocking, boat buyers guide, boat camper, boat camping, boat dealers, boat DIY, boat Fishing, boat Fixer, boat Home, boat information, boat insurance, Boat Maintenance, boat marinas, boat marinas in Alberta, boat marinas in BC, boat marinas in Canada, boat marinas in Manitoba, boat marinas in Saskatchewan, boat marinas in the USA, boat marinas near me, boat products, boat rentals, boat repair, boat road test, boat sharing, boat sites near me, boat supplies, boat Tech, boat tips, boat touring, boat trade, boat Travel, boat traveling, boat travelling, boat vacation, boat vacation cost, boat websites Canada, Boating, boating Canada, Boating Canada's Boat Lifestyle Magazine, boating how to, Boating Lifestyle Magazine, boating on Canada, boating tips, boating website, Canadian marina websites, expert boat information, find a boat dealer, how much does a boat cost, how much does marina cost, how to choose a boat, how to drive a boat, marina products, marina supplies, marine power, motor boat, power boating magazine, servicing you marine engines, servicing your boat, sterndrive, top boat website, used boat reviews best boat, Best boat buying website, best boat marina website, best boat travel website, best place to rent a boat, boat, boat accessories, boat angler, boat boondocking, boat buyers guide, boat camper, boat camping, boat dealers, boat DIY, boat Fishing, boat Fixer, boat Home, boat information, boat insurance, Boat Maintenance, boat marinas, boat marinas in Alberta, boat marinas in BC, boat marinas in Canada, boat marinas in Manitoba, boat marinas in Saskatchewan, boat marinas in the USA, boat marinas near me, boat products, boat rentals, boat repair, boat road test, boat sharing, boat sites near me, boat supplies, boat Tech, boat tips, boat touring, boat trade, boat Travel, boat traveling, boat travelling, boat vacation, boat vacation cost, boat websites Canada, Boating, boating Canada, Boating Canada's Boat Lifestyle Magazine, boating how to, Boating Lifestyle Magazine, boating on Canada, boating tips, boating website, Canadian marina websites, expert boat information, find a boat dealer, how much does a boat cost, how much does marina cost, how to choose a boat, how to drive a boat, marina products, marina supplies, marine power, motor boat, power boating magazine, servicing you marine engines, servicing your boat, sterndrive, top boat website, used boat reviews