Power Boating Canada recently had the incredible opportunity to visit the factory where Sunseeker Boats are made in Poole, England.
PBC's Todd Taylor said "After our extensive visit with the Sunseeker team at both the Fort Lauderdale and Toronto Boat shows, and then again in Miami seeing Sunseeker's new models, we received a phone call to our office with an invite to the factory of Sunseeker Boats International. Of course we were excited to go Poole, England and see the factory."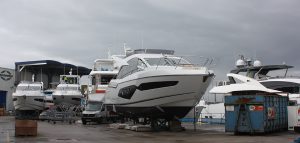 Plans were made, flights were booked and a few weeks later Todd arrived in London.  "When I first arrived, I couldn't believe they had over 2,000 people working for Sunseeker – all of them highly skilled designers, engineers and master craftsmen, plus an incredible office support staff."
Sunseeker Boats International builds yachts from 52 to 155 feet in length that are sold all over the globe.  The company started back in 1969, in the English seaside town of Poole, when Robert Braithwaite fired up not only the engine of a 17-foot Hostess but also an entirely new way of building boats.  His dream was to use revolutionary materials and cutting edge technology to create modern designs for select buyers.  Almost 50 years later, it's an incredible success story of a dream come true.
Sunseeker Boats are now available in Canada through the Executive Yachts team.  It was Executive Yachts' owner Derek Mader who set up the invitation with the company's marketing Manager Steven Leeson.  Of our plant tour Steve said: "We happy to be involved in Canadian marketplace with Executive yachts and look forward to providing discriminating Canadian's with our yachts and the experiences they afford our customers.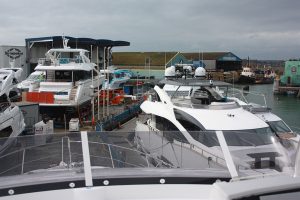 Taylor continued: "As we toured the city, I noticed signs everywhere about Sunseeker.  'This is Sunseeker country' as the locals put it in their neck of the woods. The city is full of proud workers and it shows.  Our tour took us through several of the company's plants, where I got to observe firsthand the build process from the lamination areas through each stage of the build to final completion. It was all very well laid out and interesting to see how these beautiful boats came together."
Executive Yachts will have a new Sunseeker 52' Manhatten in Canada this summer.  This new design is defined by space and socializing grace.  To learn more about Sunseeker Boats or the 52' Manhatten visit www.executiveyachtcanada.ca

best boat, Best boat buying website, best boat marina website, best boat travel website, best place to rent a boat, boat accessories, boat angler, boat boondocking, boat buyers guide, boat camper, boat camping, boat dealers, boat DIY, boat Fishing, boat Fixer, boat Home, boat information, boat insurance, Boat Maintenance, boat marinas, boat marinas in Alberta, boat marinas in BC, boat marinas in Canada, boat marinas in Manitoba, boat marinas in Saskatchewan, boat marinas in the USA, boat marinas near me, boat products, boat rentals, boat repair, boat road test, boat sharing, boat sites near me, boat supplies, boat Tech, boat tips, boat touring, boat trade, boat Travel, boat traveling, boat travelling, boat vacation, boat vacation cost, boat websites Canada, boating Canada, Boating Canada's Boat Lifestyle Magazine, Boating Lifestyle Magazine, boating website, Canadian marina websites, Executive Yacht, expert boat information, find a boat dealer, how much does a boat cost, how much does marina cost, how to choose a boat, how to drive a boat, marina products, marina supplies, motor boat, power boating, Power Boating Canada, power boating magazine, Sunseeker, top boat website, used boat reviews, Yacht, Yachting best boat, Best boat buying website, best boat marina website, best boat travel website, best place to rent a boat, boat accessories, boat angler, boat boondocking, boat buyers guide, boat camper, boat camping, boat dealers, boat DIY, boat Fishing, boat Fixer, boat Home, boat information, boat insurance, Boat Maintenance, boat marinas, boat marinas in Alberta, boat marinas in BC, boat marinas in Canada, boat marinas in Manitoba, boat marinas in Saskatchewan, boat marinas in the USA, boat marinas near me, boat products, boat rentals, boat repair, boat road test, boat sharing, boat sites near me, boat supplies, boat Tech, boat tips, boat touring, boat trade, boat Travel, boat traveling, boat travelling, boat vacation, boat vacation cost, boat websites Canada, boating Canada, Boating Canada's Boat Lifestyle Magazine, Boating Lifestyle Magazine, boating website, Canadian marina websites, Executive Yacht, expert boat information, find a boat dealer, how much does a boat cost, how much does marina cost, how to choose a boat, how to drive a boat, marina products, marina supplies, motor boat, power boating, Power Boating Canada, power boating magazine, Sunseeker, top boat website, used boat reviews, Yacht, Yachting