By Craig Ritchie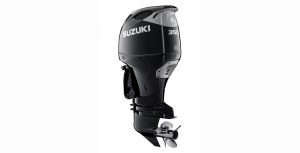 Boat builders and boating media from around the world were on hand in Boca Raton, Florida, last week as Suzuki Marine revealed "the ultimate four-stroke outboard" in the form of it's all-new DF350A four-stroke V6.
The 4.4L V6 four-stroke is the largest, most powerful outboard Suzuki has built yet. In development for more than three years, it represents a significant milestone in both engineering and design with its high 12.0:1 compression ratio and contra-rotating, three-blade propellers. "We have put a lot of work into this new outboard and we cannot wait to see how the market responds," said Yasuharu Osawa, Suzuki's executive general manager, global marine and power products operation. "We have watched with great interest as boats have gotten bigger, especially the center console market. Not only that, but we've seen an increasing preference for outboards on all kinds of boats that used to be exclusively stern drive or inboard. The time is ripe for this new outboard, and we think you're going to love it."
The new Suzuki DF350A boasts an extensive rage of new technology, including a revised air intake system that allows the engine to draw in ample fresh air while separating out water, spray and moisture; the use of two smaller fuel injectors for precise injection of fuel to the center of the combustion chamber to avoid off-centre combustion and knocking; advanced piston technology; and dual propellers that provide greater grip while retailing a streamlined gear case for no loss of speed or stability.
"While these new engines feature a lot of new and innovative technology, they also take advantage of Suzuki's proven systems," added Mr. Osawa. "We wouldn't call them The ultimate four-stroke outboards without building in superior reliability and dependability over the long haul."
The low-emission Suzuki DF350A is CARB 3-rated. Available in a choice of black or white finishes, it runs on standard 90-octane fuel and is fully NMEA 2000-compliant.
"Our Suzuki 300s in single or multiple engine configurations are already powering boats up to 45 feet. What the 350 does is give us an option for recreational and commercial boaters to go faster and farther offshore," says Dave Ingram, assistant manager, marine products for Suzuki Canada. "Our Canadian boat builders are looking at this as an opportunity to open up their market with bigger power. Further, the ease of repowering with the DF350A allows our dealers the opportunity to help their customers upgrade their existing engines and enjoy even greater performance."
Ingram notes that the 350s are expected to arrive in Canada in late August or early September.
Look for a full report on the all-new Suzuki DF350A in a coming issue of Power Boating Canada magazine.
best boat, Best boat buying website, best boat marina website, best boat travel website, best place to rent a boat, boat accessories, boat angler, boat boondocking, boat buyers guide, boat camper, boat camping, boat dealers, boat DIY, boat Fishing, boat Fixer, boat Home, boat information, boat insurance, Boat Maintenance, boat marinas, boat marinas in Alberta, boat marinas in BC, boat marinas in Canada, boat marinas in Manitoba, boat marinas in Saskatchewan, boat marinas in the USA, boat marinas near me, boat products, boat rentals, boat repair, boat road test, boat sharing, boat sites near me, boat supplies, boat Tech, boat tips, boat touring, boat trade, boat Travel, boat traveling, boat travelling, boat vacation, boat vacation cost, boat websites Canada, boating Canada, Boating Canada's Boat Lifestyle Magazine, Boating Lifestyle Magazine, boating website, Canadian marina websites, DF350A, engine review, expert boat information, find a boat dealer, how much does a boat cost, how much does marina cost, how to choose a boat, how to drive a boat, marina products, marina supplies, motor boat, outboard, power boating, power boating magazine, suzuki marine, top boat website, used boat reviews