The following story comes from Steve Arstad of iNFOnews. We credit them with this piece.
More public consultation is the next step for the City of Penticton as work continues on future upgrades for the east portion of Skaha Lake Park.
Three draft concepts were presented to Penticton city council at the regular meeting, Sept.15, as staff sought approval to move ahead with a round of public consultations.
Developed by staff and consultants Fiona Martin Outland Design, each concept came with a range of options and preliminary costing, with council's main concerns coming from a perceived diminishment of facilities for motorized watercraft in the concept options.
Concept A focuses on the balance of uses as permitted today, with protection of all existing green space, improvements in the walkway system, greening of the parking lot and renewal of the spray park, at an estimated cost of $2,822,662.
Concept B, with an estimated cost of $2,149,990, focuses on non-motorized boating, with transition to  day-use motorized boating by eliminating overnight motorized boat parking.
Trail systems would also be enhanced in concept B, along with renewal of the spray park, and a new and expanded boathouse. Marina docks would be largely decommissioned and part of the paved area around the marina returned to green space. The marina building could be retained under the concept and utilized as a cafe or paddle board/kayak rental
Concept C, which comes with a $2,062,694 price tag, would place more emphasis on non-motorized boating, at the same time supporting a multi-use function for the park.
All green space would be protected and expanded with improvements to the walkway system, greening of the parking lot, and renewal of the spray park. The boat launch and boat trailer parking would be retained for motorized boat use but the marina building and surrounding area would be converted and expanded for paddling uses. Existing marina docks would be largely decommissioned, the paddling boathouse demolished and returned to green space.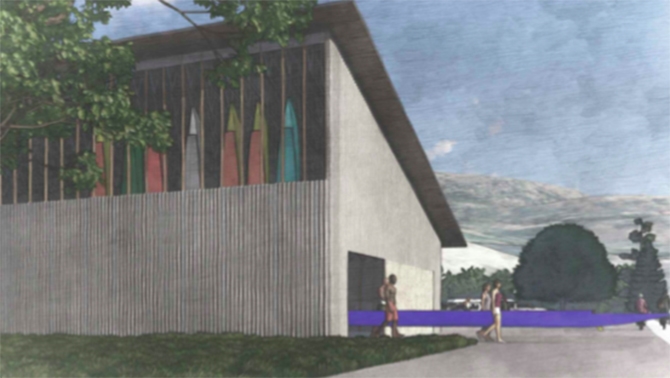 Public works manager Len Robson told council the public will not be expected to pick any of the three concept options, rather they will be able to pick and choose components of each. Staff will take the results and put them together in a single plan.
Robson said the spray park is part of the City's five-year plan and is already in the budget at a cost of $450,000.
The remaining improvements would cost the average residential property an additional $16 per year, $79 for commercial properties.
The east Skaha Lake Park plan is currently moving into phase three of a six phase process, with public engagement the next step.
Council questions centred around facilities for motorized watercraft, with Coun. Judy Sentes and Mayor John Vassilaki concerned the concepts did not include adequate facilities for motorboats.
"I'm curious to hear what the community is going to say about this concept of excluding motorized boats," Sentes said.
The Mayor called Skaha Lake a "sports lake" that was useful to small boat owners.
"Okanagan Lake is too rough most days for small boats, but there's lots of room in Skaha Lake, saying excluding motorized boats "wasn't realistic."
Boating, British Columbia, marina, Skaha Park