A true marque of excellence customized to your desires 
By Brad Roberts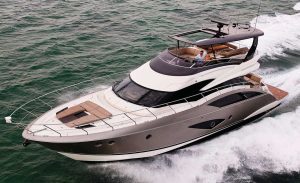 We met Executive Yacht Canada's Scott Dennis down at the Bronte Outer Harbour Marina mid-morning. Our quest that foggy-rainy September day was an on-water test of the Marquis Yachts 660 Sport Yacht moored behind the harbour's secure gates, just inside the breakwall.
Scott welcomed us warmly, and as we walked out to the yacht, he began to orientate us about what to expect. "She's sixtysix feet long, powered by twin Volvo IPS 950's, and the owners had her customized to their specifications because they have two young children and they also love to do on-board entertaining of their clients. They went right down to the factory in Pulaski, Wisconsin and chose the flooring, the carpets, the countertops were even flown in for this boat." As he went on, my mind started to wander – to dream really – about what it would be like for this family to spend time out on Lake Ontario cruising with their young kids with every possible amenity available to them. What it would be like to invite a client down to join you on your boat – no, your yacht – for the evening and to close a deal, perhaps under the stars, before returning to your slip.

The 660 Sport Yacht was moored proudly at the end of the pier: sixty-six feet of design magnificence. She was indeed breathtaking. The very distinctive profile features a relatively flat foredeck and a unique arched sidewalk that sweeps first up and then down to the extended hydraulic swim platform in a single continuous curve. The upper flybridge is integral to the raked windshield design – not an add-on afterthought like on some bridge yachts – and ends with an aft eyebrow that almost looks like a spoiler giving the 660 a true sporty look.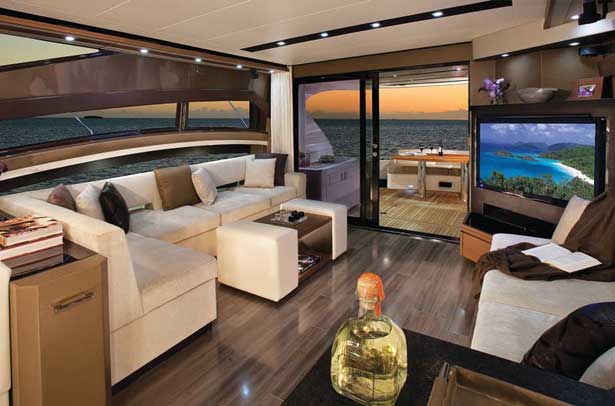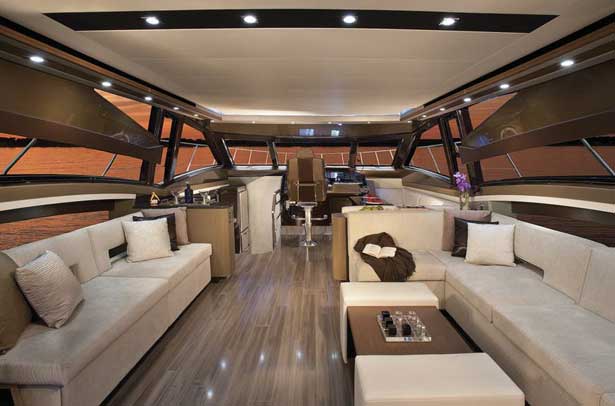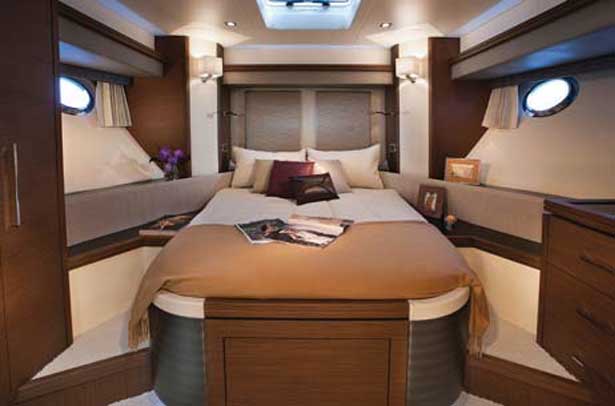 Climbing aboard the platform, as Scott untied the lines, I started taking notes. The flip-up door to the optional crew quarters, is flanked by twin staircases port and starboard which lead up to an aft cockpit that is truly large enough to entertain outside. Think of the maître-d saying "Your waterview table is ready sir," and you've got the idea. There's a aft bench seat between the staircases and removable folding captain's chairs around a beautifully varnished wooden table that would seat up to 8 comfortably. The outdoor grill and entertainment centre to starboard means the chef isn't removed at all from the pre-dinner conversation.
Scott came aft, fliped open a small trap door to reveal the Volvo joystick control and proceeded to sit on the starboard gunwale and pilot us out from the dock, before he envoked the GPS to hold us in position, secured the fenders, and took the inside helm to guide us through the breakwall opening and out into Lake Ontario. The entire process was effortless, smooth and frankly a brilliant design. It makes the process of one-handing this boat truly effortless.
I stepped inside the cabin, through a massive sliding glass door, embossed with Executive Yachts logo. I thought what a great place to put your family emblem and truly customize your yacht. The cabin is finished in dark wide plank flooring, white leatherette walls and ceiling with overhead pot lights, and dark brown leather wraps on the chrome handles. The mains deck layout offers a salon aft and a galley forward design – all on one level which is great for kids. The helm is amidships between the port side galley (featuring stainless appliances, a drawer-style separate fridge and freezer) and the large starboard side dinette. The salon features a beautiful l-shaped sofa opposite a double sofa that converts to a twin bed and a large flat screen TV, behind which is the main electrical control panel.
Our test yacht had the optional "galleyup" design, which afforded two things: everyone on the same level for both conversation and little-kids safety, and an extra stateroom down below. (The "galley-down" design eliminates the fourth stateroom.) As I headed below, the stacked washer and dryer to port were a nice touch behind a door on the stairwell landing. The master-stateroom lies below the salon, and the full beam layout features an island queen bed with both a walk in closet and a beautiful master bath behind the headboard. To starboard there's a writing desk, storage drawers and a flat screen TV, and to port there's a full sofa with more storage drawers. Large windows on both sides feature opening portholes. You'd easily forget your down below.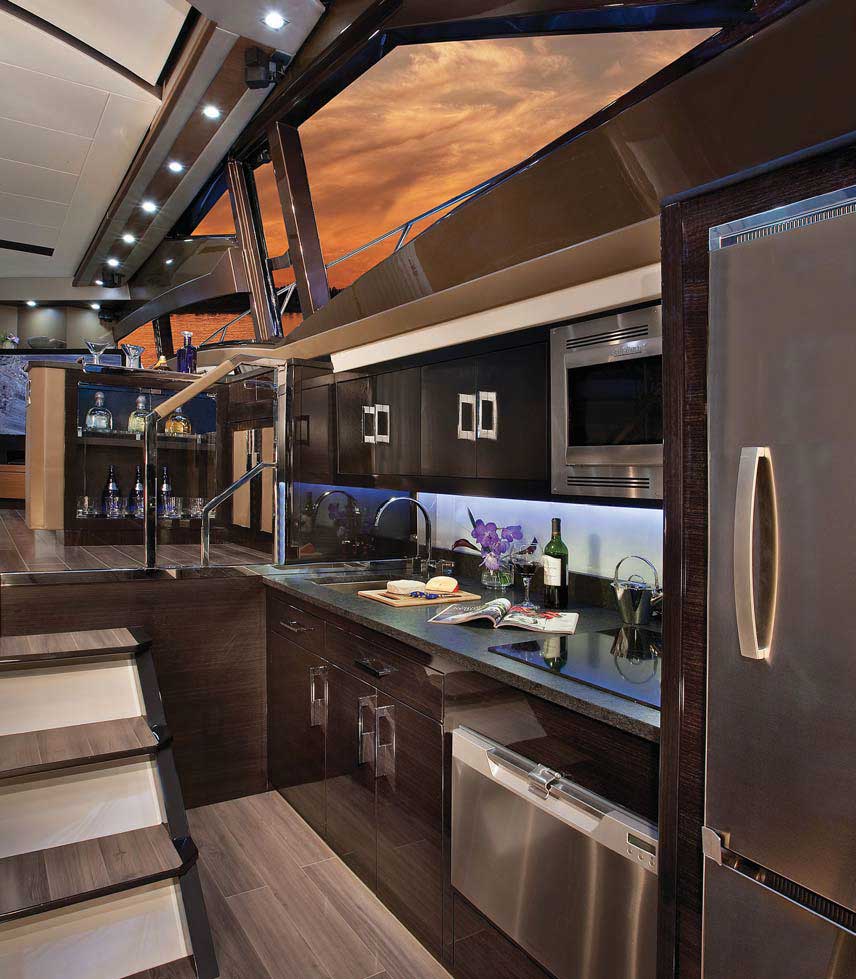 The narrow hallway design maximizes space in the staterooms: a twin bunk-bed room under the galley to port, and a twin single bed that convert to a king to starboard under the dinette above. The day head is forward and features a full separate shower.
The forward v-berth VIP stateroom features an island queen bed, lots of light from the portholes and overhead hatch, and its own private head with separate shower. Optional crew quarters are far aft in the lazarette.
Having gone through the entire boat, it was now time to put the 660 though my test protocol and get some performance numbers. The view from the single helm seat is impressively wonderful both seated, and up on the bolster. The Volvo IPS powered up with a familiar feel and took the 660 easily onto plane. In yachts of this size – some 70,000 plus pounds – you don't really measure a traditional hole shot time. I recorded a top speed of 30.2 knots at 2380 rpms consuming 86 gallons per hour of fuel. Our best and most comfortable feeling cruising speed, for this nearly flat calm day with no winds and 33% fuel load, was 20.2 knots at 1900 rpms using 55 gallons per hour.
Next, it was time to explore the flybridge. Up the port-side stairs from the aft cockpit, through a hatch, I discovered a large u-shaped sofa to starboard, and a second small u-shaped sofa forward opposite the port-side double helm seat. From here, hard over in the turns, the 660 feels like a massive bowrider with the power to thrill! This was my favourite seat in the entire boat!
As we headed back to the marina, my notes read that every detail of this yacht displayed a 'marque of excellence' that left nothing to question, nothing to chance and nothing to still desire. It was all there with a fit-and-finish that is near perfection.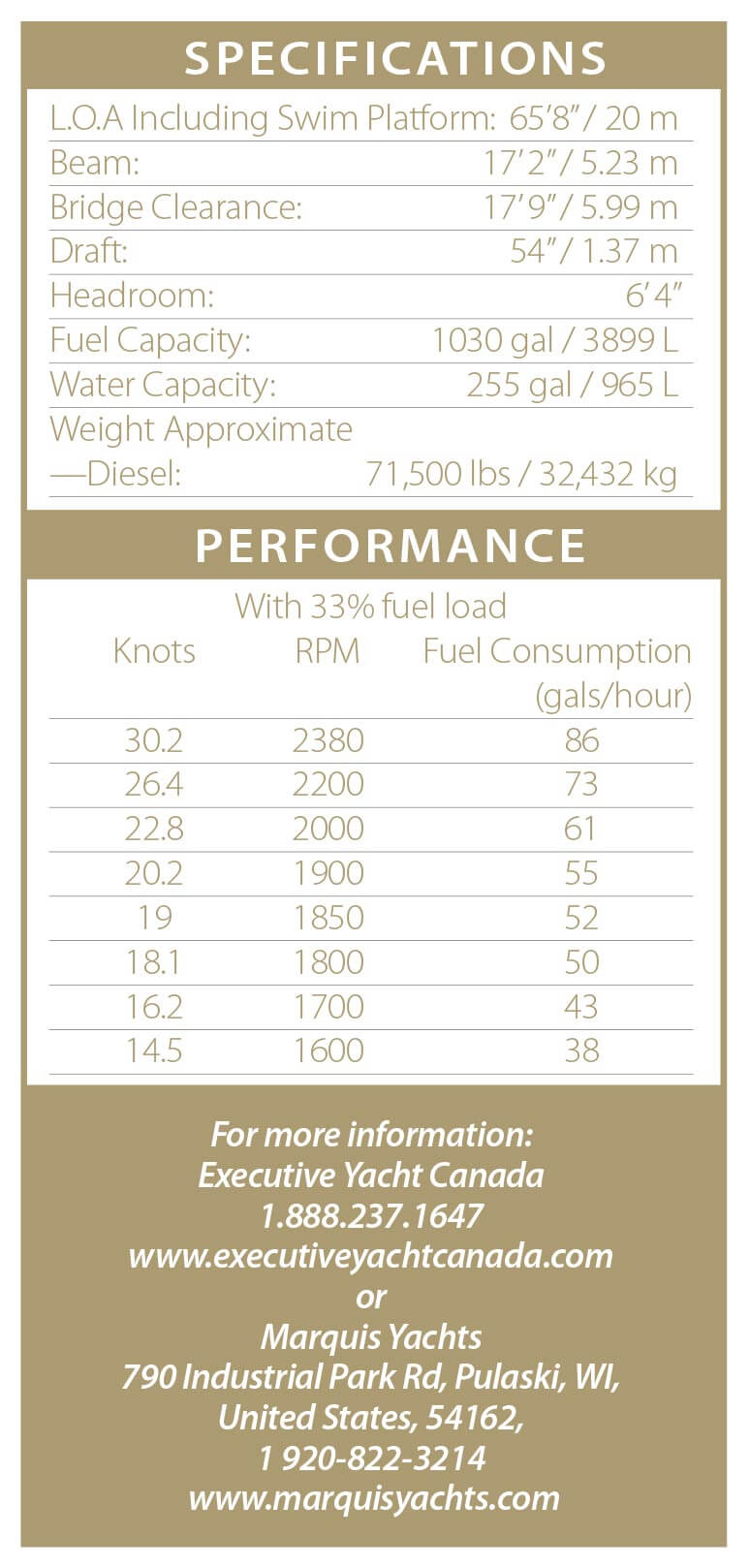 best boat, best boat models, best boat trailer, best center console, best centre console, best performance boats, best pontoon, best runabout, Best Used boat, boat accessories, boat parts, boat reviews, boat tests, boat touring, BOATING Buyer's Guide, boating guide, BOATING in-water Tests, boating lifestyle, Boating Lifestyle Magazine, BOATING rentals, BOATING rentals near me, BOATING traveller, boating vacation, go boating, go boating Canada, how to choose a boat, marine accessories, New Boating Products, new boats for 2023, performance boats, Power Boating Canada, Tender boat, top boat models, top boats, top cottage boat, top cruiser, top power boat best boat, best boat models, best boat trailer, best center console, best centre console, best performance boats, best pontoon, best runabout, Best Used boat, boat accessories, boat parts, boat reviews, boat tests, boat touring, BOATING Buyer's Guide, boating guide, BOATING in-water Tests, boating lifestyle, Boating Lifestyle Magazine, BOATING rentals, BOATING rentals near me, BOATING traveller, boating vacation, go boating, go boating Canada, how to choose a boat, marine accessories, New Boating Products, new boats for 2023, performance boats, Power Boating Canada, Tender boat, top boat models, top boats, top cottage boat, top cruiser, top power boat