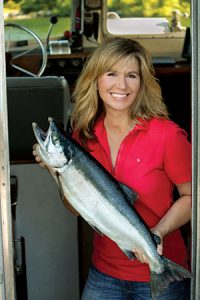 A unique twist on a family favourite
Makes 2
Ingredients
1 package Rapid Rise yeast
1½ tsp sugar
½ cup lukewarm water (105˚to 115˚)
4 tbsp olive oil
2 cups all-purpose flour, divided
1 tsp sea salt
2 tbsp garlic, minced
½ cup Parmesan cheese, grated
1 cup crabmeat (if using king or snow, cut into bite-size pieces)
1½ cups tomatoes, seeded, diced
1 cup Mozzarella cheese, grated
2 teaspoons Italian seasoning
fresh basil leaves
Directions
In a large bowl, mix the yeast and sugar into the water. Let stand 5 minutes; stir in 2 tablespoons olive oil. Add 1½ cups flour, then salt.
On a lightly floured work surface (using remaining ½ cup flour), knead dough for 5 minutes; divide into two balls. Cover dough with a tea towel and let rest for 10 minutes; punch down into two flat disks.
Preheat your oven to 450˚F. Beginning at the center, press balls of dough into 8-inch rounds with raised edges. Line a large baking sheet with parchment paper and place the two rounds of dough on the baking sheet. Brush each round with 1 tablespoon olive oil; sprinkle half of the garlic and half of the Parmesan cheese on each round. Evenly scatter half of the crabmeat, tomatoes and a half of the Mozzarella over each pie. Lightly drizzle additional olive oil over the cheese and sprinkle with Italian seasoning.
Bake until crust and cheese are lightly browned, about 15 minutes. Scatter with basil; let rest 5 minutes, then cut into wedges.
boat recipes, crab recipes