Fast and comfortable. What an absolute thrill ride!
By Bill Taylor
It was down at the 2019 Evinrude media event last month, where Power Boating Canada was honoured to be the only Canadian boating magazine invited to test their three new outboards (see the Hands-On Test Report feature story in this issue), that I had the awesome opportunity to run the Manitou 25 X-plode XT with twin Evinrude G2 E-TEC 300's on it.  What an absolute thrill ride!
Now, Manitou pontoons are based out of Lansing, Michigan, a state that has more boats per capita than any other state in the nation, and they've been in business for over three decades.  Manitou pontoons have earned an NMMA Marine Industry Award for Customer Satisfaction an impressive, and an enviable, 18 years in a row! (Every year since the award was introduced.) Manitou was purchased recently by BRP. "The acquisition of Manitou is the logical next step in the roll-out of our global marine strategy," said José Boisjoli, BRP President and CEO. "We are thrilled to welcome a company with such potential and its entire team to the BRP family."  Manitou employs about 160 people and has approximately 150 dealers across North America. That's a credit to their product offerings and proof that customers buy them.
Over those three decades, the Manitou designers have been constantly innovating and improving on their product offering, resulting in a patent for their unique V-Toon® technology design that makes a Manitou pontoon a true performance pontoon.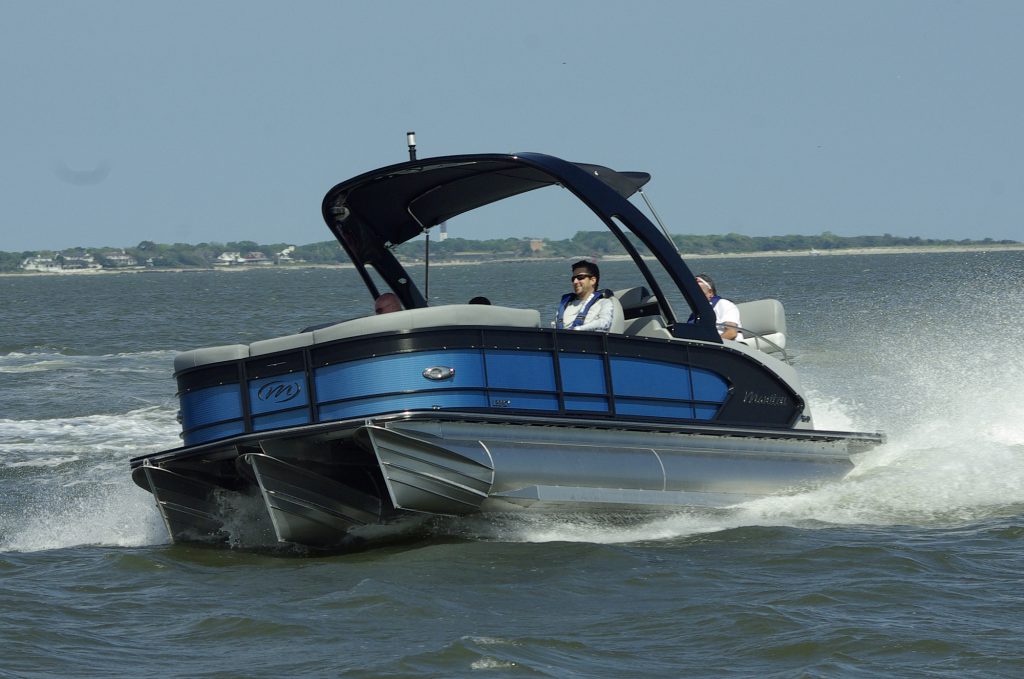 The V-Toon® design provides greater acceleration, higher top end speeds, and increased stability by lowering the centre tube. The centre tube is larger in diameter than the two outside tubes and this create an overall hull profile that mimics a traditional v-bottom boat. Quoting from Manitou's website: "The 27" (centre) tube, positioned 1.25" lower than the outside tubes, results in a 5.25" differential between the bottom of the center tube and the bottom of the outside tubes. It's this precise positioning, a
long with strategically placed positive angle lifting strakes, that results in the exact degree of deadrise and water displacement needed to simulate the standard v-hull."
The all-aluminum X-plode line is a very popular line for Manitou, with three different size platforms ranging from 23 to 27 feet, and offering at least six different floor plan options, plus the availability of twin outboard engine power.  The X-plode XT line takes that up a level with all fiberglass panels and bold colours and graphics – Manitou refers to the XT as the sports car you've always wanted but now in a pontoon. Heck, yah!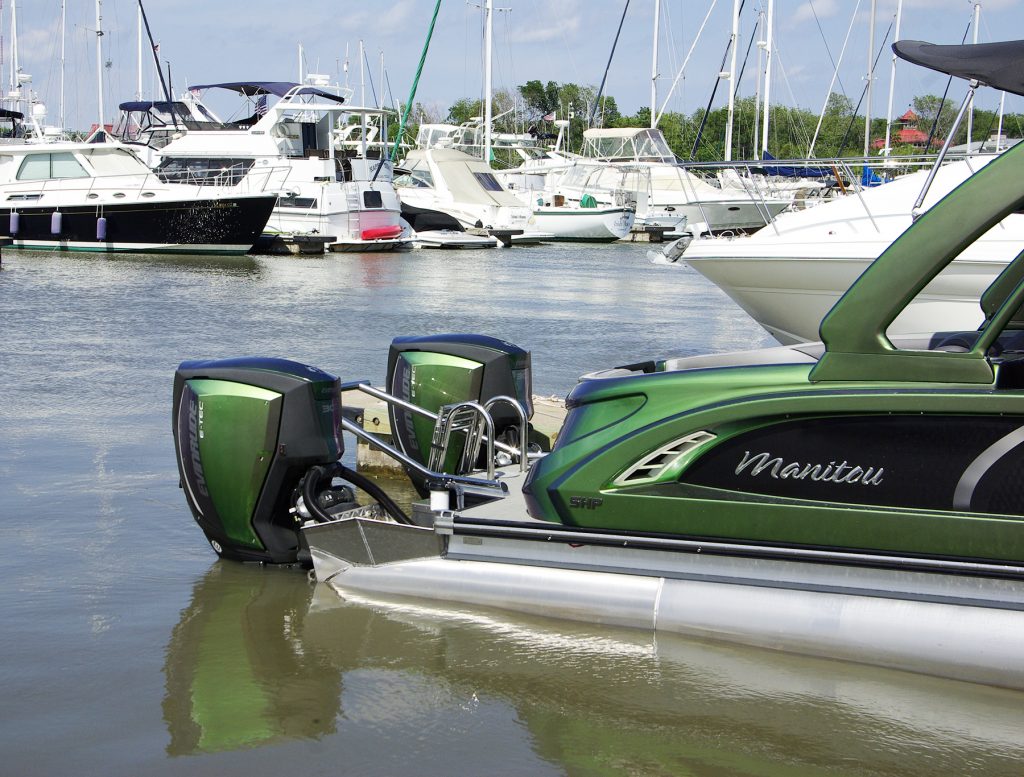 Our test boat was an X-plode XT with twin Evinrude G2 E-TEC 300hp outboards.
The X-plode XT line offers a number of different floor plans to suit your cruising and entertaining desires.  The split rear seating (SRS) design features an easy to access centre-line walkway that runs straight from the stern to the bow. On either side, at the bow are two large facing sunlounges with tons of storage underneath, while amidships you'll find a beautiful high-back captain's chair and a matching co-pilot seat, and finally at the stern are two rear-facing sunloungers. The option exists to switch out the rear-facing sunloungers for a more traditional twin facing sofa seats. The RFXW and SRW models offer a full windshield to protect the driver and passenger.
Options include an overhead sport arch in fiberglass to match the body panels with an integrated bimini, centre tube in-floor storage, upgraded stereo and speakers, over a dozen flooring finish options, and even a saltwater package.  Colour choices are also plentiful from the fiberglass panels to the side graphics to upholstery you can customize your Manitou X-plode so it's a true original!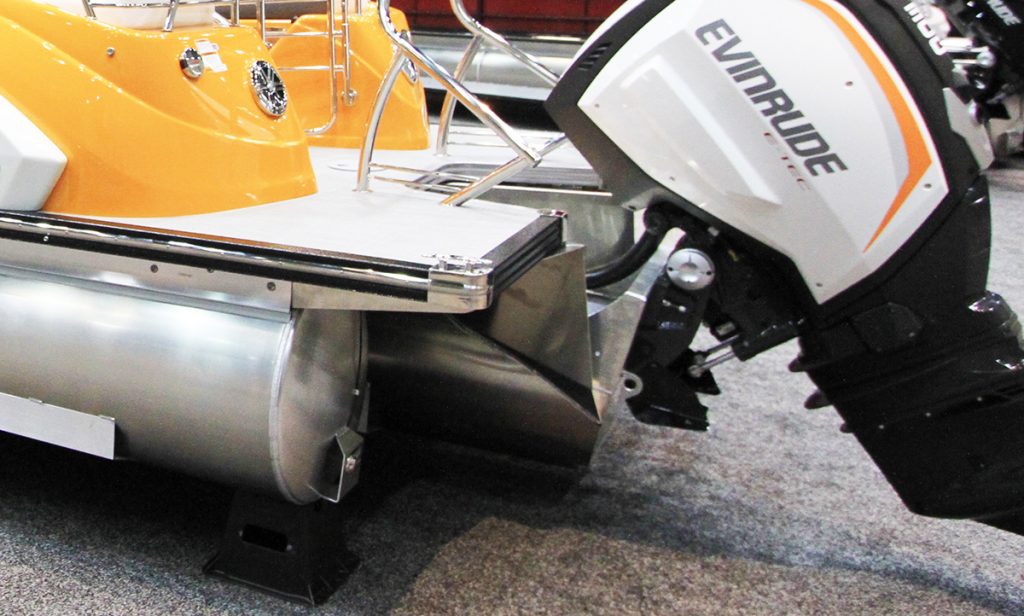 Performance wise, I was beyond impressed!  Our test boat was fitted with optional twin engines. (This requires upgrading to the Sport Handling Package (SHP), SeaStar Power Assist Hydraulic Steering, etc.)  The Evinrude 300hp G2 E-TEC outboard is a V6 74° design, featuring a 3.854" x 3.000" bore and stroke, for a total displacement of 210 cubic inches of 3441 cc's – that translates into a 3.4 L powerhead.  It's available in a 20", 25" or 30" shaft length that delivers a 1.85:1 final gear ratio while weighing in at just 537 lbs or 244 kgs.  (That's significantly lighter than a 300hp four stroke Verado at 600lbs.)  The 133 amp alternator produces a dedicated 50 amps and 14 amps at idle – perfect for charging all the electronics on today's boats no matter what speed you decide to run at.
While conditions were not ideal for getting the maximum performance numbers, I recorded a top speed of approximately 65 MPH, and an incredible time to plane of about 3.5 seconds. Perhaps more importantly is how the pontoon felt in all the seating postitions – the drivers seat and all the passengers seats – with that 600 horses of raw power behind us.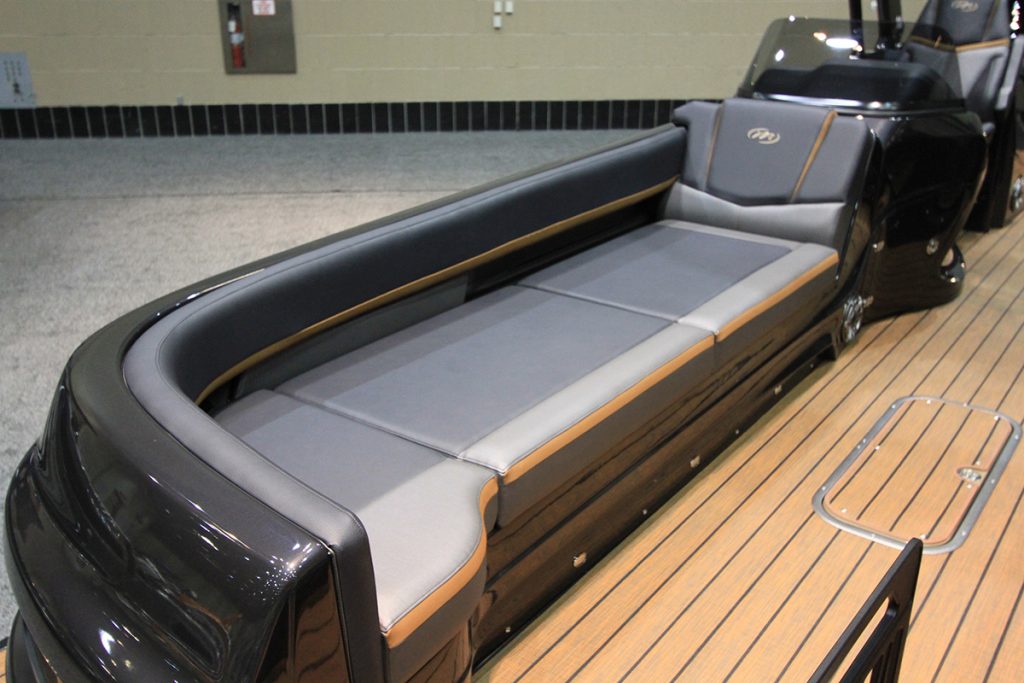 The longer than average forward sofas feature a sunlounger semi-reclined backrest and plenty of storage space underneath.
The 26 X-plode XT carved into the turns. Unlike most pontoons that lean outwards in a turn, it banked inwards thanks to the V-Toon® hull design.  Between the fiberglass (versus aluminum) deck structure and the performance that mirrored what you'd expect from a traditional 26 foot v-hull bowrider for example, I had to think twice to remember that we were in a pontoon boat.  Ok, well not just any pontoon boat – a Manitou!  All the while, no matter what speed or input from the helm, the Evinrude 300's never laboured or felt even the slight bit sluggish. In fact, mid-range acceleration was incredible – "grin-inducing" is what my notes read.  The feeling was that there was far more power there than was needed. At just 4310 pounds plus gear and passengers the X-plode XT's spec sheet confirms that there is more than enough power.  It was a thrilling ride for sure.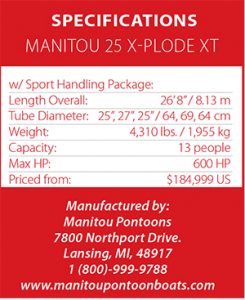 Back at the dock…..joystick docking?

All Manitou products are backed with their Quality Guarantee, providing an industry-leading limited lifetime warranty on the decking, structure and pontoons.

best boat, Best boat buying website, best boat marina website, best boat travel website, best place to rent a boat, boat accessories, boat angler, boat boondocking, boat buyers guide, boat camper, boat camping, boat dealers, boat DIY, boat Fishing, boat Fixer, boat Home, boat information, boat insurance, Boat Maintenance, boat marinas, boat marinas in Alberta, boat marinas in BC, boat marinas in Canada, boat marinas in Manitoba, boat marinas in Saskatchewan, boat marinas in the USA, boat marinas near me, boat products, boat rentals, boat repair, boat road test, boat sharing, boat sites near me, boat supplies, boat Tech, boat tips, boat touring, boat trade, boat Travel, boat traveling, boat travelling, boat vacation, boat vacation cost, boat websites Canada, boating Canada, Boating Canada's Boat Lifestyle Magazine, Boating Lifestyle Magazine, boating website, Canadian marina websites, evinrude, expert boat information, find a boat dealer, how much does a boat cost, how much does marina cost, how to choose a boat, how to drive a boat, Manitou, marina products, marina supplies, motor boat, Pontoon, power boating magazine, top boat website, used boat reviews best boat, Best boat buying website, best boat marina website, best boat travel website, best place to rent a boat, boat accessories, boat angler, boat boondocking, boat buyers guide, boat camper, boat camping, boat dealers, boat DIY, boat Fishing, boat Fixer, boat Home, boat information, boat insurance, Boat Maintenance, boat marinas, boat marinas in Alberta, boat marinas in BC, boat marinas in Canada, boat marinas in Manitoba, boat marinas in Saskatchewan, boat marinas in the USA, boat marinas near me, boat products, boat rentals, boat repair, boat road test, boat sharing, boat sites near me, boat supplies, boat Tech, boat tips, boat touring, boat trade, boat Travel, boat traveling, boat travelling, boat vacation, boat vacation cost, boat websites Canada, boating Canada, Boating Canada's Boat Lifestyle Magazine, Boating Lifestyle Magazine, boating website, Canadian marina websites, evinrude, expert boat information, find a boat dealer, how much does a boat cost, how much does marina cost, how to choose a boat, how to drive a boat, Manitou, marina products, marina supplies, motor boat, Pontoon, power boating magazine, top boat website, used boat reviews