A comfortable and versatile pontoon designed with anglers in mind.
By Craig Ritchie
For all of our similarities, Canadians and Americans often take great delight in recognizing our differences. They think we say "aboot" yet we're pretty sure we don't. We smile when they say "y'all" and they don't understand our amusement. But on both sides of the world's longest undefended border, boaters in each of our great nations appreciate top quality and great value.
Fishing is the single most popular recreational activity enjoyed from a boat anywhere in the world. But when we're talking about Canada – home to more freshwater lakes than every other country in the world combined (it's true, look it up) – we take fishing a bit more seriously than most. So as pontoon boats continue to grow in popularity here, it's easy to appreciate that fishing models tend to do particularly well in the Great White North.
SunChaser Boats gets that too. Based in a picturesque small town in northern Indiana's lake district, SunChaser creates versatile, family-friendly designs that tend to resonate particularly with Canadian buyers who appreciate great boats that are built with fishing in mind. The company's Geneva 8520 4 Pt. has been an especially popular pontoon across Canada since it was introduced, and the 2019 model stands to earn it even more fans.
One glance from the dock makes a convincing case to step aboard and explore. With its four pedestal-mount, swiveling fishing chairs (one in each corner, spaced for optimal casting room) the Geneva 8520 4 Pt. represents a great blend of pontoon versatility with solid fishing credentials. Three wide, 30-inch entry gates – one at the bow, one at the stern and one amidships on the port side – welcome you aboard regardless of how the boat is docked, with no gunnels to climb over or steps to negotiate. Plenty of interior space means there's no problem accommodating a ton of gear, and seating for up to 10 people means no one needs to stay behind.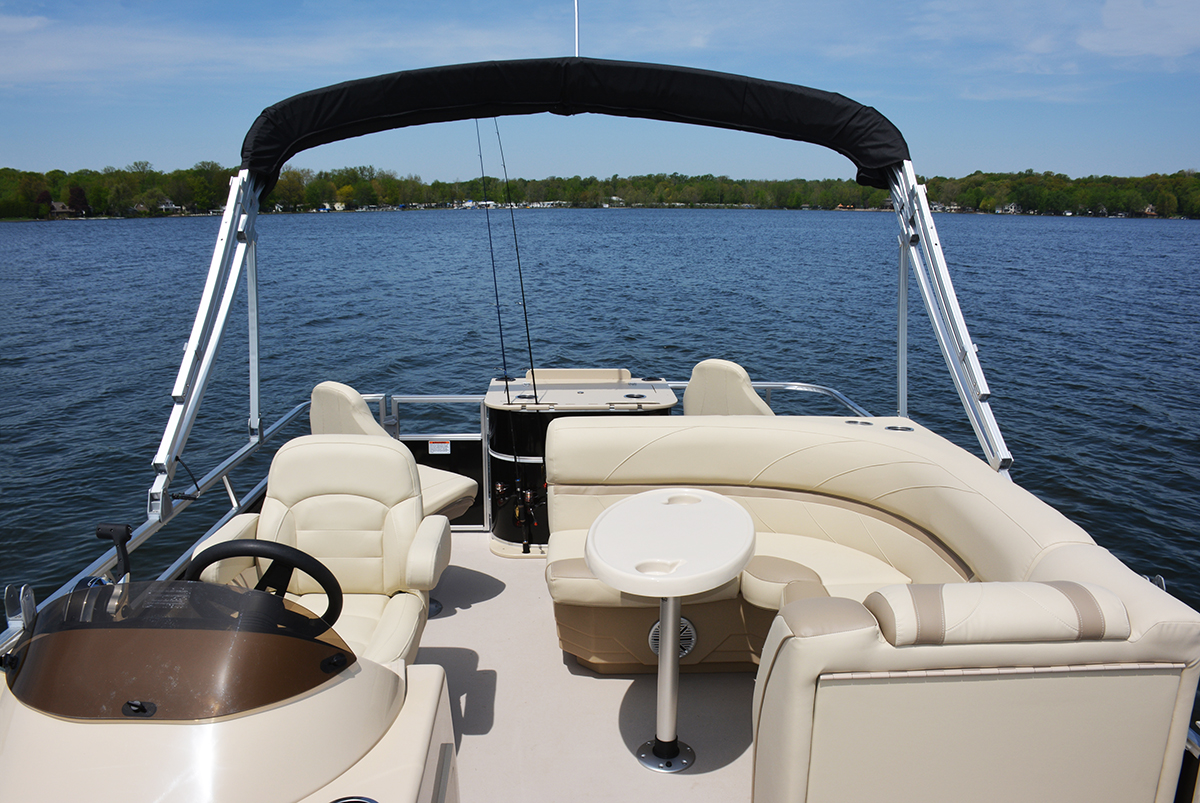 The four fishing seats are great for a family fishing day, providing plenty of space to cast while their nicely cushioned upholstery gives them the kind of all-day comfort that serious anglers demand. But they're more than just great perches for the fishermen aboard. With their comfortable support and swivel bases, the bucket seats are great spaces for sitting back with a book or enjoying a bit of sun. Supportive cushions and back rests also make them the best seats in the house when underway – especially the two seats up front, which provide unobstructed forward-facing views. Each of the front seats is served by its own mini-console with an integrated stainless-steel beverage holder, ensuring a cold drink is never out of reach.
Sharp-eyed boaters will spot the half-gate at the bow entry, its lower portion cropped away to provide clearance in the event the owner wished to install a bow-mount electric trolling motor. While the motor itself will mount on the front deck to one side or another, having the clearance to accommodate the control pedal is a thoughtful touch.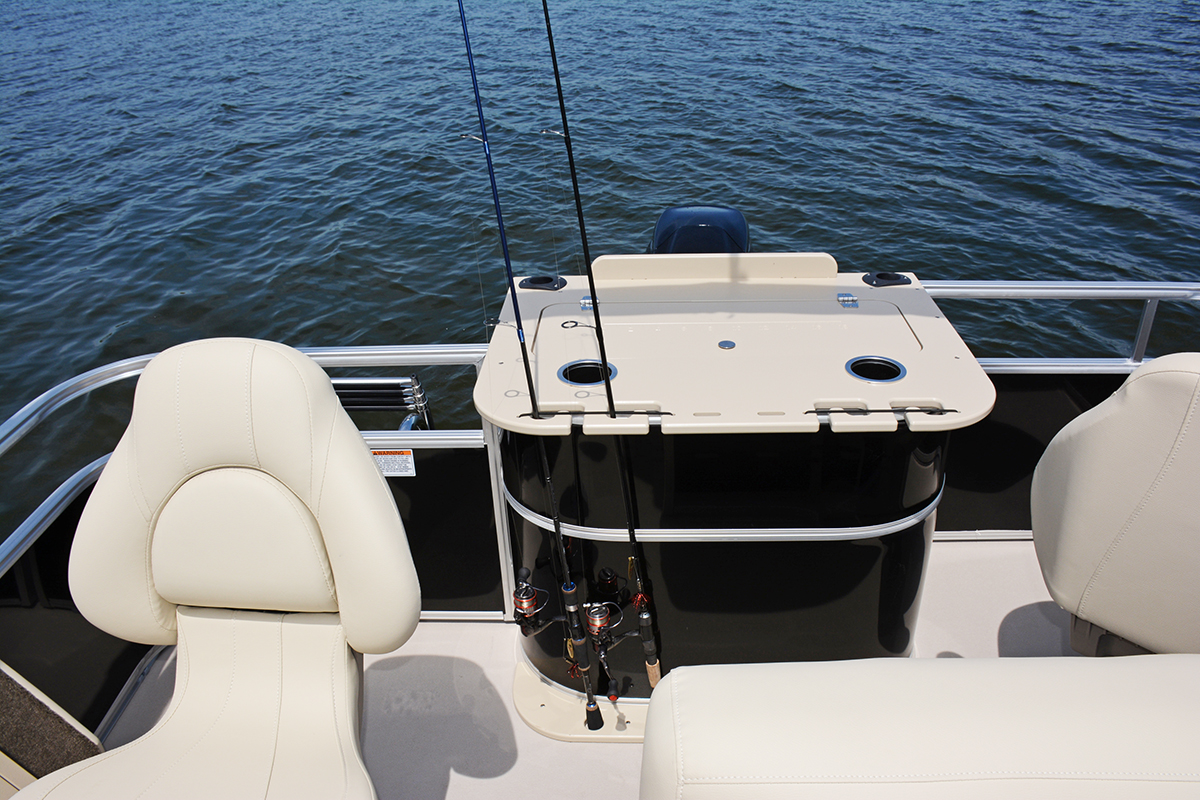 The stern end of the boat offers a pair of matching pedestal-mount fishing seats, which share a centrally-positioned rear fishing station. This innovative fixture provides four vertical rod racks to hold rods securely when not in use, a pair of flush-mount rod holders at the transom, two stainless steel beverage holders, and even an integrated live well to keep the day's catch fresh. The fishing station's upper surface provides a nice flat area for rigging gear, while a molded-in measuring tape makes it easy to ensure all catches are within the legal size limit. Just forward, an in-gunnel rod storage locker provides a safe place to stow additional tackle safely out of sight.
The SunChaser features a swim platform at both the bow and stern – an attractive design feature that isn't commonly seen on many pontoon boats in this class. The aft platform comes complete with a sturdy, retractable stainless-steel boarding ladder that's now a standard feature rather than an optional upgrade.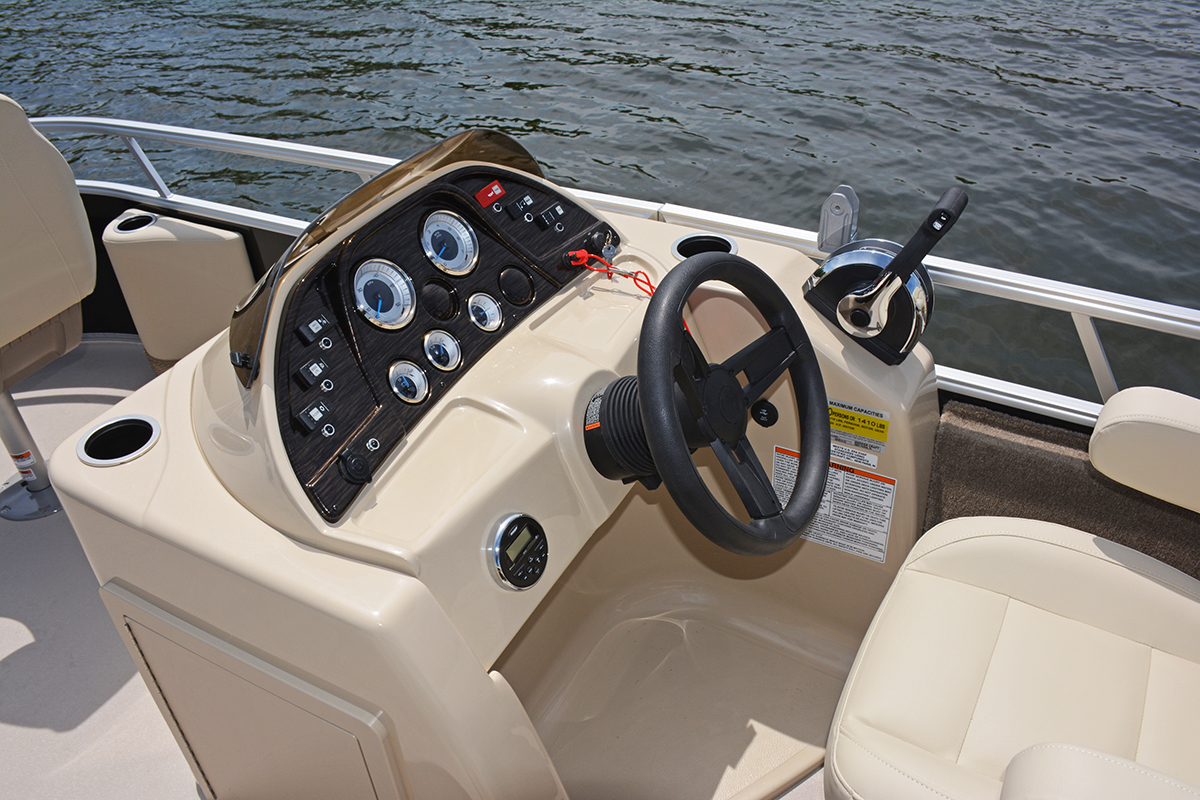 With the ends set up for fishing, the Geneva's mid-section delivers the best of pontoon boating with a delightfully plush, L-shaped lounge that offers a choice of forward-facing, aft-facing or starboard-facing seating possibilities. Integrated cup holders keep cold drinks safely secured while underway, and close at hand. A removable, pedestal-mount fibreglass cockpit table offers two additional beverage holders, or just makes this space a great spot for lunch. Lifting the seat cushions provides easy access to several large storage spaces that are ideal for keeping personal belongings safely tucked away. The forward end of the lounge arm terminates in a discreet door that conceals a pop-up change room, providing a private space for swimmers to change back into dry clothes. One popular option is to add a Porta-potti in this space for added comfort and convenience.
The standard flooring in the Geneva 8520 4 Pt. is a push 24-ounce carpet with a vinyl aft boarding area, giving the swimmers a place to towel off before coming aboard. SunChaser offers a wide variety of flooring options for this boat though, allowing buyers to upgrade to fast-drying vinyl, Synthetic Teak, Teak Weave or Sea Weave flooring instead. Overhead, a standard heavy-duty Bimini top keeps the mid-day sun at bay, providing relief on those really hot days.
The helm seat, located amidships opposite the lounge, is a fully adjustable Captain's chair with fold-down arm rests and a swiveling base, allowing it to spin to port and serve as a comfy armchair once the anchor has been set.
The helm itself is mounted within a beautiful, molded fibreglass console that houses still more storage in its base for a removable cooler. A couple of stainless-steel beverage holders add versatility for the driver and passengers alike, while its small windscreen does an effective job of deflecting the breeze while underway.
While the focus of this boat is clearly on the anglers in the family, the driver isn't exactly left out when it comes to being spoiled. For starters, the elegant console centers around a beautiful Gucci Giazza steering wheel, which looks great and feels even nicer in hand. Full instrumentation is easy to view from just about any angle, while a standard Jensen MS3A stereo with an auxiliary port for an MP3 player and Bluetooth wireless streaming capability work with most brands of smartphones, tablets and other portable devices. The addition of a 12-volt receptacle is a thoughtful touch, making it easy to inflate towables, pool mattresses and other gear with an aftermarket pump.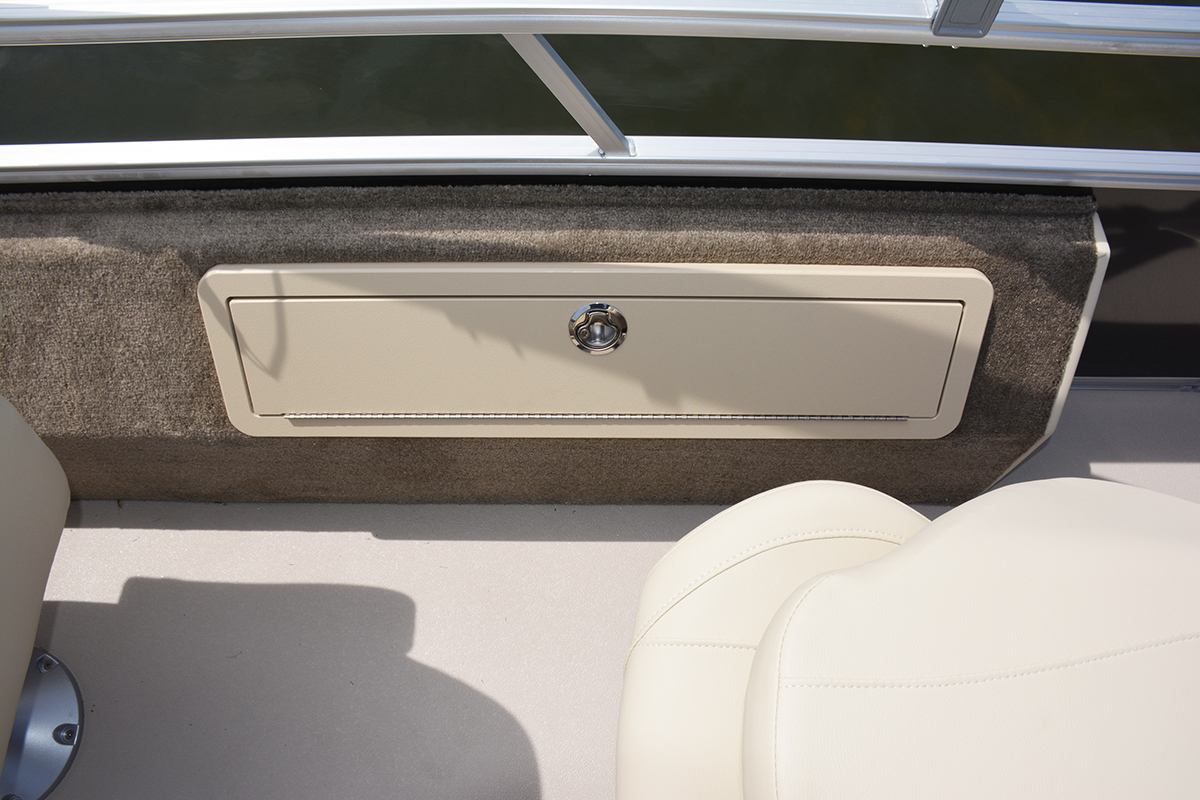 To really appreciate the value in the Geneva 8520, you have to get out of the boat and look underneath. That's where you can catch a glimpse of the details that make this boat such a joy to drive. Its full hat channel underframe provides a solid, unified chassis that cuts through waves and takes rough water in stride. Full 25-inch tubes provide a great balance of performance and fuel economy, while smaller details, like the through-bolted deck cleats and integrated docking lights, speak to SunChaser's experience building high-quality pontoons. Like every boat in its lineup, the SunChaser Geneva 8520 4 Pt. is covered by the company's Lifetime Plus 6 limited warranty for full peace of mind.
Because all boat buyers like to personalize their new pride and joy, SunChaser offers an extensive option list for the Geneva 8520 4Pt., including a range of tri-tube performance packages with lifting strakes and performance shields, docking lights, under-deck lighting, stereo upgrades, fish finders, a cooler table, a full camper top and more. Many of these attractive upgrades are offered in convenient packages that save a few dollars over ordering them individually.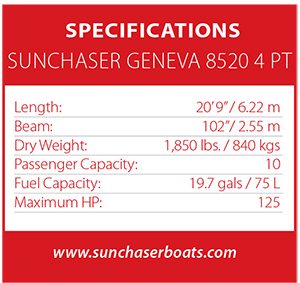 But even in its simplest form, SunChaser's Geneva 8520 4 Pt. is a well-equipped, versatile pontoon that does a lot of things really, really well. If there is such a thing as a truly Canadian-styled pontoon, this might just be it. 

best boat, Best boat buying website, best boat marina website, best boat travel website, best place to rent a boat, boat accessories, boat angler, boat boondocking, boat buyers guide, boat camper, boat camping, boat dealers, boat DIY, boat Fishing, boat Fixer, boat Home, boat information, boat insurance, Boat Maintenance, boat marinas, boat marinas in Alberta, boat marinas in BC, boat marinas in Canada, boat marinas in Manitoba, boat marinas in Saskatchewan, boat marinas in the USA, boat marinas near me, boat products, boat rentals, boat repair, boat road test, boat sharing, boat sites near me, boat supplies, boat Tech, boat tips, boat touring, boat trade, boat Travel, boat traveling, boat travelling, boat vacation, boat vacation cost, boat websites Canada, boating Canada, Boating Canada's Boat Lifestyle Magazine, Boating Lifestyle Magazine, boating website, Canadian marina websites, expert boat information, find a boat dealer, how much does a boat cost, how much does marina cost, how to choose a boat, how to drive a boat, Manitou, marina products, marina supplies, motor boat, Pontoon Boat, power boating magazine, top boat website, used boat reviews best boat, Best boat buying website, best boat marina website, best boat travel website, best place to rent a boat, boat accessories, boat angler, boat boondocking, boat buyers guide, boat camper, boat camping, boat dealers, boat DIY, boat Fishing, boat Fixer, boat Home, boat information, boat insurance, Boat Maintenance, boat marinas, boat marinas in Alberta, boat marinas in BC, boat marinas in Canada, boat marinas in Manitoba, boat marinas in Saskatchewan, boat marinas in the USA, boat marinas near me, boat products, boat rentals, boat repair, boat road test, boat sharing, boat sites near me, boat supplies, boat Tech, boat tips, boat touring, boat trade, boat Travel, boat traveling, boat travelling, boat vacation, boat vacation cost, boat websites Canada, boating Canada, Boating Canada's Boat Lifestyle Magazine, Boating Lifestyle Magazine, boating website, Canadian marina websites, expert boat information, find a boat dealer, how much does a boat cost, how much does marina cost, how to choose a boat, how to drive a boat, Manitou, marina products, marina supplies, motor boat, Pontoon Boat, power boating magazine, top boat website, used boat reviews