Infinite upgrades put this versatile fishing rig in a class of its own.
By Craig Ritchie
The basic design of high-end aluminum fishing boats hasn't changed much over the past 20 years, and for good reason. The basic approach of having a raised bow casting deck with storage beneath and an open cockpit with a smaller raised stern deck is a time-honoured design that has proven itself over and over with both recreational anglers and full-time tournament pros. The inherent versatility of this simple layout is so hard to beat that it might leave some people wondering exactly how things could be further improved. That boat builders have been able to continually advance the basic platform over the years with new features that bring even greater value is testament to the strength of both their engineering and the original design.
While today's newest models make look a lot like their ancestors at a casual glance, they're really a world apart – which becomes obvious when you take an up-close look at Smoker Craft's 171 Pro Angler XL. Long one of the most popular models in the company's extensive lineup, the 171 Pro Angler XL boasts some of the most innovative engineering to be found in this segment.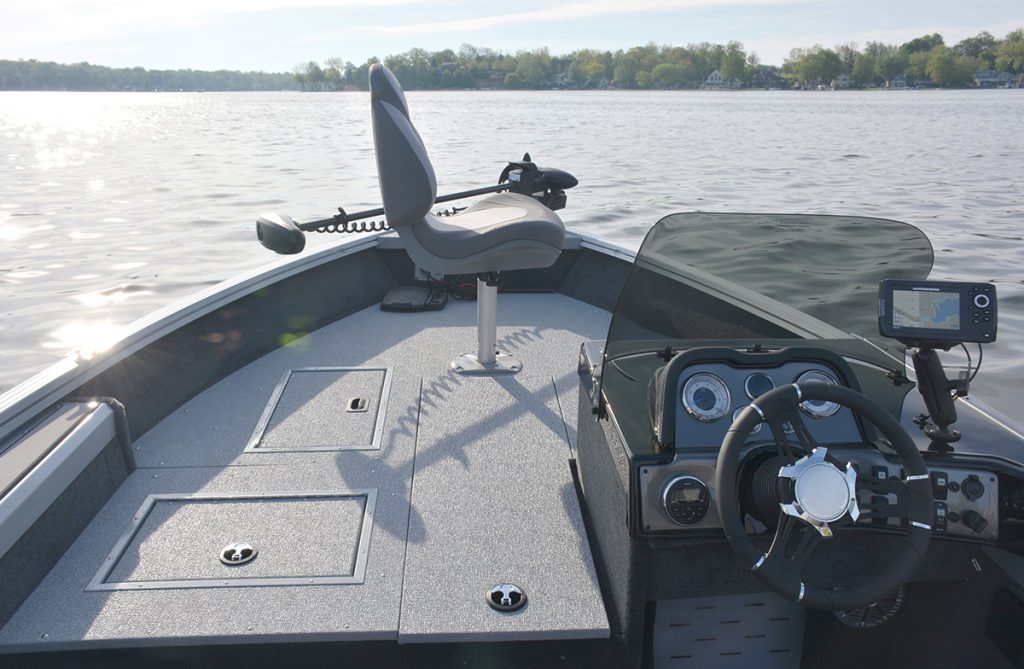 Step aboard and you instantly feel right at home thanks to the familiarity of its basic layout. But the more you look around, the more you come to realize this model features so many modern updates it's practically an all-new design. One of the best is Smoker Craft's awesome Integrated Track Gunnel System, or IGTS. The grooves extruded into the attractive aluminum gunnel caps don't just look nice, they serve a functional purpose by allowing anglers to install a wide variety of track-mounted accessories from rod holders, tool holders and downriggers anywhere on board, and without having to drill a single hole anywhere in the process. Don't like where the rod holder is? It takes but a second to move it – quite a far cry from the old days, where such accessories were screwed on or through-bolted into place, and where getting it wrong left your rig with the Swiss cheese look.
The big front deck is now vinyl-covered, rather than finished in old-school carpet. Vinyl not only dries much faster than carpet, it also cleans up far more easily and wears like iron – a major consideration in a serious fishing boat. A bow pad at the far front accommodates a retractable electric motor, with its corresponding electrical connection located in an adjacent console. The casting deck is large enough for two anglers to fish in comfort, with two large storage lockers beneath it to accommodate bulky gear. A large deck lid along the centreline opens to reveal an in-floor rod locker with space for six rods of up to eight feet in length, safely protected in individual tubes that avoid frustrating tangles. Befitting a higher-end custom fishing boat, the lid is held open with not one, but two gas struts, allowing anglers to use both hands for stowing or retrieving expensive rods.
The bow deck also conceals a 57 L FreshCatch aerated live well. It's one of two onboard, with a second 95 L FreshCatch well in the stern. Why two live wells? For anglers who enjoy participating in the occasional weekend tournament, the twin wells allow you and your partner to keep your catches separate when competing in individual events. Or when just fishing for fun, you can use the bow well for holding bait rather than fish. It's a great convenience, and prevents any retained fish from eating the rest of the bait.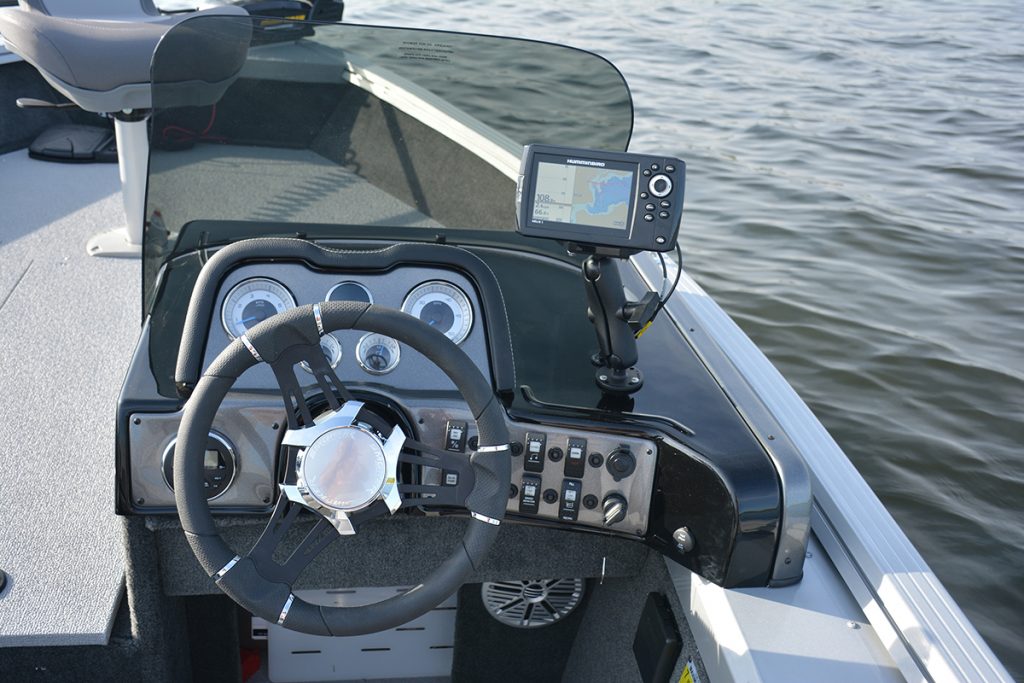 The helm console is all-business, just as serious anglers want it. Large, easily-readable analog gauges – speedometer, tach, fuel and volts – sit front and centre on the dash where they're easily seen at a glance, regardless of how the tilt steering wheel is positioned. A neat row of rocker switches to the right of the wheel control the lights, live wells and other electrical accessories, while the control head for the Jensen MS3A stereo with Bluetooth streaming sits just left of the wheel. The dash top provides plenty of space for mounting aftermarket electronics, including a range of Humminbird and Lowrance units that are available right from the factory complete with a RAM mount that allows them to be positioned exactly as desired.
The 171 Pro Angler XL comes with three deluxe, pedestal-mount fishing seats, with a fourth seat available as an optional upgrade. Thoughtful standard features like in-floor storage in the main cockpit, vinyl flooring throughout and top-mount in-gunnel rod storage – enabled by the versatility of the IGTS system – add value that makes a real difference out on the water. Traditional tray-style in-gunnel storage at floor level is preserved in the new design, ensuring that essentials like pliers, sunscreen and insect repellent remain close at hand yet out from under foot.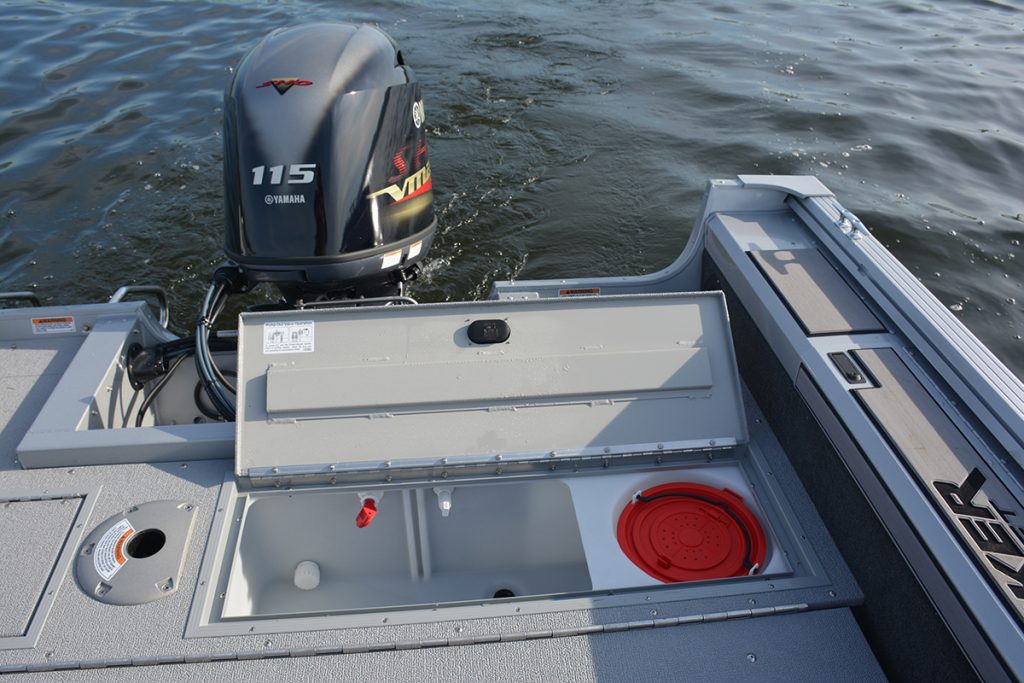 The stern section of the boat provides a second raised casting platform, with its integrated live well and battery storage. Many anglers will want to spring for the optional split fold-down stern seat that's available for the Pro Angler XL, which greatly enhances the boat's overall versatility. Being of a split-cushion design, it allows you to convert the entire stern to seating, to a casting platform, or to have a bit of both. Other appealing upgrades for this boat include a ski tow pylon and a rear boarding ladder. IGTS mood lighting sounds like an usual option for a fishing boat, but it's a big hit with anglers who like to fish after dark, since it provides an enhanced level of safety without compromising one's night vision.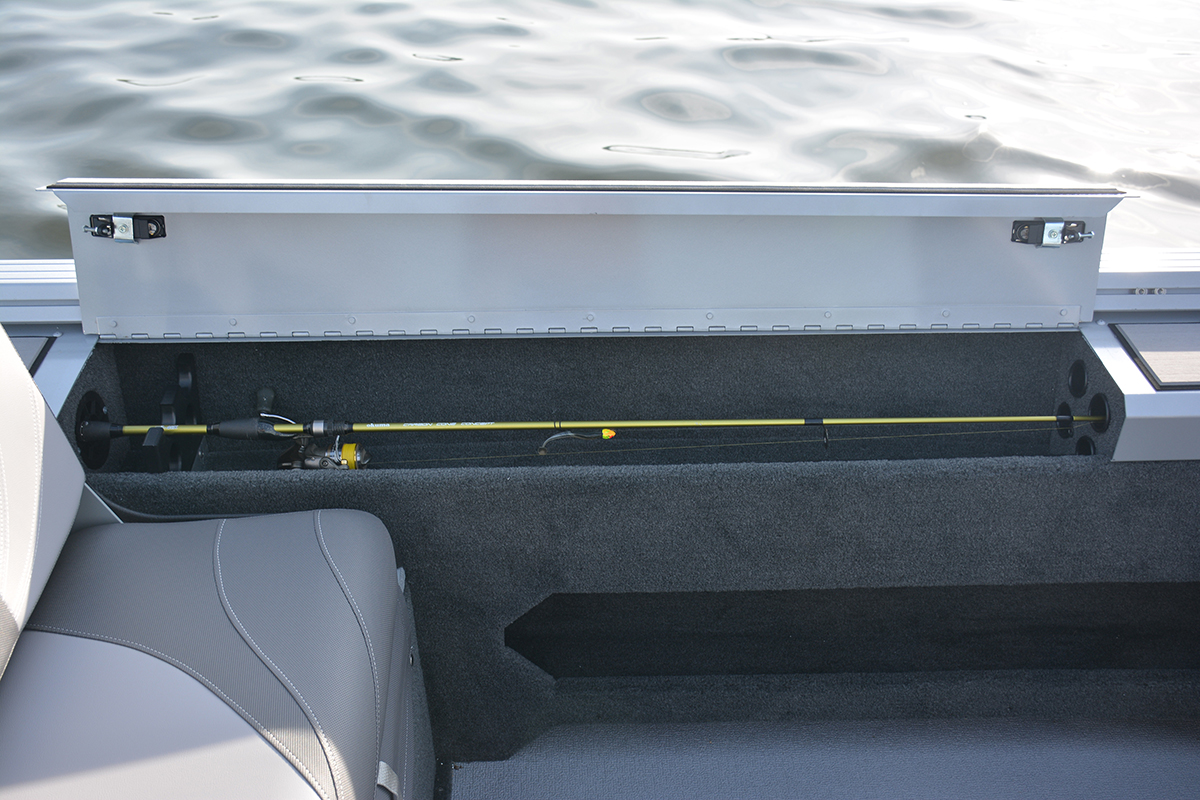 The Yarblow ventilation system is one other upgrade buyers should seriously consider with this boat. This innovative package ventilates rod lockers and storage spaces with a series of powered fans, protecting expensive gear from mold, mildew and rust. Let's be honest, on a fishing boat gear often does get used hard and put away wet, making the Yarblow package a genuine no-brainer. If there was one thing I would change about the Pro Angler XL, it would be to include this feature as standard equipment.
While Smoker Craft has made a number of updates and upgrades above the waterline, what hasn't changed over the years is the Pro Angler XL's delightful handling while underway. Built on the company's Hydra Lift reverse-chine hull design, the Pro Angler XL runs a lot more like a performance runabout than a fully-rigged fishing boat. Even when set up with less than maximum power, this is a boat that planes easily, tracks true, and carves even tight turns effortlessly.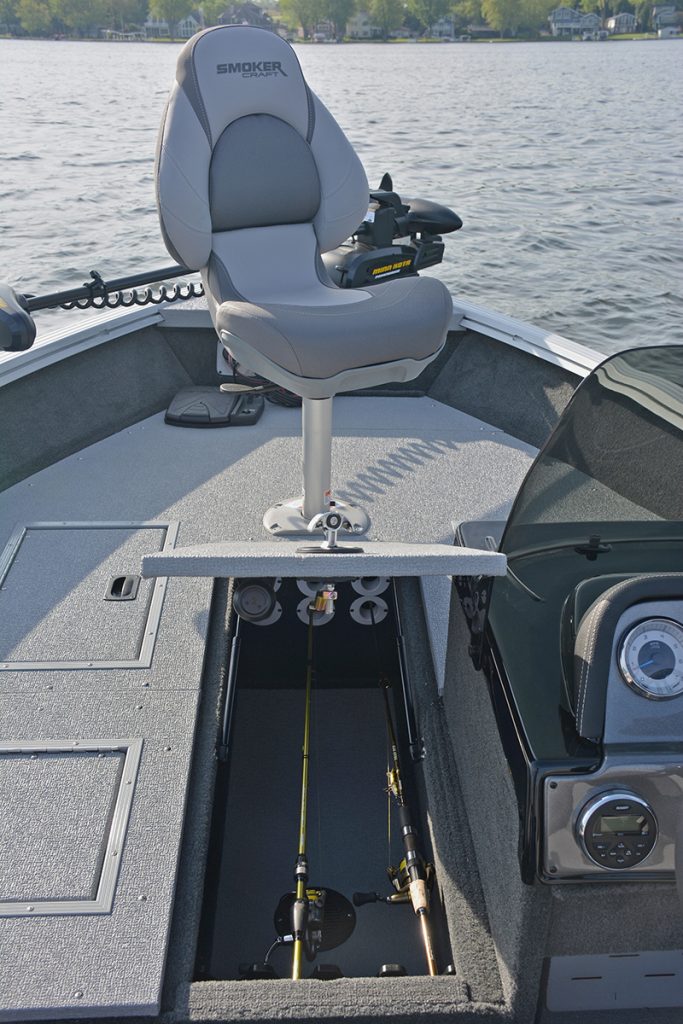 Although rated for outboards of up to 150 horsepower, our test boat came rigged with a Yamaha V-MAX 115. Weighing 103 pounds less than a V-MAX 150, the four-cylinder 115 still packs most of the bigger engine's zip, which allowed us to achieve practically instantaneous planing times from a dead stop and to easily reach a top speed of 30 mph in less than seven seconds. At wide-open throttle, this boat will reach 45 mph, which is plenty fast for a 17-foot hull. Stepping up to a 150-horsepower outboard would put the boat into the 50 mph range, but in all honesty, it runs so well with the 115 it's hard to justify the extra cost and weight of the 150.
What's more, the lighter engine loses nothing in the turns. Taking the boat through a series of slaloms on a screachingly hot August morning, the 171 Pro Angler XL responded to every steering input promptly and enthusiastically, going where it was pointed without bogging down or ventilating the prop. It's a pure joy to drive, something like the marine equivalent of taking a little ragtop sportscar for a Sunday morning run down deserted country roads, with every twist and turn eliciting an even bigger smile than the last.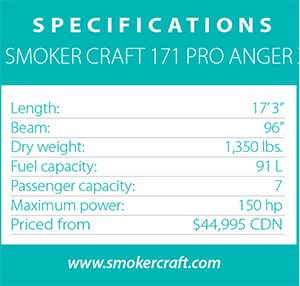 It's no secret that I'm a big fan of Smoker Craft's fishing boat lineup, and the 171 Pro Angler XL is a big reason why. It's ideally sized, beautifully designed, thoughtfully appointed, well made and delightful to run. What more can you ask? Approach-ably priced, it represents a great value and the kind of boat any serious angler would be proud to own. 

best boat, Best boat buying website, best boat marina website, best boat travel website, best place to rent a boat, boat accessories, boat angler, boat boondocking, boat buyers guide, boat camper, boat camping, boat dealers, boat DIY, boat Fishing, boat Fixer, boat Home, boat information, boat insurance, Boat Maintenance, boat marinas, boat marinas in Alberta, boat marinas in BC, boat marinas in Canada, boat marinas in Manitoba, boat marinas in Saskatchewan, boat marinas in the USA, boat marinas near me, boat products, boat rentals, boat repair, boat road test, boat sharing, boat sites near me, boat supplies, boat Tech, boat tips, boat touring, boat trade, boat Travel, boat traveling, boat travelling, boat vacation, boat vacation cost, boat websites Canada, boating Canada, Boating Canada's Boat Lifestyle Magazine, Boating Lifestyle Magazine, boating website, Canadian marina websites, expert boat information, find a boat dealer, Fishing Boat, how much does a boat cost, how much does marina cost, how to choose a boat, how to drive a boat, marina products, marina supplies, motor boat, power boating magazine, Smoker Craft, top boat website, used boat reviews, Yamaha best boat, Best boat buying website, best boat marina website, best boat travel website, best place to rent a boat, boat accessories, boat angler, boat boondocking, boat buyers guide, boat camper, boat camping, boat dealers, boat DIY, boat Fishing, boat Fixer, boat Home, boat information, boat insurance, Boat Maintenance, boat marinas, boat marinas in Alberta, boat marinas in BC, boat marinas in Canada, boat marinas in Manitoba, boat marinas in Saskatchewan, boat marinas in the USA, boat marinas near me, boat products, boat rentals, boat repair, boat road test, boat sharing, boat sites near me, boat supplies, boat Tech, boat tips, boat touring, boat trade, boat Travel, boat traveling, boat travelling, boat vacation, boat vacation cost, boat websites Canada, boating Canada, Boating Canada's Boat Lifestyle Magazine, Boating Lifestyle Magazine, boating website, Canadian marina websites, expert boat information, find a boat dealer, Fishing Boat, how much does a boat cost, how much does marina cost, how to choose a boat, how to drive a boat, marina products, marina supplies, motor boat, power boating magazine, Smoker Craft, top boat website, used boat reviews, Yamaha