For Dennis Johnson, Owner of Bayview Propeller Repair, the propeller business is not only a life-long passion, but it's also a commitment to excellence.
By Jarrett Matthews
Between him and his parents, Art and Evelyn Johnson, they have provided next-level customer service for over five decades to a wide variety of boat owners. 
Whether it be yachts, fishing boats, ice breakers, tour boats or tugboats, quality craftsmanship and dependable service is something that they pride themselves on.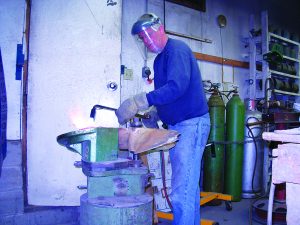 Back in 1963, Dennis' parents purchased a small cottage on Stoney Lake and soon after a marina was constructed in the same location.  
It wasn't long until many people passing through the Trent Severn waterway ended up with damaged and mangled propellers on their vessels. Dennis' father Art saw the opportunity to put his skills to use and started offering his repair services. 
"My Dad's initial focus was on the propellers for the rental motors," Dennis Johnson said. "In a short time, other marinas on the lake sought out his propeller repair services."
Now with the ability to produce propeller shafts, struts, rudders and other marine hardware, Art needed to find a distributor and repair shop. Michigan Propeller distributorship and Mercury/Quicksilver propeller repair station were soon partnered with, and business took off.
By the end of the decade, their company employed 22 people and Bayview was now able to efficiently service boats across Canada and around the world. 
"I have had the pleasure of providing propellers to customers that have travelled some very interesting waterways," Johnson said. "A few summers ago, we received a call from a gentleman in Ecuador. He was on a dream vacation which included a trip to the Galapagos Islands." 
This customer reached out to Bayview because of a friend of his who had a similar issue resolved by Dennis and company. The man remembered how fast their service was and how happy his friend was with their work and called them right away.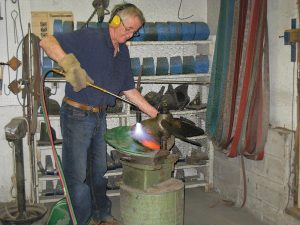 "We were able to air-freight a pair of replacement propellers to him the next day and he did make it to the Galapagos Islands," Johnson said.
Bayview has not only repaired thousands of propellers over the years but have also done so using a ton of recycled metals such as aluminum, bronze, and stainless steel that would have otherwise been scrapped. Johnson estimates that they've recycled enough aluminum to make up over 850,000 rolls of kitchen foil. 
Johnson claims that helping boaters from all over allows him to 'mentally escape to distant shores.' 
"Sending a propeller to a customer in the Sahara Desert was one that I found odd," Johnson said. It turns out that a Canadian soldier who was stationed in Africa was looking for a new propeller for his time off to sail the Mediterranean Sea. The gentleman recalled dealing with Bayview back home and knew he could count on them to deliver his shipment on time and to his liking. 
"This need to get our products and services to our customers in a timely manner has been one of our main objectives. Summers in Canada are short, but that long awaited summer vacation is even shorter. When boating plays a part in that escape one shouldn't be sitting on shore."
This is just another example of their devotion to keeping boaters boating.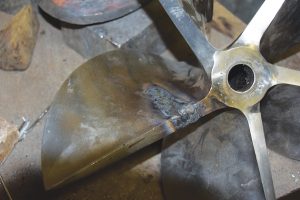 Bayview's propellers are cast and finished with extreme precision and very tight tolerances. They are often under a short deadline to complete their repairs and return the propeller to their owners but that is something they have made a name for themselves by doing.
A few years back, Dennis received a call from Bill Taylor, Publisher of Power Boating Canada, and Poker Runs America. Taylor was just a few days away from a Poker Runs America event when he discovered a crack in one of the blades on his propeller in addition to damage on his other props. The propeller was in very poor condition and unusable before Bayview got their hands on it.
Dennis and his team were able to quickly repair the damaged parts and ensure that the event went as planned. 
"The common ground amongst all boaters is the satisfaction of knowing that when they choose Bayview Propeller for their marine propulsion needs, they will be safely on the water accomplishing what they want to do."    
Bayview Propeller, boat propeller, boat touring, BOATING Guru, boating lifestyle, Boating Lifestyle Magazine, BOATING Tech, Boating Tech Talk, expert BOATING advice, fix your propeller, How to fix your boat, propeller repair, props Bayview Propeller, boat propeller, boat touring, BOATING Guru, boating lifestyle, Boating Lifestyle Magazine, BOATING Tech, Boating Tech Talk, expert BOATING advice, fix your propeller, How to fix your boat, propeller repair, props