When the phone rang and Bill Taylor asked me if I wanted to go to the Miami International Boat Show to review the latest releases in the marine industry for Power Boating Canada, it was like asking a six-year-old if they wanted to visit Disneyland…
By: Gordon Cruise McBride
I've been to a few boat shows over the years—Toronto, St. Petersburg, Montréal—but nothing prepared me for the magnitude and diversity that visitors encounter when they sign up for the Miami event. Touted as the largest boat show in the world, the show draws more than 100,000 curious visitors to the five-day event, where they can view more than 1000 boats on display at six locations.
The easiest way to access the different venues is by water taxi, golf cart or a free shuttle service. The water taxi is a blast, as it gives you a scenic view of the surrounding ICW, and some interesting "local knowledge" facts shared by the water taxi steward. I was pleased to see the addition of a Manatee Observer on board and around the docks to help identify (and protect) Florida's slow-moving mascots.
In addition to the wide variety of watercraft on display, the show presents an interactive learning centre with tech experts on hand to give boaters advice and tips for their own boats. Located at the Convention Center, "Fred's Shed" is the place to get answers to all your boating issues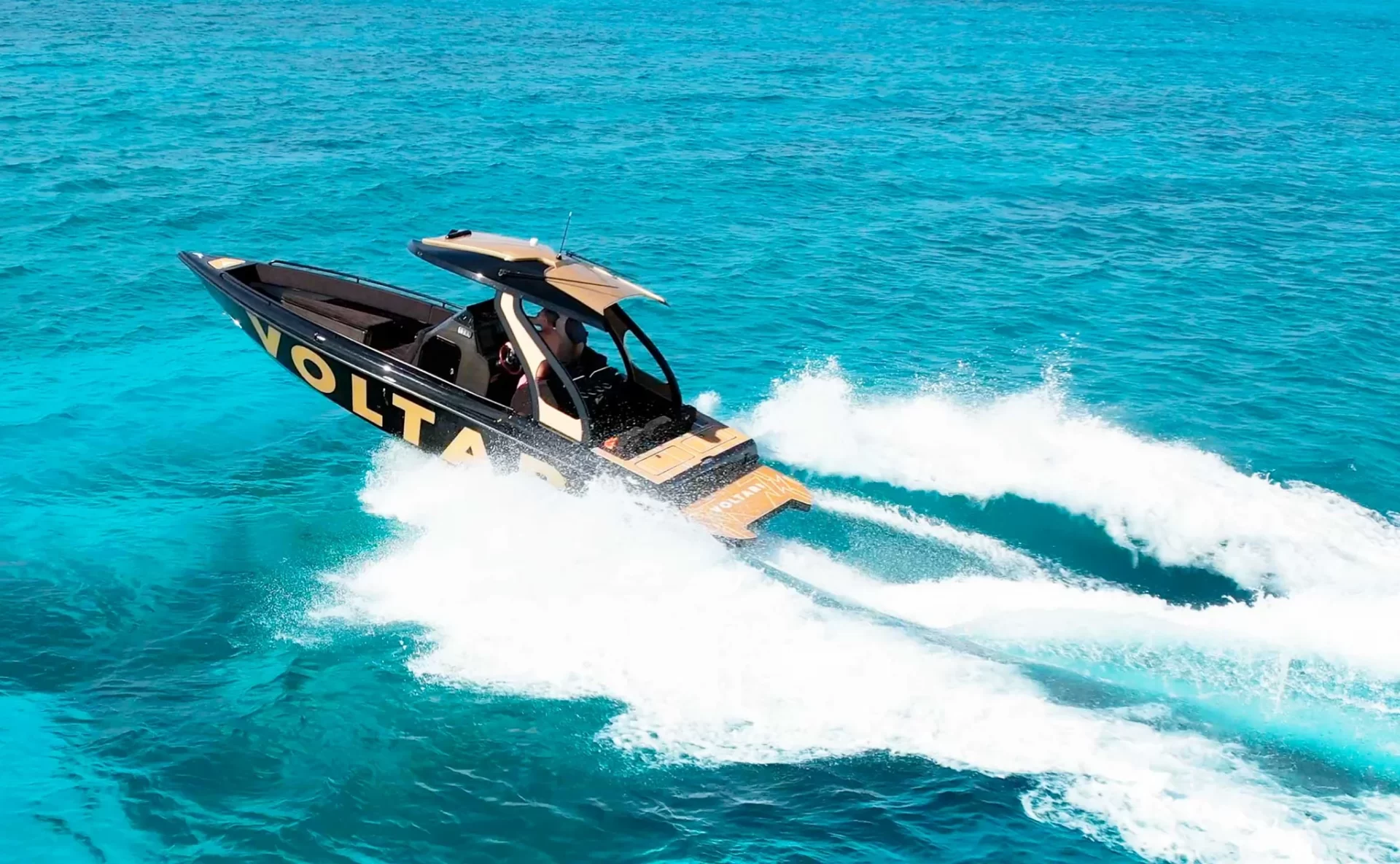 One of the fastest-growing sectors in the marine industry is the EV market, and Ontario-based Voltari leads the thrust with its new, all-electric Voltari 260, an extremely fast, all-carbon runabout that comfortably accommodates 13 passengers in a safe, environmentally friendly craft. The Voltari 260 actually measures just over 28 feet from bow to stern, and can reach an exhilarating top speed of 52 knots. It recently made a record-setting 91-mile run between Key Largo, Fla. and Bimini on one charge. At the show, I spoke with Bruno Tellier, Voltari's Chief Technology Officer, who pointed out the benefits of moving to an all-electric boat.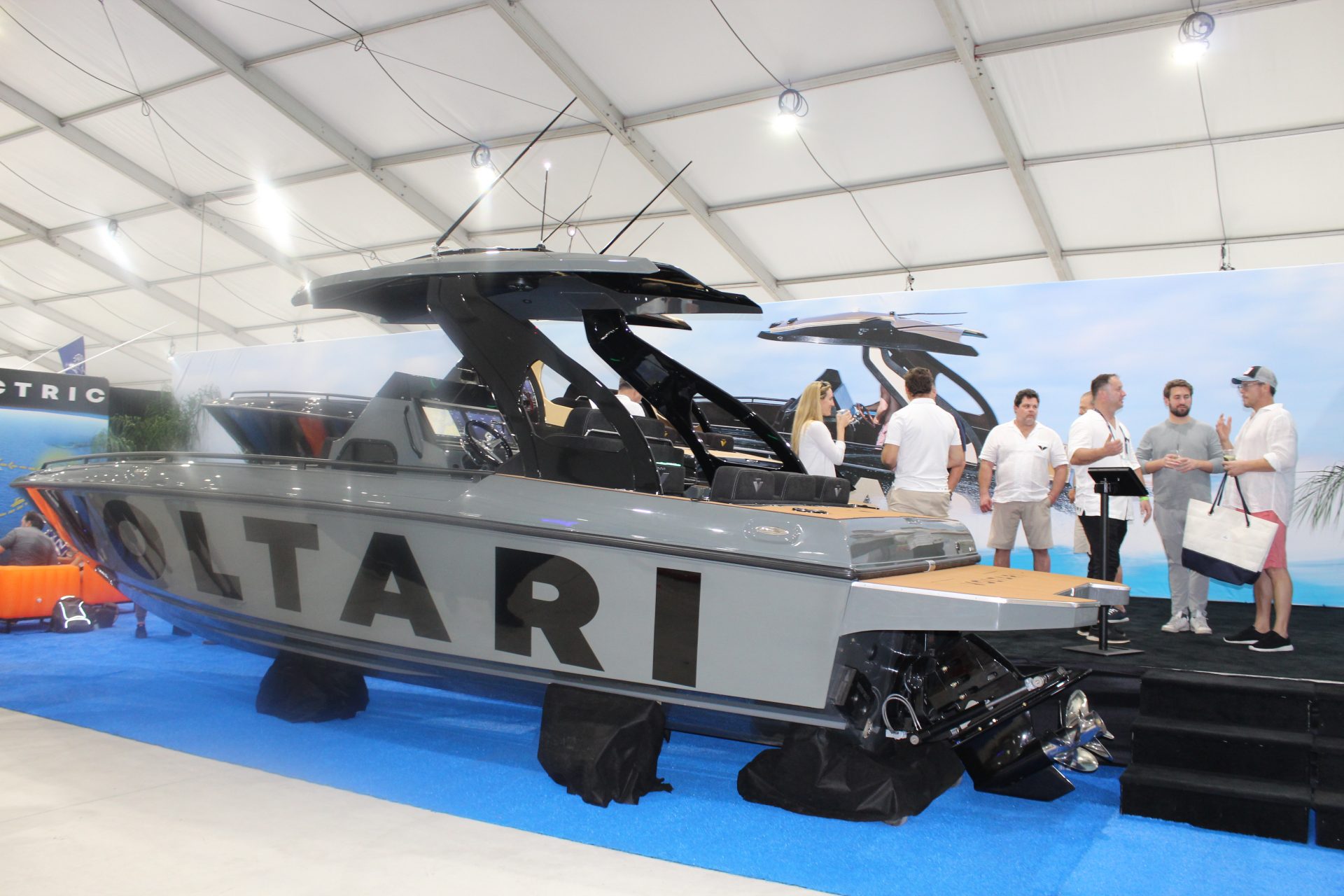 It all began when Bruno had a dream of waterskiing behind an electric boat, and after testing the waters over the past 12 years through trial and error his dream has become a zero-emission reality. Weighing in at 3,175 kg, the Voltari 26 reaches plane in the blink of an eye with her impressive 740 hp, 995 lb/ft (1350Nm) of torque. Each Voltari battery cell is monitored by computers and relayed to the boat's brain centre, ensuring optimum power and performance output. Voltari's EV powertrains are virtually maintenance-free, requiring no oil changes, no engine flushes, no fuel line checks. Their Voltari supercharger can complete a full charge in 45 minutes. With the industry-standard J1772 connector, the Voltari 26 can also be charged on your trailer at almost any automotive charging station.

Voltari has manufacturing facilities in Ontario, product and powertrain engineering and battery manufacturing in Montréal, and U.S. headquarters in Fort Lauderdale, Fla. Their runabout comes fully loaded as stock with one-of-a-kind lighting and a world-class stereo from Rockford.

For more information about Voltari and their electric boats, please visit their website.

2023, 2023 new boats, Boat Show, discover boating, Electric boats, EV, Gordon, miami, MIBS, new boats, Voltari 2023, 2023 new boats, Boat Show, discover boating, Electric boats, EV, Gordon, miami, MIBS, new boats, Voltari