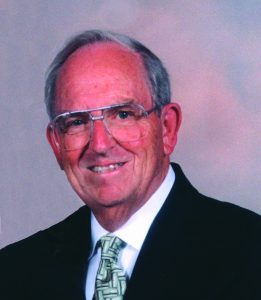 Vic Porter was a kind and gentle man, who extremely cared for his family, friends, employees and just about everyone who crossed his path. I had the pleasure of knowing him for over 45 years and he always had time to say hello.
He was a wonderful family man himself, but he also made sure to ask about our family and have a personal conversation as well. I counted him as a friend, and we even shared the same birthday – February 3rd.
Vic built an incredible team at Formula over the years, creating thousands of extremely high-quality boats and yachts that will be enjoyed for many years to come by his loyal customers.
He was also responsible over his tenure in the industry for shaping numerous lives and countless employment opportunities. As Power Boating Canada's Publisher Bill Taylor says, "Victor was an inspiration to the world and his passion in promoting the boating lifestyle will leave an imprint on the entire team here at Power Boating Canada and Poker Runs America, as well as the audience of our readers forever."
The Formula team was and still is very special to me and our family.
Arlene and I are thinking of the entire Porter family in this time of sadness.
He was a very special person and we are proud to have known him.
By Vic Spellberg
Victor is survived by his lovely wife Kris, and his 6 children, most of whom run Formula Powerboats.
Scott Porter – President of Formula Powerboats
Jean Porter-Brune – Vice President of Marketing
Grant Porter – Executive Vice President of Product Development and Manufacturing
Wayne Porter – Chairman and Vice President of Sales
Ted Porter – Vice President of Human Resources
John Porter – Company Shareholder
As well as several beautiful grandchildren.
best boat, Best boat buying website, best boat marina website, best boat travel website, best place to rent a boat, boat, boat accessories, boat angler, boat boondocking, boat buyers guide, boat camper, boat camping, boat dealers, boat DIY, boat Fishing, boat Fixer, boat Home, boat information, boat insurance, Boat Maintenance, boat marinas, boat marinas in Alberta, boat marinas in BC, boat marinas in Canada, boat marinas in Manitoba, boat marinas in Saskatchewan, boat marinas in the USA, boat marinas near me, boat products, boat rentals, boat repair, boat road test, boat sharing, boat sites near me, boat supplies, boat Tech, boat tips, boat touring, boat trade, boat Travel, boat traveling, boat travelling, boat vacation, boat vacation cost, boat websites Canada, Boating, boating Canada, Boating Canada's Boat Lifestyle Magazine, Boating Lifestyle Magazine, boating website, Canadian marina websites, expert boat information, find a boat dealer, Formula, Formula boats, formula powerboats, how much does a boat cost, how much does marina cost, how to choose a boat, how to drive a boat, marina products, marina supplies, memorial, memoriam, motor boat, obituary, power boating, power boating magazine, powerboating, top boat website, used boat reviews, victor, victor porter