Noodles, fresh fish and a creamy sauce equals one yummy dish.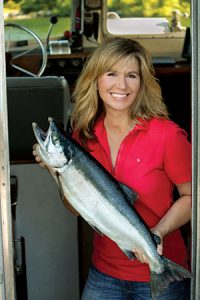 Ingredients
4 (6-ounce)halibut fillets, skinned and trimmed sea salt and freshly ground black pepper
2 tablespoons olive oil
1½ cups mushrooms, halve if large

3 ounces prosciutto, sliced

(if you don't have prosciutto, use bacon and drain well or just omit it)
1 cup dry white wine or organic chicken broth
1 cup heavy cream
2 teaspoons fresh tarragon
1 teaspoon apple cider vinegar fresh chives or green onions, minced
Rosemary Buttered Noodles
8 ounces dried egg noodles
4 tablespoons butter
2 teaspoon fresh rosemary, minced
Parmesan cheese, grated
freshly ground black pepper

Directions
Pat the halibut dry with a paper towel and season the fillets lightly with salt and pepper.  Heat a large nonstick skillet over medium-high heat.  Add oil.  When hot, add halibut and cook, turning once, until opaque but still moist, about 4 minutes total.  Remove fish, set aside and keep warm.  Add mushrooms and prosciutto to the pan.
Cook until mushrooms soften and begin to brown, 2-3 minutes.  Add wine (or broth) and cream.  Return fish to the pan, reduce heat and simmer until sauce thickens slightly, about 8 minutes.  Stir in tarragon and vinegar; cook 1 minute.  Garnish with chives.  Serve with buttered noodles.
Buttered Noodles:
Cook noodles as directed on the package. Drain, but do not rinse.  Melt butter over medium heat in the same pan that was used to cook the noodles.  Add the rosemary and cook until fragrant, about 1 minute.  Add drained noodles to the pan and toss to coat with the butter, then transfer to a serving dish.  Top noodles with Parmesan cheese and black pepper.
Serves 4
Recipe expert from My Tiny Alaskan Oven,  by La Donna Gundersen
Copyright 2014 by Ole and LaDonna Gundersen
Craving something sweet? Try the Butter and Brown Sugar Squares.
best boat, Best boat buying website, best boat marina website, best boat recipes, best boat travel website, best place to rent a boat, best quick boating meals, best recipes for boating, boat accessories, boat angler, boat BBQ tips, boat boondocking, boat buyers guide, boat camper, boat camping, boat cooking, boat dealers, boat destinations, boat DIY, boat Fishing, boat Fixer, boat gourmet, boat Home, boat information, boat insurance, Boat Maintenance, boat marinas, boat marinas in Alberta, boat marinas in BC, boat marinas in Canada, boat marinas in Manitoba, boat marinas in Saskatchewan, boat marinas in the USA, boat marinas near me, boat products, boat recipes, boat rentals, boat repair, boat road test, boat sharing, boat sites near me, boat supplies, boat Tech, boat tips, boat touring, boat trade, boat Travel, boat traveling, boat travelling, boat vacation, boat vacation cost, boat websites Canada, boating Canada, Boating Canada's Boat Lifestyle Magazine, boating life, Boating Lifestyle Magazine, boating recipes, boating website, Buttered Noodles, camping meals, Canadian marina websites, cooking in a boat, cooking on the boat, dining on the boat, expert boat information, find a boat dealer, fish recipe, fresh fish and a creamy sauce, Halibut, how much does a boat cost, how much does marina cost, how to choose a boat, how to drive a boat, La Donna Gundersen, marina cooking, marina products, marina supplies, motor boat, My Tiny Alaskan Oven, noodles, Parmesan cheese, pasta, power boating magazine, recipes, Rosemary Buttered Noodles, top boat website, used boat reviews, wine Recipes