Personalized replicas and reproductions are back in vogue!
Editor's note: this article was published in Power Boating Canada Volume 8 Number 4.
By Harold Shields
Replicas and reproductions which have now snared a tiny portion of the boating market provide owners much of the pleasure of owning a classic boat yet spare them a great deal of the pain. Modern methods and materials offer real advantages – ease of maintenance, long life, and more care-free use – but not everybody agrees.
True purists are shocked by the idea, but antique and classic boat clubs have established a special exhibit class for replicas; a growing number of them can now be seen at shows across North America.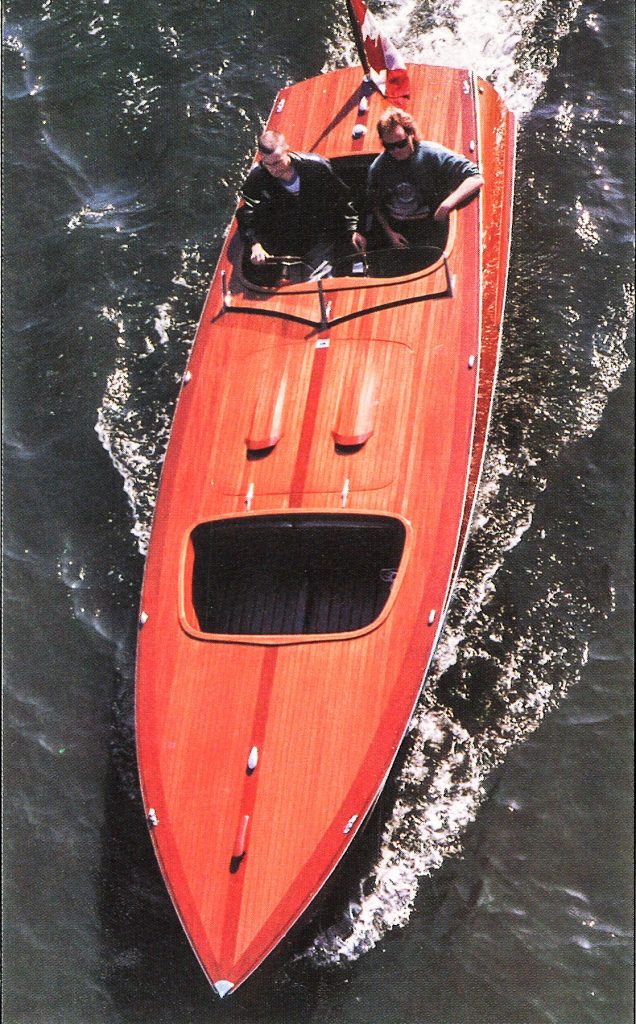 Replica boat building tends to rely on two distinct methods. In the first category, traditional materials are used in new ways to produce modern boats that very closely resemble their ancestors. Sometimes they are built from the original plans, and feature hardware and trim that duplicates the original.
The second group consist of hybrids, where wooden decks, traditional hardware and other classic trim elements are overlaid on a fiberglass hull. Obviously, these different approaches appeal to two very distinct markets, but the skill levels required to build a dreamboat in either method dictates that the price will be high and the volume, therefore, small.
Construction methods in either case is anything but traditional. Virtually all wooden replica builders use cold-moulded veneers saturated with epoxy resins to produce a much stronger hull than the plank-on-frame original.
Even if the upper works remain true to traditional appearance, most builders have redesigned the bottoms to give a drier, more level ride, with less porpoising or pounding.
While traditional double planking has given way to cold moulding, most builders will provide a planked hull if the customer insists. Not so at Grand Craft, where President Richard Sligh states that they will restore using traditional planking, but not build new boats the old-fashioned way.
Grand Craft departed from that tradition somewhat to fulfil a recent contract for Chris Craft to build 24 reproductions of the 1930 model 103, a24-foot, three-cock pit runabout, intended to restore some of the glory to one of the greatest names in boating.
In 1989, Outboard Marine Corporation outbid rival Genmar, paying US $58 million to buy the respected trade name, then sinking in a sea of financial problems and lawsuits.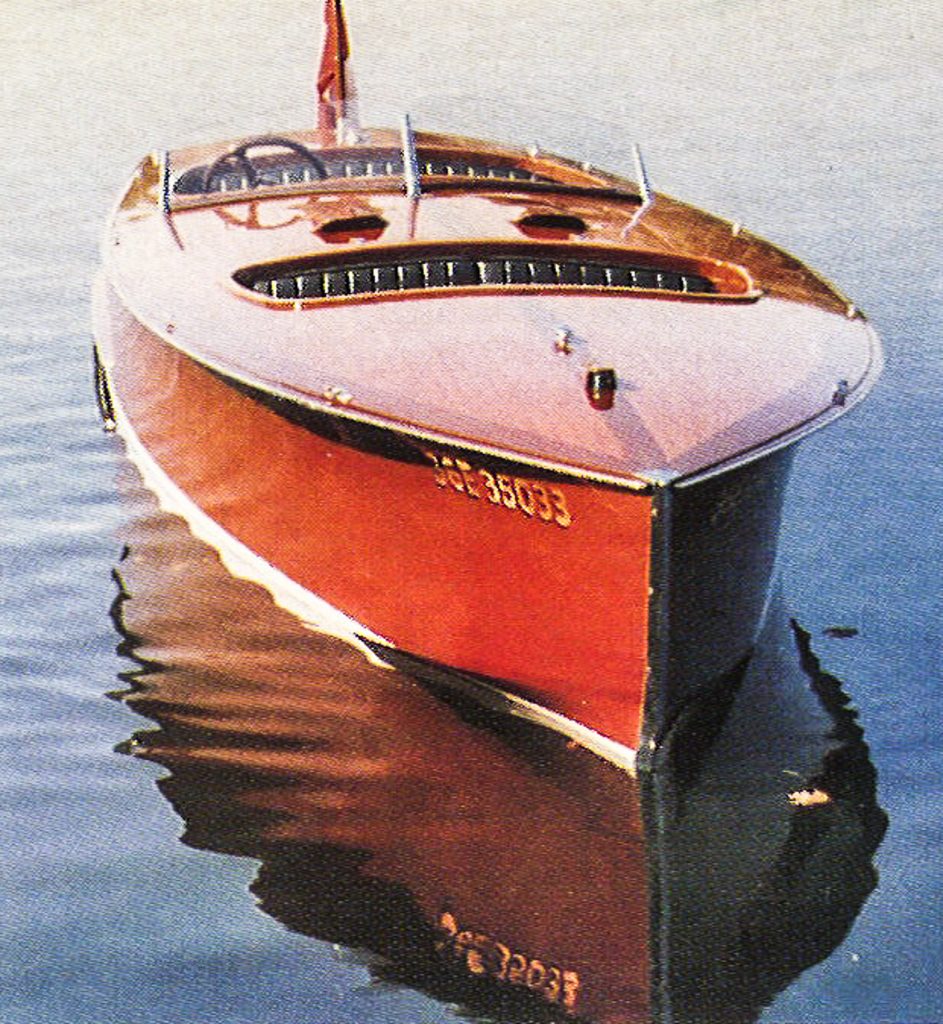 The model 103, synonymous with Chris Craft quality, dash, design, and appointments, represented an excellent choice for replication, and the first of the 24 was the centre piece at the New York boat show display of the rejuvenated corporation.
At $75 000, which included both custom trailer and mooring cover, they probably lost money on every sale, but the campaign accomplished exactly what it was designed to do, announcing to the world that Chris Craft quality was back.
Triple-planked in Honduras mahogany, these runabouts make use of modern technology but retain the traditional appearance, chrome-plated brass hardware and banjo steering wheel. Power is supplied by an OMC/Ford 451cubic inch V-8.
Grand Craft Corporation, of Holland, Michigan, builds a series of sport and classic runabouts from 20 to 28 feet, most in the manner of the Chris Craft productions of the thirties and forties.
Other famous trade names from the past are also being replicated, often by builders who now own the trade name.
Bill Morgan of Silver Lake, New York, a long-time and respected wooden boat craftsman, is building hackercraft, faithful in appearance to the designs of John Hacker, but using modem building methods and redesigned bottoms. Morgan has also spent a great deal of time in the placement of rudders, struts, and engines to achieve a dry, level ride at any speed.
Bill Morgan saw his first Hacker Craftnt927 when his father purchased a 26-footer for use at their family cottage on a lake in the Adirondiracks. In 1933 he met George Reis, the dean of American speed-boat racing, holder of three Gold Cups and owner of the legendary El Lagarto, a 1921 Hacker design that was still winning races in the thirties.
From that time, Bill Morgan has championed the Hackercraft, acquiring the name and design rights in 1981.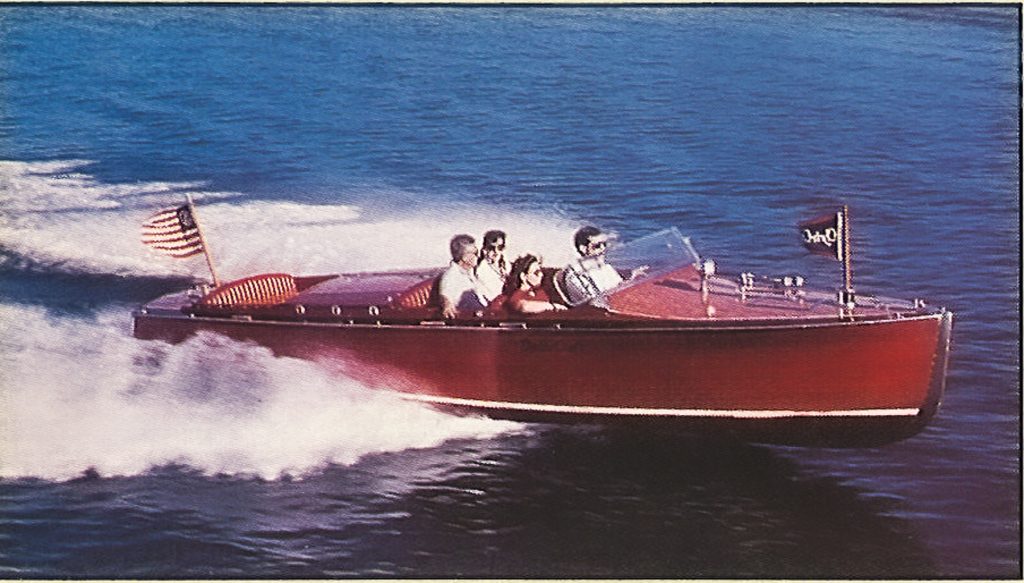 In that first year he built two reproductions, four in the second year. Since then, business has grown steadily. Twenty workers now turn out more than thirty boats a year, from 20 to 40 feet in length, prices range from $40,000 to six figures, but average about $60,000.
Morgan's client list stretches from coast to coast. More than a dozen boats have been shipped to Europe. Mr. Gucci, of Italian loafer fame, is a happy owner, enjoying "la dolce vita" in his 38-foottorpedo stern model. Andy Rooney, the quirky TV commentator on "60 Minutes" is another Morgan customer and has featured Hackercraft on his telecast.
"John Hacker was ahead of his time in every way," states Morgan, "and his work still looks modern today. It will always represent top value in boating."
Tom and Larry Turcottes's Gar Wood Boat Company in Watervliet, New York, are also successfully reproducing the authentic models of another famous builder of the past.
Racer Garfield Wood, famous for his success in Gold Cup and Harmsworth trophy competition, combined speed, and craftsmanship in his commercial production of the twenties and thirties, selling to Woolworth, Dodge, Hearst and many other famous families.
While modern construction methods are employed, design changes are minimal. Says Turcotte, "I think Gar Wood was recognized as the best-riding of its type. It would be hard to improve on that underwater shape."
Four models are presently available, ranging from the 22-foot rear engine Streamliner through the 28-foot and 33-foottriple-cockpit runabouts, to the top-of-the-line, 33-foot Baby Gar, a double-cockpit model that epitomizes everything about ego and excess.
With their chrome-framed folding-vee windshields, their walnut-stained deck boards, and 16 coats of hand-rubbed varnish, the Gar Wood runabouts have little difficulty in starting up that old love affair with wooden boats.
Hugh Saint, Incorporated, building in Cape Coral, Florida, has specialized in Doug Van Patten Sheeriiner designs ranging from 2O-feet to 30-feet, and priced from $50,000 to $100,000.
Colonel Saint, a retired air force officer, had always respected the work done by Van Patten for Canadian builders such as Minett-shields and Greavette, and decided to concentrate on a runabout design that would represent the ultimate in performance, handling, and classic lines. At least two boats are in Canada -one on Lake Temagami, the other on Georgian Bay.
"The Sheerliner's underbody is a convex shape, as opposed to the concave on Hackers, Gar Woods, and Chris Craft runabouts. This results in a much softer ride," states Saint. "The entire hull is lofted by Van Patten's patented procedure using three parabolic and one sigmoidal curve.
We are the only builders who use this method which results in a much more pleasing shape than one determined by traditional ship curves."
The entire hull of a Saint runabout is constructed in the WEST system of epoxy saturation, resulting in a vessel that has all the classic beauty of the originals with virtually none of the problems of rot, leakage, water saturation, delamination, or upkeep.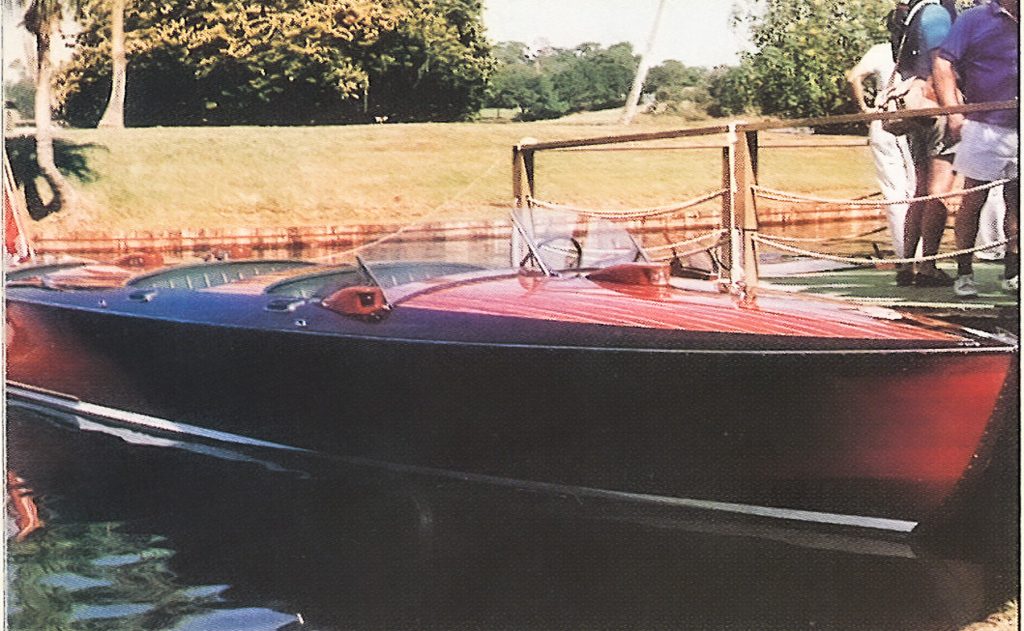 Hugh Saint boats are often taken for true antiques since they so closely resemble the originals. Yet it is their more modem features which endear the modern owners – resins that minimize decay as well as maintenance, aluminum flanges that clamp stringers to frames, modern power plants and drive trains with fast, safe hulls.
However, any wooden boat, even one built with modem methods and materials, must be protected from the elements, particularly sun and saltwater. Sanding and varnishing are constant requirements, despite covered shelters, boathouses, and custom covers. If time spent in refinishing varnish is not your favorite activity, but you enjoy the distinctive classic designs of the past, perhaps the hybrid is for you.
A newcomer to the Canadian scene is the Gable 2L-footer, which along with the large Lombard 27-footer, offers the convenience, reliability and performance of fiberglass construction while evoking images of the past – in other words, a contemporary classic. It reminds you of an old Shepherd or Gar Wood, but in feeling, not in specific elements.
James Lombard, the designer, got his early design and building experience at Sabre Yachts, a Maine sailboat builder.
As a hobby he restored mahogany speedboats, eventually realizing that his personal dream was to design and build modern powerboats that were maintenance-free but distinctive in appearance – a personalized product made to suit the needs of an individual customer, not another look-alike.
Lombard's first hybrid was the Gable2l-footer which proved an immediate success. Ten hulls later he added the 27-foot Lombard. His goal was to improve on the runabout of today by dressing the shapes and design elements of classic boats in modern garb.
The square bow, straight sheerline, mahogany deck and arched transom recall past elegance and affluence. Thankfully, fiberglass construction has eliminated most of the maintenance.
Says Lombard "I didn't start with a classic runabout and try to make it better; I began with a modern boat and brought classic design elements to it."
The result is a brawny, foam-cored fiberglass deep-vee, hull with a plumb stem, slightly reversed sheerline, flared bow and curved stern, powered by a 260hp MerCruiser stem drive that can reach 50 miles per hour.
Forward of the well-instrumented dash is a cuddy cabin with head, providing storage and room to change bathing suits. The modern underbody gives exceptional riding qualities in heavy weather and is directly derived from C. Raymond Hunt's pioneering original work.
The Gable 21-footernow has a Canadian connection. Production rights have recently been acquired by David Reburn of Toronto. His newly-formed company, Classic Legends Inc., will manufacture the vessel in the Toronto area as well as act as Ontario distributor for the Kavalk line built in British Columbia.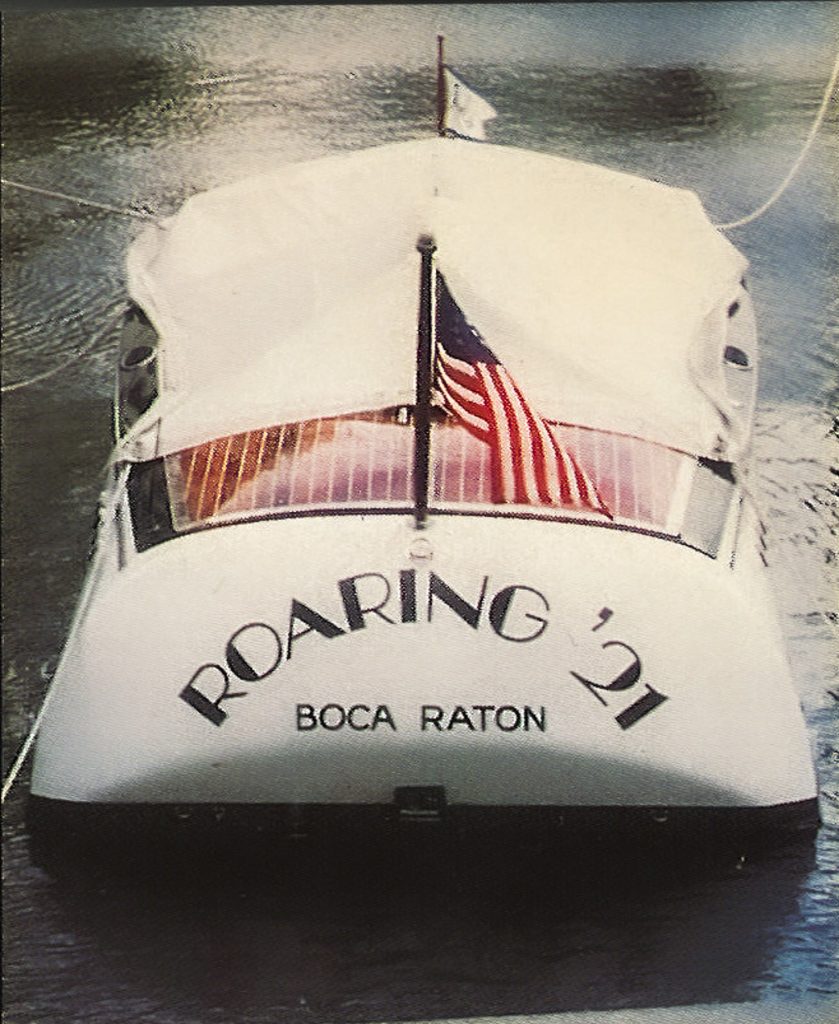 David is no stranger to classic boating. He is the owner of "Circles", a 1934 Greavette Flash which he inherited from his father Stewart. Both "Circles" and the first Canadian-built Gable 2l-footerwill be on display at the Antique and Classic Boat Show in Gravenhurst, July 10, providing a one-owner contrast between a gentleman's racer then and now.
Subtle changes are being made in the Canadian product, changes designed to make the vessel more in keeping with the Muskoka runabouts of the past -varnished pin-striped mahogany decks, ventilated wooden doors leading to the cuddy cabin, fold-down cupboard doors that act as trays for rear-seat passengers and a side-mounted folding table for alfresco dining.
To eliminate the least possible concern for some prospective buyers, Reburn is offering a free deck refinishing anytime in the first six years after delivery.
The Clarion Boat Company in Campbellford, Ontario, describes itself as "building tomorrow's classics today." Clarion's latest design is a 19-footspeedster, very reminiscent of the Ditchburn gentleman's racer of the thirties but built in the modern manner. Designer Steve Killing has made subtle changes that enhance performance, but the appearance is very traditional.
Framing is more like that of an aircraft, with three layers of laminate and the frames all coated with epoxy before assembly. Hull fairing follows, then mahogany hull planking is laminated to the structure.
The result is a dimensionally stable, enormously strong construction that will resist rot and leakage for many years. Then the hull is sheathed in fiberglass below the waterline, primarily to resist abrasion. Ahigh-gloss varnish finish completes the job.
Hardware is chrome-on-bronze in the classic mould, while the powerplant is a 350 cubic inch V-8. Prices range from $70,000 to $80,000, depending upon the few optional details.
Builder Dwight Boyd states, "We've tried to capture the spirit of the times while including the technical improvements of modem chemistry, powerplants and design advances.
Refinishing will only be necessary about every five years if the vessel is properly kept with no change or neglect. Our owners want unique, personal boats without the drudgery of continuous upkeep. A Clarion boat is usually the third or fourth in a boathouse, but it's the one that is used to show off a little."

To understand what is behind all this interest in classic reproductions it is only necessary to look at the automobile industry. Remember the highly individual models of the twenties and thirties? There was no mistaking the Stutz Bearcat, the Pierce Arrow, or the Chrysler Airflow.

Now look at today's offerings which many people think all popped out of the same cookie cutter. Any new boat builder will tell you that it is not just automobiles that are produced by this technology. Mass marketing now sets the style for every industry, not the individual consumer.

For some boaters that is not good enough. They are unwilling to accept the standardized product that only partly meets their needs, but they are willing to pay more for personalized products that uniquely fit their dreams. Craftsmanship, with or without technical advance, is back in vogue and in demand.

The legendary Harold Shields was part of Power Boating Canada writers' team since its inception, as well as he sat on the Power Boating Canada editorial advisory board. He was the founder of the Toronto International Boat Show and is an honorary life member of the Canadian Boating Federation.

accessories, Adventure, boat, boat accessories, boat gear, Boat Restoration, boat review, Boat Show, boat test, Boating, boating life, Chris Craft, Clarion, classic, classic boats, Dream Boat, family boat, Gable, History, Hugh Saint, Mercruiser, power boat, power boating, Power Boating Canada, powerboating, replicas, Restoration, Roaring 20s, Speed Limits, Speedster, Speedster boat, Toronto, Triple-planked, Vaults, Vee-bottom, Vogue accessories, Adventure, boat, boat accessories, boat gear, Boat Restoration, boat review, Boat Show, boat test, Boating, boating life, Chris Craft, Clarion, classic, classic boats, Dream Boat, family boat, Gable, History, Hugh Saint, Mercruiser, power boat, power boating, Power Boating Canada, powerboating, replicas, Restoration, Roaring 20s, Speed Limits, Speedster, Speedster boat, Toronto, Triple-planked, Vaults, Vee-bottom, Vogue