By Eric Vienneau
Boating season is just around the corner, the sun is slowly starting to come out, there are boats scattered on the waters just dying to be joined by the rest of the boating community, so now is a good time to start preparing for the waves.
We've been talking about all kinds of exciting things coming in boating for 2021, which is a rarity during COVID. However, one thing COVID has re-enforced in everyone is a sense of safety, and what better way to start boating safer than buying the right shoes.
Not only will these shoes in the list below offer safety and comfort, but they are fashion sensible. Great for that on-the-water photo op, while also catering to all kinds of boaters, from Yacht owners to the fish boat owner, everyone deserves stylish and functionable footwear.
Sperry's Top-Sider Men's Boat Shoe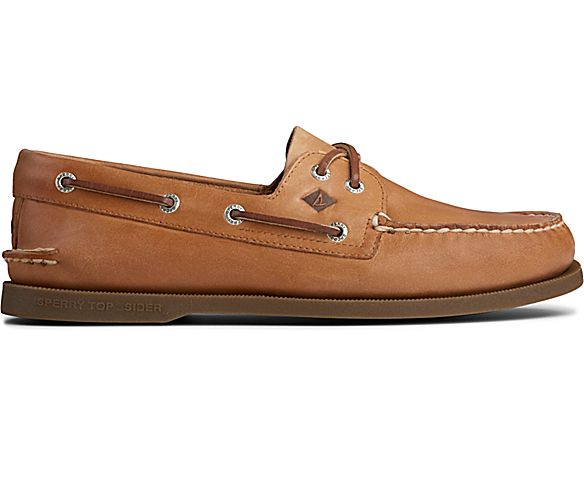 Coming in an old-fashioned moccasin style, this shoe from a classic boat shoe manufacturer prevents scuffing on your boat and is non-slip.
Sperry has been making boat shoes since 1935 and is trusted in the boating world. The EVA sole is shock-absorbing and its leather body conforms to the shape of your foot over time. To break in these shoes, according to buyers it takes anywhere from 12 hours to a few weeks.
However, if there is one thing this shoe isn't missing, it's comfort. They are ideal for men with wide feet and are offered in regular, wide, and extra wide options.
The colour options seem endless, coming in cream, Sahara, Navy, Oatmeal, Amaretto, and Ivory to name a few.
You can't go wrong with this classic casual boat show which is perfectly on the line of style and comfort.
For more information: https://www.amazon.ca
Columbia Men Relaxed Boat and Fishing Shoe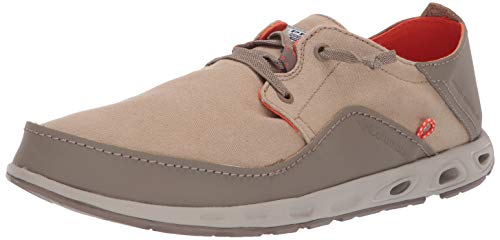 Standing in one spot for hours requires a durable and comfortable shoe. The fisher knows all too well the importance of good footwear.
The Columbia Men Relaxed Boat and Fishing Shoe are different from the traditional clunky-looking fishing shoe. You could find yourself at the bar down the street after a day of fishing and still be fashionable with this shoe on.
These shoes are waterproof in shallow waters and low-wake rivers, making it so you don't have to hesitate to step a foot into the water to ensure you catch that big fish.
After a day of fishing, these shoes are also great boat shoes. They are non-slip and will pair beautifully with your boating outfit after the rod is hung up.
For more information: https://www.amazon.ca
Hey Dude Men's Wally Sox Loafer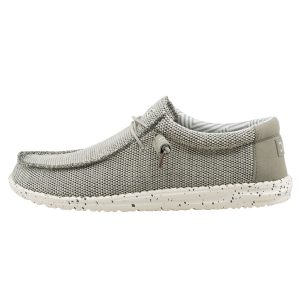 Made with recycle fiber, lightweight, and great grip on a wet deck, these shoes are perfect for lounging around on your boat.
There are many different colours and styles available with this modern-casual design, maintaining a perfect level of comfort for those long days by the pool or on the boat.
What makes this shoe so comfortable is the flex and fold system along with a low-top, wide chukka construction allowing plenty of room in the toe area.
For more information: https://www.amazon.com/Hey-Dude-Wally-Chukka-Canvas
Yuketen Canoe Moc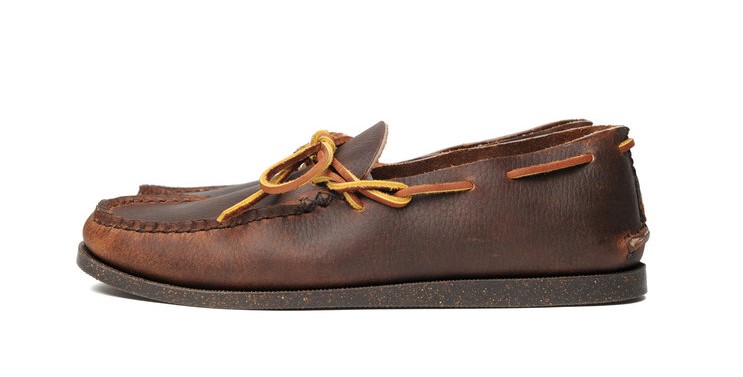 Sometimes you may want to leave the power boat and step into a precariously wobbly canoe with your family. These shoes are for both and any situations, however. Yuketen is known for sturdy boots and chukkas, but this shoe is breathable and lightweight.
Hand stitched with Horween leather with a technique commonly used to stitch a baseball, this shoe is comfortable, provides ample support and durability, while still maintaining a simple style with unique pattern along the toe box, making it embody the outdoor high fashion aesthetic.
Handmade in USA, this shoe has five layers of interior. This shoe comes in brown or black and is the result of cobbling expertise which makes this shoe so special.
For more information: www.yuketen.com
Swims Breeze Wave Lace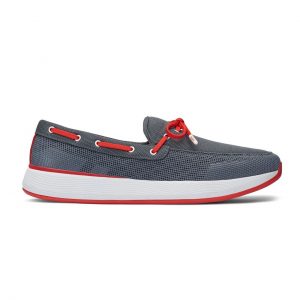 The Breeze Wave Lace is on its way to becoming a classic. It boasts a modern design which is breathable, non-slip, and reliable.

Made with mesh and foam padding in its interior, phylon midsole and molded-plastic heel counter, it resembles an athletic sneaker while remaining truly for boaters.

This shoe is reliable on deck with its specially designed and textured rubber outsole, while maintain a sleek and sporty look for the runners who also boat.

For more information: www.brownsshoes.com

Again, boating season is almost here, so grab a new pair of shoes to replace the ones that were worn out by last season, because this season will be just as fun!

Amaretto, boat, boat season, Boat Shoe, Boating, classic, classic boat, classic shoe, colours, columbia, design, dry, durable, family boat, Fashion, fish shoe, fishing, fishing shoe, Hey Dude, insulated, Ivory, lightweight, men, Men's shoe, mocasin, navy, non-slip, Oatmeal, outsole, power boating, Sahara, shoe, Shoe company, shoe design, Shoes, sole, Sperry, Swims Breeze, Yacht, yacht shoe, Yuketen Amaretto, boat, boat season, Boat Shoe, Boating, classic, classic boat, classic shoe, colours, columbia, design, dry, durable, family boat, Fashion, fish shoe, fishing, fishing shoe, Hey Dude, insulated, Ivory, lightweight, men, Men's shoe, mocasin, navy, non-slip, Oatmeal, outsole, power boating, Sahara, shoe, Shoe company, shoe design, Shoes, sole, Sperry, Swims Breeze, Yacht, yacht shoe, Yuketen