Fishing technology has come a long way – and only keeps improving
By Patrick Campeau
There are many accessories we attach to our fishing boats for enhanced performance, increased comfort levels, or simple and diverse moments of satisfaction on the water. Here are a few devices I have put to the test over the last few years – you're bound to be impressed and improve fishing.
Onboard, On the Run Power Management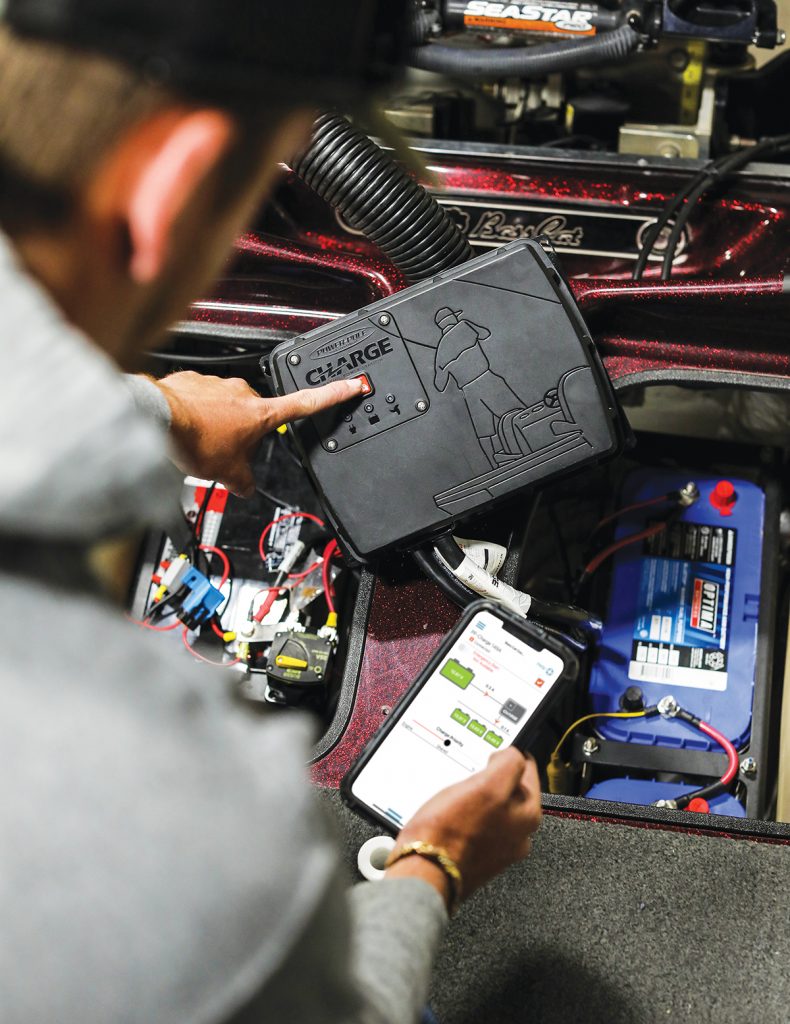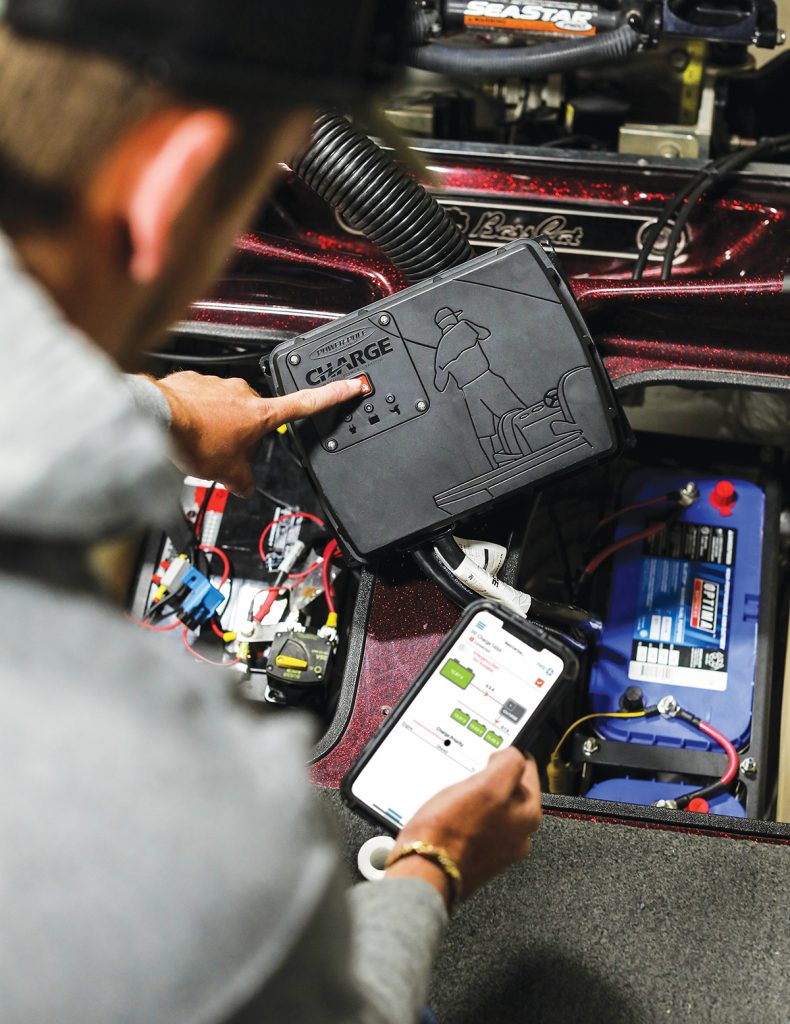 In the past, outdoor enthusiasts had to remove batteries from their boats to recharge them. That time, however, is behind us: certain manufacturers have now developed revolutionary, integrated products. JL Marine Systems, for example, recently launched a power management station which literally transformed the market. Their Power-Pole CHARGE is the most advanced power management system available; it does the work of three devices – that of a traditional battery charger, an alternator which charges batteries while the motor is operating, and a system which combines batteries for an emergency start – all in one compact unit. Imagine a power generating station of 500 watts which supplies up to 40 amperes of charging power to the cranking battery and up to 25 amperes to the auxiliary batteries of the electric motor whether they are lead acid, AGM, GEL, Lithium, TPPL, or other options. This compact unit – weighing in at only four kilos – can be controlled via the C-Monster Application. The user can therefore monitor the status of his or her batteries in real time and prioritize those of the electric motor or cranking ones during the recharge process. CHARGE also integrates with a number of different MFD brands such as Lowrance, Simrad, and Mercury VesselView.
www.power-pole.com/charge
A
 Wealth of Information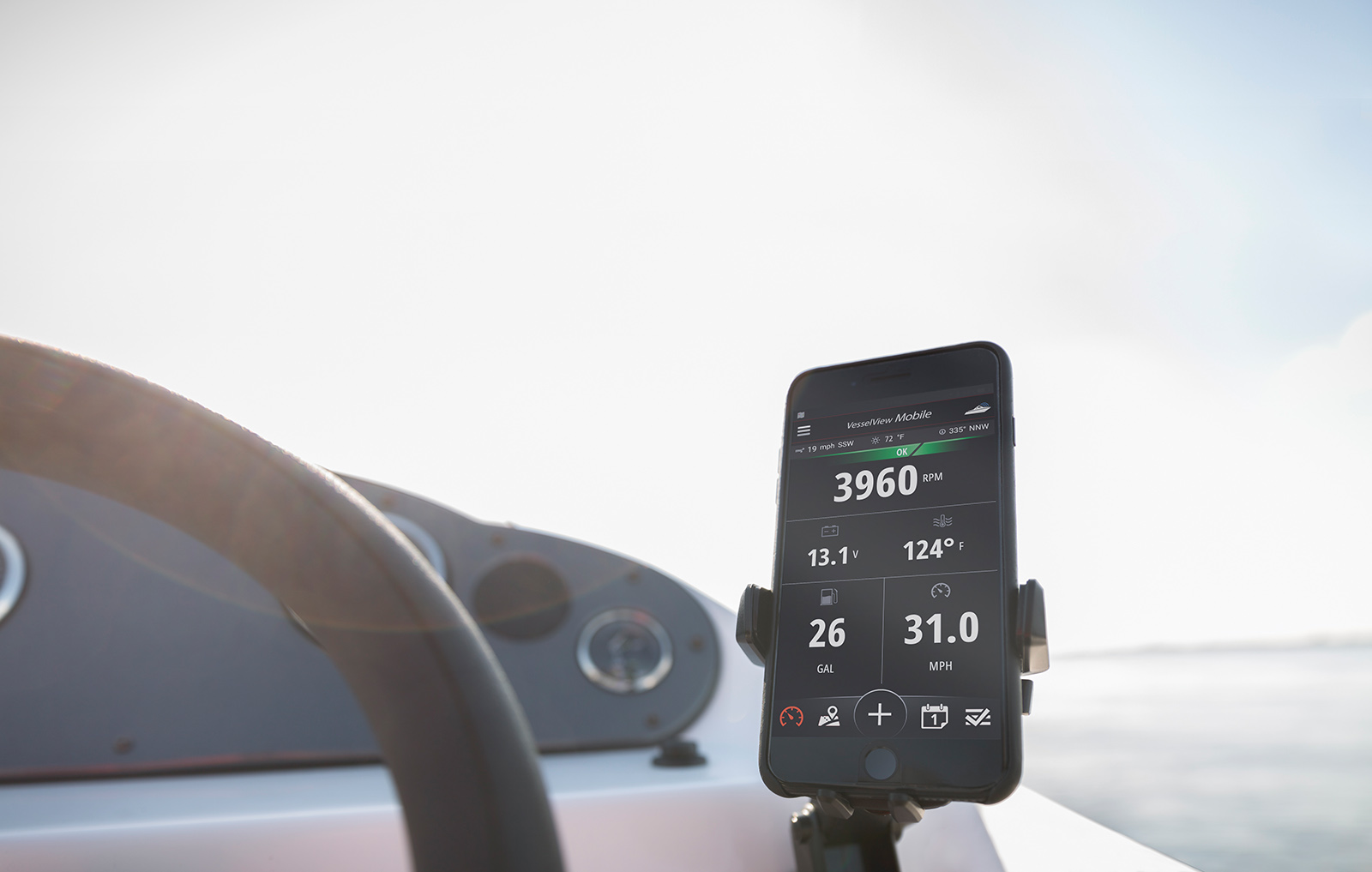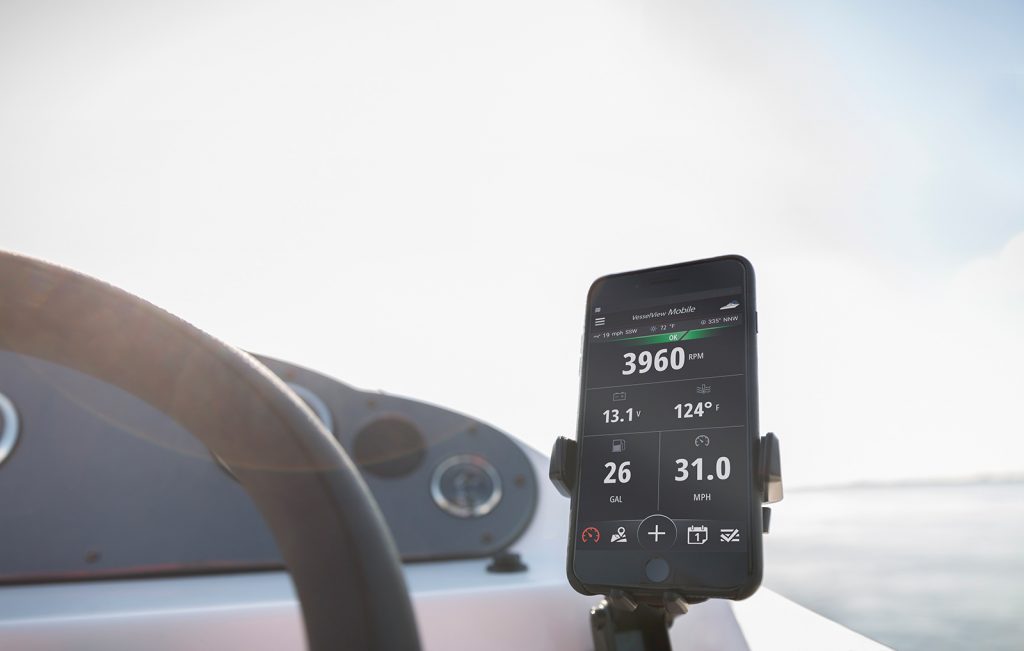 The VesselView Mobile app displays key data for one to four engines on your smartphone (Android or Apple iPhone) or numeric tablet. Once this module is connected to your motor with Bluetooth Low Energy technology, you can keep track of your fuel usage, engine temperature, oil pressure levels, battery life, or any other data points. The information provided via VesselView Mobile is much more accurate than most analogue instruments. This device will also track the exact number of hours for which your engine operates, and it will inform on normal maintenance. Unlike other gadgets, VesselView Mobile will not produce a series of beeps or numerical code posts: rather, it explains your engine status in plain language. If you select a Mercury Dealer in the app, you can share your engine data with the dealer. He or she can then examine these alerts and assist you in maintaining your engine. The VesselView Mobile app also has a map feature which includes local points of interest like marinas, restaurants, and local bait shops. It includes handy checklists, too, so you don't forget any important items onshore! The unit easily installs without tools and on most Mercury electronic injection cylinders of 40 HP or higher.
www.vesselviewmobile.com/
To Maximize Fishing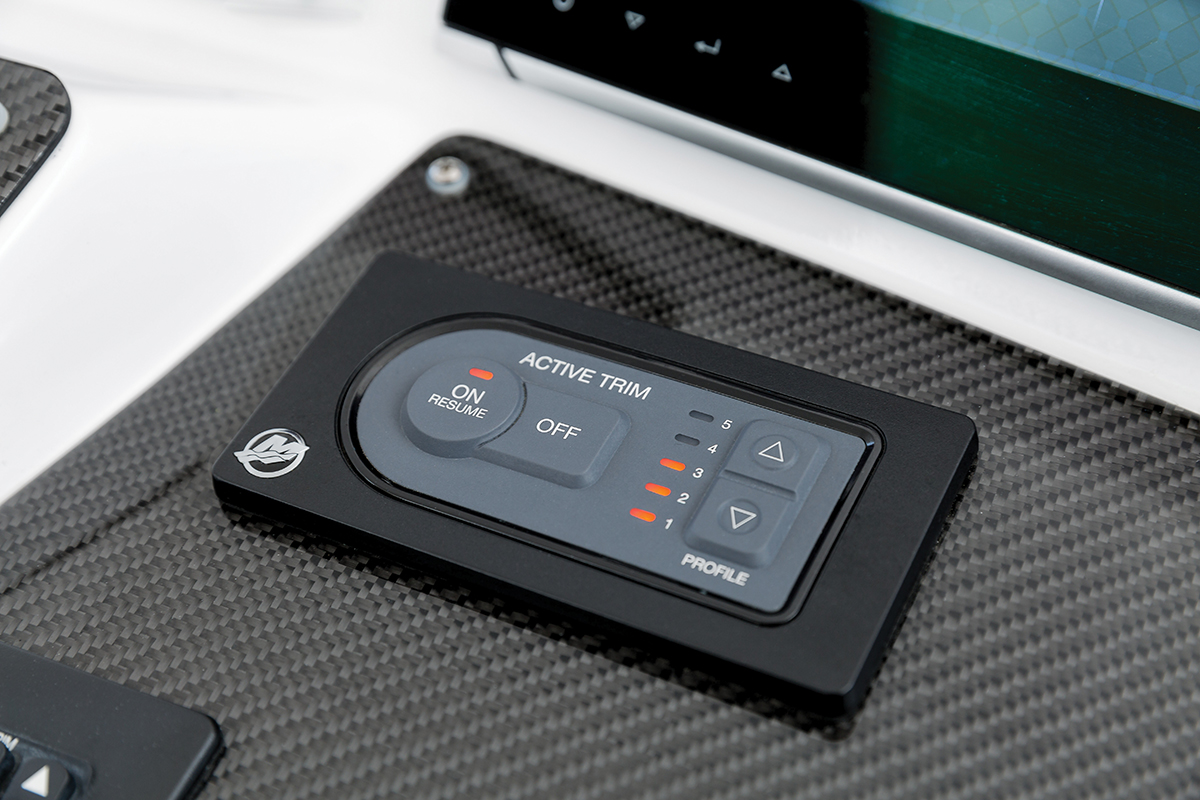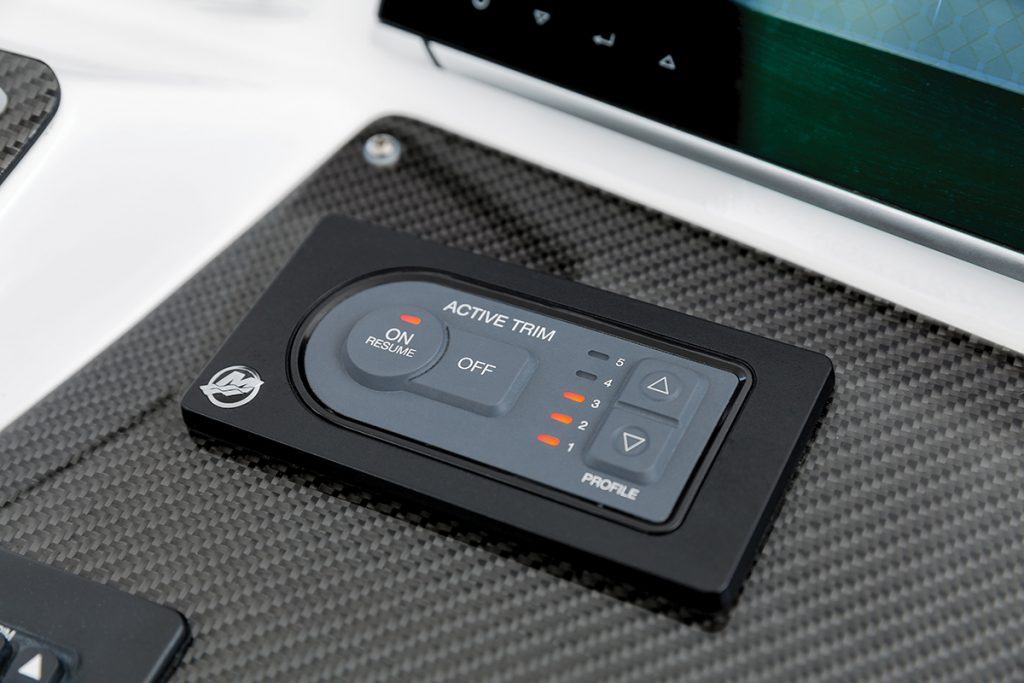 Active Trim is the first and only automatic trimming system based on GPS speed. This trim adjustment – which can switch between 25 different profiles – is of great assistance for various user types. When the fisher or boater accelerates, the engine lowers itself; Active Trim then gradually changes the trim angle during acceleration. When the captain wants to slow down, meanwhile, the craft adjusts downward to decelerate. The user can manually override if they wish to control the system. Active Trim is compatible with most Mercury four-stroke outboards, starting at 40-HP, two-stroke outboards as well as Mercury gasoline and diesel engines using Smartcraft. Please note that this unit operates up to 80 km/h.
www.mercurymarine.com
In Complete Comfort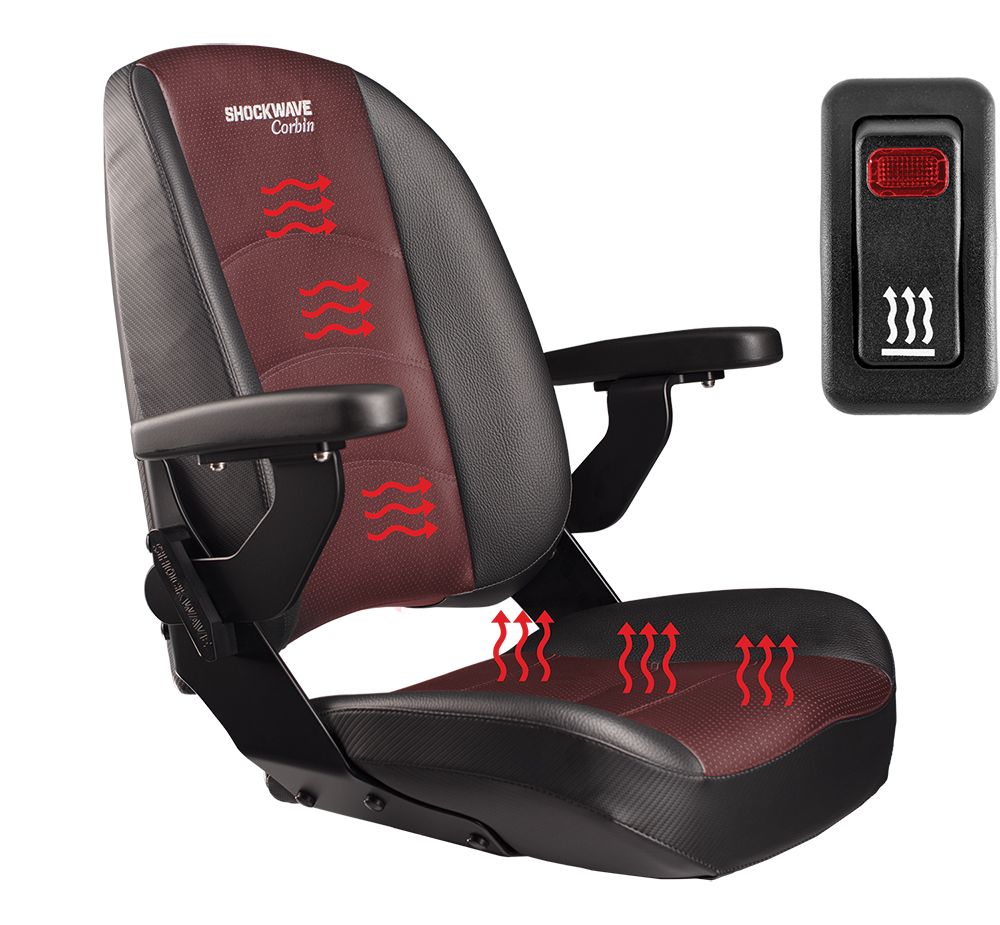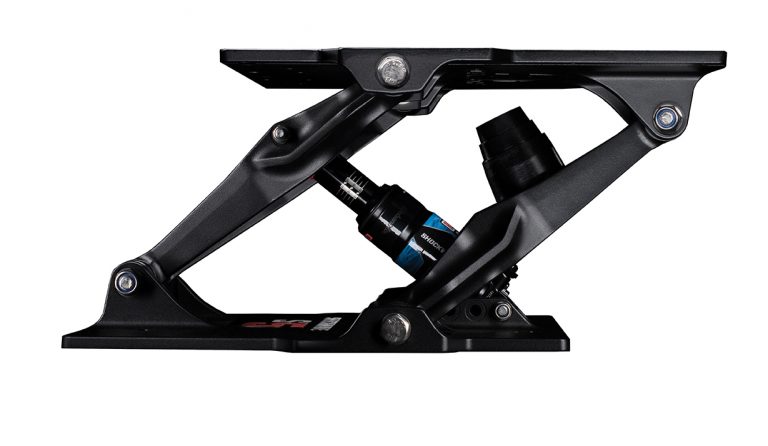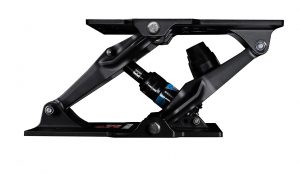 When the first vehicles appeared in the early 1900's, they did not have any suspension – you can imagine the level of comfort. Our modern shock-absorbing systems have certainly evolved but, when we look at the boating world, we notice that many boats are not equipped with shock-absorbing systems. The Canadian firm Shockwave Seats has developed the S5 module, a suspension base that sits below the seat. These bases conform to most boats and significantly increase passenger comfort. Shockwave Seats, a world leader in the field of marine shock mitigation, recently launched the new Corbin2 heated seats for fishing, pleasure, and commercial boats. The back and bottom cushions are heated, giving enthusiasts complete comfort and greater time on the water. Picture beautiful excursions early in the springtime and late into the fall season! The entire device is controlled by an illuminated rocker switch. The Corbin2 heated seat is available in black. You can, however, order a personalized colour at additional cost.
www.shockwaveseats.com
Improve Fishing by See Everything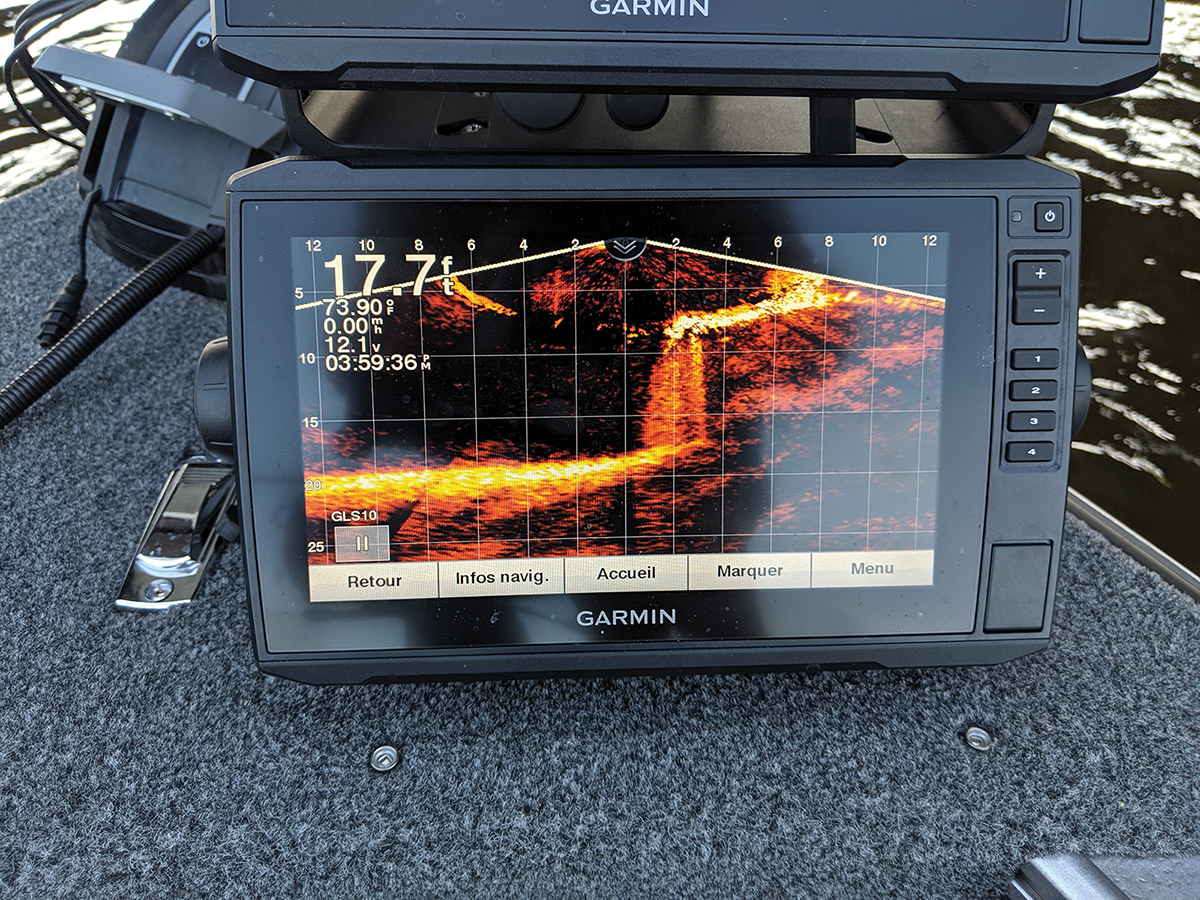 Garmin's sonar technology, Panoptix, offers an ultra-detailed view of an underwater environment; you can visualize, in real time and in 3D, everything under or around your boat. It presents highly detailed images of structures – ones which are easy to interpret – as well as bait and fish that swim by even when your boat has stopped. We can also obtain the most spectacular transducer technology available today with the scanning transducer Panoptix LiveScope. The Panoptix transducers function in Forward Mode or in Down Mode, and they are available with different types of fasteners to connect with your boat. Garmin's most recent innovation is the perspective view – ideal for detecting shoals and fish in real time with a highly detailed viewing angle of up to 60 m (200 ft) in front of your boat. To use the front, down, or perspective views, a user need only fix the support into the Perspective Mode on their electric motor and adjust the transducer with one simple gesture. Most units from the echoMAP series and GPSMAP will accept and support this superb technology.
www.garmin.com 
Smooth Approach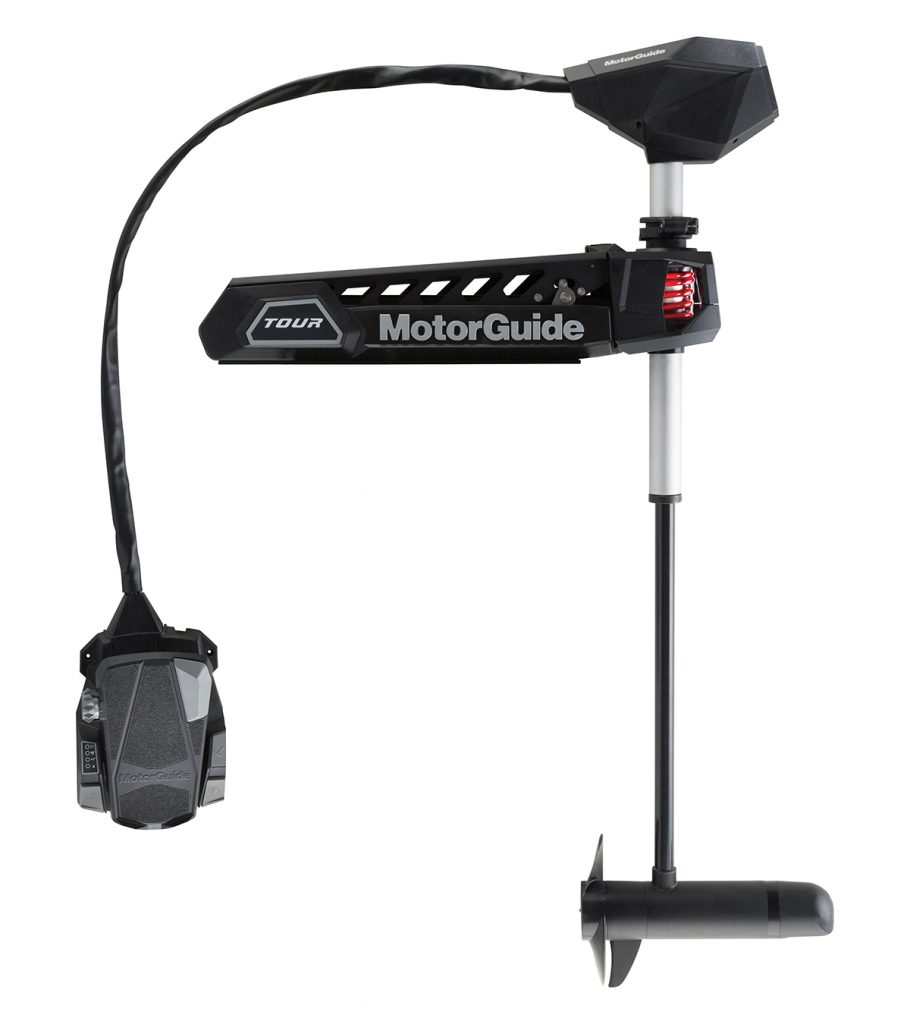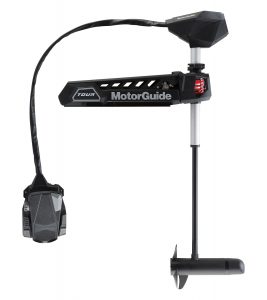 How do you approach fish without scaring them? How do you move around in shallow water or navigate smoothly without noise? Opting for an electric motor, one which you install on the bow with a foot control, is one of your best bets. With this type of product, driving the boat has become so much easier: it's simple to maintain control, even when the wind blows hard, because it is the front that directs your movements. You can opt for a device that functions with either 12, 24, or 36 volts as your needs, budget, and storage space for batteries dictate. Any option will generate power from 45 to 109 pounds of thrust.
As a real cable duct assisted by an electric control, the all-new MotorGuide Tour Pro offers the best of both worlds. Thanks to its integrated Pinpoint GPS navigation system, this motor features a positioning and anchoring system that is three times more precise than what previously existed on the market. By simply pressing the anchoring function, you will stay in place regardless of wind or current. The fisherman or woman now deploys 40% less effort with the powerful Zero-G Lift-Assist lifting system. Engineers have also developed both a metal pedal that will not flex and a composite oversized shaft which can flex and absorb shocks on a 360-degree axis. In addition to these advantages, the Tour Edition frees up your hands for teasing the fish that make you dream.
www.motorguide.com
---
Patrick Campeau is a  professional fisherman that is a three-time provincial champion member inducted into the Canadian Pantheon of Fishing. Find out more about Patrick Campeau at www.pcampeau.com or www.facebook.com/lapassiondepatrickcampeau

boat, Boating, choosing a hitch, class 2 trailer hitch, class 3 trailer hitch, equalizing hitch, expert RV advice, fifth wheel trailer tips, fish boat, fishing, fishing accessories, fishing gear, fishing technology, Hitch Hints, hitching a trailer, How to fix your RV, how to hitch an RV, How to tow an RV, RV advice, RV DIY, RV Guru, RV hints, RV hitch types, RV Lifestyle, RV Lifestyle Magazine, RV tech, RV tech Talk, RV tips, RV touring, towing a trailer, towing tips, trailer towing tips, travel trailer tips, weight distributing hitch, what RV is best boat, Boating, choosing a hitch, class 2 trailer hitch, class 3 trailer hitch, equalizing hitch, expert RV advice, fifth wheel trailer tips, fish boat, fishing, fishing accessories, fishing gear, fishing technology, Hitch Hints, hitching a trailer, How to fix your RV, how to hitch an RV, How to tow an RV, RV advice, RV DIY, RV Guru, RV hints, RV hitch types, RV Lifestyle, RV Lifestyle Magazine, RV tech, RV tech Talk, RV tips, RV touring, towing a trailer, towing tips, trailer towing tips, travel trailer tips, weight distributing hitch, what RV is best