Power Boating Canada was invited down to a media event in Charleston, South Carolina where Zodiac unveiled their all new OPEN 5.5 OPEN and OPEN 7 models to the North American market.
Already a huge success in Europe, the new models were introduced at a wine and cheese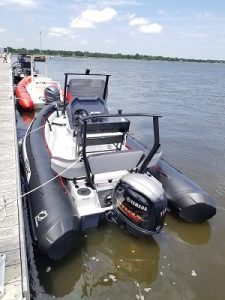 event on Thursday night, attended by Zodiac team including CEO Dominique Heber-Suffrin, and North American President Gary Durnan.  Friday featured an all-day event of on-water testing of the new models, and of Zodiac's new inflatable SUP line.
At first glance, I was very impressed!  The new models are faithful to the Zodiac lines and yet edgy and modern, with an all new centre console design that opens in the front to access an impressively massive storage area for gear and wake boards, as well as a helm that will easily accommodate every possible aftermarket electronic you'd like to add. The stern seat and seat back are awesome!  Options include tube colour choices, bow filler cushions, t-tops, a ski tow bar and more!
With a 115hp and four people aboard we had a blast of a day and achieved 42mph in the Zodiac OPEN 5.5.  Watch for a full test report coming soon in an upcoming issue.  For more information visit Zodiac's website.
best boat, Best boat buying website, best boat marina website, best boat travel website, best place to rent a boat, boat accessories, boat angler, boat boondocking, boat buyers guide, boat camper, boat camping, boat dealers, boat DIY, boat Fishing, boat Fixer, boat Home, boat information, boat insurance, Boat Maintenance, boat marinas, boat marinas in Alberta, boat marinas in BC, boat marinas in Canada, boat marinas in Manitoba, boat marinas in Saskatchewan, boat marinas in the USA, boat marinas near me, boat products, boat rentals, boat repair, boat road test, boat sharing, boat sites near me, boat supplies, boat Tech, boat tips, boat touring, boat trade, boat Travel, boat traveling, boat travelling, boat vacation, boat vacation cost, boat websites Canada, boating Canada, Boating Canada's Boat Lifestyle Magazine, Boating Lifestyle Magazine, boating website, Canadian marina websites, expert boat information, find a boat dealer, how much does a boat cost, how much does marina cost, how to choose a boat, how to drive a boat, marina products, marina supplies, motor boat, power boating magazine, top boat website, used boat reviews