For 2019, Yamaha's best-selling sport boat series returns with an all-new deck and hull design that is 3 inches longer and 2 inches wider than previous year models.
With the added space, Yamaha engineers re-imagined passenger flow from bow to stern to create the most spacious, most comfortable experience ever in a 19-foot family runabout.
Under the waterline, the longer, wider hull is designed for added comfort too, favouring characteristics that reduce bow rise when accelerating and hull packing when operating in choppy water conditions.
Other significant improvements included on Yamaha's 190 and 195 Series boats for 2019 are a new V-shaped reverse bucket that enhances handling when in reverse, a redesigned Articulating Keel that reduces drag, and a new complement of corrosion resistance measures to protect the jet pump and surrounding driveline parts.
The new V-Bucket works by diverting water thrust laterally (not down) to take advantage of the benefits of side thrust. The redesigned Articulating Keel is thinner with tighter tolerances to reduce drag while maintaining all its low-speed handling benefits. And to increase corrosion resistance to the jet pump and surrounding driveline parts, a three-step process that combines Alumite (a ceramic coating) and epoxy paint has been added.
Cockpit seating and storage is carefully thought out to improve egress and ingress to the stern lounge area. To do this, Yamaha designers created a larger step in front of the walkthrough transom, which includes a removable seat cushion, and lowered the height of the walkthrough transom itself. Port and starboard seating in the cockpit is seven inches longer than previous year models, allowing taller passengers to stretch out more comfortably. And with the added length comes added space under each seat.
Another major change in the cockpit is a larger, more functional port console and storage area. The padded port console is wider to offer more space for food preparation and more, while the door to the port storage is angled to make entry into the bow even wider.
To maximize space and efficiency, a new area aft of the captain's chair provides seating with extra leg room, a table mount and a storage area for a cooler. Spin the captain's chair around and the cockpit of the 190 and 195 series transforms into the perfect entertaining area. Wrapping the cockpit are newly designed windows and window frames that give these 19-foot boats a premium look and feel.
Yamaha's Signature Stern Lounge area and Swim Platform
One of the favourite features of all Yamaha boats is the signature stern lounge area and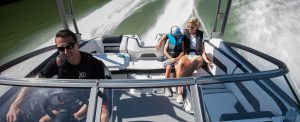 swim platform that sits just above the waterline. For 2019, the swim platform is fuller than previous year models and comes with integrated beverage holders, perfect for hanging out at your favourite cove.
Specifications
Engine Type: Supercharged 1.8L Yamaha marine engine (195 Series)
Normally-aspirated 1.8L Yamaha marine engine (190 Series)
Displacement: 1812cc
Impeller: 3-blade, stainless steel
Length: 19' 5"
Beam: 8' 2"
Height: 8' 7" (AR190/195); 5' 3" (SX190/SX195)
Dead Rise: 18°
Fuel Capacity: 40.2 gallons (Regular unleaded fuel)
Person Capacity: 8 persons / 1,240 lbs
Storage Capacity: 422 gallons
Assembled: Yamaha Jet Boat Manufacturing U.S.A. Inc, Vonore, Tenn.
To see the entire 2019 lineup of Yamaha Sport Boats, visit www.yamaha-motor.ca.
Watch for a full on-water test in an upcoming issue of PBC.
best boat, Best boat buying website, best boat marina website, best boat travel website, best place to rent a boat, boat accessories, boat angler, boat boondocking, boat buyers guide, boat camper, boat camping, boat dealers, boat DIY, boat Fishing, boat Fixer, boat Home, boat information, boat insurance, Boat Maintenance, boat marinas, boat marinas in Alberta, boat marinas in BC, boat marinas in Canada, boat marinas in Manitoba, boat marinas in Saskatchewan, boat marinas in the USA, boat marinas near me, boat products, boat rentals, boat repair, boat road test, boat sharing, boat sites near me, boat supplies, boat Tech, boat tips, boat touring, boat trade, boat Travel, boat traveling, boat travelling, boat vacation, boat vacation cost, boat websites Canada, boating Canada, Boating Canada's Boat Lifestyle Magazine, Boating Lifestyle Magazine, boating website, Canadian marina websites, expert boat information, find a boat dealer, how much does a boat cost, how much does marina cost, how to choose a boat, how to drive a boat, marina products, marina supplies, motor boat, power boating magazine, top boat website, used boat reviews