The best of both worlds – express-inspired performance and yacht-inspired living space – in under fifty feet.
By Brad Roberts
"T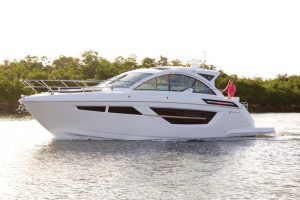 o understand the significance of the present, we must first seek to appreciate the past." Perhaps nowhere else is this statement more true in today's busy, technology driven world, than in the boating industry. The storied past of all of our present day boat manufacturers is rich and colourful in many cases – including Thompson Bros. Boat Manufacturing Co., today known as Cruisers Yachts.
The company started in 1904 in the small northern town of Peshtigo, Wisconsin.  From there, the legacy of the family owned boat-building business would evolve through three generations.  In the 50s the company relocated their production facility to Oconto, WI and built wooden lapstrake cabin cruisers – with outboard power. The first known "Cruisers" brand catalogue appeared in '56, and wooden boat building ceased in '65 when fibreglass took over. When Roy Thompson retired in 1971, it was the first time the company hadn't been run by a Thompson.
It wasn't until 1993 that the company's modern history began, when KC Stock purchased the company and renamed it Cruisers Yachts. Today the company builds twelve models in their sport series – from bowriders to sport cuddy's to express cruisers – and another dozen models in their yacht series – from sport coupes to traditional flybridge boats to the somewhat unique Cantius line.
SPECIFICATIONS
LOA: 49'5 / 14.82 m
---
Beam: 15'/ 4.5 m
---
Fuel Capacity: 450 gals / 1,710 L
---
Waste Capacity: 60 gal/ 228 L
---
Water System Capacity: 62 gal and 49 Gal / 235L and 186L
---
Weight: ww 34,400 lbs/ 15,636 kgs
---
Power: Twin 435-hp Volvo Penta IPS 600
---
MSRP: $1,250,000 US
---
For more information
Cruiser Yachts.
804 Pecor Street
Oconto, Wisconsin 54153
(920) 834-2211
www.cruiseryachts.com
The first Cantius model appeared in 2011, the largest Cantius in the fleet at 60' was unveiled in 2015, and the most recent addition – the 50' Cantius – was introduced in time for the 2017 boat show season. She made her much-awaited debut at the 2017 Yachts Miami Beach boat show this past February.
At 49' 5", the newest Cantius is perhaps best described as an enclosed express yacht offering the very best of both worlds: express-inspired performance and yacht-inspired living space.  Built using resin-infused composite construction, the 50' Cantius features coring throughout the boat with a solid fiberglass keel and reinforced fiberglass areas around the through hull fittings.  Viewed from the side, there is almost as much window area as there is fiberglass area, foreshadowing a very bright interior.
The large hydraulic swim platform is remote operated and features easy access to shore power connections, and a large storage space under a power hatch for your wet gear and fenders.  The permanent grill is positioned here – freeing up valuable cockpit space, and keeping those who have a need to offer unwanted grilling advice well away from the chef. The grill is well sized to feed all your guests and is centered between not one but two nice wide staircases that lead up to the aft deck.  Of course, with built-in drink holders and a water-level view, why anyone would want to leave this entertaining space is beyond me.
The aft deck features a stern mounted u-shaped sofa wrapping around a rectangular solid wood dinette table.  Facing aft, mounted to port and up against the power window to the cabin, another sofa completes the conversation space.  For docking ease, the optional joystick can be mounted in the coming port or starboard depending on your slip preference.
Large sidewalks up both sides lead to the foredeck where you'll find a stainless windlass, integral sunpad with lounger backs, and a unique cocktail table that pops up or folds down. My compliments to the design team for the integrated foot space that allows for comfortable upright seated lounging.  The area isn't your typical sunpad with a couple of cupholders, this is indeed a 'bow lounge'.  My wife would spend her whole day up here.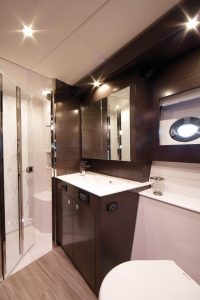 Stepping into the cabin, through a double-wide stainless framed glass bi-fold door, those familiar with the Cantius line will notice several similarities to the 50's larger sistership models.  The single level cabin features ample headroom under the hardtop.  The galley is aft and to port, set right back against the power window to the aft deck so there is really no separation. Obviously designed by a chef, the galley features lots of useable counter space, a stainless drawer fridge-freezer combo, a two-burner glass cooktop, a convection oven, and plenty of storage space in the under-counter drawers and overhead cupboards in your choice of charcoal oak or walnut. Overhead cupboards are not easy to pull off without making the space dark and enclosed, but the 50 Cantius' massive integrated windows wrap all the way around the cabin allowing the beauty of the outdoors to pour in.
Slightly forward, but still on the same level, the salon features a u-shaped sofa to port around a solid wood table.  Sitting here you're afforded a commanding view over everything around you. My preference would be to eat outside and use this area as an office with my laptop, or for reading. The helm is to starboard and features a double-wide captain's seat and beautifully laid out dash.  Large opening windows to port and starboard, plus the massive power sunroof overhead, provide cross ventilation and that open air express cruiser feeling, for those days you don't need to use the on-board air conditioning.
Stepping down between the helm and the dinette sofa, you'll gain access to the staterooms. Turn left and head back aft under the salon to gain access to the full-beam master stateroom.  It boasts a queen island bed, large windows on either side with a port-side sofa for private reading, and its' own private head with separate glass shower stall, and there's even a washer/dryer.  The built-in TV and audio system will immerse you in a state-of-the-art digital experience.
Forward in the v-berth, the VIP guest stateroom is equally well appointed with cascading stairs up to an island bed, plenty of hanging and storage space, and private access to the day head.  A third stateroom to starboard features twin bunkbeds that are perfect for the kids – or grandkids as the case may be in your family.  The port-side day head also features a separate shower and ample counter space for your guests.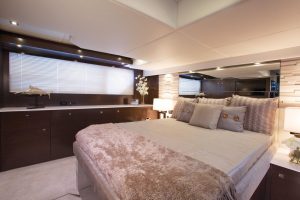 The 50' Cantius is perfectly positioned between the 60' Cantius and the 45' Cantius. It replaces the original 48' Cantius that started the line seven years ago to rave reviews.  Call it second-generation in that respect.  "With a yacht like this, overnight accommodations and daytime entertaining are very important, and the changes we've made really make the 50 Cantius more versatile and user-friendly in these areas," said director of marketing Matt VanGrunsven.
Performance wise, the 50 Cantius offers an impressively shallow 3.5' draft for a 50' yacht, and is powered by twin 435-hp Volvo Penta IPS 600 diesel engines, so you know it'll get up and ride the waves instantly at the touch of your command.  Top speed is 32 knots, with a comfortable cruising speed of 25 knots.
Accessories wise, a dinghy or personal watercraft will fit nicely on the swim platform and still let you move around or swim without needing to launch it, and you can easily strap your favourite stand up paddleboards or kayaks to the hardtop.  You don't need much else – just bring your personal items, food and beverages for the gang, and you're ready to head out for a weekend or an extended adventure in the ultimate in style and luxury.

50, Adventure, best boat, Best boat buying website, best boat marina website, best boat travel website, best place to rent a boat, boat, boat accessories, boat angler, boat boondocking, boat buyers guide, boat camper, boat camping, boat dealers, boat DIY, boat Fishing, boat Fixer, boat Home, boat information, boat insurance, boat life, Boat Maintenance, boat marinas, boat marinas in Alberta, boat marinas in BC, boat marinas in Canada, boat marinas in Manitoba, boat marinas in Saskatchewan, boat marinas in the USA, boat marinas near me, boat products, boat rentals, boat repair, boat road test, boat sharing, boat sites near me, boat supplies, boat Tech, boat test, boat tips, boat touring, boat trade, boat Travel, boat traveling, boat travelling, boat vacation, boat vacation cost, boat websites Canada, boater, Boating, boating adventures, boating Canada, Boating Canada's Boat Lifestyle Magazine, boating daily, boating fun, boating life, Boating Lifestyle Magazine, boating season, boating website, boating with family, boating with friends, Boats, Canadian marina websites, Cantius, Cruiser, Cruiser boat, cruiser boats, Cruiser Yachts, cruisers, Cruisers yachts, discover boating, experience, expert boat information, find a boat dealer, how much does a boat cost, how much does marina cost, how to choose a boat, how to drive a boat, lets go boating, luxury, luxury boat, luxury boating, luxury boats, luxury cruisers, luxury yachts, marina products, marina supplies, marine, marine life, Marine Max, maritime, motor boat, nautical, ocean, on the water, power boating, power boating magazine, powerboat, powerboating, powerboats, safe boating, safety, sea, Test, top boat website, travel, used boat reviews, Watercraft, watercrafts, Yacht, Yacht Test, Yachting, yachting fun, Yachting Life, Yachts 50, Adventure, best boat, Best boat buying website, best boat marina website, best boat travel website, best place to rent a boat, boat, boat accessories, boat angler, boat boondocking, boat buyers guide, boat camper, boat camping, boat dealers, boat DIY, boat Fishing, boat Fixer, boat Home, boat information, boat insurance, boat life, Boat Maintenance, boat marinas, boat marinas in Alberta, boat marinas in BC, boat marinas in Canada, boat marinas in Manitoba, boat marinas in Saskatchewan, boat marinas in the USA, boat marinas near me, boat products, boat rentals, boat repair, boat road test, boat sharing, boat sites near me, boat supplies, boat Tech, boat test, boat tips, boat touring, boat trade, boat Travel, boat traveling, boat travelling, boat vacation, boat vacation cost, boat websites Canada, boater, Boating, boating adventures, boating Canada, Boating Canada's Boat Lifestyle Magazine, boating daily, boating fun, boating life, Boating Lifestyle Magazine, boating season, boating website, boating with family, boating with friends, Boats, Canadian marina websites, Cantius, Cruiser, Cruiser boat, cruiser boats, Cruiser Yachts, cruisers, Cruisers yachts, discover boating, experience, expert boat information, find a boat dealer, how much does a boat cost, how much does marina cost, how to choose a boat, how to drive a boat, lets go boating, luxury, luxury boat, luxury boating, luxury boats, luxury cruisers, luxury yachts, marina products, marina supplies, marine, marine life, Marine Max, maritime, motor boat, nautical, ocean, on the water, power boating, power boating magazine, powerboat, powerboating, powerboats, safe boating, safety, sea, Test, top boat website, travel, used boat reviews, Watercraft, watercrafts, Yacht, Yacht Test, Yachting, yachting fun, Yachting Life, Yachts