The new Swift Trawler 50 is the result of a renewed collaboration between the Beneteau motorboat design office, architect Michel Joubert and designer Pierre Frutschi. While the new design retains features of its successful predecessors, it also adds some modern innovations.
Let's start up on the flybridge, where you'll find space to store a dinghy aft. Forward, the helm chair is mounted amidships, with the companion seat to the captain's left. There's a l-shaped sofa to port and a straight sofa down the starboard side of the bridge with a table in between. A bimini overhead, with side curtains, offers protection when required, while still allowing you to cruise from this preferred location.
Down on the main level, the aft deck, accessed from the swim platform via a starboard door, is covered by the flybridge overhead. Through the stern door you reach the cabin interior. The large dinette with well-padded cushions is aft behind the u-shaped and well-appointed gallery to starboard. Forward of the galley is a double-wide helm chair and from here you can exit to starboard to the wide sidewalks trawlers are known for. To port, a full length sofa provides a commanding view out the wrap around picture-sized windows.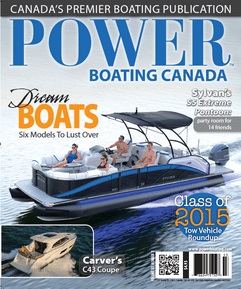 Down to the sleeping level, you'll find two nearly identically sized and appointed staterooms, one forward  in the bow and one amidships. A third stateroom to port has two optional layouts: twin bunks or a study desk with an overhead bunk. There's a lazarette in the stern behind the engines.
Forward on the deck there's a large sunpad with a unique surprise. The foot of the sunpad converts to a forward facing seat with back support. A perfect spot to enjoy breakfast or to read and watch the sunset.
The Swift Trawler 50's hull is specifically designed for the choice of IPS engines options and it marks a significant progression in the adaptation to the various ways of living on board. From the couple to the large family, all types of crews will find the proposed layout attractive.
SPECS:
Length Over All: 49'2″ / 14.99 m
Hull Length: 43'9″ / 13.33 m
Hull Beam: 15'3″ / 4.65 m
Light displacement: 35,264 lbs / 16,000 kg
Fuel tank capacity: 2 x 357 US Gal / 2 x 1 350 L
Fresh water capacity: 2 x 106 US Gal / 2 x 400 L
Max HP: 2 x 435 HP
For more information visit www.beneteau.com

best boat, best boat models, best boat trailer, best center console, best centre console, best performance boats, best pontoon, best runabout, Best Used boat, boat accessories, boat parts, boat reviews, boat tests, boat touring, BOATING Buyer's Guide, boating guide, BOATING in-water Tests, boating lifestyle, Boating Lifestyle Magazine, BOATING rentals, BOATING rentals near me, BOATING traveller, boating vacation, go boating, go boating Canada, how to choose a boat, marine accessories, New Boating Products, new boats for 2023, performance boats, Power Boating Canada, Tender boat, top boat models, top boats, top cottage boat, top cruiser, top power boat best boat, best boat models, best boat trailer, best center console, best centre console, best performance boats, best pontoon, best runabout, Best Used boat, boat accessories, boat parts, boat reviews, boat tests, boat touring, BOATING Buyer's Guide, boating guide, BOATING in-water Tests, boating lifestyle, Boating Lifestyle Magazine, BOATING rentals, BOATING rentals near me, BOATING traveller, boating vacation, go boating, go boating Canada, how to choose a boat, marine accessories, New Boating Products, new boats for 2023, performance boats, Power Boating Canada, Tender boat, top boat models, top boats, top cottage boat, top cruiser, top power boat