The Fort Lauderdale International Boat Show was a center console lover's dream.
When it comes to checking out the latest center console boats, the 2023 Fort Lauderdale International Boat Show was the perfect place to start.
The boat show was a massive one-stop shop with more than 1,000 exhibitors spaced over seven locations in Fort Lauderdale, Fla. For those willing to get their steps in and brave the crowds, the 64th annual Fort Lauderdale International Boat Show (FLIBS) was worth the trip.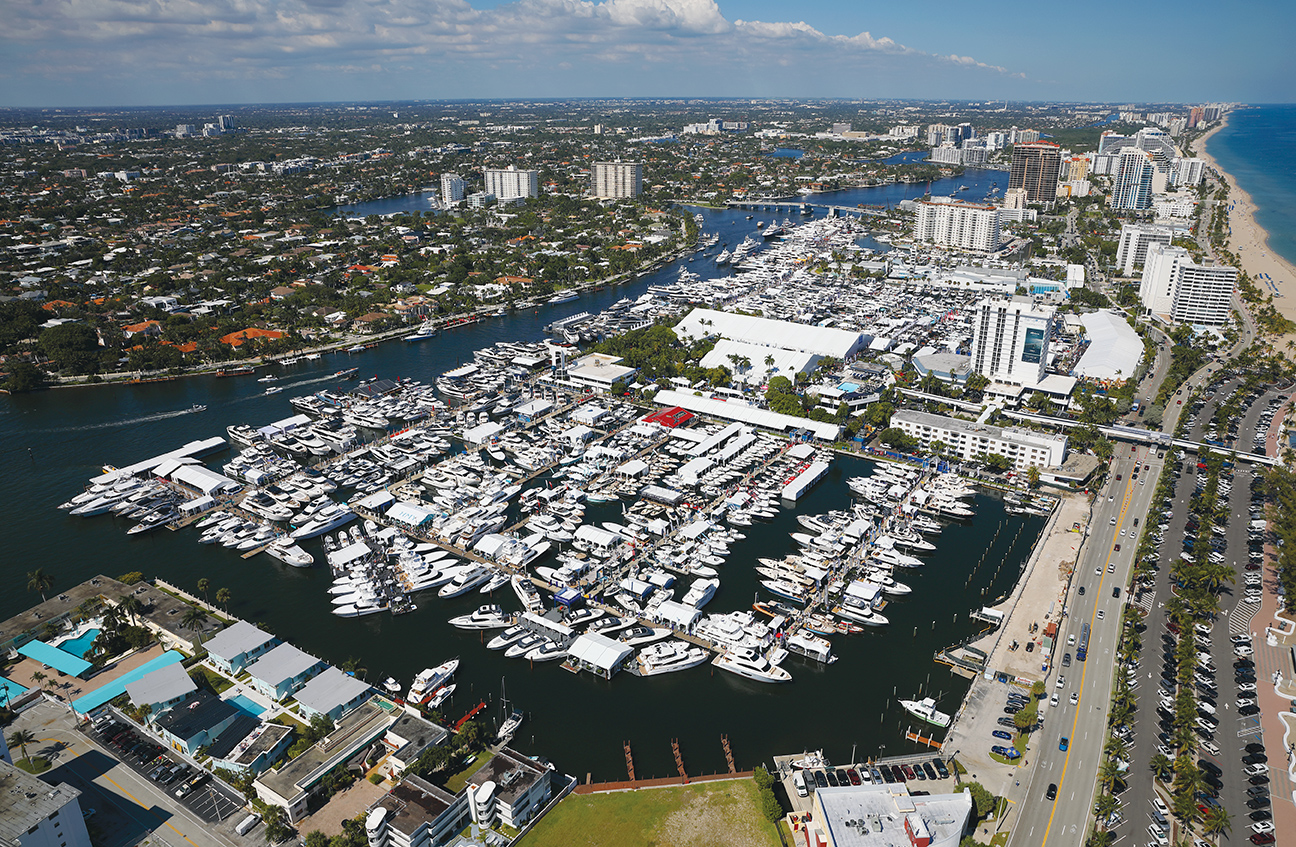 From October 25-29, 2023, most attendees shopping for a center console headed to the in-water show at the Bahia Mar Yachting Center and the Broward County Convention Center. Other show locations included the Las Olas Marina, Hall of Fame Marina, SuperYacht Village at Pier 66 South, Pier 66 Marina and 17th Street Yacht Basin.
With more than 100,000 people attending the show, the traffic in South Florida can be frustrating. Organizers encouraged attendees to park at the convention center and use the show's shuttles and water taxi services, which connected to all seven locations.
In addition to the new boats, Fort Lauderdale featured all of the major engine builders, electronics manufacturers and fishing accessories. We checked out Suzuki Marine's display in the convention center and took the shuttle over to the Bahia Mar to walk the H dock and see the new performance center consoles.
Tickets for the show started at $42 USD for a one-day general admission and $70 USD for a two-day ticket. A Wednesday preview ticket was $64 USD, while the Windward VIP Club tickets started at $398 USD. Active-duty military and veterans got free entry on the last day of the show.
Owned by the Marine Industries Association of South Florida and produced by Informa Markets, FLIBS reportedly has a $1.79 billion impact on Florida's economy.
Several center console builders were unwrapping new models at FLIBS.

Blackfin Boats
Blackfin Boats teamed up with renowned designer Michael Peters to create the 400CC, measuring 43 feet and 10 inches in length with a 12-foot beam. This impressive flagship boasts a double-stepped hull and is driven by four 400-horsepower Mercury Marine V10 engines. With a generous 500-gallon fuel capacity, the 400CC offers excellent range for pursuing large game fish.
At the helm, you'll find two rows of heated seats, sheltered by a sturdy T-top and windshield. The command center features a pair of 24-inch Garmin screens, a JL Audio system, a thruster, and Mercury controls with a joystick for seamless navigation.
Beneath the hardtop, a versatile console serves as both a tackle station and an optional kitchen equipped with an electric grill. While two pullout Yeti coolers come standard, there's also an option to add a refrigerator to the console's side.
For avid anglers, the 400CC comes fully loaded with fishing amenities, including a tuna door for effortless fish hauling, two in-floor fish boxes, and a substantial 70-gallon live well in the center transom. Additional features such as molded toe kicks in the gunwales and upholstered coamings enhance the angling experience.
Below deck, Blackfin created a multipurpose cabin. It features a fold-down couch that converts into a berth, a compact galley with essential amenities, and a separate head and shower, ensuring a comfortable and convenient onboard experience.

Aquila Power Catamarans
The highly anticipated Aquila 47 Molokai Power Catamaran is set to make its debut at the Fort Lauderdale International Boat Show.
The Aquila 47 Molokai is the first catamaran of its kind. The center console combines real offshore fishing chops with a head and shower but also a spacious, air-conditioned stateroom with a queen-sized berth. Two entry doors provide easy access, while large overhead and side windows flood the cabin with natural light during the day and let you stargaze from your bed at night.
Powered by twin 600 hp or quad 400 hp Mercury Verado outboards, the Aquila 47 Molokai delivers thrilling performance and a smooth, predictable ride, thanks to it aggressive twin-step hull design and strong, lightweight vacuum-infused construction with Gemlux hardware and outriggers and Hooker sea chest system with variable speed pumps. Joystick piloting makes close-quarters maneuvering a breeze, while a 1,048-gallon (3,967-liter) fuel capacity brings any horizon within reach.
Underway, seven protected helm seats made from UltraLeather fabrics, with an optional upgrade to Release Marine teak ladder-back seats, and two air-conditioned rows powered by lithium-ion batteries keep your crew safe and comfortable. State-of-the-art Raymarine electronics, C-Zone digital switching, and a custom-tuned Fusion audio system put information and entertainment at your fingertips.

Yamaha
The Yamaha 255 FSH Sport is a versatile and high-performance center console boat that combines style, functionality, and power. With a length of 25 feet and a sleek, modern design, it's designed to cater to both fishing enthusiasts and those looking for a thrilling day on the water.
One of the standout features of the Yamaha 255 FSH Sport is its spacious and open deck layout. It offers ample seating and storage options, making it ideal for family outings or fishing trips with friends. The boat comes equipped with a T-top for shade and protection from the elements, along with a casting platform at the bow for anglers. Additionally, it features a wide walkway around the console for easy access to the bow.
In terms of performance, the Yamaha 255 FSH Sport doesn't disappoint. It's powered by twin Yamaha marine engines, delivering impressive speed and handling capabilities. The hull is designed to provide a smooth and stable ride, even in choppy waters, ensuring a comfortable experience for all on board.
Overall, the Yamaha 255 FSH Sport is a versatile and well-rounded boat that appeals to a wide range of water enthusiasts. Whether you're into fishing, water sports, or simply cruising, this boat offers the reliability and features to make your time on the water enjoyable and memorable.

Highfield
Boats
The all-new Highfield Sport 800 is an innovative inflatable boat that sets a new standard for water sports and leisure boating. With a length of nearly 27 feet, it offers an impressive combination of performance, versatility, and style.
Designed with a focus on functionality and aesthetics, the Sport 800 boasts a sleek and modern exterior that makes it stand out on the water. Its high-quality materials and construction ensure durability and longevity, even in challenging marine environments.
The boat's spacious deck layout provides ample room for passengers, making it an ideal choice for family outings or gatherings with friends. Its deep-V hull design and powerful outboard engine options deliver exceptional stability, handling, and speed, catering to a wide range of water activities, including skiing, tubing, and fishing.
Safety is a top priority with the Highfield Sport 800, featuring reinforced inflatable tubes for added buoyancy and impact resistance. The boat is also equipped with a range of advanced safety features and navigation equipment to ensure a secure and enjoyable boating experience.
Overall, the Highfield Sport 800 offers an exceptional blend of performance, style, and safety for water enthusiasts of all kinds. Whether you're seeking adventure or relaxation on the water, this innovative vessel promises an unforgettable experience.

Robalo Boats
The all-new Robalo R230 is a 23-foot center console boat that sets a new standard for versatility and performance on the water. With a sleek and modern design, this vessel is built to accommodate both avid anglers and recreational boaters.
The R230 boasts a spacious and comfortable layout that can comfortably seat a group of family or friends. Its deep-V hull design ensures a smooth and stable ride, even in rough conditions, providing a safe and enjoyable experience for everyone on board.
For fishing enthusiasts, the R230 offers a range of specialized features, including a generous casting platform at the bow, a well-equipped bait prep station, multiple rod holders, and a live bait well. These features make it an excellent choice for those who love to reel in the big ones.
Powered by a single 250-hp outboard, the R230 delivers impressive speed and fuel efficiency. The helm is designed for easy and precise control, ensuring a smooth and responsive performance while navigating.
Additionally, the R230 includes a convenient head compartment, enhancing comfort and convenience during long days out on the water.

RIBCRAFT
RIBCRAFT, known for crafting rigid-inflatable boats for recreation and law enforcement, revamped the RIBCRAFT 7.8 with a diesel outboard. This boat, measuring 25 feet and 7 inches long and 8 feet and 9 inches wide, now features a 300-horsepower Cox Diesel outboard, giving it a cruising range of 400 nautical miles at 31 mph and a maximum speed of 50 mph.
The standard version comes equipped with a 250-horsepower Yamaha engine. If you desire more power, you can opt for a 300-horsepower Yamaha outboard or even twin 150-horsepower Yamaha outboards.
The updated layout offers comfortable options such as plush aft seating, a forward sun platform or wraparound seating, a helm seat or leaning post, a folding cocktail table, and synthetic teak decks.
These RIBs are constructed in the U.S., meticulously tailored to meet each customer's unique specifications. Whether you're seeking thrilling recreational adventures or require a dependable vessel for law enforcement purposes, the RIBCRAFT 7.8 is your versatile solution.

Chris-Craft
Chris-Craft is set to introduce the Catalina 28, the latest gem in its center console lineup, featuring the already acclaimed 24, 30, and 34-foot models. The Catalina 28 boasts a groundbreaking hull-and-deck design, meticulously crafted to maximize onboard space for you and your guests.
Loaded with standard features, this boat is designed to enhance your boating experience. A transom livewell keeps your catch fresh, while the Seakeeper Ride system ensures a smooth, stable ride even in choppy waters. Stay connected with wireless phone chargers, so you never miss a moment.
Customize your Catalina 28 with optional upgrades. Add the Seakeeper 1 gyrostabilizer for extra stability, an aft SureShade for shade on sunny days, or a teak table for a stylish dining area. Inside, a spacious head and optional cockpit galley provide comfort and convenience.
With twin 300-hp Mercury Verado V8 outboards, the Catalina 28 cruises at 30 mph and offers a remarkable range of 315 miles. Whether you're an experienced boater or a newcomer, the Catalina 28 delivers.

Boston Whaler
Boston Whaler introducing the reimagined 350 Realm at the Fort Lauderdale International Boat Show.
The 350 Realm embodies the agility and prowess of a center console, the reminiscent of an express cruiser, and the versatility of a dual console, all seamlessly integrated into a single boat.
Boston Whaler has not only elevated the performance of this vessel but also redefined its interior. The cabin space has undergone a modernization, complemented by an adaptable cockpit layout that even boasts the option of a luxurious Divino wine cooler. For those who seek further personalization, a teak trim package awaits your creative touch.
Sheltered beneath the protective hardtop, the 350 Realm (measuring 35' 6" LOA, with a beam of 10' 10") stands ready to face the elements. As you take command at the helm, you'll find it fully integrated with Simrad electronics, offering cutting-edge navigation and control.
For power, Boston Whaler provides two choices: 300-horsepower V8 outboards or the mighty 400-horsepower V10 Verado outboards. And should you desire the pinnacle of control, joystick piloting stands as an enticing upgrade, making every journey an effortless voyage.

Regulator Marine
Introducing the 30XO, the latest addition to Regulator Marine's XO Series, and now the largest in its lineup. This center console crossover boasts a plethora of angler-friendly features, making it a top choice for fishing enthusiasts. With 10 rocket launchers on the helm station and a generous capacity of nearly 1,700 quarts for fish storage, live bait, and gear, it's designed to meet all your fishing needs.
Customization options abound, with choices like a half tower station and a versatile convertible tackle and entertainment center, or the convenience of under gunwale locking rod storage. For those who enjoy shallow-water anchoring, the factory recommends equipping your 30XO with a 96-inch trolling motor featuring GPS autopilot and dual 10-foot Power Pole Blades.
The 30XO, with a length overall of 30 feet and 7 inches and a beam of 10 feet and 2 inches, comes standard with twin Yamaha F300 outboard engines. During factory testing, the center console achieved a cruising speed of 32.5 mph while achieving an impressive fuel efficiency of 1.86 mpg. Discover the 30XO from Regulator Marine, where performance, versatility, and angler-centric design converge.

SeaVee Boats

SeaVee Boats proudly introduces the all-new 400Z center console model, setting a new standard in the world of recreational boating. This cutting-edge vessel is crafted using advanced Vacuum Assisted Resin Transfer Infusion (VARTM) technology, resulting in reduced emissions and a lighter, higher-quality construction.

The 400Z from SeaVee Boats features an innovative twin-stepped hull design, optimized for efficiency and performance, offering enhanced stability and control. Its cross-ventilated hull design outperforms ordinary stepped hull boats, thanks to a unique air induction system that minimizes water drag, resulting in greater speed and fuel efficiency.

Improved directional stability is ensured by SeaVee's patented Speed Rails, enhancing safety and delivering an exhilarating ride. The spacious console of the 400Z boasts a modern design, with room for twin 24" multi-function displays and numerous amenities, such as a sink and optional electrically operated toilet.

In the aft cockpit area, you'll find live wells, fish boxes, and convenient storage options. The bow area includes a large insulated fish box, rod holders, and additional storage, while the foredeck offers fresh and saltwater hose coils and safety equipment compartments.

The 400Z is adaptable, with options for hardtops, towers, and a variety of configurations. Families will appreciate the comfort and convenience features, including entertainment systems. It can accommodate triple or quad outboard engines and offers enhanced maneuverability with optional features like a bow thruster and joystick control.   

Aquila Power Catamarans, Blackfin Boats, Boat Show, Boating Enthusiasts, boating industry, boating lifestyle, boating trends, Boston Whaler, Center Console Boat, center consoles, Chris Craft, Coastal Cruising, Fishing Adventures, fishing equipment, FLIBS, FLIBS 2023, Highfield Boats, luxury boats, Marine Exhibitions, Marine Expo, marine leisure, marine technology, Nautical Innovation, new boats, New center consoles, Oceanic Exploration., offshore fishing, On-Water Experience, recreational boating, Regulator Marine, Ribcraft, Robalo Boats, SeaVee boats, watercraft design, Yachting, Yamaha Aquila Power Catamarans, Blackfin Boats, Boat Show, Boating Enthusiasts, boating industry, boating lifestyle, boating trends, Boston Whaler, Center Console Boat, center consoles, Chris Craft, Coastal Cruising, Fishing Adventures, fishing equipment, FLIBS, FLIBS 2023, Highfield Boats, luxury boats, Marine Exhibitions, Marine Expo, marine leisure, marine technology, Nautical Innovation, new boats, New center consoles, Oceanic Exploration., offshore fishing, On-Water Experience, recreational boating, Regulator Marine, Ribcraft, Robalo Boats, SeaVee boats, watercraft design, Yachting, Yamaha