The Pacific Northwest is one of the world's top cruising destinations, with the Gulf Islands between Vancouver and Victoria representing the best of the west.
You've got big water. You've got big fish. You've got quiet, secluded anchorages, and you've got plenty of full-service marinas and tempting places to stop. Add in the abundant wildlife, perfect climate, abundant fresh seafood and a year-round boating season and it's easy to understand why the Gulf Islands rank among the world's top cruising destinations.
Starting near Victoria on the southern end of Vancouver Island, and continuing north along its eastern shore past Nanaimo, the Gulf Islands really do offer just about every type of experience imaginable to visiting boaters. About a dozen of the larger islands have year-round residents, many more have summer cottages and several hundred others remain as wild and natural as ever. Many of the islands, and the waterways around them, carry the names of the English and Spanish explorers who arrived in the area in the 18th century – hence neighbouring Mayne and Galiano Islands, for example. These intriguing names all cry out to be explored, and that brings us to the single greatest challenge that comes with any trip to this beautiful region – where the heck do you start?
What's clear is that there's just no way to take in all that the Gulf Islands have to offer in one trip. So right from the start, accept that you'll have to break it into chunks. But what better way to celebrate Canada's 150 anniversary than by trying to see 150 different islands? It's absolutely possible, and positively rewarding.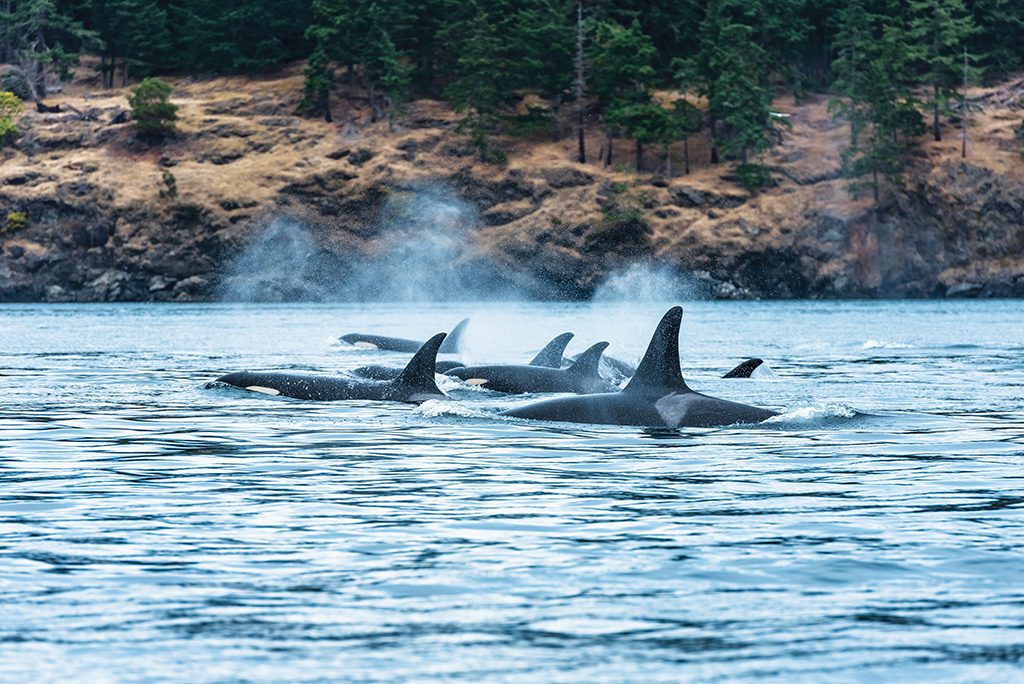 The Big
Islands
The larger islands – Salt Spring, Gabriola, the Penders, Mayne, Saturna and Galiano – draw the largest number of visitors on the strength of all the different activities and opportunities they provide. If it's your first trip to the area, you'll want to start here.
With an area of about 180 square kilometers, Salt Spring Island is the largest land mass in the Gulf Islands archipelago. With around 10,000 full-time residents, this delightful destination offers a wealth of activities for visiting boaters, as well as unique shopping and dining opportunities.
Salt Spring is the busiest of the Gulf Islands in part due to the large number of festivals and events that it hosts year-round. Most of the activity centers around Ganges Harbour and its more than 300 slips (facilities include Harbour's End Marine, Dockside Mechanical and Salt Spring Marina), which makes it the ideal jumping-off spot for winery tours, yoga and wellness retreats, art studio tours, browsing local markets, shopping, dining and more. If you brought bikes on your boat, you'll have more mobility and be better able to explore more distant parts of the island. Two wineries, a craft brewery and a cider house each offer tours and, of course, product tastings. There's golf and great kayaking too. Two wineries, a craft brewery and a cider house each offer tours and, of course, product tastings.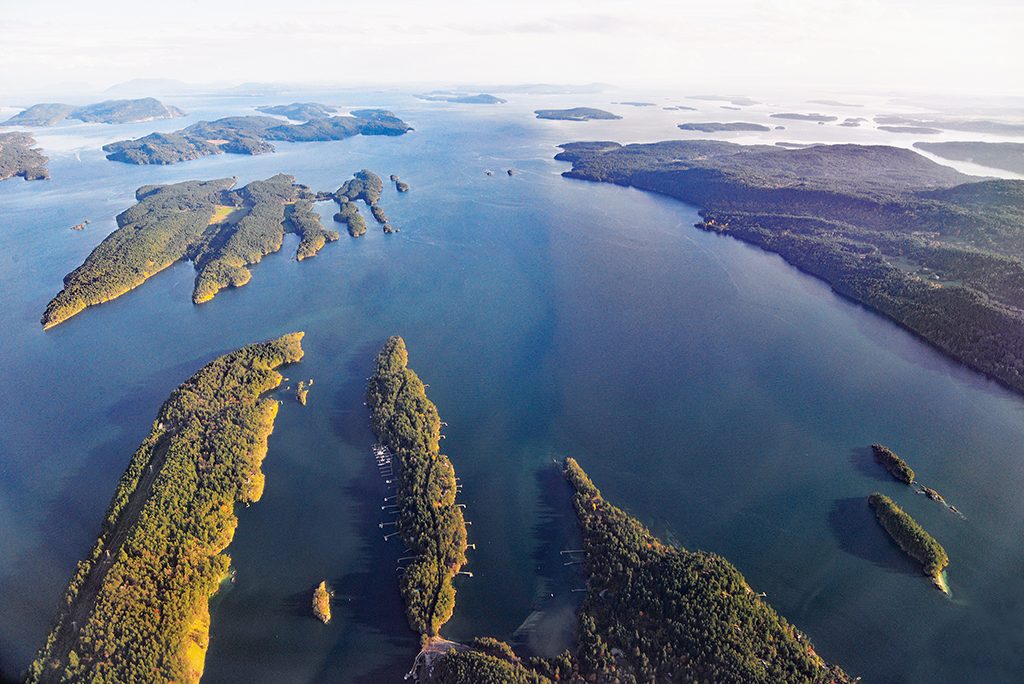 Nearby Gabriola Island is known for its diving, with the opportunity to observe several wrecks and enjoy a variety of sea life. A variety of restaurants, shops, wellness retreats, farmer's markets, artisan crafts, golf and attractions make Gabriola Island a must-see on any Gulf Islands trip. At about 30 square kilometers, Gabriola is easily navigated by bicycle, and circumnavigating the island makes for an enjoyable day. You'll find moorage and full marine facilities here at Page's Resort and Marina, and Silva Bay Marina.
The Penders – North Pender Island and South Pender Island – are another popular cruising destination. Although the two "islands" are actually connected by a short spit of land near Port Browning, they're a popular destination with their winery and spa facilities. Facilities for transient boaters can be found at Otter Bay Marina, Poet's Cove Resort, Spa, Restaurant and Marina, and Port Browning Marina Resort. 
The Penders are also a popular destination for whale watching boats, so always keep an eye out for passing pods of both resident and migratory Orcas, as well as occasional grey whales. You can't approach the whales, but they will often approach you, so be prepared. The islands themselves are sparsely populated by around 2,000 locals, the Penders are known for their blueberries, so if you visit in season, be prepared to enjoy tasty treats everywhere you go.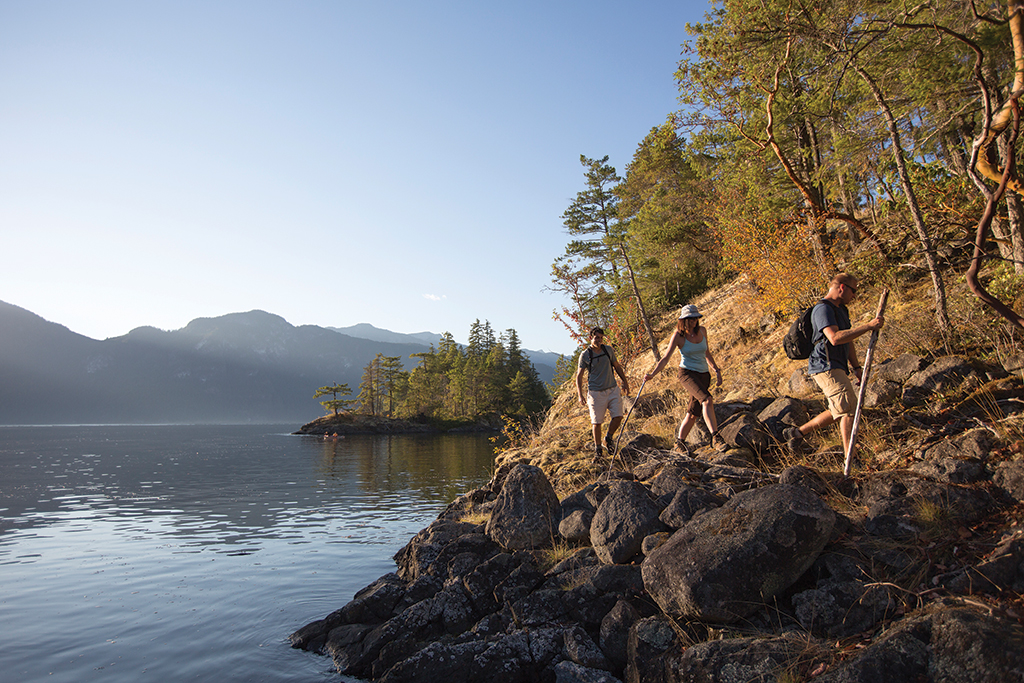 For the more adventurous there is kayaking, swimming, sailing, disc golf, golf, fishing, biking or hiking. Try a walk up 244-metre (800-foot) Mount Norman or a wander on the ridge near Greenburn Lake for stunning views. Pender has 37 beach accesses and at least 57 trails to explore.
Mayne Island doesn't really have any marine facilities, but that doesn't stop all kinds of boaters from dropping the hook and tendering into shore in order to enjoy its many charms. It's still a fair sized island at about 21 square kilometers, and it has a surprisingly efficient road network. With barely 1,000 residents, the excellent yet lightly-traveled roads are a cyclist's delight. Art studios, galleries, restaurants, spas and more await.
Saturna Island, along with its nearby neighbours Samuel Island, Cabbage Island and Tumbo Island, is another major whale watching destination, with a resident Orca population frequently seen around East Point. Sea lions are also extremely common in the area. Marine facilities are limited to the Lyall Harbour, but there's plenty to do once you do come ashore, including a fully packed event calendar.
At nearly 60 square kilometers in size, Galiano Island seems a lot like Salt Spring Island minus the crowds. That's surprising, really, given that it's the first stop on the Tsawwassen-Gulf Islands ferry, and a popular day trip for visitors from the mainland. Try climbing 355 metre (1,160 foot) Mount Galiano for jaw-dropping views, or enjoy a hike along Bodega Ridge on the island's southern half. Drop your hook in Montague Harbour Provincial Marine Park (http://k2parks.ca/montague-harbour-prov-marine-park), one of the most popular anchorages in the Southern Gulf Islands and one of the best places to watch sunsets.
The Little
Gems
While the big islands have plenty of attractions and amenities with which to charm visiting boaters, the smaller, uninhabited islands that dot the sea through this region are worth taking the time to explore. Countless little coves and bays provide enticing anchorages for overnight stays, where your only companions will be eagles, whales and the quiet tranquility of the sea.
Much of this area is protected as part of Parks Canada's Gulf Islands National Park Reserve (www.parkscanada.gc.ca/gulfislands). This includes protected marine areas around most of the island shorelines, parcels of land on the islands themselves, and a few spots where access is generally off limits to the general public. Download a copy of the official visitor's guide on the Gulf Islands National Park website to make sure you know what's what. The companion Hiking, Camping and Boating Guide includes a complete list of marine facilities within park boundaries, including maps showing protected zones where gunkholing is discouraged or prohibited.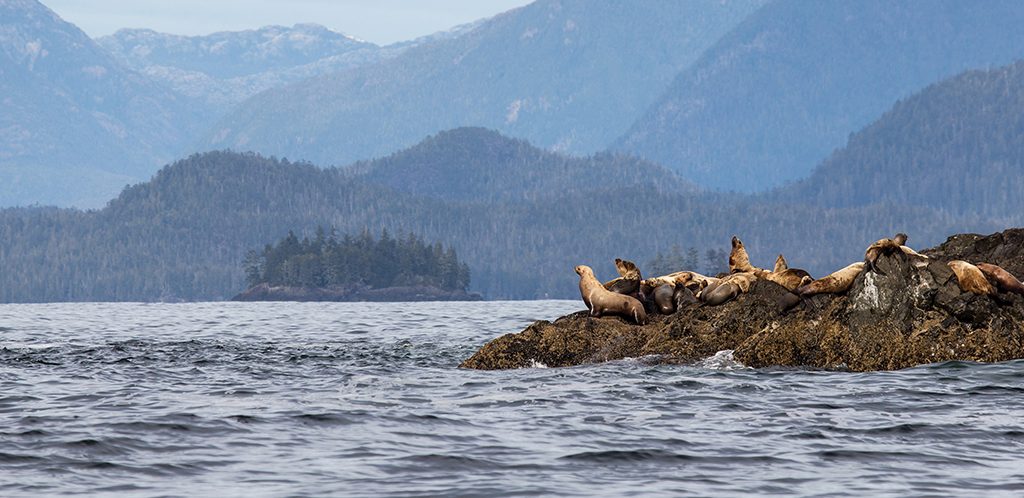 Parks Canada is offering free admission for all visitors to national parks, national historic sites and national marine conservation areas this year in celebration of Canada's 150th celebrations.  This is their way of encouraging everyone to get out and discover our wonderful country. Mooring and camping fees will still apply, of course, which is fair enough since there are costs against providing these services. But take advantage of the opportunity to discover the wildest parts of the Gulf Islands, in particular, by exploring the Gulf Islands National Park Reserve.
The Freshest

Seafood Anywhere

One of the great joys of exploring the Gulf Islands is the opportunity to enjoy the freshest seafood on the planet. Outstanding restaurants abound, with most offering some sort of daily special based around what the boats came in with that morning. There's no better place to get your fill of king crab, Dungeness crab, blue mussels, Pacific oysters, scallops, shrimp, prawns and fresh-caught squid.

If you're more into catching your own seafood, then you'll be delighted to know that the Gulf Islands offer some of the best saltwater fishing in all of BC. No less than five species of Pacific salmon – coho, spring (chinook), chum, sockeye and pink – are abundant throughout the area, along with delicious bottom-dwellers like halibut, rockfish and ling cod. If you're unsure of what to do or simply don't have any tackle aboard, help is freely available at any tackle shop or marina. Most are connected to local guides who can supply all tackle, and even clean your catch at the end of the day.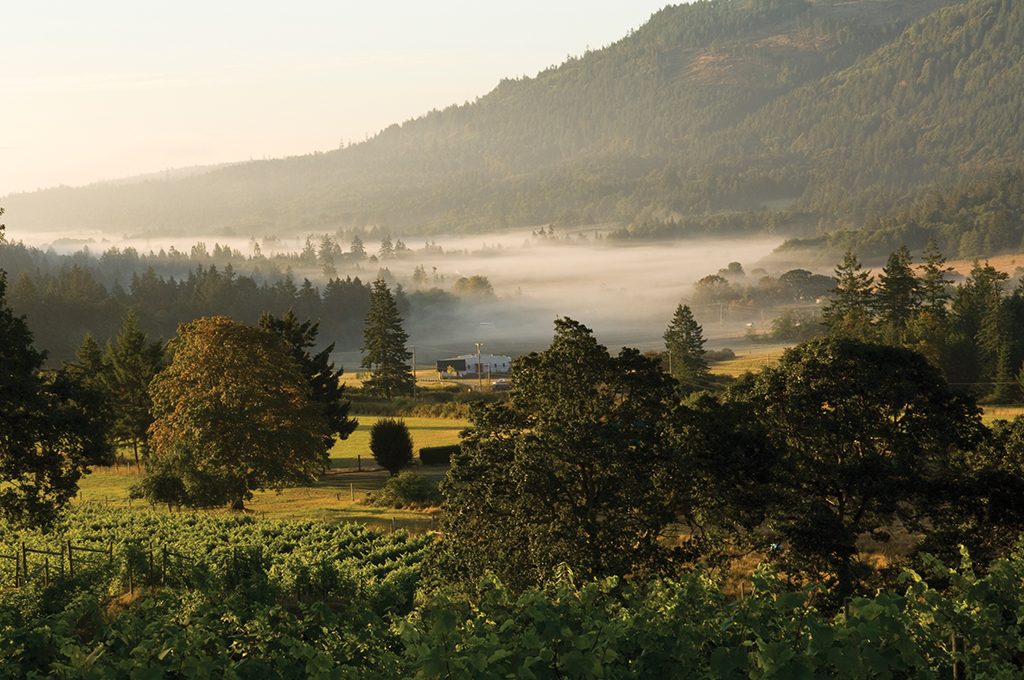 Good food always benefits from the company of good wine, including locally-produced vintages made from grapes grown right in the Gulf Islands. The combination of plenty of sunshine, a temperate climate, perfect soils and a long growing season makes the Islands perfect habitat for growing a number of cool climate grape varieties. The wineries that have begun to dot the different islands now produce award-winning wines, including excellent Pinot Gris, Chardonnays, Gewürztraminers and Pinot Noirs that, coincidentally, all happen to go perfectly with seafood. Imagine that.

It's easy to picture yourself sipping a glass of BC wine, with a belly full of seafood, while anchored in a quiet cove and watching the sun set over the calm seas of the Gulf Islands. But rather than just imagine it, why not make Canada's 150th extra special with a journey this year? Bring your own boat, or charter one nearby – either way, it only takes one visit to understand why boaters call this place the best of the west. 

150, B.C., BC, best boat, Best boat buying website, best boat marina website, best boat travel website, best place to rent a boat, boat accessories, boat angler, boat boondocking, boat buyers guide, boat camper, boat camping, boat dealers, boat DIY, boat Fishing, boat Fixer, boat Home, boat information, boat insurance, Boat Maintenance, boat marinas, boat marinas in Alberta, boat marinas in BC, boat marinas in Canada, boat marinas in Manitoba, boat marinas in Saskatchewan, boat marinas in the USA, boat marinas near me, boat products, boat rentals, boat repair, boat road test, boat sharing, boat sites near me, boat supplies, boat Tech, boat tips, boat touring, boat trade, boat Travel, boat traveling, boat travelling, boat vacation, boat vacation cost, boat websites Canada, boating Canada, Boating Canada's Boat Lifestyle Magazine, Boating Lifestyle Magazine, boating website, British Columbia, Canada, Canadian marina websites, expert boat information, find a boat dealer, how much does a boat cost, how much does marina cost, how to choose a boat, how to drive a boat, marina products, marina supplies, motor boat, power boating magazine, top boat website, used boat reviews 150, B.C., BC, best boat, Best boat buying website, best boat marina website, best boat travel website, best place to rent a boat, boat accessories, boat angler, boat boondocking, boat buyers guide, boat camper, boat camping, boat dealers, boat DIY, boat Fishing, boat Fixer, boat Home, boat information, boat insurance, Boat Maintenance, boat marinas, boat marinas in Alberta, boat marinas in BC, boat marinas in Canada, boat marinas in Manitoba, boat marinas in Saskatchewan, boat marinas in the USA, boat marinas near me, boat products, boat rentals, boat repair, boat road test, boat sharing, boat sites near me, boat supplies, boat Tech, boat tips, boat touring, boat trade, boat Travel, boat traveling, boat travelling, boat vacation, boat vacation cost, boat websites Canada, boating Canada, Boating Canada's Boat Lifestyle Magazine, Boating Lifestyle Magazine, boating website, British Columbia, Canada, Canadian marina websites, expert boat information, find a boat dealer, how much does a boat cost, how much does marina cost, how to choose a boat, how to drive a boat, marina products, marina supplies, motor boat, power boating magazine, top boat website, used boat reviews