The 2023 Miami Boat Show was sizzling with new boats and new technology.

 
Story by Gregg Mansfield
Photos by Todd Taylor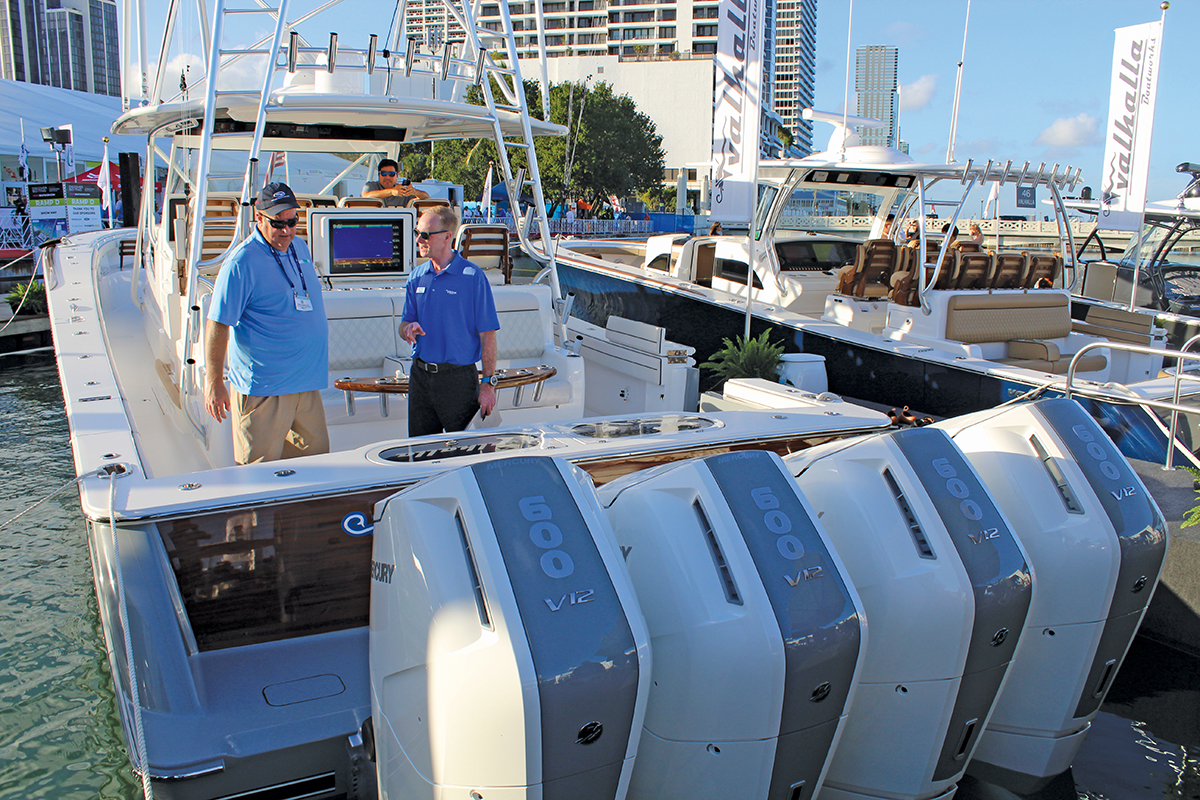 The 2023 Discover Boating Miami International Boat Show was one for the ages.
Boatbuilders and engine manufacturers rolled out new products as more than 100,000 people attended the five-day show around the Miami area from the Miami Beach Convention Center to the crowded docks in downtown Miami.
Attendees were treated to next-generation technology from electric builders, the return of hydrofoil boat hulls, and sustainable fuels coming to the market. Not to worry, there were plenty of new traditional center-console boats and the debut of new gasoline-powered outboards.
"We couldn't have asked for a better outcome," said Andrew Doole, president of U.S. boat shows at Informa Markets, which produces the Miami show for the National Marine Manufacturer Association. "We couldn't have asked for a better outcome … and are eager to return again next year for another incredible boat show."
Mercury Racing kicked off the Miami Boat Show the night before with a bang debuting its new V10 400R outboard as part of its 50th anniversary.
The new 400R outboard, which features a naturally aspirated 5.7-liter (349 CID) powerhead, is designed for performance center-console boats with speeds faster than 75 mph. The outboard maintains the compact width required for 26" centre-to-centre mounting on multi-engine transoms. The Mercury Racing V10 400R will be available in 20", 25", 30" and 35" lengths.
Mercury Racing has already started production on the 400R, which replaces the L6 400R outboard. When Mercury Marine announced the new V10 outboard platform in November 2022, company officials hinted that Mercury Racing customers would benefit too.
"The (previous) 400R had been aging," said Stuart Halley, Mercury Racing general manager after the unveiling in Miami. "(When) we came out with a new 300 V8, the 300R, people came down from those other engines because they wanted the new engine. We believe the 400R and the V10 Verado 400 will bring people back up from 300s."
Mercury Racing hosted its own event during the Miami Boat Show at Grove Harbour Marina featuring new center-console models from Mystic Powerboats and Marine Technology Inc. Potential customers were able to take test rides featuring outboards from the engine builder.
Inside the Miami Beach Convention Center, Grady-White Boats debuted the new 281 CE to join its Coastal Explorer Series, which started with the 251 CE. The center console measures nearly 28 feet and can handle up to 600 horsepower. The 281 CE can handle up to 600 hp with single- or twin-outboard options from Yamaha.
Grady-White built the 281 using its proven SeaVee2 hull and the model is at home as a fishing platform or for cruising in the harbour. The builder is packed with features including fish boxes and a locking console with a marine head with electric flush and a 10-gallon holding tank.
"We had a number of 251 (CE) customers that said, 'We love what this boat is doing for us. Would you make one just a little bit bigger because we feel like then it would really be able to do the offshore that we want to do too, but it's still meeting our needs for our inshore use as well,'" said Shelley Tubaugh, Grady-White's vice president of marketing.
Viking Yachts debuted its stunning flagship Viking 90 sportfishing yacht, and while it doesn't fit neatly into the center-console category, it's a great companion to the V-55 built by its sister company Valhalla Boatworks.

The Viking 90 has an enclosed bridge and boasts six staterooms and seven heads. Valhalla's V-55, which won an Innovation Award, is designed for tournament fishing or long-distance cruising.

"These boats continue to push the limit of building," said Pat Healy, president and CEO of Viking. "We work every day to build a better boat and these two models are the perfect example."

Boston Whaler introduced reimagined versions of its venerable 350 and 380 Realm with new styling and improved performance. Among the changes, the Bruswick-owned builder modernized the interior furnishings, integrated Simrad systems and updated the boats to handle the 400-hp V10 Verado and the 600-hp V12 Verado.

"The docks were full, the weather was perfect, and guests were able to enjoy the best in the industry and Miami," said Paul Flannery, COO of the International Yacht Brokers Association, in a statement. "The excitement is still settling in, but we are already looking forward to topping our historic numbers next year."

For those who missed the 2023 Miami Boat Show, the 2024 show is set for February 14-18, 2024. 

Power Boating Canada's Buyers Guide feature has additional debuts from the Miami Boat Show. 

AMP boats, ARTH Boats, boat show 2023, Boston Whaler, cigarette racing, Grady-White, Highfield Boats, Invincible boats, Llebroc Industries, Marine Technology Inc, mercury racing, Miami boat show, Miami International Boat Show 2023, MIBS 2023, Mystic powerboats, Mystoc powerboats, Pursuit boat, suzuki marine, Valhalla Boatworks, Viking, Volvo-Penta, Yellowfin AMP boats, ARTH Boats, boat show 2023, Boston Whaler, cigarette racing, Grady-White, Highfield Boats, Invincible boats, Llebroc Industries, Marine Technology Inc, mercury racing, Miami boat show, Miami International Boat Show 2023, MIBS 2023, Mystic powerboats, Mystoc powerboats, Pursuit boat, suzuki marine, Valhalla Boatworks, Viking, Volvo-Penta, Yellowfin