Boat Test #1415
The Beneteau Gran Turismo is a yacht that everyone will love.
Everything about the Beneteau Gran Tursimo 46 is impressive from the minute you step aboard.
From Beneteau's attention to detail, to the openness of the cockpit, the Gran Turismo screams luxury with a hint of sexy.
What impressed me the most wasn't what you could see from the dock, but from behind the helm with a hand on the throttles.  It was a true pleasure testing this yacht this past September by the shores of Sarasota, Florida.  Idling out of the marina, the 46 gracefully left her slip at 4.5 mph and was easy to handle inside of the harbor.
Nudging the throttles slightly forward to 1,500 rpms, we ran 9.8 mph and burned a mere 5.8 gph.  Extending the throttles more forward, the Beneteau Gran Turismo popped right up on plane thanks to the yacht's Air Step 2 hull design.  The design increases the volume of air flow under the hull threefold. It also assists with reducing fuel consumption.  This was very especially apparent, it took the 46 just 11 seconds to reach 30 mph.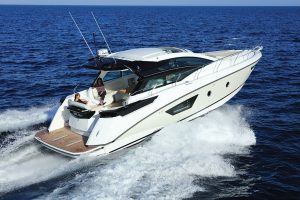 The 46's "air cushion" effect aft of the hull became apparent as I carved and turned through the waves. It provided minimal resistance and gave us linear acceleration and tight turns. Even as I carved through oncoming yacht wakes the hull gave me remarkable security.
SPECIFICATIONS
OA: 48' 6" / 14.55 m
---
Beam: 13' 9" / 4.13 m
---
Fuel: 2×119 gals / 904 L
---
Water: 2×53 gals / 402 L
---
For more information
www.beneteau.com

To my surprise, the 46 performed and handled similar to what you would expect from a smaller 30 something.   At WOT, she performed effortlessly with the Volvo's IPS system. The Gran Turismo provided us with a 32.8 mph top end at 3,700 rpms.  The 46's air stepped hull is the first air stepped hull to be certified by Volvo.  Back at the dock, putting her back in the slip was child's play with the IPS joy stick.
Another well thought out and extremely well designed feature are the optional rear fully opening glass door. When open, the door stores out of the way and offers a true open experience.  When closed, it still provides ample light, while protecting you from the elements.  This design provides maximum use of space and allows for a free flow from the inside cockpit to the outside seating area.
The power recliners outside on the aft deck are unique and quiet comfortable.  Inside the cabin area, movable sofa bases can be rearranged using their track system.  Plush and stylish benches adorn either side of the massive structure Beneteau calls a table.  This glorious solid wood table can be flipped open to expand across most of the seating area.  Beneteau did an amazing job of implementing power windows on either side of the salon to increase the fresh air throughout the area.  The power sunroof lets you gaze at the stars or embrace the suns warm rays.  The 360° windows provide the captain and his guests with a view from any angle.
The stylishness and sleek comforts of the staterooms, heads and gallery are exactly what you would expect from Beneteau.  The forward v-berth can be either converted into a large queen bed or separated to create 2 side by side berths.  The master stateroom's port and starboard windows provide ample natural light to the walk around queen bed.  Plenty of storage can be found on either side of the bed.  The galley has a full refrigerator and freezer, 2 burner electric stove, and stainless steel microwave.
Completing the perfect package is the large sun pad on the bow on the boat and the optional hydraulic swim platform on the back.  When the company launched this yacht in February of 2016, they aimed to create a yacht that everyone would love.  Beneteau Yachts may be new to the North American market, but they are here to stay and are giving us a new way to play on the water.
By Chris Kourtakis

46, Beneteau, best boat, best boat models, best boat trailer, best center console, best centre console, best performance boats, best pontoon, best runabout, Best Used boat, boat accessories, boat parts, boat reviews, boat test, boat tests, boat touring, BOATING Buyer's Guide, boating guide, BOATING in-water Tests, boating lifestyle, Boating Lifestyle Magazine, BOATING rentals, BOATING rentals near me, BOATING traveller, boating vacation, go boating, go boating Canada, Gran Turismo, how to choose a boat, marine accessories, New Boating Products, new boats for 2023, performance boats, Power Boating Canada, powerboating, review, Tender boat, Test, top boat models, top boats, top cottage boat, top cruiser, top power boat, Yacht 46, Beneteau, best boat, best boat models, best boat trailer, best center console, best centre console, best performance boats, best pontoon, best runabout, Best Used boat, boat accessories, boat parts, boat reviews, boat test, boat tests, boat touring, BOATING Buyer's Guide, boating guide, BOATING in-water Tests, boating lifestyle, Boating Lifestyle Magazine, BOATING rentals, BOATING rentals near me, BOATING traveller, boating vacation, go boating, go boating Canada, Gran Turismo, how to choose a boat, marine accessories, New Boating Products, new boats for 2023, performance boats, Power Boating Canada, powerboating, review, Tender boat, Test, top boat models, top boats, top cottage boat, top cruiser, top power boat, Yacht