In September, we previewed a forthcoming announcement from Axopar Boats of Finland and Jobe Sports of The Netherlands. This week, the companies announced more details on thet collaboration. They state that "together, we are now the first partnership to produce a boat range specifically tailored to its matching water sports products."
The Axopar x JOBE Revolve and its flagship model, the Revolve XXII, are based upon the Axopar 22 Spyder. This work represents the results of a long-term and in-depth design and manufacturing collaboration between the Axopar and Jobe families.
Revolve XXII
The Revolve is described as "a true driver's boat, exciting and fun to drive, and one of the best 22 footers in terms of handling and performance, seaworthiness, safety and comfort onboard on the market today." The boat offers myriad functionalities, options, and alternative layouts intended to suit a wide range of customers and their specific needs.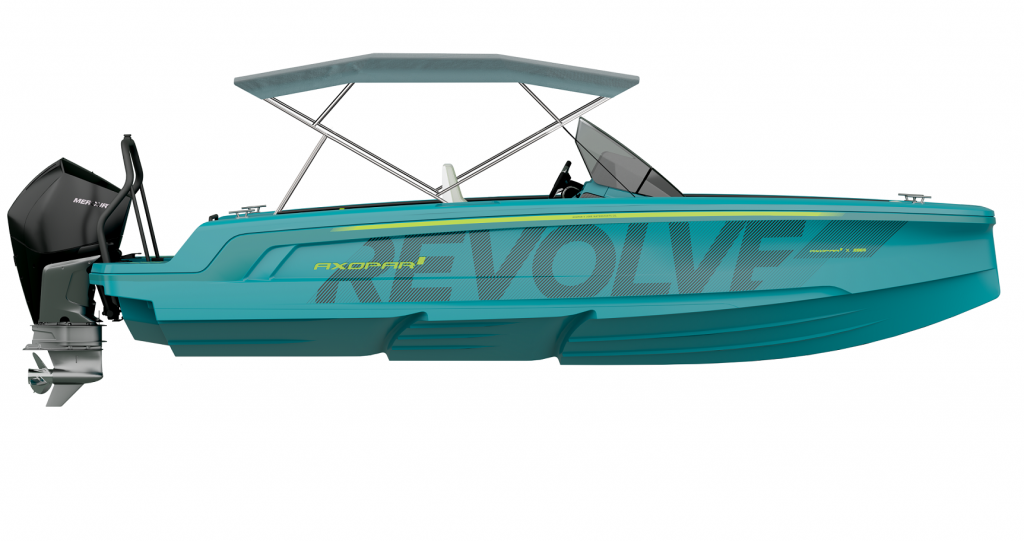 Vivid Colours and Perfect Fit
As a continuation from signature Jobe brand styles, Axopar x Jobe Revolve boats have striking and vibrant colour schemes, graphics, and patterns. These looks are demonstrated across all detailing, custom-made elements :interconnect" Axopar and Jobe. The companies tout their new water sports gear, exclusively created and manufactured for the Revolve models, including a "custom-made" Peak towable water toy that fits inside the bow area underneath the foredeck seating. One also notes the Axopar x Jobe hammock, a new perspective to sunbathing and lounging.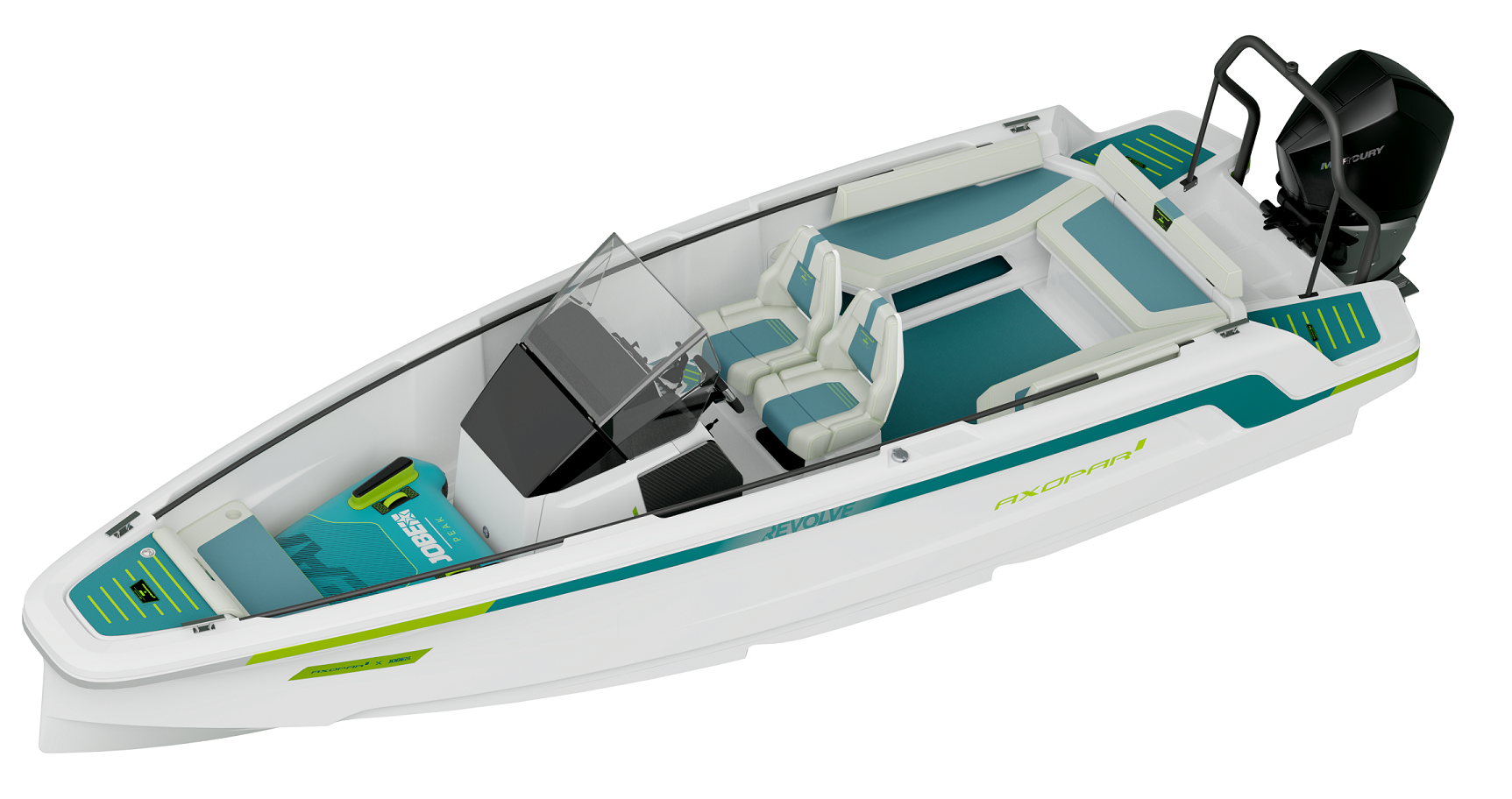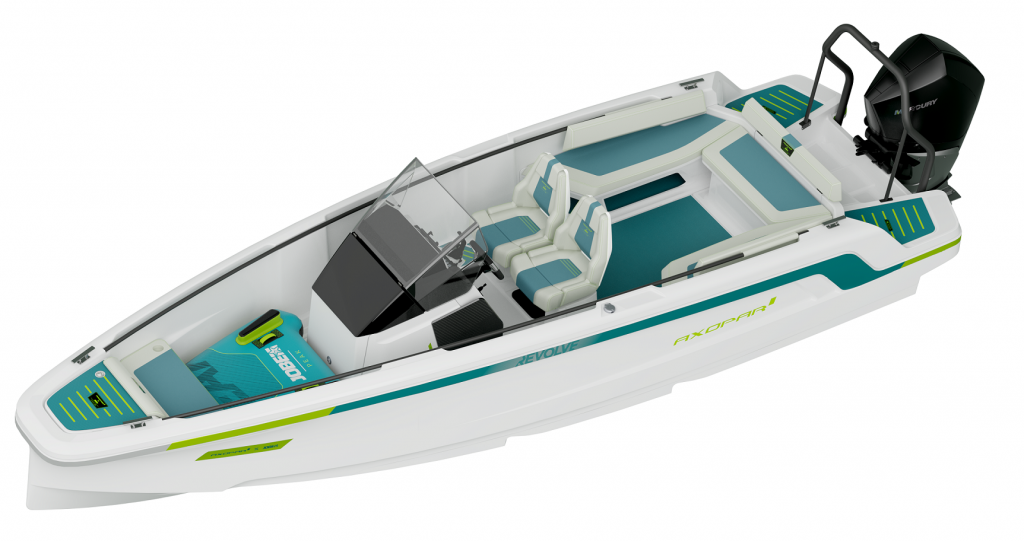 Form Meets Function
Axopar and Jobe write the following:
"Combining form and function is essential to Jobe products, so we therefore bring non-slip EVA deck pads from Jobe's highest quality SUP boards as the deck material on our Revolve boats. This durable material is a perfect choice for added grip, comfort and  warm feeling underfoot on the boat finalizing that Jobe "touch".
They continue, saying:
"The Axopar x Jobe Revolve makes an unmistakable impression, with its white hull and Jobe graphics package, featuring neon green detailing and further complemented by extensive interior detailing in turquoise, filled with Jobe detailing and touches.
"For those searching for the ultimate Jobe experience, the unforgettably named flagship REVOLVE XXII comes with a custom-made hand painted special turquoise colour throughout the whole boat, accompanied by an extended full-size 'Revolve' hull-wrap graphics."
Multipurpose Activity Platform
Axopar and Jobe offer a total water sports experience that includes water-skiing, knee boarding, SUP boarding, or towing your Peak towable behind the boat. Consumers can mix and match according to their preferences and select from the different available sociable layouts onboard – they can also choose a toilet, aft deck shower, or bimini for sunshade. A water-ski pole comes as standard on both Revolve models.
Each boat includes the Jobe Experience Package as standard. This package offers a variety of Jobe water sports gear such as a complete Aero Yarra SUP kit, the Axopar x Jobe hammock, the Peak towable (including a 12V air pump), a tow rope, and two Jobe life vests. The companies also throw in a Jobe gift card for all Revolve owners to select items from the Jobe webshop. An optional additional package with Jobe gear called the "Exploration Package" is also offered to further an owner's water sports experience.
Axopar, Axopar boats, best boat, Best boat buying website, best boat marina website, best boat travel website, best place to rent a boat, boat accessories, boat angler, boat boondocking, boat buyers guide, boat camper, boat camping, boat dealers, boat DIY, boat Fishing, boat Fixer, boat Home, boat information, boat insurance, Boat Maintenance, boat marinas, boat marinas in Alberta, boat marinas in BC, boat marinas in Canada, boat marinas in Manitoba, boat marinas in Saskatchewan, boat marinas in the USA, boat marinas near me, boat products, boat rentals, boat repair, boat road test, boat sharing, boat sites near me, boat supplies, boat Tech, boat tips, boat touring, boat trade, boat Travel, boat traveling, boat travelling, boat vacation, boat vacation cost, boat websites Canada, boating Canada, Boating Canada's Boat Lifestyle Magazine, Boating Lifestyle Magazine, boating website, Canadian marina websites, expert boat information, find a boat dealer, how much does a boat cost, how much does marina cost, how to choose a boat, how to drive a boat, Jobe, Jobe Sports, marina products, marina supplies, motor boat, power boating magazine, top boat website, used boat reviews, water sports Axopar, Axopar boats, best boat, Best boat buying website, best boat marina website, best boat travel website, best place to rent a boat, boat accessories, boat angler, boat boondocking, boat buyers guide, boat camper, boat camping, boat dealers, boat DIY, boat Fishing, boat Fixer, boat Home, boat information, boat insurance, Boat Maintenance, boat marinas, boat marinas in Alberta, boat marinas in BC, boat marinas in Canada, boat marinas in Manitoba, boat marinas in Saskatchewan, boat marinas in the USA, boat marinas near me, boat products, boat rentals, boat repair, boat road test, boat sharing, boat sites near me, boat supplies, boat Tech, boat tips, boat touring, boat trade, boat Travel, boat traveling, boat travelling, boat vacation, boat vacation cost, boat websites Canada, boating Canada, Boating Canada's Boat Lifestyle Magazine, Boating Lifestyle Magazine, boating website, Canadian marina websites, expert boat information, find a boat dealer, how much does a boat cost, how much does marina cost, how to choose a boat, how to drive a boat, Jobe, Jobe Sports, marina products, marina supplies, motor boat, power boating magazine, top boat website, used boat reviews, water sports