Absolute's 52 Fly features impressive attention to detail.
By: Captain Christopher Kourtakis
Launched in Q4 of 2022, the Absolute 52 FLY is the newest model to be introduced into the already amazing line up of fly bridges that Absolute has to offer. The focus that the engineers took when designing the all-new 52 could be considered earth-shattering for the market segment and the industry.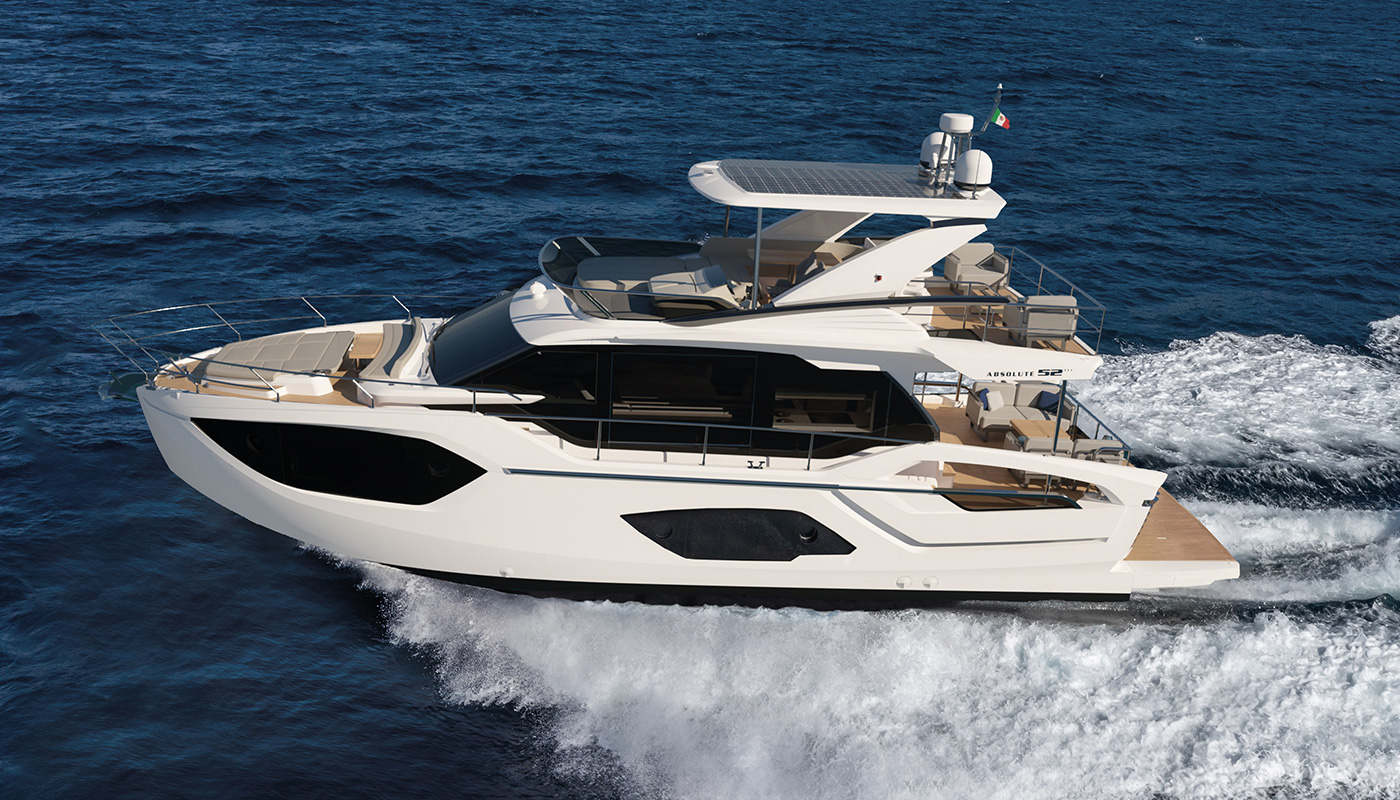 From bow to stern, this yacht offers something for everyone. Whether you want to have your morning coffee on the stern terrace, your lunch served on the cockpit terrace or watch the sunset from the bow seating configuration, you will be surrounded by quality, luxury and the work of art that Absolute has designed.

As you walk through the 52, she feels and appears to be much larger than you think. The open-air design and large panoramic windows throughout the entire cabin area are remarkable. The head room throughout the entire ship is abundant and the limited number of steps was uniquely designed for an easy flowing layout.

The cockpit terrace is a flexible space with adjustable sunshades and easy access to the swim platform from either side of the cockpit. The high gunnels provide security but do not interfere with your surrounding views due to their exclusive designs. The modular furnishings can be arranged in countless ways whether you want to entertain or sunbathe. There is easy access to the bridge on one side and a well-equipped beverage centre on the other to prepare your favourite drink.

The bridge area and terrace are just as remarkable as the lower area. The dinette provides a great conversational setting, while the modular furniture on the aft platform creates the life of luxury. The wet bar provides ample opportunities to set out your favourite appetizers or craft your favourite cocktail. The helm station on the port side is a captain's dream. Many upper helms are limited by their functions, but not this one. With full electronic packages and control over all the ship's systems, captaining this beauty is simple and easy.

I don't even know even know where to start with the bow seating area as it has been designed to create functionality and luxury. There is a sun pad large enough for three adults. Just behind the pad is a face-to-face settee area was a large telescoping table. The space is designed for easy accessibility from either side of the yacht.   

The interior cockpit has been designed to maximize every inch of the space. With the L-shaped galley on the port side and a serving buffet area adjacent to the starboard, there is ample space for cooking and entertaining. Just forward of the galley is the large U-shaped dinette that is surrounded by 360° of panoramic windows to provide an open-air feel. There is additional seating across from the dinette and just behind the helm station. One feature that I really like is that the helm station has a sliding glass door for easy access to the entire boat without having to disturb the guests.

When designing all new 52 FLY, the Absolute designers wanted to be innovative, have state of the art designs and incorporate all new technology into the ship's systems and the comfort systems. They were looking to create the best possible on-board experience. From bow to stern, their pursuit for excellence was not only met, but they surpassed it on every detail on this yacht.

Specifications

LOA: 54' 9"
Beam: 15' 3"
Dead Rise: N/A
Fuel Capacity: 475 Us gal
Water Capacity: 172 Us gal
Passenger Capacity: N/A
Engines: Volvo Penta 2×D8-IPS800 (2×441 KW)
MSRP: 1,340,000 EUROS

For more information:  www.absoluteyachts.com

52, Absolute, Absolute 52 Fly, boat test, Boating, express cruiser, miami, new boats, new yachts, Yacht 52, Absolute, Absolute 52 Fly, boat test, Boating, express cruiser, miami, new boats, new yachts, Yacht