Aquila's 42-foot yacht is beyond versatile.
By: Captain Christopher Kourtakis
The unique design of all new 42' yacht is remarkable. This yacht is designed for daytime entertainment and nighttime fun. Whether you want to spend a day on the water with your guests or travel the entire great lakes with your loved ones, this yacht has everything that you will need whether it is day or night.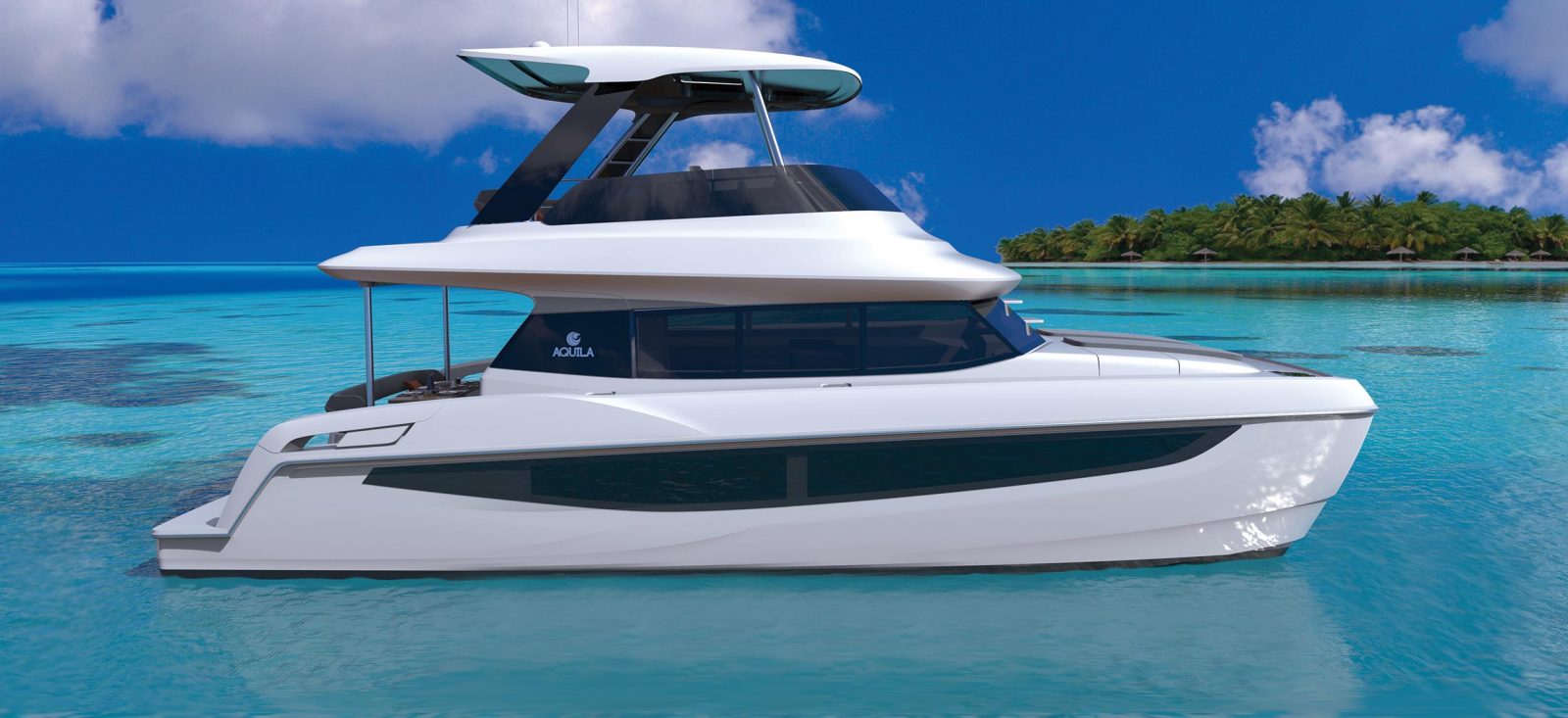 The aft cockpit deck is a great social area and the perfect spot for entertainment. One thing that I really like for parents or grandparents with young children is that you can easily see the rear swim platform and have easy access from either side of the cockpit.

There is a six-person couch to the aft with a large table forward and two permanently mounted bar stools to the forward port that are directly in front of the window that opens into the cabin area. If you want to add a couple additional chairs next to the table, there is ample room for an additional three to four guests.

Entering the salon, you cannot help but be in awe of the spacious and well-designed galley to the port side. The large freezer and refrigerator are immediately across to the starboard. Built into the galley area is a microwave, cooktop and yes, an oven. There is also a large counter space for food prep and plenty of storage for supplies and cooking devices such as pots and pans.

Forward on the starboard side of the salon is the U-shaped dinette that can be converted into additional sleeping quarters. Just forward of the seating is a navigational station with VHF radios, the stereo and Sea Zone controls. The TV folds down from the ceiling with its unique design. The panoramic windows provide you with 360° views of the water and outside surroundings.

Below, you will find the owner's cabin to the port side. Midship is the utilities cabin with a single bunk, optional washer/dryer combo and an abundance of storage. There is even a wine cooler installed to give it that extra touch of class. The guest suite is on the starboard side. You can opt for a three cabin with three heads or a four cabin layout if you prefer.

The bridge on this 42 can be accessed from the bridge to bow stairs or from the rear cockpit area. The space is large and perfect for entertaining. Centre of the bridge is the large outdoor cooking area with sink and electric grill.

To the aft of the large L-shaped dinette with a custom designed table that offers a fill in leaf to create one large table or two smaller tables to provide easy in and out access to the bench seating.  The helm is just forward of the entertainment centre and offers a double wide bench for the captain and guest.  

There is nothing left to the imagination on this boat.  Aquila has thought about everything, and you will not be disappointed on this spectacular 42.

Specifications

Overall Length: 12.64 m / 41' 6"
Beam Overall: 6.4 m / 21' 0"
Height Above Waterline w/Hardtop: 5.49 m /18'
Light Displacement: 15,700 kg / 34,168 lbs
Fully Loaded Displacement: 19,000 kg / 41,895 lbs
Fuel tank: 1,100 L / 290 gal
Water tank: 460 L / 132 gal
Holding tank: 160 L / 42 gal
MSRP: $855,750 USD

For more information:  www.aquilaboats.com

* prices and specifications subject to change without notice

Aquila Power Catamarans, the leading manufacturer of power catamarans globally, is commemorating a decade of setting new standards in performance, innovation, and excellence.

Having garnered the trust and satisfaction of numerous customers across the world, Aquila's remarkable expansion and worldwide achievements have pushed our international design and engineering teams to surpass elevated benchmarks. With a robust network of over 90 dealers in 22 countries, including the United States, Aquila continues to thrive on a global scale.

Aquila, Aquila 42 Yacht Power Catamaran, boat, boat test, Boating, boating fun, boating season, express cruiser, safe boating, Yacht Aquila, Aquila 42 Yacht Power Catamaran, boat, boat test, Boating, boating fun, boating season, express cruiser, safe boating, Yacht