Monterey Boats' 197BF is the smaller brother to the successful 217BF model released a few years ago.
The 197BF is built in Monterey's Sport Boat plant in Williston, Florida just 90 minutes outside Orlando. This outboard powered runabout, with an up to 200hp rating, will please everyone in your family both in terms of space and performance. It's great at multitasking as a fishing boat for those early morning fog-shrouded escapes, or as a tow boat for water sports all afternoon long, or as an elegant water taxi you'd be proud to shuttle your family out to dinner in.
Let's start with an award winning design that makes this 19' 7" boat look bigger than it really is. Yet, it is very trailerable with a beam of 8' 6" and a dry weight of just 2,900 lbs. The bow area is convertible from two forward facing seats with well-padded backrests, to a fishing platform with the optional fishing package that includes a bow trolling motor, livewell, extra fishing seats, and a GPS/fishfinder. We'd suggest adding the FSX option because the onyxblack windshield frame gives the boat a truly sporty look – especially when matched to the optional black-powered coated forward swept wakeboard tower, stainless grab rails, stainless rub rail, and docking lights.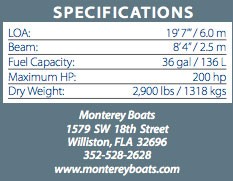 The cockpit is a traditional layout with twin low-back slide-swivel seats for captain and companion, complete with flipup bolsters, along with a rear bench seat and starboard walk-over transom. Storage is so important in a boat of this size, and Monterey's designers got it right with a large bow storage locker, an in-floor storage area that is huge, and topped it off with a standard 48 quart carry-on cooler!
The 197BF comes with a limited lifetime hull warranty so it's an investment in today as well as for tomorrow. Years of on-water enjoyment await you and your family no matter what everyone wants to do with this multi-tasking machine

best boat, best boat models, best boat trailer, best center console, best centre console, best performance boats, best pontoon, best runabout, Best Used boat, boat accessories, boat parts, boat reviews, boat tests, boat touring, BOATING Buyer's Guide, boating guide, BOATING in-water Tests, boating lifestyle, Boating Lifestyle Magazine, BOATING rentals, BOATING rentals near me, BOATING traveller, boating vacation, go boating, go boating Canada, how to choose a boat, marine accessories, New Boating Products, new boats for 2023, performance boats, Power Boating Canada, Tender boat, top boat models, top boats, top cottage boat, top cruiser, top power boat best boat, best boat models, best boat trailer, best center console, best centre console, best performance boats, best pontoon, best runabout, Best Used boat, boat accessories, boat parts, boat reviews, boat tests, boat touring, BOATING Buyer's Guide, boating guide, BOATING in-water Tests, boating lifestyle, Boating Lifestyle Magazine, BOATING rentals, BOATING rentals near me, BOATING traveller, boating vacation, go boating, go boating Canada, how to choose a boat, marine accessories, New Boating Products, new boats for 2023, performance boats, Power Boating Canada, Tender boat, top boat models, top boats, top cottage boat, top cruiser, top power boat