By Rhys Weed
If you are looking for a versatile, powerful and comfortable pontoon boat, then the X-Plode by Manitou is a model you will want to take a closer look. X-Plode is already a popular line, but combined with the Split Rear Seating and Sport Handling Packages, you have a boat that does pretty much everything, and does it well.
The cornerstone of the Sport Handling Package (SHP) model is its increased handling and performance. Instead of the standard two pontoons, there are three pontoons. The central pontoon is larger than the outer ones which creates a V-shaped underwater profile. This shape, known as deadrise, allows much greater handling and increased ability to deal with waves and choppy conditions. Additionally, each pontoon has lifting strakes which help the boat get up and go as quickly as possible. To handle this, each Sport Handling Package equipped boat comes with SeaStar Power Assist Hydraulic Steering to ensure great control at all speeds. SHP boats are also structurally enhanced to handle any extra stresses or strain that may be present, to help ensure the quality and longevity that is expected from Manitou pontoon boats.
The Split Rear Seating model, or SRS as it is known, is a particular deck layout that Manitou has recently debuted. It is designed to provide great versatility in seating options for you and your guests. Where the SRS gets its name, and the feature that makes it different from other layouts, is at the stern. You get two large seats, one on either side, with a walkway down the centreline of the boat. This feature opens up the aft end in a whole new way compared to other styles of layout. It provides excellent access to the stern with its swim platform and ladder. The rear seats can be upright to provide seating for four, or they can be reclined to create two large sun loungers. To complement the captain's chair there is a second swivelling chair on the port side, great for keeping the captain company, or an eye on your water skiers while zipping around the lake.
Manitou puts a lot of effort into providing many options for your boat, giving you the choice to personalize as you wish. Manitou wants to make sure you get the boat you want, not the one the designers want. These options cover the whole boat: from pontoons to deck layout to seating material and anything else you may want to customize. Lighting, speakers and power supply are becoming increasingly popular, allowing you to also customize your nighttime experience. Almost every aspect on board can be personalized for your style or preference, Manitou wants to ensure their customers get exactly what they come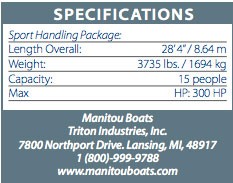 looking for.
Of particular note this year is a new colour option available. The newest colour on the palette, though not really a colour at all, is the Blackout option. This theme is carbon fibre-coloured graphics combined with black chrome logos. Combined with black or charcoal for the background, this could create a great look for those seeking a colour scheme that stands out from the average all white yacht.
To top it off, Manitou backs all of their products with the Quality Guarantee, providing a limited lifetime warranty on the decking, structure and pontoons. All in all, the 27 X-Plode from Manitou is a good looking, powerful and comfortable pontoon boat, produced by a leader in the marketplace that will be able to accomplish most anything that you ask of it.