By Cam McRae
Let me admit that I used to think that deck boats were the ugliest boats on the water (Great fun but…) However, with the introduction of Hurricane's delightful SunDeck Sport SS203, among others of late, I've had to change my mind. In fact, I can state that the 203SS is one of the most elegant small boat designs I've ever encountered. Deck boats are defined by practicality – the requirements of space, seating capacity and open air fun-inthe-sun. To gain pontoon-like spaciousness, earlier deck boats pushed out the gun'ls and lowered the freeboard to an extent that made them look distorted from above and squashed from the side. Shorter deck boats often looked stubby and clumsy.
View the SS203 side-on and you'll discover a display of at least three feature lines that create and define the boat's energetic shape – all graceful, all in harmony. And that's quite surprising in a boat that's only twenty feet long. Nevertheless, the SS203 is still a true deck boat. The beam stays wide, almost right to the bow, providing as much interior room as possible. Plus, the height of the internal sides is reduced slightly, compared to a standard bowrider. Not enough to impact safety or the comfort of the seat backs, just enough to enhance the open air experience. (Although the pilot sits tall behind the helm, the little windshield pops off with quick-release fasteners. Nothing left to interrupt the wind in your hair.)
From above, you'll see that the interior is given over to a flow of cushy seating, there isn't much floor space. An attractive two-cockpit layout has been created by employing what might be dual consoles in another boat. But on this SunDeck the port console becomes a wet bar with room for a standard 25 quart (US) cooler stored underneath. The helm/wet bar pairing looks great, works great. Full marks.
The flow of upholstery doesn't quite reach the bow, squaring off instead into a small bench, adding a comfortable rear facing seating option and leaving room for a small foredeck. The multipurpose foredeck area incorporates some storage space, an anchor locker and a boarding ladder. Plus, it can be equipped as a casting platform. Opt for the "Fishing Package" and the 203 comes with casting chair, rod clips and a trolling motor wiring harness. Plus, the little storage box in the bow cockpit's floor converts to a livewell!
Choosing some sun shade will be an important decision for most buyers. The 203 looks best with the simple standard canvas Bimini. But, the optional Bimini-equipped tow tower is nicely styled and reasonably priced.
Powering a small deckboat is another challenge. The 203 will run well with a 130; the standard engine choice is a 150. (and there are a lot of very good 150's) According to a Yamaha test report, the 203 will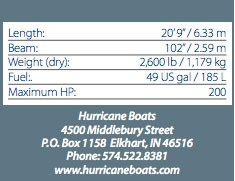 pop on plane and turn about 44 mph with 150 horsepower.
That's with two on board. If your deckboat fun includes a gang of friends, you might consider a 200. The downside to a 200 is more initial cost and reduced fuel efficiency. But, at cruise or on acceleration, the 200 won't feel the weight of your passengers quite as much.
One caveat. Although completely safe and seaworthy, this is a fun-in-the-sun boat, not a rough water, heavy weather boat. All boats are a compromise, and the Hurricanes' thrilling performance and handling, along with the deck boat's requisite at-rest stability, are the result of a shallow vee bottom. It's a bottom shape that can't provide the wave-cutting, chop-smoothing ride of a deep vee. Hey, a slightly bumpy ride on the way home from a great day on the water – in a boat this pretty – is a small price to pay.