Four Winns Horizon series of bowriders – and specifically their H290 model – addresses this niche market very well. The H290 is large at 29'. Yes, you read that correctly, go ahead – check the specs box, she's a twenty-nine foot bowrider.
At that size, this isn't a boat that you simply go for a "boat ride" in. Rather it's a boat that you go for the "day" in. It's an entertaining day-boat. Set off early in the morning to reach that coveted sand beach destination, perhaps duck in somewhere for lunch with up to however many friends you'd like – the H290 is yacht certified – and then tour away the afternoon before pulling into a waterside eatery for dinner. Yet, another cruise to watch the sunset or catch some shooting starts after dinner anyone? Nobody is going to be sick of being on the boat – there's literally that much room. Now, you'll perhaps need a pickup to tow it at around 8,000 pounds, but that's a minor detail.
A day-boat doesn't just happen – it has to be designed that way. The Four Winns team drew upon their years of boat building experience to make it happen. The H290's bow is oversized to say the least – you could have a full party up here! The bow allows for plenty of lounging space and features Four Winns exclusive chaise lounge-style seating with adjustable headrests and integrated arm rests. Plenty of room to stretch out your legs, and yes, the plush seating-surfaces ensure that there is ample cheek-space to curl up in your loved ones arms.
Step into the cockpit and you'll notice the high high-chine architecture – a signature on all Horizon models which makes everyone feel like they are truly "in" the boat. The standard motorized captain's chair, a not so optional in our opinion galley (complete with sink, fridge, waste-receptacle and a storable flat-screen television!), and an L-shaped aft seating area around a good-sized pedestal table provide even more room. Overhead, the forwardswept fiberglass radar arch features a wakeboard tow point positioned above the bimini.
Down below, hidden every so cleverly, two surprises await: a changing room and single berth sleeping accommodation to starboard (likely to become the kids play-room), and a head with sink and storage area to port. Both compartments have huge fixed windows to allow plenty of natural light in. The windows also give the boat a unique look from the exterior!
Back up in the cockpit and all the way aft you'll find an exclusive one-touch automatic aft-facing lounge and low profile swim platform that's perfect for scuba, snorkeling, water sports or that all important launch point for little kids still in their water-wings. An truly adult-sized and centre-mounted swim ladder and a transom shower are here as well.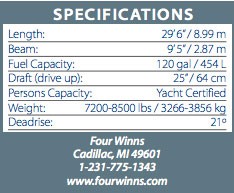 This whole day-boat rests on Four Winns signature Stable Vee® hull that consistently delivers an excellent ride in any water conditions. Whether you're meandering along the shoreline enjoying the scenery, on cruise or at wide open throttle – the ride is soft, stable and dry. You can chose to power your new day-cruiser with either single or twin engines from either Mercury or Volvo with horsepower options up to twin 380's. Expect performance with a top end speed in the hi 50's and the trim assist feature to help keep the H290 on plane to just below 20mph.
If you have a big family that loves the wind in their hair feeling of freedom, you may want to schedule a day and take the H290 out for an extended cruise. You just might be calling the dealership and asking them to bring the papers to sign dockside.
More Information: fourwinns.com

best boat, best boat models, best boat trailer, best center console, best centre console, best performance boats, best pontoon, best runabout, Best Used boat, boat accessories, boat parts, boat reviews, boat tests, boat touring, BOATING Buyer's Guide, boating guide, BOATING in-water Tests, boating lifestyle, Boating Lifestyle Magazine, BOATING rentals, BOATING rentals near me, BOATING traveller, boating vacation, go boating, go boating Canada, how to choose a boat, marine accessories, New Boating Products, new boats for 2023, performance boats, Power Boating Canada, Tender boat, top boat models, top boats, top cottage boat, top cruiser, top power boat best boat, best boat models, best boat trailer, best center console, best centre console, best performance boats, best pontoon, best runabout, Best Used boat, boat accessories, boat parts, boat reviews, boat tests, boat touring, BOATING Buyer's Guide, boating guide, BOATING in-water Tests, boating lifestyle, Boating Lifestyle Magazine, BOATING rentals, BOATING rentals near me, BOATING traveller, boating vacation, go boating, go boating Canada, how to choose a boat, marine accessories, New Boating Products, new boats for 2023, performance boats, Power Boating Canada, Tender boat, top boat models, top boats, top cottage boat, top cruiser, top power boat