With Cobalt's recent introduction of its first-ever pontoon boat, the battle for supremacy in the luxury pontoon boat segment warmed up considerably. Cobalt, currently North America's most successful manufacturer of runabouts, builds nothing but high-end luxurious products. So, the luxury part was easy, many of the prestige features on the Marker One Series are borrowed directly from Cobalt's boat line-up. The richly appointed and efficient helm station, the seating arrangements, the deeply cushioned upholstery, the colour choices, even the intricately crafted stitching used throughout – all of this is familiar, but very welcome, Cobalt fare.
The company has aptly described the Marker One as a "re-interpretation of the traditional pontoon boat". In order to give the craft some boat feel and to allow the introduction of their runabout appointments, Cobalt has grafted a full fibreglass deck structure to an aluminum pontoon platform, including high gunwale-like sides that take the place of a pontoon's usual fence. At the stern, the deck cascades down to a unique swim platform, equipped with built-in boarding steps. Although there's nothing new beneath the platform, we can be assured that the construction conforms with Cobalt's time-honoured precision and quality.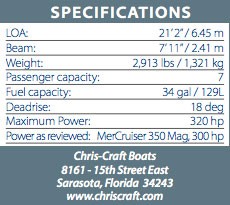 At present, there are two versions – the Marker 25 and the Marker 27 – respectively measuring in at 25' 9" and 27' 6". With a standard beam of 9' 3", Cobalt's version of the pontoon comes in a full 9" wider than other manufacturers' offerings that are typically 8' 6". Featuring twin facing forward loungers, a unique in this market segment wide bench seat at the helm with matching companion seat complete with flip-fold backrest, a second set of facing benches aft, the Marker One seats up to 12 or 14 friends in luxurious comfort. Power options are still being determined at press time. We can't wait to water test this newest entry into the 'toon marketplace as soon as one lands in Canadian waters – anticipated in the spring of 2015.