Chris-Craft has always stood apart in a crowded market by producing boats with timeless elegance and beauty. Perhaps no model in its current lineup represents this approach better than the delightful Carina 21.
With its near-plumb "canoe bow" – complete with stainless steel strike plate – and classic Tumblehome hull design, the Carina 21 is a thoroughly modern boat that pays homage to its roots by neatly blending classic 1920s design elements with 21st Century materials and technology. That's particularly true if you add the optional Heritage Trim Edition, that adds real teak accents to the bow, port and starboard footrests and swim platform.
While the Carina 21 offers a familiar bowrider layout, it looks like nothing else on the water. The boat's graceful lines and 7'11" maximum beam give it a slender, racy profile which is further accentuated by its flowing, curved walk-through windshield. Bow passengers can spread out on a full wrap-around seat with integral cupholders and thick, supportive backrests, while the driver and co-pilot enjoy sporty bucket seats with flip-up bolsters and exposed, polished 316L stainless-steel frames that really add a distinguishing touch.
Standard features on our test Carina included two large in-floor storage lockers big enough to fit skis or a 32 quart cooler, a ski tow pylon, and a three-step retractable boarding ladder concealed in the swim platform. The rear bench seat cushion conceals generous storage beneath, while pull-up stainless cleats give the boat a nice clean appearance. The helm lies behind a gorgeous mahogany and steel steering wheel that really fits with the boat's overall style.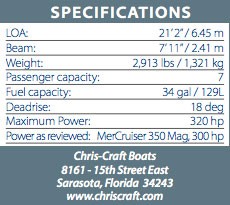 The original 1920s Chris-Crafts were racers, and the Carina remains true to its heritage by offering spirited performance. Our test boat came with a MerCruiser 350 Magnum in place of the base-model's 4.3L V6. Churning out 300 horsepower, the big Merc planed our Carina effortlessly in about four seconds, and reached 30 mph a few seconds later. Full throttle runs across a choppy Sarasota Bay achieved a top speed in the mid-50 mph range.
Chris-Craft's Carina 21 upholds the company's legendary heritage of producing sporty, well-made boats that inspire. Part forward-looking technology and part blast from the past, this is one bowrider that's guaranteed to please.

best boat, best boat models, best boat trailer, best center console, best centre console, best performance boats, best pontoon, best runabout, Best Used boat, boat accessories, boat parts, boat reviews, boat tests, boat touring, BOATING Buyer's Guide, boating guide, BOATING in-water Tests, boating lifestyle, Boating Lifestyle Magazine, BOATING rentals, BOATING rentals near me, BOATING traveller, boating vacation, go boating, go boating Canada, how to choose a boat, marine accessories, New Boating Products, new boats for 2023, performance boats, Power Boating Canada, Tender boat, top boat models, top boats, top cottage boat, top cruiser, top power boat best boat, best boat models, best boat trailer, best center console, best centre console, best performance boats, best pontoon, best runabout, Best Used boat, boat accessories, boat parts, boat reviews, boat tests, boat touring, BOATING Buyer's Guide, boating guide, BOATING in-water Tests, boating lifestyle, Boating Lifestyle Magazine, BOATING rentals, BOATING rentals near me, BOATING traveller, boating vacation, go boating, go boating Canada, how to choose a boat, marine accessories, New Boating Products, new boats for 2023, performance boats, Power Boating Canada, Tender boat, top boat models, top boats, top cottage boat, top cruiser, top power boat