By Cam and Diana McRae
Eastern Ontario's Loughborough Lake is a long, narrow glacier scar that has intrigued sportsmen for over 150 years. Home to lunker game fish, it presents a unique challenge to the anglers and to the boats that they employ. There's only one marina on Loughborough and they sell a sixteen foot fish hunter that's carefully chosen for the task.
Sylvan's Explorer 1600 SC is a tough little side console with a wide beam and plenty of freeboard. Loughborough measures only three kilometres at its widest, but it's fully 24 km long. That's a lot of fishing distance to cover. Powered at the maximum rating with a 75 hp Evinrude E-TEC, the Explorer will reach into the mid-forty range with one aboard. Loaded with gear, lunch and two fishing buddies, it will pop on plane and still make close to 40 mph – testimony to Sylvan's efficient Gull Wing hull design.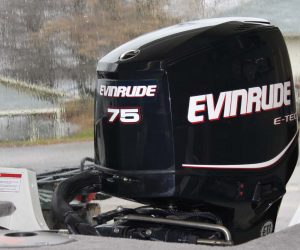 It's been a while since we've tested a boat with an Evinrude on behind. Moreover, it's usually been one of the big V6s. So, it was a treat re-discovering the pleasures of a talented two stroke. The E-TEC looks great. Kind of edgy-conservative in its deep, smoky blue paint job. The compact cowling is sharply drawn with none of the radical crash-helmet appearance of some of its rivals. The Explorer's colour scheme is a pleasing combo of grey, black and burgundy. The E-TEC adds a nice contrasting accent.
And it sounds wonderful. Evinrude is deservedly proud of the work they've put into that sound. None of the raucous howl of earlier two-strokes, not the unobtrusive four stroke purr, but more of a quiet but excitement-inducing growl.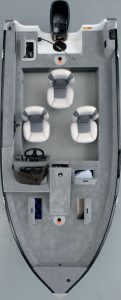 Not that it's loud. The engine has a sweet spot between 3,000-3,500 rpm that's ideal for cruising. At three grand we could enjoy the scenery, carry on an easy conversation and still bliss along at 25 mph.
The 1,296cc three cylinder inline is what the engineers would call "over-square". The 91mm bore is much larger than the 66 mm stroke, a configuration that encourages quick spin-up and rapid acceleration. Add that to the already spirited demeanor of an E-TEC injected 2-cycle and Evinrude is justified in describing this engine's hole shot as a "sling shot"!
Given that the boat and its 320 pound powerplant total less than 1,500 pounds fully equipped, that sling shot can quickly turn into a moon shot, with the bow heading for the stars, if the engine is trimmed out even slightly. (Damn, that was embarrassing…) Luckily, Evinrude's very responsive FasTrak tilt and trim system is there to help. With a little experience we could snap the Explorer on plane with negative trim and instantly have it jacked out and flying.
The quick trim also comes in handy on a shoal strewn lake like Loughborough. Deep enough in some areas to support lakers, it hoards its bass and pike in dangerously rocky areas. Even close to the marina's dock we ran with the engine tilted 'way up!
The Gull Wing design, a combination of a sharply raked stem, flared bow, shallow vee and spray rails, contributes to the hole shot. But those features also combine to deliver a soft, dry ride. The lake runs south east to north west, just like the prevailing winds. It can get nasty out there.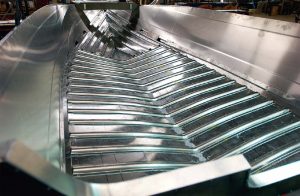 We've seen a lot of innovation and improvement in the construction of aluminum boats over the past few years and this Sylvan incorporates a number of good examples. There's a substantial, rounded rail that runs along the entire length of the chine and carries on right up to the point of the bow. It's not a riveted add-on. It's stamped right into the side panel. Besides being an important part of the boat's hydrodynamics, the rail adds strength and rigidity the full length of the hull.
Most of the manufacturers have developed new extrusions for the gun'l rail, a critical part of the boat's superstructure. The Explorer's gunwale is unique. Whereas other gunwales are usually grooved or textured, Sylvan's is absolutely smooth. About two inches wide and richly painted, it looks like a stair railing from a ritzy office building. Nevertheless, around the rim of the Explorer, it's handsome, rock solid and will never foul a fishing line.
Another innovation that has found almost universal acceptance in the fishing boat industry is the modular plastic helm station. We're using that word "plastic" on purpose. The OEMs prefer the more upscale sounding "composite" to describe the material, but it is plastic and it's wonderful. No more sharp aluminum corners or ragged fibreglass edges, these well-engineered modules can be added to a boat like the Explorer and provide a robust, attractive and full-featured helm. Our tester's dash incorporated the steering wheel, five gauges, switchgear and the Lowrance XD50 fish finder – all tucked down behind the generous windshield. Generous is good according to Cam: "On my top speed runs it was icy out there. Behind the plexy at forty-plus I stayed warm – and I didn't lose my hat!"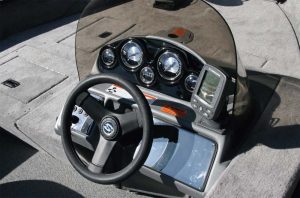 We really liked the pedestal seats. Sizeable and supportive, they folded with a detent controlled hinge system that was hidden up inside the seat's back. The one thing we missed were some grab handles for the passengers.
But the bow's concealed treat was a rod locker positioned next to the helm station. From the outside it looks like any other long hatch over a hole-in-the-hold designed for rods, skis, poles or paddles. Open the door, however, and discover that Sylvan has custom molded a composite (plastic!) rod holder that will accommodate six poles, rigged and ready. And keep them separate and untangled!
We don't talk a lot about price in these pages 'cause every marina has its own unique set of cost issues to deal with. That said, the boat, motor and trailer described here can be purchased at most dealers for about twenty grand, give or take. That's a bargain. It's real value. It's got everything you need. Wherever you decide to buy your Sylvan, find Loughborough Lake on a map. And let's go fishing!
Specifications
LOA: 16' 2" / 4.93 m
Beam: 82" / 2.08 m
Weight: 850 lb / 386 kg (boat only)
Fuel: 24 US gal / 91 L
Power as Tested Evinrude E-TEC: 75HP
Manufacturer:
Sylvan Marine
P.O. Box 65
New Paris, IN 46553
www.sylvanmarine.com

Test Boat Provided By
Loughborough Lake Marina
2779 Loughborough View Road
Battersea, ON, K0H 1H0
613-353-6205
www.themarina.on.ca

best boat, best boat models, best boat trailer, best center console, best centre console, best performance boats, best pontoon, best runabout, Best Used boat, boat accessories, boat parts, boat reviews, boat tests, boat touring, BOATING Buyer's Guide, boating guide, BOATING in-water Tests, boating lifestyle, Boating Lifestyle Magazine, BOATING rentals, BOATING rentals near me, BOATING traveller, boating vacation, go boating, go boating Canada, how to choose a boat, marine accessories, New Boating Products, new boats for 2023, performance boats, Power Boating Canada, Tender boat, top boat models, top boats, top cottage boat, top cruiser, top power boat best boat, best boat models, best boat trailer, best center console, best centre console, best performance boats, best pontoon, best runabout, Best Used boat, boat accessories, boat parts, boat reviews, boat tests, boat touring, BOATING Buyer's Guide, boating guide, BOATING in-water Tests, boating lifestyle, Boating Lifestyle Magazine, BOATING rentals, BOATING rentals near me, BOATING traveller, boating vacation, go boating, go boating Canada, how to choose a boat, marine accessories, New Boating Products, new boats for 2023, performance boats, Power Boating Canada, Tender boat, top boat models, top boats, top cottage boat, top cruiser, top power boat