Press Release – Catana Group is proud to present the first model in the YOT range, the new brand of Power Catamaran.
The brand is unveiling its first YOT, the YOT 36, at the Cannes Yachting Festival from 12th to 17th September. This 36-foot motorboat is the first model in the outboard-powered YOT range.
The ethos of YOT: pleasure on board. A new spirit on the yacht market, combining design and trends, space and comfort.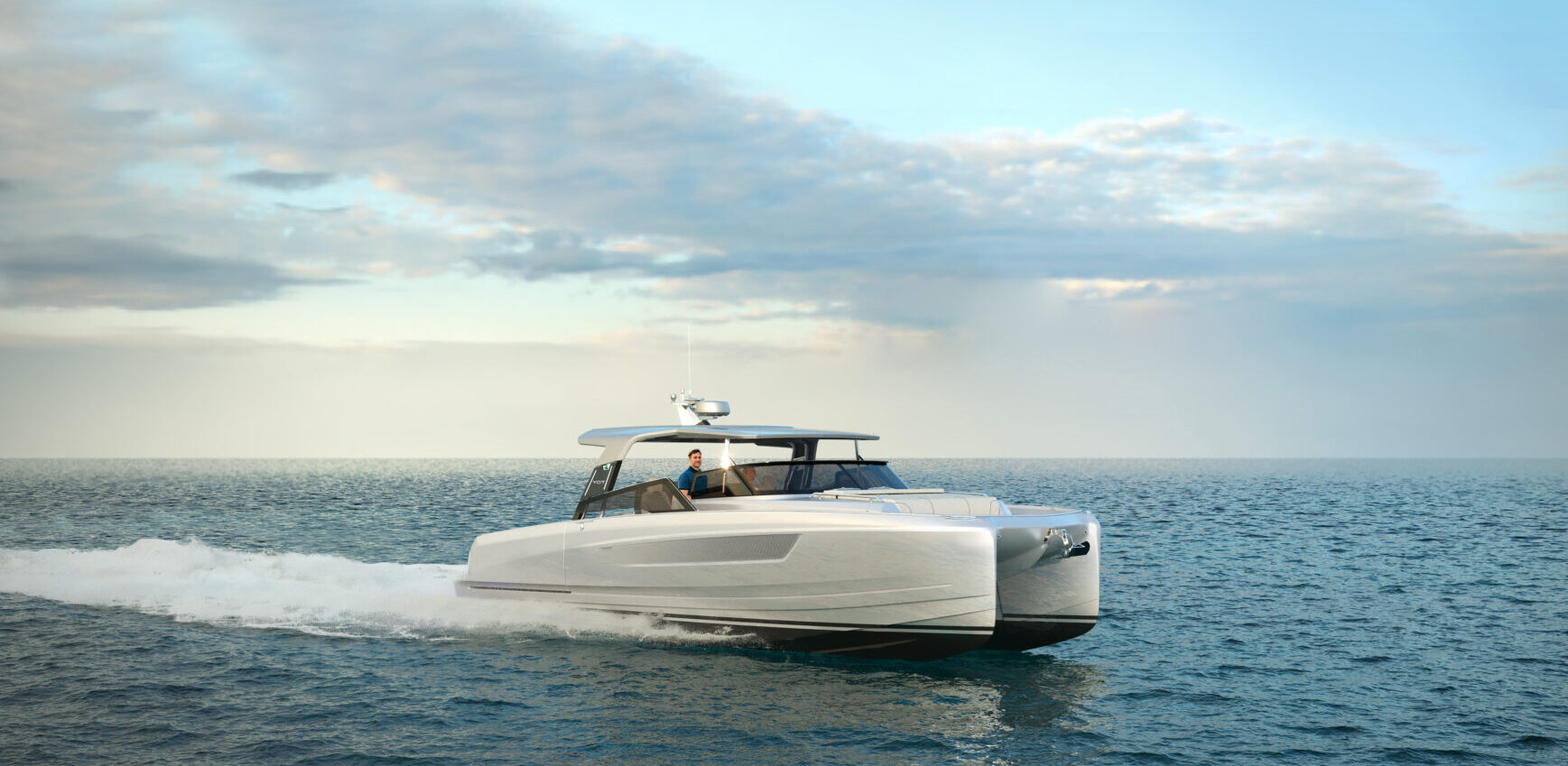 The pleasure of outboard power with plenty of space
The YOT 36 offers spacious, functional and modular comfort on board, all in a smart, contemporary design. With remarkable stability, this boat offers assertive seakeeping and great agility.
Featuring a deck that covers an area of 38 m² and with two cabins, the YOT 36 can be adapted to suit a wide range of uses with a high degree of modularity. Thrills under way, conviviality and relaxation, comfort on board, overnighting at anchor – all the pleasures of the sea are ready and waiting for you.
Space on board for every purpose
With a beam of 3.99 m and two opening side platforms, the spacious YOT 36 leaves nothing to be desired.
The central wet bar comprises two modules with a fridge, sink, storage and optional cooking facilities. Optimum self -sufficiency is ensured with a large freshwater capacity.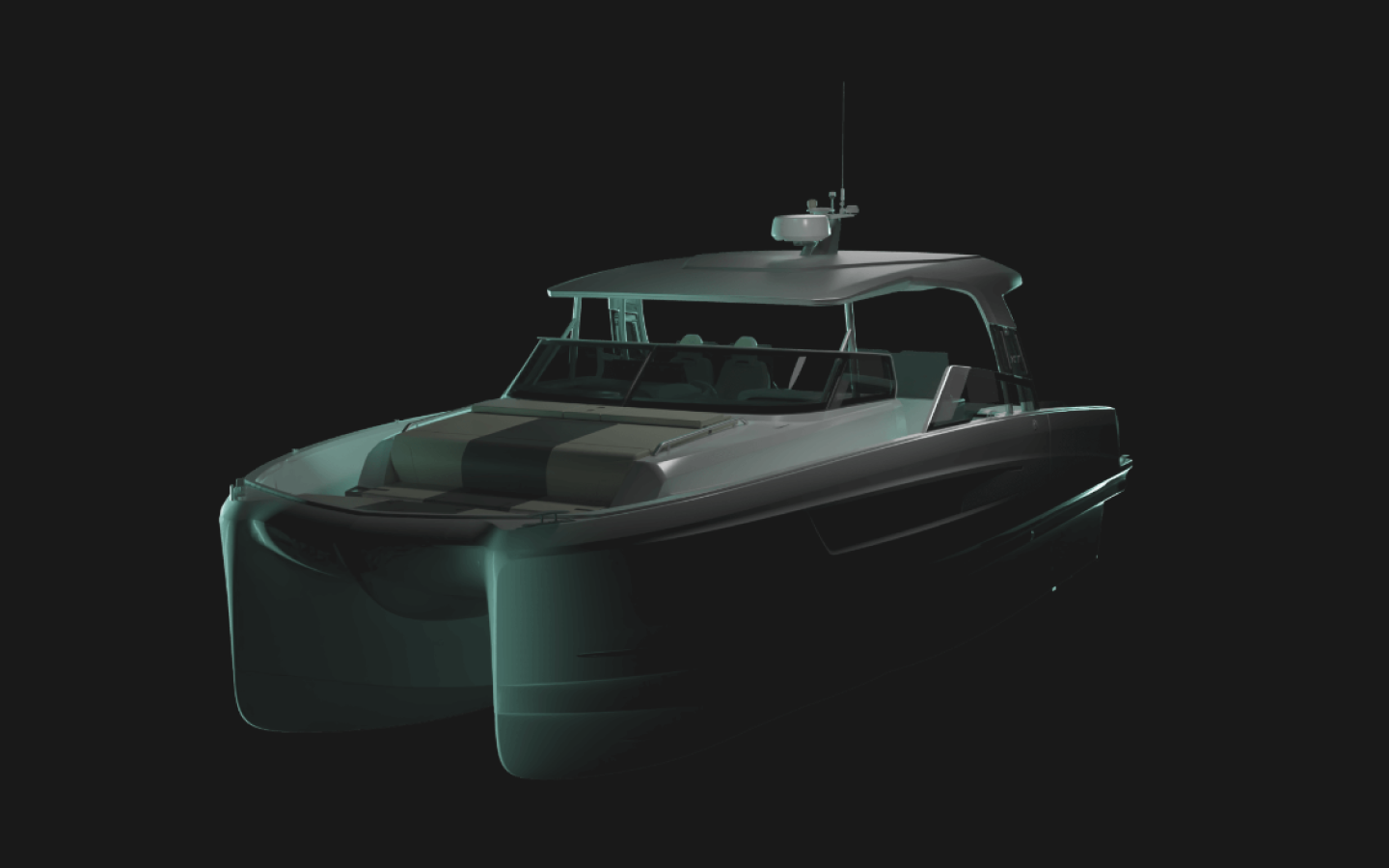 With its modular platforms, the immense terrace makes for a dream location on the sea: a modular double saloon for sunbathing, dining for up to 8 guests, or enjoying the wet bar.
Forward, the cockpit has a vast sun-lounging area, truly like a bed on the sea, and a wide bench seat at the bow so you can feel the speed. Recessed access to the starboard side-deck means perfect safety, for the peace of mind of everyone aboard.
Inside, the YOT 36 has two bright cabins, each with its own bathroom and toilet, for great privacy when you're on board overnight.
The pleasure of helming
The innovative helm station features four very comfortable seats forward, and front and side windscreens so you can really to make the most of the speed. The elegant hard top creates a pleasant space sheltered from the sun.
At the helm, the skipper can take full advantage of the performance of this catamaran powered by twin 300 hp Mercury Marine V8 outboards via a joystick system and advanced electric steering.
The multi-function electronic navigation system allows full control and navigating with ease.
Lively, flexible and easy to handle, the YOT36 offers a safe and thrilling experience.
The Mercury Marine drivetrain combined with a catamaran design make this a fuel-efficient model.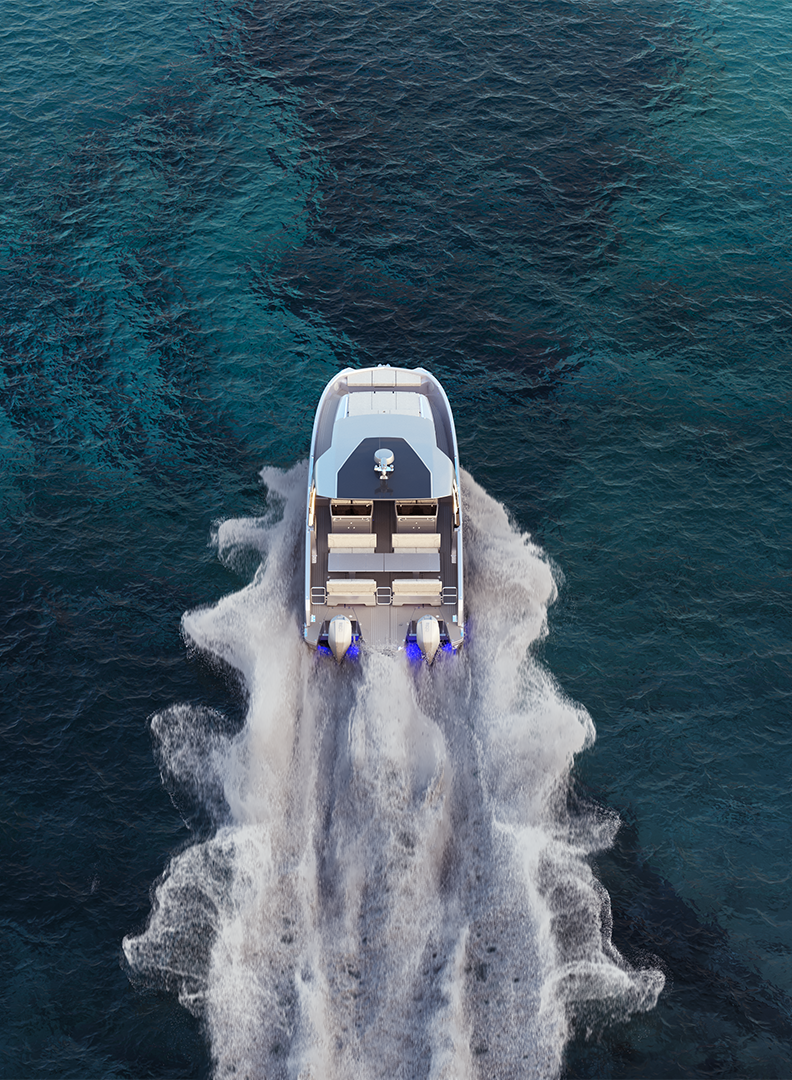 Design, quality and reliability
Designed by JnJ, the YOT 36 has a sleek profile that glides elegantly through the water. The materials and upholstery have been rigorously selected for their performance, quality and design.

The YOT 36 benefits from the experience of Catana Group, a pure player in the catamaran sector for over 40 years, renowned for its technological innovations and design know-how. Bearing the signature of Catana Group's expertise in reliability, the hull incorporates structural carbon reinforcements.

Production is undertaken in Portugal by Composite Solutions, a company acquired by the Group back in February, which is based in Vagos, just south of Porto.

Discover the website: yot-power-catamarans.com

Boating, cruise, luxury, maritime, Motor Yacht, nautical, ocean, sailboat, sailing, superyacht, Vessel, Watercraft, Yacht, Yacht Brands, Yacht Charter, Yacht Club, Yacht Construction, yacht design, Yacht Destinations, Yacht Events, Yacht Experiences, Yacht Exterior Design, yacht features, Yacht Industry, Yacht Interior Design, yacht lifestyle, yacht maintenance, Yacht Ownership, Yacht Technology, Yacht Tourism, Yachting Boating, cruise, luxury, maritime, Motor Yacht, nautical, ocean, sailboat, sailing, superyacht, Vessel, Watercraft, Yacht, Yacht Brands, Yacht Charter, Yacht Club, Yacht Construction, yacht design, Yacht Destinations, Yacht Events, Yacht Experiences, Yacht Exterior Design, yacht features, Yacht Industry, Yacht Interior Design, yacht lifestyle, yacht maintenance, Yacht Ownership, Yacht Technology, Yacht Tourism, Yachting