PBC HANDS ON TEST REPORT
Yamaha targets big-water anglers with its massive 425 V8 XTO, Helm Master digital control and an all-new 25 horsepower kicker developed specifically for the Canadian market. Power Boating Canada was at the official launch in Vancouver to experience it all first-hand!
By Craig Ritchie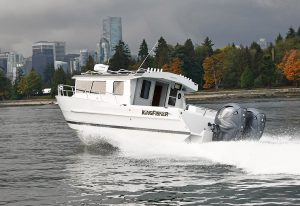 With more than 165 million square kilometers, it's the biggest, baddest ocean on the planet. The mighty Pacific – legendary for its vast open waters and towering waves – is not a place for the weak. That's why serious boaters all along Canada's Pacific coast have long favoured tough, all-welded, heavy-duty aluminum boats, whether they're out trolling for salmon, jigging for halibut or just enjoying the coastal views. Yet for all their strengths, these massive metal battlewagons have always felt the need for more power. Yamaha says it has the answer, so Power Boating Canada traveled to Vancouver in late September to find out.
Joining us at Yamaha's official engine launch were several boat builders, dealers and representatives from law enforcement agencies – all on hand for the gala unveiling of an all-new four-stroke outboard engine and the formal introduction of the company's revolutionary 425 horsepower V8 and Helm Master digital control system to the Canadian market. While each product delivers powerful advantages on its own, the combination of all three together represents a potent integrated system that should appeal to big water boaters, not only on the Pacific northwest, but right across our country.
A Kicker With Kick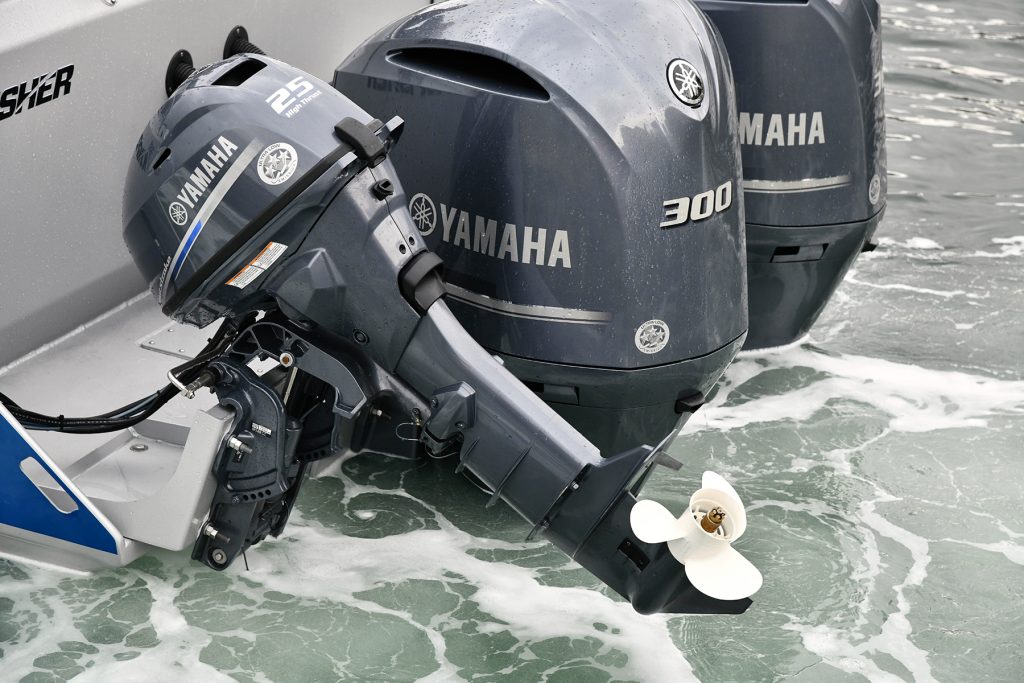 The foundation of Yamaha's offshore system is its all-new T-25C, a 25 horsepower four-stroke outboard designed from the skeg up as a kicker engine. Yamaha chose the Vancouver event for its global launch, a clear indication of just how important this new engine is for the northwest Pacific market.
The clean sheet design fills a void in the marketplace by providing the additional power and capabilities that are required by offshore fishermen, who are operating increasingly larger and heavier boats.
"Every fisherman on the west coast has a kicker engine," says Yamaha Canada product manager, J.F. Rioux. "For many years the 9.9 has been the go-to motor for that application, but with the larger and heavier boats that are now dominating the market there is a need for more power, and the T-25C delivers."
Rioux is absolutely right about the difficulty that anglers fishing from large welded aluminum boats face when trying to troll with a long-shaft 9.9. These heavy-duty offshore boats often weigh 5,000 pounds or more; that tremendous mass asks a lot from a 9.9 at the best of times, much less when fishing in stiff winds or a fast-flowing tide.
"When someone is fishing in a heavy tide, the 9.9 might have to rev at 3,000 rpm to keep the boat moving, which obviously makes more noise than fishermen would like," he says. "Anglers have been asking for more power in their kicker motor, and we now have an engine that is designed specifically with this application in mind."
The new two-cylinder T-25C was designed with an equal emphasis placed on high torque and light weight. "The goal was to generate higher torque without having to go to an oversized gearcase, which would produce more drag," said Rioux. "This was achieved with some innovative internal engineering as well as a unique propeller design."
That torque was obvious as Rioux and I ran the new engine on Burrard Inlet, against a backdrop of Stanley Park and downtown Vancouver's skyscrapers. The test bed for our first run was a Kingfisher 3125GFX, a brand-new welded aluminum offshore boat pushed by a pair of Yamaha F300s with the T-25C mounted on a bracket on the port side of the transom. Rigged for serious fishing, the big Kingfisher is a lot of boat to push around in a moving tide, but the new T-25C showed it was more than up to the job, sliding our big blue Kingfisher about seemingly without effort. Running the kicker at full throttle just to see what it could do, we soon found ourselves clipping along across the outflowing tide at almost nine knots! That's about four times as fast as most serious fishing guides like to troll, so the T-25C clearly has plenty of power to spare, allowing it to be run at a quiet idle speed that won't tip off spooky salmon.
At just 145 pounds, the T-25C is 28 percent lighter than Yamaha's 201-pound F25, the current 25 horsepower model – a critical consideration for a kicker engine. It will be offered in a choice of 20-inch and 25-inch shaft lengths to fit a variety of offshore fishing boat models.
Rioux notes that while the new kicker engine was designed for Canada's Pacific coast, it should also prove popular with anglers on other large water bodies, such as the Great Lakes region, who also fish open waters from heavy boats. Even non-anglers will likely be tempted by the additional safety represented by having a second powerplant on board.
The Big Water Predator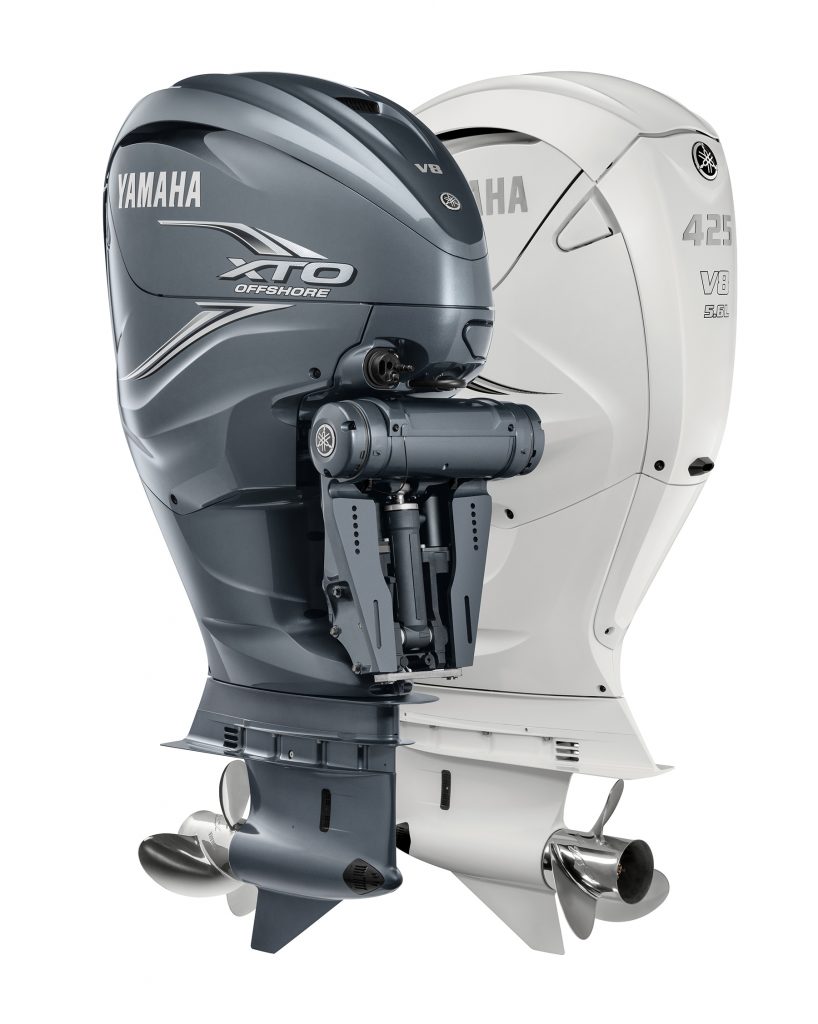 In concert with the global unveiling of the T-25C, Yamaha took the opportunity to formally introduce its breakthrough 425 horsepower V8 XTO Offshore outboard and its revolutionary Helm Master digital control system to the Canadian market, positioning all three offerings as a turn-key answer for powering today's offshore fishing boats.
Announced back in May, the 425 V8 XTO is an all-new four-stroke, 32-valve V8 with a boatload of high tech and industry firsts. For example, it's the first four-stroke outboard to use direct injection technology, which sprays fuel at high pressure and high precision directly into each combustion chamber for greater power and torque. It's also the first with a fully integrated, fully electronic steering system, with no external hydraulic lines or linkages. The integrated system responds to steering inputs faster, while reducing rigging requirements. The big V8 also offers the highest compression ratio in an outboard today, at a whopping 12.2:1. Further, it provides massive charging power with its 90-amp alternator – another key consideration for fishing boats that bristle with the latest electronics.
Turning propellers that range up to a massive 17.5 inches in diameter, that huge power turns a lot of propeller blade surface area for staggering torque and acceleration. It also gives the engine unrivaled power in reverse gear – something we discovered on the water. Don't reverse too quickly with this outboard, or you face the very real prospect of stuffing the swim platform and giving the whole aft cockpit an unexpected rinse.
In forward gear, that massive power pushes even heavier boats onto plane effortlessly. After spending time enjoying the new kicker engine, we swapped ships and sea trialed a big Kingfisher 3425 Destination that was rigged with twin 425s. For those unfamiliar with this new model, Kingfisher's 3425 is the Vernon, BC-based company's all-new flagship, stretching 35 feet, one inch in overall length and weighing in at a hefty 13,000 pounds. Rated for up to 900 horsepower, most anglers would automatically lean toward powering this big rig with triple 300s. Our test boat was rigged with twin 425s, and I couldn't wait to see how they performed.
With its' massive torque and instantaneous throttle response, the 425 V8 XTO lifts the big Kingfisher on plane promptly. The boat doesn't climb up on plane so much as simply pop up there like a small runabout – something quite unexpected for a large offshore fishing rig with a solid, welded aluminum hull. Kingfisher boats have a reputation for being built like battleships, so it was a real surprise to feel the boat rise so readily under the throttle. Part of that response lies in the sheer lifting power of those huge props, and the engine's power to spin them.
Although the motors weighed 950+ lbs., heavier than I anticipated, weight is saved with the new integrated, fully electronic steering system with no external hydraulic lines for rigging and installation.
Though the hole shots were fun, the mid-range acceleration is where the 425 really shines. Cruising along at 35 mph, the boat speeds forward with just a touch of added throttle, again not at all what you expect from a boat of this size or mass. Wide open, the big V8s simply purr like a couple of happy tigers.
While the power of the 425 is impressive, I was surprised at how quietly the engines ran, even at full throttle. The sound is a lot more 'low growl' than 'screaming eagle,' to borrow some terms from Harley Davidson. Standing in the open cockpit at speed, it was still possible to speak in a normal conversational voice, wind noise being more of an issue than the roar of the engines. At idle speed, the big V8s are functionally silent.
Yamaha turned a lot of heads when the company introduced its 350 horsepower V8 back in 2007. Today, it's turning heads all over again with the 425 V8 XTO. With its massive power and technical innovations, this big outboard has the potential to change the way a lot of transoms look, replacing twin installations with a single V8 and replacing triples with twin 425s.
Master of its Domain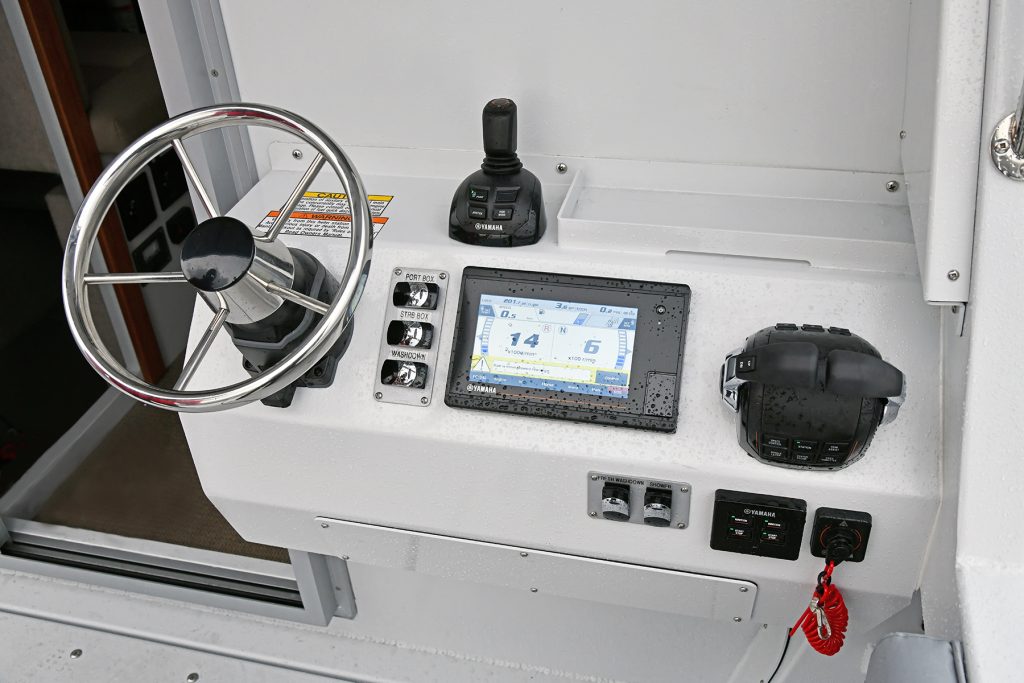 Power is nothing without control, which is why boaters interested in the 425 V8 XTO will also want the incredible ease and precision of the company's Helm Master digital control system. Helm Master is a complete system consisting of an enhanced binnacle control, a streamlined digital display, push-button start/stop switches, an RFID key fob and a joystick for pinpoint docking control.
The operation is so simple that non-boaters often get it faster than experienced boaters do. Push the joystick sideways and the boat moves sideways. Push it forward, and the boat moves forward. Pull it back, and the boat goes into reverse. Twist the stick in one direction or another to gently rotate the bow or stern as desired. Simply twisting the stick while stationary turns the boat 360 degrees in its own length. The hardest part about using the joystick is resisting the urge to grab the wheel and throttle!
But Helm Master is a lot more than just a joystick docking system. The system features three SetPoint operating modes which allow you to easily maintain boat position, maintain the boat's heading, or maintain both position and heading at the push of a button.
The first setting, called Fish Point, functions like a virtual anchor to hold the boat in position. As with a real anchor, you can set the system to hold the boat by the bow or by the stern. Bumping the joystick in any direction shifts the boat's position in that direction by 10 feet. This mode is ideal for keeping the boat aligned with bottom structure when fishing on bottom.
Drift Point mode maintains the boat's heading as it drifts along with the wind or tide, always keeping the bow pointed at a set heading. This is a great feature when anglers drift fish, as it eliminates the potential for tangled lines caused by the boat swinging around in the current. As with the Fish Point mode, the joystick allows minute adjustments – in this case shifting the bow's heading by five degrees with each twist of the stick. While anglers will love this feature, it should also prove popular for boaters watching the sun set over the stern, or photographing a passing pod of orcas.
Stay Point mode maintains both boat position and heading simultaneously, using Helm Master's dual antenna GPS, independent outboard articulation and thrust vectoring to maintain that spot. The accuracy is outstanding – Helm Master will keep your boat within 10 feet of your mark under ideal conditions, and within a 75-foot circle in higher winds and currents. In Stay Point mode, bumping the joystick again moves the boat by 10 feet, while twisting it once again shifts the heading by five degrees, making it effortless to hold your boat exactly where you want it while you're away from the helm, such as when setting lines and fenders while waiting for a lock, a lift bridge, or on approach to the marina.
The Whole Enchilada
By offering a comprehensive power package including a kicker that really kicks, big power that's big on innovation, and precision digital control that's truly intuitive in operation, Yamaha aims to capture an even bigger chunk of the offshore boating market – starting in the Pacific northwest, then all across the country. Having seen first-hand how well their fully integrated system performs, all we can say is let the revolution begin.

best boat, Best boat buying website, best boat marina website, best boat travel website, best place to rent a boat, boat accessories, boat angler, boat boondocking, boat buyers guide, boat camper, boat camping, boat dealers, boat DIY, boat Fishing, boat Fixer, boat Home, boat information, boat insurance, Boat Maintenance, boat marinas, boat marinas in Alberta, boat marinas in BC, boat marinas in Canada, boat marinas in Manitoba, boat marinas in Saskatchewan, boat marinas in the USA, boat marinas near me, boat products, boat rentals, boat repair, boat road test, boat sharing, boat sites near me, boat supplies, boat Tech, boat tips, boat touring, boat trade, boat Travel, boat traveling, boat travelling, boat vacation, boat vacation cost, boat websites Canada, boating Canada, Boating Canada's Boat Lifestyle Magazine, Boating Lifestyle Magazine, boating website, Canadian marina websites, expert boat information, find a boat dealer, how much does a boat cost, how much does marina cost, how to choose a boat, how to drive a boat, marina products, marina supplies, motor boat, power boating magazine, t-25C, top boat website, used boat reviews, Yamaha 25, Yamaha 425, Yamaha motors best boat, Best boat buying website, best boat marina website, best boat travel website, best place to rent a boat, boat accessories, boat angler, boat boondocking, boat buyers guide, boat camper, boat camping, boat dealers, boat DIY, boat Fishing, boat Fixer, boat Home, boat information, boat insurance, Boat Maintenance, boat marinas, boat marinas in Alberta, boat marinas in BC, boat marinas in Canada, boat marinas in Manitoba, boat marinas in Saskatchewan, boat marinas in the USA, boat marinas near me, boat products, boat rentals, boat repair, boat road test, boat sharing, boat sites near me, boat supplies, boat Tech, boat tips, boat touring, boat trade, boat Travel, boat traveling, boat travelling, boat vacation, boat vacation cost, boat websites Canada, boating Canada, Boating Canada's Boat Lifestyle Magazine, Boating Lifestyle Magazine, boating website, Canadian marina websites, expert boat information, find a boat dealer, how much does a boat cost, how much does marina cost, how to choose a boat, how to drive a boat, marina products, marina supplies, motor boat, power boating magazine, t-25C, top boat website, used boat reviews, Yamaha 25, Yamaha 425, Yamaha motors