The most feature rich in the history of Yamaha products
By Eric Vienneau
As 2021 kicks into full gear, three major products are being released by Yamaha. At the head of the pack is an upgraded series of V6 Offshore outboards, with compliments from a series of Saltwater Series II HP propellers and a flush side mount DEC for the Helm Master EX control system.
"The new, updated F300 and F250 4.2-liter V6 Offshore outboards now have many of the benefits previously only available on the XTO Offshore. Combining a high performance, big block V6 engine featuring outstanding power and fuel efficiency, Yamaha brings new levels of convenience and control to a proven performer," said Ben Speciale, President, Yamaha U.S. Marine Business Unit.
Yamaha V6 Offshore
There is availability of Digital Electric Steering (DES) and Thrust Enhancing Reverse Exhaust (TERE) system, both of which are Yamaha exclusives. The DES only uses battery amperage when actively in use and is easier to rig than conventional steering systems. This creates an uncluttered bilge. The TERE keeps exhaust bubbles above the ani-ventilation plate and out of the propeller below 2500 rpm when in reverse and is effective when combined with the DES and Helm Master EX Full Maneuverability making movement easier around docks and confined spaces.
Another feature includes exclusive TotalTilt ™ allowing complete tilt up from any position with a simple double push of the "UP" trim/tilt button. Also, the same double push of the "DOWN" trim/tilt button performs a full tilt down (until trim ram contact). To prevent corrosion and unintended damage, there is a new built-in integrated tilt limiter.
The brand new V6 Offshore outboards are the most feature rich V6 outboard in the history of Yamaha products while still having the sleek, customer-preferred design as before. With added durability and carrying on its look inspired by its big brother- the XTO- V6 Offshore outboards come in pearlescent white or signature Yamaha gray.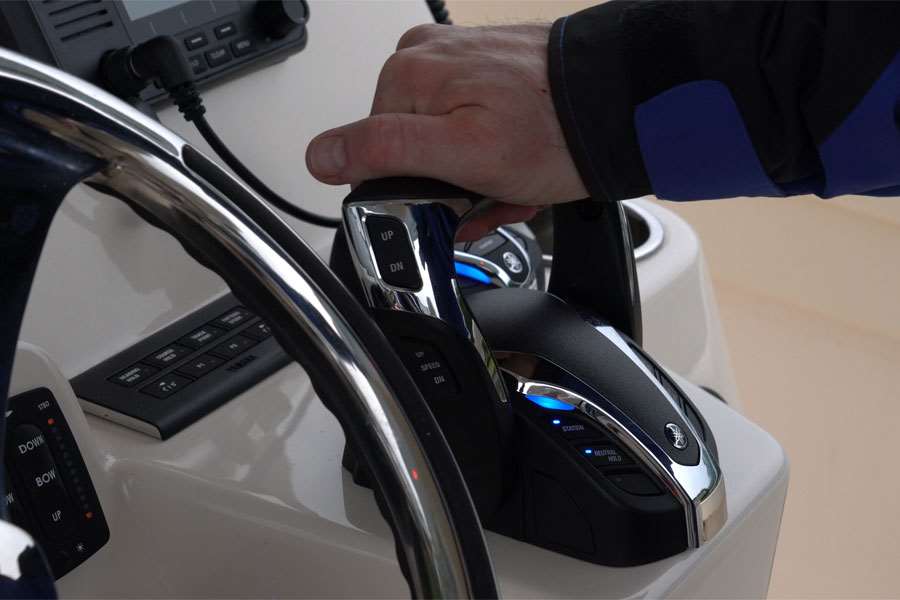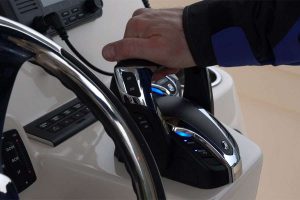 Yamaha Flush, Side-mount DEC for Helm Master EX
Complimenting the V6, the new flush, side-mount DEC for Helm Master EX is bringing the benefits of Helm Master EX to more boats. With an easy-to-install design, the smooth and exact control gives boat builders and dealers flexibility when rigging luxury pontoons, premium dual consoles and single engine craft. This is available beginning April 2021.
Yamaha Saltwater Series II HP Propellers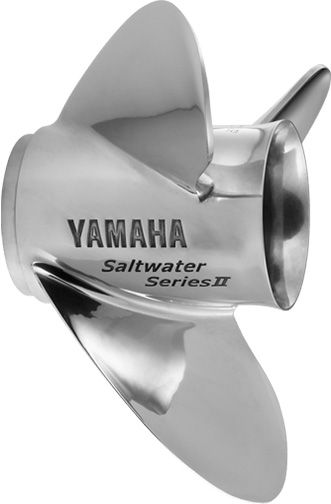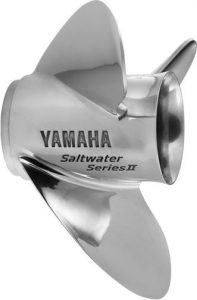 A new version of the esteemed Saltwater Series II propeller, the "HP" version maximizes speed on certain lightweight V6 applications that are not surface piercing. They are designed specifically for light weight boats that are using Yamahas 4.2-litre V6 Offshore and 4.2litre V MAX SHO® 25-ing X-shaft platform. With new blade geometry, the Saltwater Series II HP Propeller provides potentially higher top speed in certain applications.
Featuring Yamahas patented Shift Dampener System, all Saltwater Series II HP propellers reduce shift "clunk." They will be available in 18-inch, 19-inch, 20-inch, and 21-inch pitches beginning in March 2021.

For more information go to https://www.yamaha-motor.ca/en/homepage

2021, boat, boat accessories, Boating, boating life, Canada, dual consoles, durability, Engine, Flush, Helm Master, luxury, New, Offshore, ontario, outboards, pontoons, Power Boating Canada, Saltwater, Sidemount, TotalTilt, V6, Yamaha, yamaha marine 2021, boat, boat accessories, Boating, boating life, Canada, dual consoles, durability, Engine, Flush, Helm Master, luxury, New, Offshore, ontario, outboards, pontoons, Power Boating Canada, Saltwater, Sidemount, TotalTilt, V6, Yamaha, yamaha marine