What you need to know about today's pontoon deck boat technology.
The single fastest growing segment of boat sales across North America for the past few years has been the pontoon boat segment.  Let's look at that statement for a moment:  Pontoon.  Boat.  Despite what you may have said in the past as to whether or not pontoons are entirely deserving of the term 'boat', today's pontoon boats have come a long way since Tom Sawyer's days of lashing a few branches together to create a crude raft.  While 'toons of a few decades ago were admittedly mere decks stretched between two aluminum logs – todays 'toons are as luxurious as a fine automobile and perform as such in many cases. 
The Evolution from Raft to

Performance Craft

As you research and surf through websites, you'll read about and see plenty of diagrams and videos from all the different manufacturers on how and why their pontoon 'hull' design is manufactured the way it is.  To help you, here are some common terms explained in terms of the effect they have – or don't have – on the boat.  In the end, we suggest you drive a few different models and choose the one that's best for your families boating wants and needs.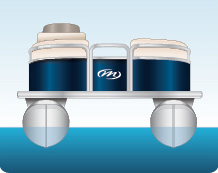 Two Logs: Every pontoon manufacturer offers nearly every model across all of their various model lines in a traditional two-log design.  (The triple-log models are often an available upgrade.) Where the difference lies between one two-log hull and another is in the size of the log (diameter – a larger diameter log has greater buoyancy than a smaller diameter – so that's something you'll want to pay close attention to in the specs of the boat you choose) and the shape of the log (round, elliptical, u-shaped, tapered or some sort of combination of these).

Three Logs: Many pontoon manufacturers offer their higher-end pontoon lines in three-log designs.  Adding a third-log adds stability both at rest when you're fishing or entertaining, and underway.  That third-log also adds extra buoyancy which typically increases the passenger carrying capacity, and the maximum horsepower rating of a pontoon compared to its two-log cousin.  Where the difference lies in triple-log models is in the middle log's diameter and shape variations between manufacturers, as well as differences in both the placement and overall size or length of the third-log.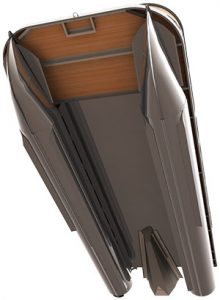 Motor Pod: While not a log in the traditional definition, the addition of a centre-line motor pod does add some value in terms of added buoyancy to offset the weight of the engine, and some degree of lift right where it's needed most at the stern.  That is, provided the pod reaches the water (some models don't).
Performance Enhancements
Several manufacturers have worked extensively with the basic aluminum tube design to improve and perfect the aqua-dynamics of these 'hulls'.  Here's a few of the performance enhancements to be aware of – of course all of these improvements over a traditional round tube come at a price.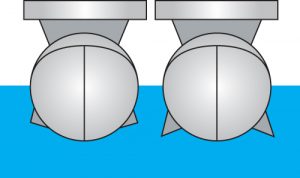 Lifting Strakes: A lifting strake is a piece of aluminum welded to the outside of the log.  Strakes can be welded full length or partial length, and on the inside or on both sides of a log.  The size and angle of the strake has an effect on the handling.  Strakes can have a negative angle (sort of like a reverse chine on a traditional hull, which provides stability and lift but at times results in a harder ride over waves) or a positive angle (which allows for a softer ride while still providing lift). Most manufacturers use lifting strakes in some form on nearly their entire line of pontoons, so it's obvious that they do indeed make a difference in performance.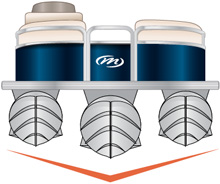 V-Toon Hull: Manitou has patented their V-toon hull design. By adding a larger diameter center tube, and dropping it down 1.5" below the deck – it creates 5.25" differential between the outside two tubes and the middle tube creating in effect a V-shaped hull just like on a traditional boat. This, plus positive-angled lifting strakes, allows for unprecedented maneuverability — the 'hull' no longer corners flat, nor does it bank to the outside. You can expect a better hole shot, improved acceleration, higher speeds, and better stability.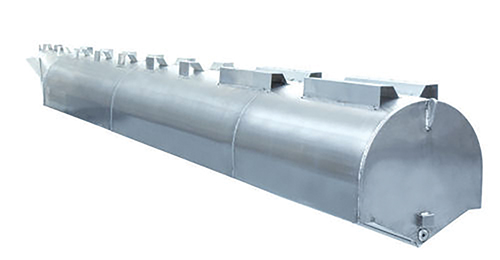 Revolutionary Planing Technology: Rather than remain content with the round shape of a traditional pontoon tube, the R & D team at Sylvan shaped the entire bottom of the tube – right from the nosecone all the way back – into a traditional V-design complete with flat chines.  The result is their RPT tubes (Revolutionary Planing Technology).  The V shape allows the pontoon 'hull' to lift and plane across the water. Look for an increased top speed per horsepower(compared to round tubes) and improved fuel efficiency – thanks in part to less engine power being used to push the tube through the water.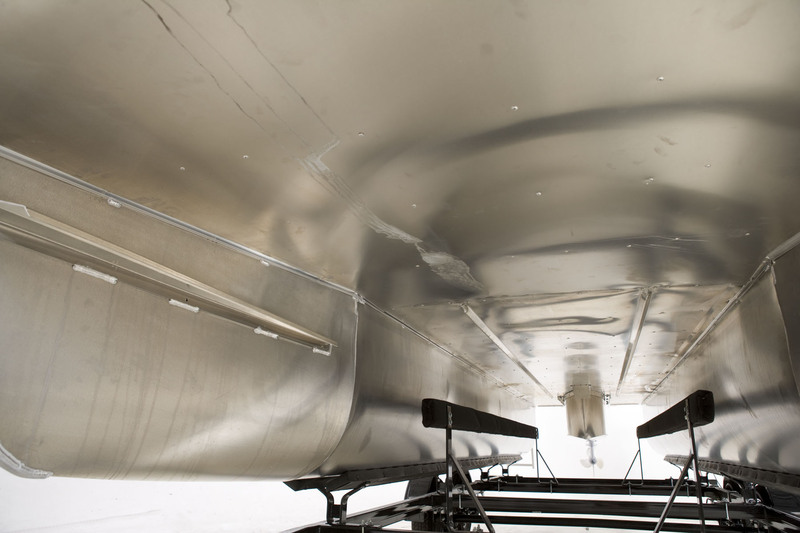 U-Shaped Logs: Suncatcher's uses a unique "U-shaped" log that sits higher in the water than a round log, creating less drag on the water, and has the added benefit of each log being filled with closed-cell foam floatation.  The foam doesn't absorb water and compared to air-filled logs, offers additional floatation in case the log is ever punctured.  It also results in a quieter ride.
Tapered Tubes: Larson Escape pontoons offer what they call 'Tapered tubes'.  Think of this as a wedge that when it is viewed from the side is slightly thinner at the bow and tapering over the length of the tube to a wider stern.  As the tapered tube rides through the water, even at a low speeds they create lift – much like a traditional boat hull does – and eventually they plane out on top of the water.

Under-deck spray shield:  Finally, almost all manufacturers offer as an option an under-deck spray shield. This is a sheet of aluminum added under the cross members that helps to prevent waves and wake-splash from hitting the cross channels under the deck, resulting in a smoother (and quieter) ride and higher top end speeds.
Summary

So what does all of this mean?  What's the difference?  The end result of two- or three-log designs for the hull of your pontoon is found in both the capacity of the boat – people and gear carrying capacity – and the performance – the handling, fuel efficiency, and top speed.  The performance enhancement features and designs are not just bells and whistles designed to increase the price without a corresponding difference in performance.  They do in fact result in increased speeds, maneuverability, turning radius, time to plane, fuel economy and more.

The logic differences you'll have to work out in your head, the specification differences you'll easily work out on paper.  But when it comes right down to it, for the real and actual differences you can feel, well for that you'll have to take a test ride of your pick of the models on the following pages to experience how logic and specs come together in both the 'seat-of-your-pants-feel' and in your 'thrill-muscle'.  Take the family, a loaded cooler, the dog, – heck take a wakeboard and tow rope with you and let your kids try a run behind it – and test drive your new pontoon the way you intend to actually use it. 

best boat, Best boat buying website, best boat marina website, best boat travel website, best place to rent a boat, boat accessories, boat angler, boat boondocking, boat buyers guide, boat camper, boat camping, boat dealers, boat DIY, boat Fishing, boat Fixer, boat Home, boat information, boat insurance, Boat Maintenance, boat marinas, boat marinas in Alberta, boat marinas in BC, boat marinas in Canada, boat marinas in Manitoba, boat marinas in Saskatchewan, boat marinas in the USA, boat marinas near me, boat products, boat rentals, boat repair, boat road test, boat sharing, boat sites near me, boat supplies, boat Tech, boat tips, boat touring, boat trade, boat Travel, boat traveling, boat travelling, boat vacation, boat vacation cost, boat websites Canada, boating Canada, Boating Canada's Boat Lifestyle Magazine, Boating Lifestyle Magazine, boating website, Canadian marina websites, expert boat information, find a boat dealer, how much does a boat cost, how much does marina cost, how to choose a boat, how to drive a boat, marina products, marina supplies, motor boat, Pontoon, Pontoon Boat, power boating magazine, top boat website, used boat reviews best boat, Best boat buying website, best boat marina website, best boat travel website, best place to rent a boat, boat accessories, boat angler, boat boondocking, boat buyers guide, boat camper, boat camping, boat dealers, boat DIY, boat Fishing, boat Fixer, boat Home, boat information, boat insurance, Boat Maintenance, boat marinas, boat marinas in Alberta, boat marinas in BC, boat marinas in Canada, boat marinas in Manitoba, boat marinas in Saskatchewan, boat marinas in the USA, boat marinas near me, boat products, boat rentals, boat repair, boat road test, boat sharing, boat sites near me, boat supplies, boat Tech, boat tips, boat touring, boat trade, boat Travel, boat traveling, boat travelling, boat vacation, boat vacation cost, boat websites Canada, boating Canada, Boating Canada's Boat Lifestyle Magazine, Boating Lifestyle Magazine, boating website, Canadian marina websites, expert boat information, find a boat dealer, how much does a boat cost, how much does marina cost, how to choose a boat, how to drive a boat, marina products, marina supplies, motor boat, Pontoon, Pontoon Boat, power boating magazine, top boat website, used boat reviews