Bill Taylor from Power Boating Canada Magazine had the pleasure of sitting down with Rodier Grondin, from Princecraft Boats – here's our "Time Out" feature…
Bill: Bonjour Rodier, it's a pleasure to be sitting with you, talking about Princecraft Boat Company – one of the largest boat companies in Canada.
As President and CEO of Princecraft division of Brunswick Boat Works, can you share some insights into the boating lifestyle and new developments from the various Brunswick divisions – they manufacture many boat types, from Sea Rays to Boston Whalers to Princecraft to Lund to Lowe, and the list goes on and on… would you tell our Power Boating Canada readers a little bit about the fascinating Princecraft line – the history of the company and where it is today?
Rodier: First of all, Bill, thank you very much for taking the time and giving me the opportunity of speaking with you. Princecraft is a great company – very successful over the years. As a matter of fact, we celebrated our 75th Anniversary in 2023, so we are talking about history. Princecraft has been here for generations – we started with a very good vision, and we have been blessed with some great leaders, who have always had one main goal – to develop and make Princecraft the best boat builder in Canada.
I am very proud to continue this mindset, and to work with our design and engineering teams to develop products of the highest quality. Our prime criteria are to understand the needs of the consumer and deliver the boats they will be delighted to own. 
We have an amazing network of dealers throughout North America, who deliver the finest boating experience for our customers. 
Year over year, Princecraft has been developing new concepts, from utility craft to specialty fishing boats and family pontoons.
As technology evolves, we are responding to the demand for new approaches to powering the boats. For the past 10 years, we have been developing electric versions of our pontoon boats, which start from a 14-footer that's great for fish and fun, and we go up to a 27-footer with a 450 Racing Engine.
We have a full scope of products – our deck boat, which has always been extremely popular, offers the best of both worlds – you have the feeling of a boat and all the comfort of a pontoon. We just revamped this concept to be more of a runabout, so you can fish in the morning, cruise all day, fish at night – you can do everything with it.
Another example is our new pontoon model – you can fish, have fun, cruise – you can do everything in a Princecraft.
I am very proud that Princecraft has received industry recognition as the employer of choice for six years in a row. 
It's All About Teamwork
Princecraft is not a one-man show – the company is a team – 425 employees who work together to produce boats that embody the very best in quality and safety. 
Building on our history, we have plans to get even better by building products that are ideally suited for the developing market in Canada and the United States. 
It's amazing what the novice boater can get into as far as a pontoon boat is concerned, at a price that's perfect for the average family. We build a 14-footer that is very accessible, with the engine options so you can start easily in the low 20s, and go up to the 250 mark, so the scope of Princecraft is where the magic starts – you can start with something smaller, you can grow and evolve as your boating needs expand. 
Bill: I was at your Lake X secret hideaway, where you build boats and motors that are being developed for the future – it's like Fort Knox – you can't get in there without an invitation, and top security clearance – I saw your latest boats there when Mercury was introducing their new V10 – would you put a V10 or a big motor on a pontoon today?
Rodier: Yes, we will – Lake X is where we create the real excitement, because Mercury is our sister company, part of the Brunswick family – and we have this opportunity to work together. 
As a matter of fact, when you were there, we had a pontoon planned with a V10 in the 
back – a 400-hp V10 – and we worked with Mercury to make sure that all of the technology would work together. That is one of the greatest advantages of being part of the big corporation with a sister company like Mercury – they develop great products, and we can test them on our boats as part of the overall development process.
Bill: There's been a lot of frustration, and changes in the industry over the past couple of years – we've all gone through various situations, but Princecraft has adapted extremely well online, and I'd like to know how you made that happen.
Rodier: That's a great question. You know, you're absolutely right – the market has changed over the last two or three years, I think I called that the accelerator – you know many changes that were probably coming to the market eventually, arrived in very rapid succession – things have changed so rapidly – so the key to the success of Princecraft was to do two things: first – take care of the people – we had a great team, working together with a common goal, which was to stay on top; and second, we had all our local suppliers working around our region – so Princecraft is lucky because we've been developing our relationships with them over many years, so when we had to make cuts or adjustments we used that as an opportunity. We sat together and looked at the market, and planned what we were going to do to sell our products in the USA and Canada, and how we could do it with our dealers, considering the market potential of each product category. This is the key to good planning, and our team took over and shared the plans with our dealers. We mapped out our supply chain and we were able to secure our parts and material supplies because we committed to our suppliers 18 months in advance on what we needed, so they were like partners for us, they're not just suppliers – we worked with them as a part ownership, and that's what really made the difference.
As we adapted to the supply situations, the team was so dedicated – they work great together you know – every worker in the company knew when a new dealer just signed – everybody was aware, and they all conscientiously created solutions to every hurdle that we had to overcome. That's what the team does – it's not a one-man show – Princecraft is a team.
Bill: Let's talk a little bit about the gas and electricity situation that's happening now. 
Rodier: Electricity is here and it's going to stay. At Princecraft, we have the electric Contour, but we're going to have the choice soon between an engine that could be gas, it could be electric – we are working closely with our partners – we have a provider right now, and also Mercury just announced some new electric motors, so the consumer market will have solutions and the options… so it's our responsibility as manufacturers to make sure we use these options right, so the market will have the products the consumers need. You're going to see a big shift in market trends, but at the same time all the power industry will have to change a lot – you see the performance of the engine now, which uses less gasoline and has even better performance, so the entire industry will just have to be agile, to again look forward like the car industry – electricity will be changing the boating industry but we're ready for that, and we will be part of the leadership for the boating industry.
Bill: Let's talk about the expansion of Princecraft to be available throughout North America. Where do you expect to expand, and when can the North American audience experience these wonderful boats?
Okay – so yes we're at a boat show, and we brought the full scope of what Princecraft is doing, from the flagship 27-footer with a 450 racing engine in the back – the top end luxury boat – you can have everything on board – you can have a fridge, you can have a dressing room, you can even have the pump out – you know the toilet – you have everything that a boater needs – it's a three log underneath, with performance up to 63 miles per hour – so this is great – it's like a home on the water.
If that's a bit above your budget, you can go to a more affordable model, the chrome with more dress up you know – this is the one that people enjoy – with more luxury.
After that, you go down to the Vectra, which is the most popular model in the line because this one is family oriented. Sure, you want a three-log pontoon, or you want a two and a half log or a two-log model, and you want an engine from 64 up to 200 or 225-hp h.p. in the back so you can enjoy the thrill of cruising at speed, or towing water skiers – this one can do it all – you can fish on it, you can ski on it, you can have a dining table – we can have many different configurations.
After that you go down to the smaller models, which could be electric – we've been selling these for close to ten years. At the same time, you can go down to even a 14-footer – that's an easy one for a family to start with.
Along with these models, we offer the range of Princecraft fishing boats – we do everything you know – from the big Platinum, which is the DV, our top-of-the-line model that is above 100K, with heated seats, you can have the high-performance engine in the back enclosure, a toilet, you can fish in the lap of luxury.
We also have a fishing boat that you can go with – the Expedition, the Hudson, the Sport Max – this is the most popular by far because the Max is maximum performance, maximum features, maximum everything – for one price you've got everything – trailer, equipment, everything is included – so people really enjoy it.
You discover fishing with a boat like this, and now you can go with the utility even to 14 or 16 so you can do it as a family – and don't forget we have the deck boat, which is now the roundabout – you have the luxury of a pontoon with the agility of a boat, so that's the best of both worlds in a 23 to 24-footer with the full new design, with water access in the back, a rear facing lounger or a front facing lounger, a dual seat that has driver controls – it's a great boat – It's a Princecraft – we have a great lineup for any kind of boating you want to do.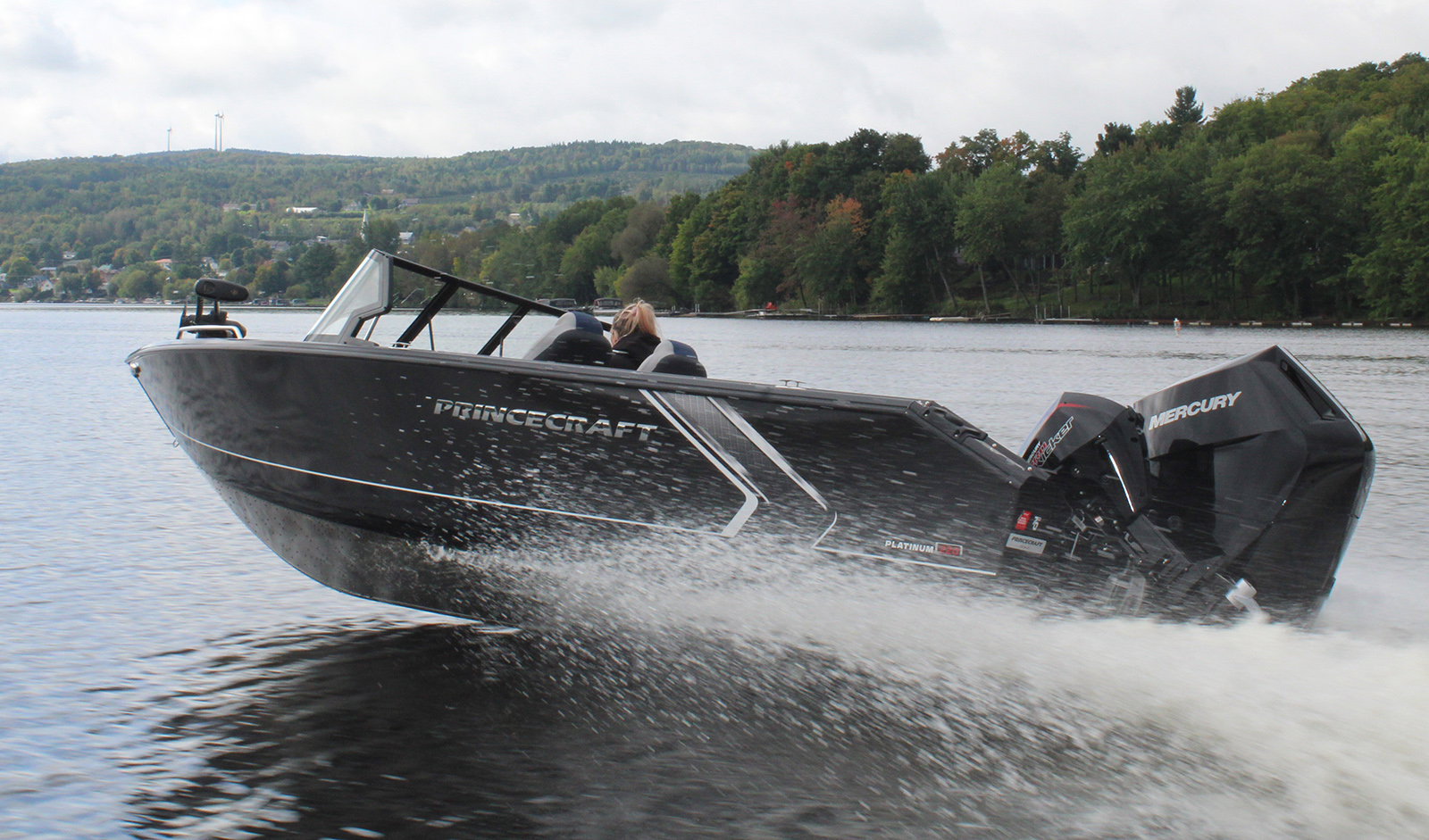 ---
Princecraft

 

Unveils

 

2024 Boat

 
Models
In a picturesque setting against the backdrop of the stunning Lac William in St. Ferdinand, Quebec, Princecraft recently hosted an exclusive event, inviting media giants, including Power Boating Canada, to test, photograph, and film their impressive line-up of 2024 boat models. The event, held at the elegant Manoir du Lac William, showcased Princecraft's commitment to innovation and excellence in the boating industry.
Lac William, with its calm waters and vibrant autumn foliage, provided the perfect canvas for this thrilling experience. Surrounded by the breathtaking colours of fall, Power Boating Canada's team explored the latest offerings from Princecraft. Our team, including Canadian Professional Wakeboarder Timmy McNamee, had the chance to test a diverse range of boats, including pontoons, fish boats, and bowriders.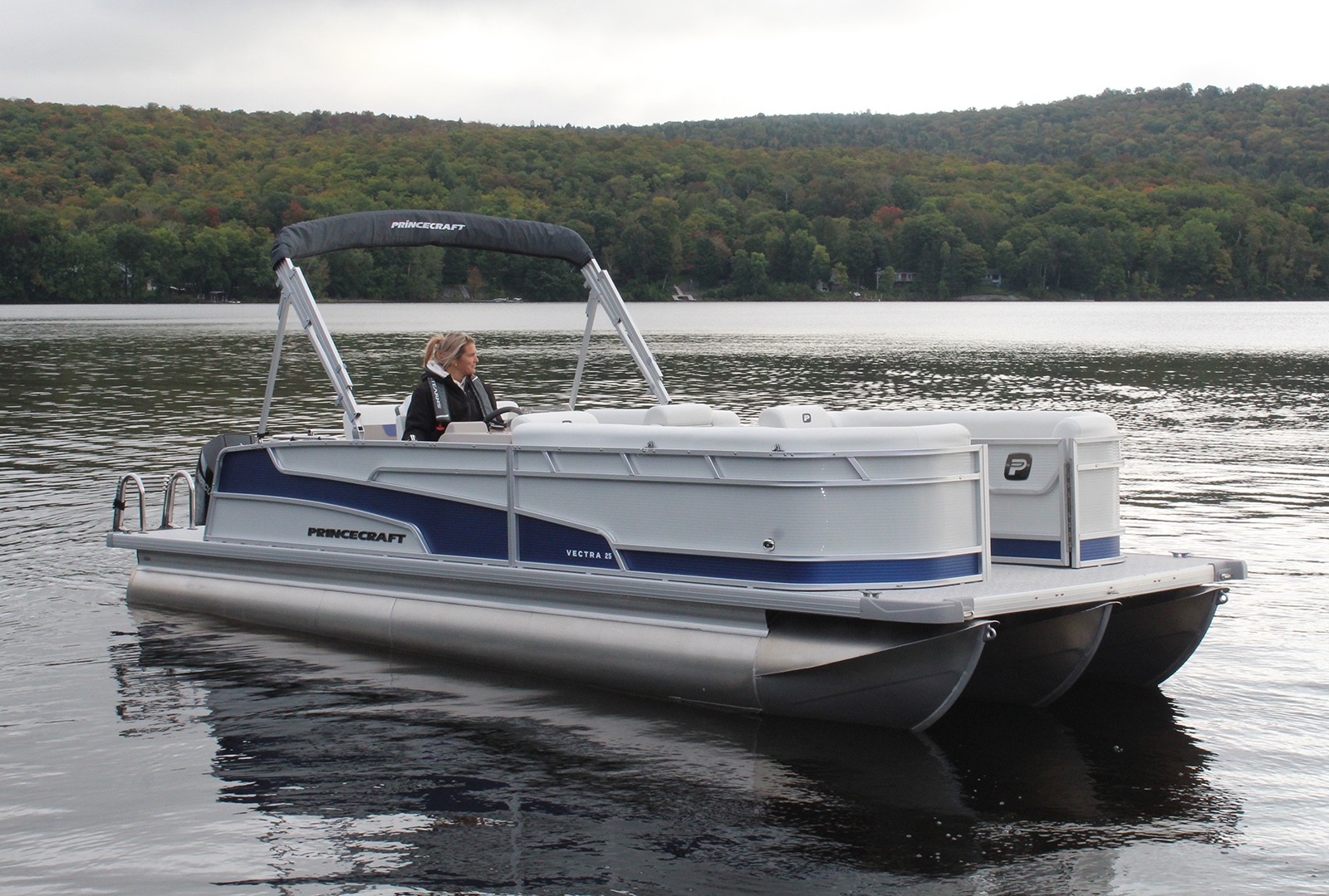 Princecraft's 2024 lineup boasted an array of meticulously crafted boats. Among the highlights were the Vogue 27 XT, a luxurious pontoon offering spacious elegance, the Vectra 25 RL, a pontoon designed for relaxation and leisure, and the Vectra 23 L, which combined style with functionality.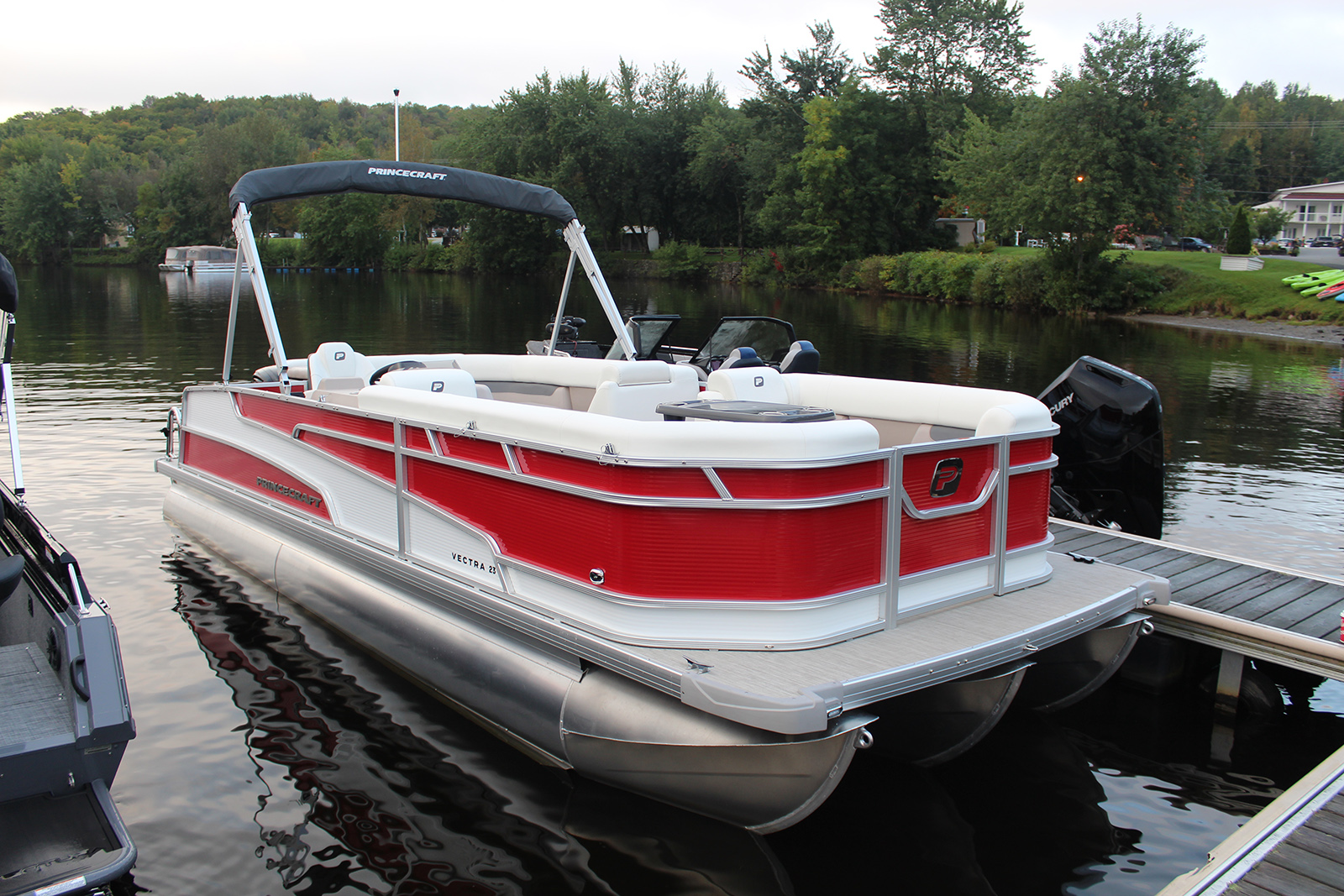 We also examined the Platinum 220, a fish boat designed for angling enthusiasts, and the Ventura 230 WRL, a deck boat perfect for family adventures. For those seeking a blend of performance and utility, the Sport 175 fish boat emerged as an enticing option.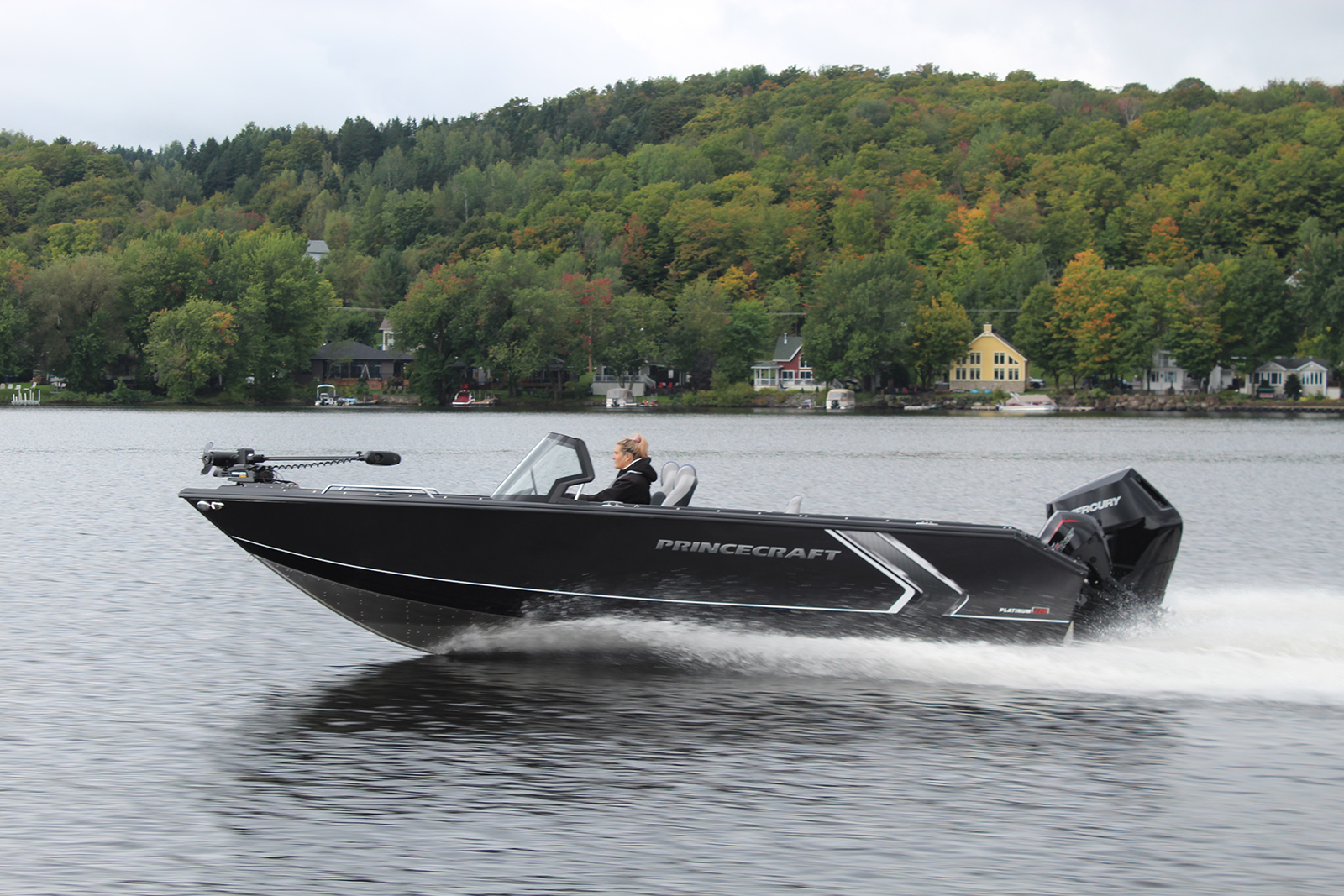 A key feature of these boats was their powerful engines. Some models were equipped with Mercury Verado 400-hp V-10 outboard engines, delivering unmatched performance on the water. Others sported Mercury 350-hp and 250-hp engines, ensuring a smooth and exhilarating ride. These engines underscored Princecraft's commitment to providing a seamless boating experience, combining power, efficiency, effortless control, and reliability.

We had the privilege of interacting with knowledgeable Princecraft representatives who passionately shared insights about the intricacies of each boat model. 

"When we compare ourselves to others, this boat has nothing comparable to it" Jean-Philippe Martin-Dubois, Marketing and Customer Experience Director for Princecraft said. "Princecraft stands above and beyond competitors, and the fact that we're Canadian means our boats are built for these conditions".

The event was not merely a showcase of boats; it was a celebration of the art of boating. Power Boating Canada, along with other esteemed media companies, was treated to an immersive experience that included interviews, hands-on testing, and the opportunity to capture the essence of these remarkable vessels.

Princecraft's 2024 boat models represent the pinnacle of boating excellence. Their fusion of style, performance, and innovation ensures that every journey on the water is marked by unparalleled comfort and excitement. 

2024 boats, 2024 Princecraft boats, Brunswick Boat Works, canadian boat, canadian company, Mercury, Mercury Verado, new boats, new fishboat, new fishing boat, New Pontoon, Platinum 220, Princecraft, Princecraft 2024 Boat Models, Princecraft boats, Rodier Grondin, Sport 175 fish, Vectra 23 L, Vectra 25 RL, Ventura 230 WRL, Vogue 27 XT 2024 boats, 2024 Princecraft boats, Brunswick Boat Works, canadian boat, canadian company, Mercury, Mercury Verado, new boats, new fishboat, new fishing boat, New Pontoon, Platinum 220, Princecraft, Princecraft 2024 Boat Models, Princecraft boats, Rodier Grondin, Sport 175 fish, Vectra 23 L, Vectra 25 RL, Ventura 230 WRL, Vogue 27 XT