The National Marine Manufacturer's Association (NMMA) and Boating Writers International (BWI) have named the all-new Sylvan Mirage 8524 DLZ Bar LE as the overall winner of the pontoon boat category in the 2019 Innovation Awards presented at the Progressive Insurance Minneapolis Boat Show.
Describing the boat's unique rear lounge seat that transforms into an inviting bar unit, innovation award judge Bill Gius said "the design responds to consumer trends for a large, comfortable aft lounge area that, through innovative design, transforms into an attractive social area with the touch of two buttons."
Available in lengths of 22- and 24-feet, the Sylvan Mirage DLZ Bar LE is the first of its kind in the industry, with a rear double lounge that transforms into a convenient rear bar with four bar stools. The versatility of its design and ease of operation propelled the Sylvan Mirage 8524 DLZ Bar to the top of the hotly-contested pontoon boat category. Pontoon boat designs represented more than half of all Innovation Award entries this year.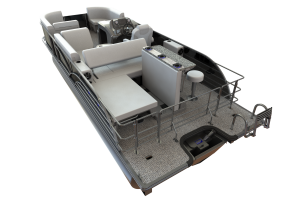 Smoker Craft senior vice president of marketing and corporate development, Peter Barrett, was on hand to accept the award. "Winning this award is a true testament to the hard work and creativity of our research and development team at Smoker Craft Inc.," said Barrett. "What's most exciting is there are more innovations and new designs on the way as we continue building upon our 116-year heritage of crafting the finest boats on the water."
To learn more visit:
https://www.sylvanmarine.com/showroom/2019/pontoon/mirage-cruise-le/8524-dlz-bar-le

best boat, Best boat buying website, best boat marina website, best boat travel website, best place to rent a boat, boat accessories, boat angler, boat boondocking, boat buyers guide, boat camper, boat camping, boat dealers, boat DIY, boat Fishing, boat Fixer, boat Home, boat information, boat insurance, Boat Maintenance, boat marinas, boat marinas in Alberta, boat marinas in BC, boat marinas in Canada, boat marinas in Manitoba, boat marinas in Saskatchewan, boat marinas in the USA, boat marinas near me, boat products, boat rentals, boat repair, boat road test, boat sharing, boat sites near me, boat supplies, boat Tech, boat tips, boat touring, boat trade, boat Travel, boat traveling, boat travelling, boat vacation, boat vacation cost, boat websites Canada, boating Canada, Boating Canada's Boat Lifestyle Magazine, Boating Lifestyle Magazine, boating website, Canadian marina websites, expert boat information, find a boat dealer, how much does a boat cost, how much does marina cost, how to choose a boat, how to drive a boat, marina products, marina supplies, motor boat, power boating magazine, top boat website, used boat reviews best boat, Best boat buying website, best boat marina website, best boat travel website, best place to rent a boat, boat accessories, boat angler, boat boondocking, boat buyers guide, boat camper, boat camping, boat dealers, boat DIY, boat Fishing, boat Fixer, boat Home, boat information, boat insurance, Boat Maintenance, boat marinas, boat marinas in Alberta, boat marinas in BC, boat marinas in Canada, boat marinas in Manitoba, boat marinas in Saskatchewan, boat marinas in the USA, boat marinas near me, boat products, boat rentals, boat repair, boat road test, boat sharing, boat sites near me, boat supplies, boat Tech, boat tips, boat touring, boat trade, boat Travel, boat traveling, boat travelling, boat vacation, boat vacation cost, boat websites Canada, boating Canada, Boating Canada's Boat Lifestyle Magazine, Boating Lifestyle Magazine, boating website, Canadian marina websites, expert boat information, find a boat dealer, how much does a boat cost, how much does marina cost, how to choose a boat, how to drive a boat, marina products, marina supplies, motor boat, power boating magazine, top boat website, used boat reviews