Twin 250's on a pontoon? You bet! Everything great about Sylvan's S5 Extreme just got twice as good
By Craig Ritchie
Sylvan Marine has been on quite a roll over the past few years. From humble beginnings in the 1940's when the company established itself as one of the first boat manufacturers to specialize in building pontoon boats, Sylvan has continually raised the bar on both comfort and performance.
While virtually all builders have added features, amenities and plush upholstery to their pontoon offerings over the years, Sylvan remains the nameplate most people associated with all-out performance. The company raised a lot of eyebrows when it became one of the first pontoon makers to offer a ski tow pylon on the back of its boats, and configure them to accept higher horsepower engines. But the quantum leap came in 2010 when Sylvan unleashed its Revolutionary Planing Technology, or RPT tube system. Where traditional pontoon tubes are round in profile, RPT tubes use a unique V-shaped bottom section, complete with chines. The effect on performance is startling – rather than plow through the water RPT tubes plane above it, giving the boat huge improvements in lift, handling, fuel economy and overall performance. And, most of all, making it a whole lot more fun to drive.
Then with its 2014 model year Sylvan introduced its groundbreaking S-Series. The "S" stands for "Sport," and it took pontoon boat design to a whole new level with its thrilling ride and spectacular interior, with seating for up to 14 people. An elegant, sculpted fiberglass console and transom design gave the S-Series a fresh, distinctive look, complete with premium upholstery with playful accent piping. After test-driving the prototype in the summer of 2013, even I wrote "It will be a long time before anyone tops this."
Well, it turns out it wouldn't be that long at all. And it wouldn't be just anyone – it would be Sylvan themselves.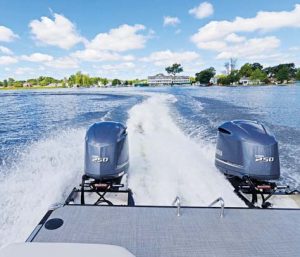 Fast forward to the summer of 2015 and I'm standing on a dock on northern Indiana's Lake Wawasee, staring at a brand-new Sylvan S5 Extreme. With its black-and-red fencing and painted black tubes, it looks fast. Then I notice the transom, where a pair of Yamaha F250's sat purring in the sun. This day just got a whole lot more interesting.
Even before you step aboard at the generous rear swim platform, you can't help but notice the beautifully sculpted fiberglass rear body, replacing the traditional aluminum fencing. This design allows for the S5 Extreme to really live up to its sporty design ideals, with a pair of rear-facing seats right on the swim platform being the ideal spot to get set up for a turn on the skis or a ride on an inflatable tube. A pair of lighted beverage holders on either side of the clear rear entry gate keep a cold drink close at hand. The deck surface on our review boat was Sylvan's super-comfortable Sea Weave flooring, which provides a secure, non-slip grip and all the comfort of carpet, but in a fast-drying, maintenance-free form. A four-step telescoping boarding ladder to starboard and substantial stainless ski tow bar leave no doubt that this pontoon was built with water sports in mind.

Step inside the boat and a pair of elegant, rear-facing aft lounge seats provide the perfect spot to work in your tan or spot water skiers. There's a massive storage locker in the base of the starboard seat, while the port seat bench lifts to reveal a large changing room. Having the change room so close to the transom is a sensible approach, that keeps water out of the boat and lets a wet swimmer change into dry clothes faster and more conveniently. Look a little more closely at the rear loungers and you'll note they also provide forward-facing seating, with neatly integrated, low-pro-file backrests along the transom. I really like this arrangement as it allows for much greater versatility that a pair of standard loungers that can only face aft.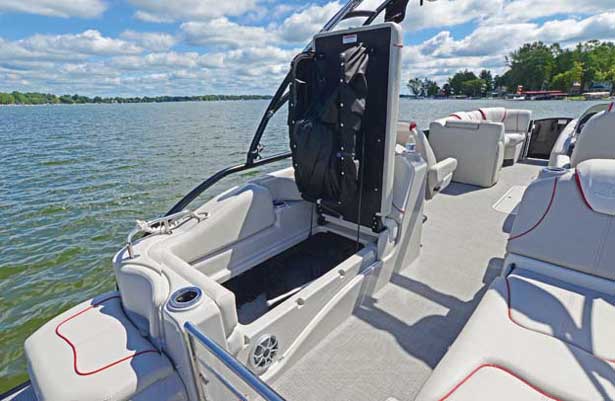 Amidships, the driver and navigator are treated to pedestal-mounted captain's chairs with fold-down armrests. An entry gate sits just in front of the passenger seat to port, while the molded fibreglass helm console provides a couple of lighted beverage holders just ahead of its neatly integrated windshield. Overhead, a standard Bimini top offers relief from the midday sun. Look around and notice the stereo speakers – both nestled throughout the boat's interior trim and overhead in the sport tower. The sound is awesome, whether you're listening to satellite radio or streaming tunes directly from your phone via Bluetooth.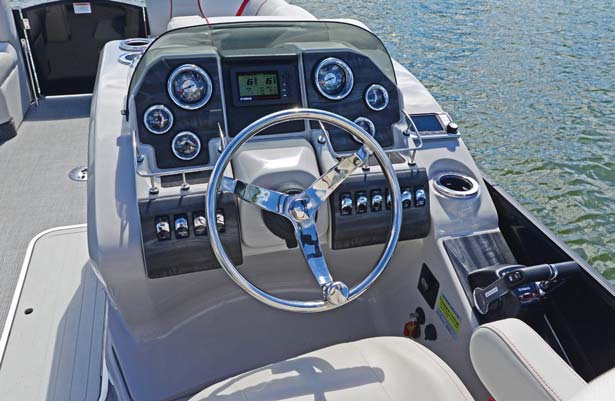 The helm has all the critical gauges mounted up top, surrounding a square dash trim panel that provides the ideal location for installing a flushmount LCD display like the Yamaha digital dash in our test boat. Standard analogue instrumentation includes a 60 mph speedometer with digital compass, digital depth gauge, volt meter, speedometer, fuel gauge and trim. Twin storage pads for smaller items like sunglasses sit astride a chrome, stainless steel steering wheel with a turning knob – an interesting addition to our twin-engine test boat and a departure from the traditional padded sport wheel. Along the starboard gunnel, a Yamaha twin throttle set also hinted at the fun to come.
SPECIFICATIONS
LOA: 26' 10"
---
Beam: 8' 6"
---
Weight: 2,542 lbs.
---
Passenger capacity: 14
---
Fuel capacity: 114 L
---
Tube Diameter: 27"
---
Max power: 500 hp
---
Power as tested:
Twin Yamaha F250
Four-Stroke
For more information
Sylvan Marine
Box 65
New Paris, IN 46553
(574) 831-2103
www.sylvanmarine.com
The bow in the S5 Extreme features a pair of loungers with a third entry gate between them, and a removable, pedestal-mounted table with two integral beverage holders to the centre. The forward-facing seat backs for each lounger offer a convenient (and comfortable) flipdown arm rest. On the floor between the bow loungers, an aluminum base accepts a removable, pedestal-mount table.
Because our test boat included a third center pontoon tube, a long hatch in the floor beside the helm provides access to a substantial storage locker, perfect for bulky gear like water skis.
But I wasn't so much interested in taking a turn out back on the skis as finding out what the twin-engine S5 Extreme could do. The prototype S5 I drove back in 2013 ran like a champ with a single 250 horsepower outboard, so I couldn't wait to see how this one ran with a combined 500 ponies on the transom.
Let's start by stating the obvious – planing time is pretty much instantaneous. Sylvan's RPT tubes are designed to bring the boat up on top of the water quickly, and their effect is only magnified by the combined thrust of the twin Yamaha F250's when you shove that throttle down. Even with the extra weight of the second engine on the transom, the S5 Extreme runs great right out of the hole, and it doesn't take a lot of trim adjustment before the boat settles into a comfortable cruising attitude.
Acceleration is, as you would expect, also pretty much instantaneous. With one eye out front and the other on the speedometer, 0-to-30 mph happens faster than you expect, and a breath later you're north of 50 mph.
While Sylvan's RPT tubes are known for their ability to get the boat up on plane fast and deliver rocket-like acceleration, their V-bottom profile also yields incredible handling. This is where the turning knob on that stainless steel steering wheel really comes into play, providing much greater control than would be possible with a standard wheel. Attempting lock turns at 50 mph is usually an invitation to trouble in any boat, but with the RPT tubes and 500 ponies pushing for all they were worth, the big Sylvan simply whipped its nose around and went where ever it was pointed. What an incredible feeling!! Carving tight figure-eights into the lake's calm surface was super-easy, the S5 gracefully leaning into turns like a performance V-hull, with no plowing, dogging or sliding at all. It was just incredible.
On the day of my sea trial I had 11 boats to drive. Somehow, in spite of that heavy schedule, I managed to get back out on the S5 Extreme for two additional runs. It really was that much fun.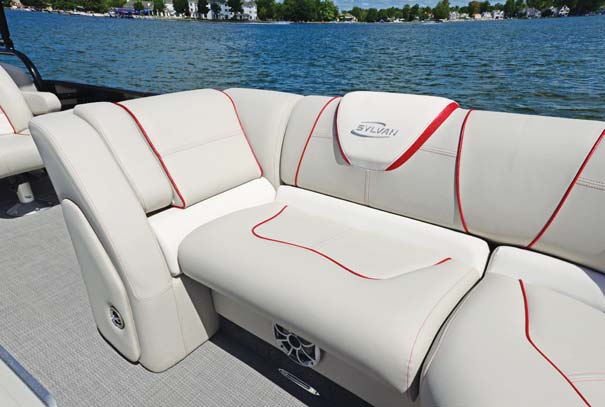 Like all Sylvan pontoons, the S5 Extreme is built like a tank, using the company's exclusive cross-channel construction with heavy duty hat risers that are double through-bolted to the deck. This allows Sylvan to protect the S5 Extreme with its Lifetime Plus 6 limited warranty, which provides lifetime coverage on major structures like decks, transoms and tubes, while providing six full years of coverage on components like the marine-grade carpet and upholstery.
Although it's clearly not a boat for everyone, the twin engine edition of Sylvan's S5 Extreme sets a new high water mark for pontoon performance. For those who want the ultimate, this is the one. No question – it will be a long time before anyone tops this.


best boat, best boat models, best boat trailer, best center console, best centre console, best performance boats, best pontoon, best runabout, Best Used boat, boat accessories, boat parts, boat reviews, boat tests, boat touring, BOATING Buyer's Guide, boating guide, BOATING in-water Tests, boating lifestyle, Boating Lifestyle Magazine, BOATING rentals, BOATING rentals near me, BOATING traveller, boating vacation, go boating, go boating Canada, how to choose a boat, marine accessories, New Boating Products, new boats for 2023, performance boats, Power Boating Canada, Tender boat, top boat models, top boats, top cottage boat, top cruiser, top power boat best boat, best boat models, best boat trailer, best center console, best centre console, best performance boats, best pontoon, best runabout, Best Used boat, boat accessories, boat parts, boat reviews, boat tests, boat touring, BOATING Buyer's Guide, boating guide, BOATING in-water Tests, boating lifestyle, Boating Lifestyle Magazine, BOATING rentals, BOATING rentals near me, BOATING traveller, boating vacation, go boating, go boating Canada, how to choose a boat, marine accessories, New Boating Products, new boats for 2023, performance boats, Power Boating Canada, Tender boat, top boat models, top boats, top cottage boat, top cruiser, top power boat