PONTOON TEST #1405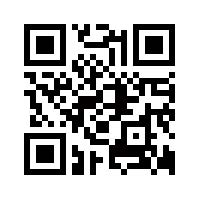 With its upscale amenities and focus on fun, SunChaser's new Eclipse 8523 LR DH could be one of the best pontoon values on the water.
By Craig Ritchie
SunChaser has developed a solid following in Canada thanks to an emphasis on proven designs and high quality construction, inviting new customers to discover boating with well-made, well-priced boats that over-deliver on value. It's a solid approach, and one that the New Paris, Indiana-based company kept close to heart when it set out last year to design its all-new, top-of-the-line Eclipse series of premium pontoons.
It's not often you hear the words "premium" and "value" used together, and that's exactly why SunChaser is going to win a lot of new fans in 2016 with boats like its brilliant Eclipse 8523 LR DH. With bucket seats amidships for the driver and companion, and wrap-around lounge seats on each of the four corners, this 23-foot pontoon starts with a proven layout with lounge seat in each corner an buckets amidships for the driver and navigator, a setup that affords maximum versatility. But it then raises the bar – and sets a whole new standard for SunChaser, really – with its exceptional furniture and exquisite upholstery work. The seat cushions are plush yet supportive, utilizing a multi-cushion design that works very well to provide a delightful balance of sumptuous comfort and firm support. The heavy gauge vinyl feels buttery soft against bare skin, almost indistinguishable from leather, while the stitching is tight, neat, and practically invisible. It's more like what you would expect to find in an Italian sports car than a family boat.

SPECIFICATIONS
LOA:  23' 10"
---
Beam:  8'6"
---
Weight:  2,100 lbs
---
Fuel capacity:  114L
---
Passenger capacity:  12
---
Maximum Power: 150/250 hp w. tri-toon
---
Power as tested:  Yamaha V-Max SHO, 250 hp
---
For more information:
SunChaser Boats
Box 65, New Paris, IN 46553
(574) 831-2103
www.sunchaserboats.com
Up front in the bow, the twin forward-facing loungers are luxuriously comfortable – the ideal spot to sprawl out and enjoy the cool air while underway. The rear panel of the portside bow seat back conceals a pop-up change room, providing a private spot to change out of wet swimwear. Stereo speakers reside in the Rotocast seat bases, while small fabric tabs allow the seat cushions to lift out of the way, revealing generous storage compartments beneath. An aluminum base plate in the floor between the bow lounges accommodates a removable pedestal-mount table.
The aft loungers also have a table base plate located between them, along with rear-facing seat backs. If you add the available ski pylon, these would be great seats to watch the action from. Like the loungers up front, both of these seats are equally comfortable facing aft or forward. That's a great feature, and one not found on many other pontoons.
The rear entry gate leads out to a generous swim platform, which has a four-step telescoping boarding ladder mounted to starboard. Where the main cockpit floor is finished in a sumptuous 22-ounce carpeting, the swim platform is finished in Sea Weave, a soft, non-slip and much faster drying alternative that's ideal for areas that will see a lot of water.
That attention to detail is also evident at the helm, where an ergonomically styled dash console features classic chrome-bezeled, black-on-white analogue gauges set on a wood grain dash panel that's topped with a small removable windshield. If the seat upholstery suggests a fine Italian sports car, then the sporty black-and-chrome Torcello steering wheel drives the point fully home – it's not only great looking, but feels tremendous in hand. A standard Infinity PRV250 stereo with Bluetooth connectivity sits just to the left of the wheel,  and the throttle controls sit to the right. Overhead, a standard 10-foot Bimini top effectively shades most of the main cock-pit from the summer sun.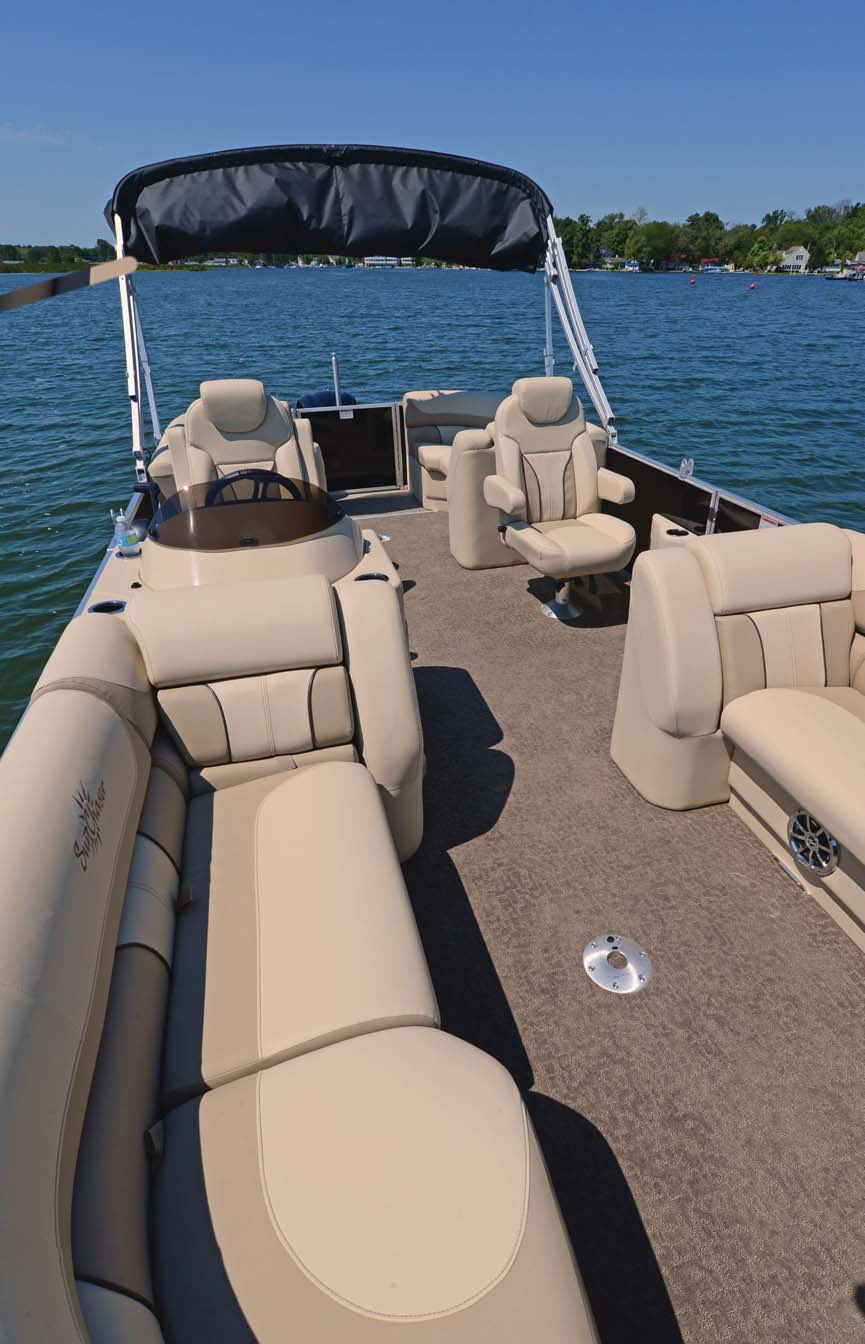 The Captain and navigator ride on plush Captain's chairs, each with fold-down arm rests and mounted on swiveling pedestals. The passenger gets a small console with a conveniently positioned beverage holder, while the driver gains a couple of inches in height thanks to a fibreglass plat-form that's part of SunChaser's Executive Helm package. Our test boat was further equipped with optional under-deck lights and underwater lights.
It's often the little things that create the greatest impact in a boat, and it's clear the engineers at SunChaser did their homework by listening to their customers and spending plenty of time on the water themselves. Full-height fence panels ensure a dry ride, yet sit on small spacer blocks that allow rain water to simply run off the deck instead of being trapped inside. High-end deck trim, including a neat rub rail and polished corner castings with LED lights, give the boat a polished, refined look and speak to its high quality construction. Like all SunChaser pontoons, the Eclipse rides on pontoon tubes are made from one-piece .080 gauge aluminum with full-length keels and sturdy deck risers, while the transom is formed from .190 gauge aluminum and attached with no less than 20 bolts, allowing this boat to handle outboards to 150 horse-power in its standard two-tube configuration and up to 250 horsepower with the tri-tube upgrade.
Our review boat came equipped with the optional X-Treme PR25 Performance Package, which adds a performance shield, a third pontoon tube and performance strakes for improved acceleration and handling, along with Sea Star hydraulic steering to keep the 250 horsepower Yamaha V-Max SHO four-stroke bolted to the transom under complete control.
On calm water with two people aboard, planting the throttle sent the boat up on plane quickly, rocketing toward a top speed of over 45 mph. That's impressive for a boat that seats 12. Drop the throttle back to 3,500 to 3,750 rpm and the boat will cruise nicely all day while delivering outstanding fuel economy.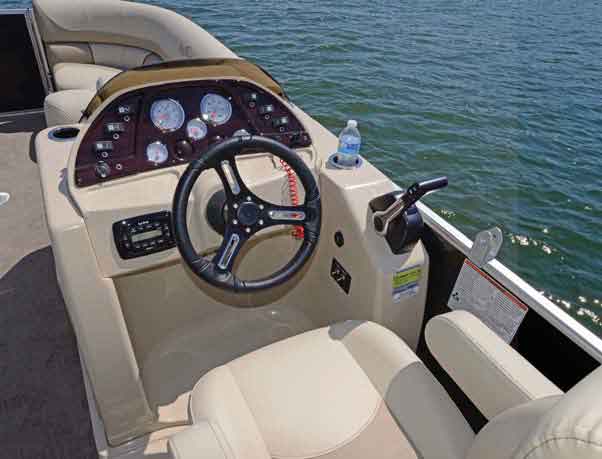 Like all SunChasers, the Eclipse 8523 LR DH rides on a rigid, heavy hat channel frame that doesn't flex or twist under strain. This construction greatly contributes to the boat's tight, firm, confident feel in the water, and makes it a real joy to drive. The boat responds to the helm eagerly, turning effortlessly and precisely, going wherever it's pointed.
That pleasure is only magnified when you count the added benefits of that PR25 Performance Package. That's where the third tube and those magical lifting strakes really come into their own, providing sharp cornering capabilities with tremendous grip. The handling is a lot more like a V-hull runabout than a near 24-foot pontoon. Good thing the big Yamaha delivers good fuel economy, because it's easy to spend hours just blasting around having fun.
SunChaser has always been known for making great boats and delivering real value. But with its all-new Eclipse line, the company has raised the bar. This isn't just a great value, it's a well-made and nicely appointed boat that can compete head-on with any other pontoon on the market.


best boat, Best boat buying website, best boat marina website, best boat travel website, best place to rent a boat, boat accessories, boat angler, boat boondocking, boat buyers guide, boat camper, boat camping, boat dealers, boat DIY, boat Fishing, boat Fixer, boat Home, boat information, boat insurance, Boat Maintenance, boat marinas, boat marinas in Alberta, boat marinas in BC, boat marinas in Canada, boat marinas in Manitoba, boat marinas in Saskatchewan, boat marinas in the USA, boat marinas near me, boat products, boat rentals, boat repair, boat road test, boat sharing, boat sites near me, boat supplies, boat Tech, boat tips, boat touring, boat trade, boat Travel, boat traveling, boat travelling, boat vacation, boat vacation cost, boat websites Canada, boating Canada, Boating Canada's Boat Lifestyle Magazine, Boating Lifestyle Magazine, boating website, Canadian marina websites, expert boat information, find a boat dealer, how much does a boat cost, how much does marina cost, how to choose a boat, how to drive a boat, marina products, marina supplies, motor boat, power boating magazine, top boat website, used boat reviews best boat, Best boat buying website, best boat marina website, best boat travel website, best place to rent a boat, boat accessories, boat angler, boat boondocking, boat buyers guide, boat camper, boat camping, boat dealers, boat DIY, boat Fishing, boat Fixer, boat Home, boat information, boat insurance, Boat Maintenance, boat marinas, boat marinas in Alberta, boat marinas in BC, boat marinas in Canada, boat marinas in Manitoba, boat marinas in Saskatchewan, boat marinas in the USA, boat marinas near me, boat products, boat rentals, boat repair, boat road test, boat sharing, boat sites near me, boat supplies, boat Tech, boat tips, boat touring, boat trade, boat Travel, boat traveling, boat travelling, boat vacation, boat vacation cost, boat websites Canada, boating Canada, Boating Canada's Boat Lifestyle Magazine, Boating Lifestyle Magazine, boating website, Canadian marina websites, expert boat information, find a boat dealer, how much does a boat cost, how much does marina cost, how to choose a boat, how to drive a boat, marina products, marina supplies, motor boat, power boating magazine, top boat website, used boat reviews