Trailer Test #1404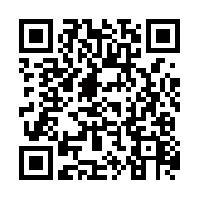 Fishing fun for everyone
By Brad Roberts
I had the fortunate opportunity to test the Everglades 230CC – the smallest of the everglades fleet of ten centre console boats – late last fall appropriately on one of Ontario's greatest fishing lakes – Lake Simcoe.
The 230CC presented beautifully in gloss white against the dark black water and heather tones of the fall leaves as I walked across the gas docks of Starport Marina just outside of Orillia. The matching white Yamaha 300hp four stroke outboard completed the visual package.
The 230CC features two aft swim plat-forms bracketing either side of the outboard, with a swim ladder neatly tucked under the port side.  I boarded and noted that the hull hardly moved – a positive first impression.

SPECIFICATIONS
LOA w/Engine:  25' 0" 7.5 m
---
Beam:  8' 6" / 2.56 m
---
Draft Hull Only:  15" / 0.37 m
---
Draft Engine Down:  30" / 0.75 m
---
Deadrise:  36°
---
Weight (no engine, approx):  4,300 lbs / 1954 kgs
---
Max HP Capacity:  300
---
Max Persons Capacity:  10
---
Fuel Capacity:  108 gal / 410 L
---
Water Capacity:  9 gal / 35 L
---
Bridge Clearance w/Hardtop:  7' 7" / 2.27 m
---
Fishbox Capacity :  60 gal / 228 L
---
Livewell Capacity:  27 gal / 102 L
---
Performance with 300hp Yamaha
MPH RPM
49 6000
44 5500
41 5000
36 4500
32 4000
26 3500
18 3000
---
For more information:
Canadian Dealer: Executive Yacht Canada
438 Lakeshore Blvd. W Toronto, ON, M5V 2V6
1.888.237.1647 www.executiveyachtcanada.ca
Manufacturer: Everglades Boats
544 Air Park Rd. Edgewater, FL 32132
1.877.902.6287 www.evergladesboats.com
Stepping inside the huge cockpit (it's a full 61 square feet), I noted that the gunwale height at the transom falls just above my knees.  (There's a full – fiberglass and self-draining liner in the 230CC complete with in-floor courtesy lights and a wonderfully-effective no-skid surface.)  The gunwale is at a height that's both low enough to be comfortable for experienced fishermen, and high enough to be safe enough for young toddlers.  Mom will like that. Centred on the transom is a 27 gallon recirculating livewell under a blue-tinted Plexiglas cover, with two flip-down and well-padded single seats outboard to both port and starboard.  Either seat would be a thrilling place to sit and enjoy the comfortable but exhilarating ride that this 36-degree deadrise hull would produce in any sea.
Under the wide gunwales you'll find ample rod storage for up to six rods. The starboard side gunwale also feature a flip out tackle box that falls at the perfect height so you don't have to bend down to reach a traditional tackle box on the floor of the cockpit.
The upholstery appears as a standard high quality marine vinyl.  But it's what you can't see sometimes that makes all the difference.  Everyglades upholstery is made from an extra-heavy vinyl with an acrylic top coat, Tenara™ thread, and an anti-mildew backing.  Plus it's adhered to a high-density plastic backing with flow through foam cushions so there's no worry of rot. Ever.
The t-top is another Everglades innovation featuring their patented sliding wind-shield that drops down in front of the con-sole behind the forward seat.  This means you can choose to ride with the wind in your hair or be protected from the cold spray from a wave that's inevitable if you're out in the spring or fall shoulder seasons, especially in Canada.  Overhead, there's a fiberglass hardtop supported by a beefy aluminum powder coated frame, with built-in LED lights, spreader lights, electronics box, and rocket launcher rod holders.  (In my water test I noted how solid the t-top felt and heard no squeaks or rattles.)
The helm features Yamaha's digital display, a Garmin GPS map 7610 XVS, VHF radio, Fusion AM-FM radio with USB inputs in the glove box and count them – two- stainless steel cupholders for the captain and co-pilot.  The helm seat features a pull-out tackle drawer and a Yeti cooler under the flip-up bolster double-wide seat base.  The seat base is at a good height for standing with the bolster in the upright position, and a comfortable distance away from the stainless wheel while seated.
Under the helm console, you'll find a small space for a porta-pottie, with the access door to port.  This space also serves as day storage area and a convenient spot to tuck the folding stainless ladder.  It's only a bit cramped for a large adult, but it sure beats returning to shore to use the facilities.
Just in front of the helm is a forward-facing double-wide seat with a commanding view.  This would be my second favourite place on the boat, second only to being behind the wheel!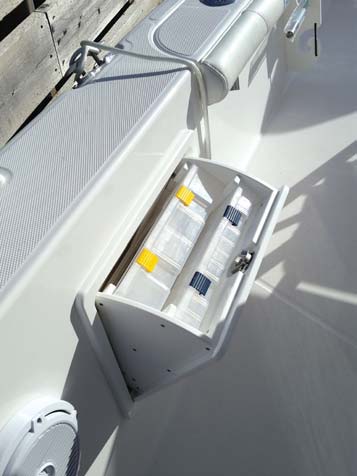 Forward, the  large sunpad features storage underneath, and an anchor locker up the bow just aft of the stainless anchor roller. I like how the stainless rails end at the bow leaving space to work in the anchor, or for fun to use as a diving platform.  Nothing is worse than trying to wrestle an anchor up around a stainless rail that's in your way.
Construction wise, every unsinkable Everglades boat is built in their 125,000-square-foot facility in Edgewater, Florida.  The process begins with moulded structural foam pieces that are moulded separately and then built into the fiberglass hull.  The process is called 'Rapid Molded Core Assembly Process' – or RAMCAP – and it won Everglades' owner Bob Dougherty a Marine Manufacturers Innovation Award in 1999.   (Bob passed away last ?????? and the boating industry lost a legend.) Everglades builds the majority of their components for every model in-house –  all the fiberglass parts, the aluminum fabrication of frames and rails, and all wiring harnesses – are built in their state-of-the-art environment by experienced craftsman. The result is a truly luxurious boat. The underside of every hatch I inspected was completely finished – no rough or exposed fiberglass cloth or rough edges anywhere.  It also afford them the ability to offer a ten-year transferable hull warranty.

Performance wise, the Yamaha 300hp, 4,169cc (254.4 ci) 60° V6 Four stroke engine was matched to a three-blade stainless prop and produced a time to plane of less than was less than 4 seconds.  We had a wonderful foot-and-a-half or so chop out on Lake Simcoe late in the afternoon, perfect weather for testing the 230 CC's hull.  I recorded a top speed of 49 mph at 6,000 rpm, and a comfortable cruise speed of 36 mph at 4,500 rpm. best boat, Best boat buying website, best boat marina website, best boat travel website, best place to rent a boat, boat accessories, boat angler, boat boondocking, boat buyers guide, boat camper, boat camping, boat dealers, boat DIY, boat Fishing, boat Fixer, boat Home, boat information, boat insurance, Boat Maintenance, boat marinas, boat marinas in Alberta, boat marinas in BC, boat marinas in Canada, boat marinas in Manitoba, boat marinas in Saskatchewan, boat marinas in the USA, boat marinas near me, boat products, boat rentals, boat repair, boat road test, boat sharing, boat sites near me, boat supplies, boat Tech, boat tips, boat touring, boat trade, boat Travel, boat traveling, boat travelling, boat vacation, boat vacation cost, boat websites Canada, boating Canada, Boating Canada's Boat Lifestyle Magazine, Boating Lifestyle Magazine, boating website, Canadian marina websites, expert boat information, find a boat dealer, how much does a boat cost, how much does marina cost, how to choose a boat, how to drive a boat, marina products, marina supplies, motor boat, power boating magazine, top boat website, used boat reviews best boat, Best boat buying website, best boat marina website, best boat travel website, best place to rent a boat, boat accessories, boat angler, boat boondocking, boat buyers guide, boat camper, boat camping, boat dealers, boat DIY, boat Fishing, boat Fixer, boat Home, boat information, boat insurance, Boat Maintenance, boat marinas, boat marinas in Alberta, boat marinas in BC, boat marinas in Canada, boat marinas in Manitoba, boat marinas in Saskatchewan, boat marinas in the USA, boat marinas near me, boat products, boat rentals, boat repair, boat road test, boat sharing, boat sites near me, boat supplies, boat Tech, boat tips, boat touring, boat trade, boat Travel, boat traveling, boat travelling, boat vacation, boat vacation cost, boat websites Canada, boating Canada, Boating Canada's Boat Lifestyle Magazine, Boating Lifestyle Magazine, boating website, Canadian marina websites, expert boat information, find a boat dealer, how much does a boat cost, how much does marina cost, how to choose a boat, how to drive a boat, marina products, marina supplies, motor boat, power boating magazine, top boat website, used boat reviews