Tips for getting started
By Discover Boating   
Have you dreamed about owning a boat? Spending your weekends fishing? Tubing with the kids? Or just hanging out, enjoying the fresh air and getting away from it all? Boating is a great way to experience the outdoors, and few other activities offer you the opportunity to reconnect and bond with both family and friends like boating. So, what's keeping you from making that dream a reality? Concerns about cost? Time? What kind of boat to buy?
Here's a few things to consider and explore with your family. Your answers will lead you toward finding the boat of your dreams!
Activities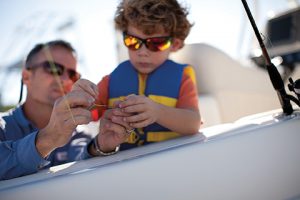 The first step is to decide what kind of activities you and your crew want to do. That is, what's your main motivation for buying a boat. Do you enjoy water sports like wakeboarding or skiing? Are you hooked on fishing? Is the ability to trailer your boat to different waterways important? Will you entertain on deck? Do you enjoy cruising and connecting with nature? Is having the latest and greatest gear high on your list? The good news is that while there are highly specialized boats, there are also many types of boats that are great at multi-tasking. For example, a properly equipped pontoon not only makes a great family cruiser and a fine fishing platform, but also a capable towboat for tubing and other water sports.
Once you've identified your favourite activities, other considerations include how many people are in your crew, where you will be boating and where you'll keep your boat. You'll want to consider whether you will be trailering the boat. In that case, the boat you select must not exceed the trailering capacity of your car or truck. Does the boat need to fit in a garage? How long is it on the trailer? How high? For answers to many of these questions, Discover Boating's Boat Selector Tool (www.discoverboating.ca/boatselector ) is a good place to start. 
Cost
Cost is your next consideration. Decide how much you want to spend. Use that figure to determine how much boat you can buy. Boats range in cost from less than $10,000 for a basic fishing boat to millions of dollars for a luxury yacht. Clearly, you have a lot of leeway. You can finance a boat, just like a car. You may also be able to finance optional equipment, electronics, extended service plans, and even insurance with your purchase. The Discover Boating Boat Loan Calculator (www.discoverboating.ca/loancalculator) can give you a good idea of how much boat you can afford.
In addition to the price of the boat itself, you'll want to factor in the costs of owning a boat into your budget. Things like registration, insurance, fuel, maintenance and storage. Yes, boating costs money—as do many other leisure activities. However, for millions of boaters, the benefits of boating are well worth the cost.
New boat versus used boat? For many, a previously enjoyed boat is one of the most affordable ways to get into boating.  The same number of dollars buys a whole lot more used boat than it does a new boat. When buying new or used, remember to purchase from a reputable boat dealer or marina, and always get a marine survey and mechanical inspection before you buy.
Another way to start exploring the boating lifestyle is through rentals, boat clubs and the sharing economy.  Discover Boating's Go Boating Today page provides helpful resources with options that allow you to experience different boat types firsthand before you decide which type of boat is right for you.  New or used, make sure that the first boat you choose is right for your family and what you want to do with your boating time. Then once you've had a little experience, and when you are ready, you can step up to a new boat! 
Time & Freedom
Which brings us to the issue of time – time for a reality check. The reality is no one has unlimited free time. However, owning a boat lets you make the most of yours. With a boat, every outing holds the promise of adventure—there's no need to wait for a week-long summer vacation to spend time with your family or friends. And, unlike sporting events, concerts or tee-off time at the golf club, boating fits your schedule.
What's more, time spent on a boat is quality time. It's an investment in the ties that bind. It's harder to get a more "captive" audience than out on the water where you're free from distractions of day-to-day life. You're free to focus on each other. You can share new experiences and have real conversations. Whether it's reeling in the "big one", playing "Marco Polo" off the side, tubing down the river or marveling as a bald eagle soars overhead, boating lets your family enjoy the kind of experiences that create lasting memories. The bonds that come from learning new skills together, enjoying new experiences together, and just being in a different environment together are tough to beat.
One of the biggest perks is the freedom to get away whenever and however you want. Owning a boat make it easy to "get away from it all" without actually going away. Canada's many lakes, rivers, and coastal areas all offer exciting boating opportunities – right at the end of your local launch ramp or marina. So, whether you have a few hours or an entire weekend, you can easily get away with your family and friends. Spring and fall weather is great for fishing and cruising. In summer, the list expands to includes water sports such as tubing, skiing, wakeboarding, and wake surfing. Swimming is also popular— and of course, so is simply relaxing.
Weekend recharge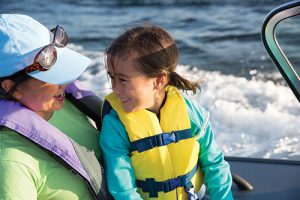 Boating is a great way to enjoy quality family time that's free from distractions. If you're tired of seeing your kids interacting with their electronic devices instead of people, take them offline and replace that gadget with something old-school—like a fishing pole. It's a great way to encourage actual conversation. A weekend on the water packed with tubing, boarding, fishing or just hanging out off a sandbar strengthens family bonds in ways watching TV together cannot. And spending the weekend with like-minded friends, meeting up at the favourite local party spot or cruising to a meet up at a popular waterfront restaurant is a great way to unwind after the long, stressful work week.
Connect with nature
Few activities make it as easy to escape the daily grind and connect with nature as does boating. Glide into hidden bays and immerse yourself in life both above and below the surface. Explore the peace and tranquility of a pristine shoreline—with only the wind and birds on your personal playlist. Boating also complements other outdoor activities. Use your boat to get you to that out-of-the-way spot you always wanted to camp, hike, take photographs, or find new fishing holes and hunting grounds. 
If you grew up boating, getting out on the water is simply part of your lifestyle. It's a tradition—a passion that's been handed down from generation to generation. Heading out on your boat with your kids adds to that family legacy of shared adventures, travels and cherished memories.
Make lasting memories
Boating is a shared activity that brings together both young and old. Whether it's a weeklong getaway or an afternoon playing hooky, time on a boat lets you reconnect with what's most important in life—people. In fact, when it comes to the family boating, one thing reigns above all else: connecting with your loved ones and making the type of memories that will be cherished for years to come.
Reward yourself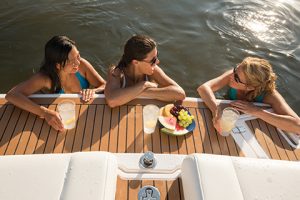 You work hard. A boat lets you play hard. A boat can make a stylish personal statement, and being able to treat family and friends to a day—or night—on the water is a wonderful reward for your hard work. Whether you're hosting a private party on the waves or ferrying friends to your favourite waterfront restaurant, owning a boat means never having an empty social calendar.
Growing up doesn't mean giving up your love of toys—it just means the toys are bigger, faster and more fun to share—with cool tech and equipment you only dreamed of as a kid. For gearheads, marine technology has never been more impressive.
Boat Licence
Just as every driver of a car needs a licence, everyone who plans to operate the boat needs a Pleasure Craft Operator Card (PCOC). As a new boat owner, the first thing you'll need to do before you get on the water is get a Pleasure Craft Operator Card (PCOC). It's easy to get—both the course and the exam are offered online from a variety of course providers – choose one from the list here: http://www.tc.gc.ca/en/services/marine/getting-started-safe-boating/find-education-resources-recreational-boaters.html. What's more, your PCOC card is good for life!
Learning to drive the boat takes experience. Take your time and expand your range of operation as you gain experience. Unlike driving a car, there are no visual clues like painted lines on the water to help you navigate. As you would expect, taking a boater-safety course is a great idea and will give you an understanding of the "rules of the road" and increase both your confidence and enjoyment on the water. While there are good books on the subject of boat handling, but nothing beats the first-hand learning gained by taking the helm!
The Boating App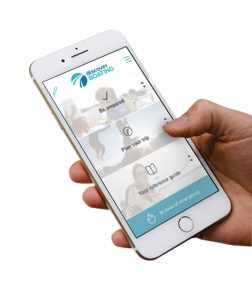 Another great resource for boaters in Canada is the Discover Boating Safety app. You can download this free trilingual app from the Apple or Google Play stores. Visit www.DiscoverBoating.ca/Boat-Safely for direct links to download the app.

Indispensable to the Canadian boater, the app features everything you need to ensure a safe and fun time on the water, no matter where or how you go boating. An interactive and easy to use source of information, it covers a range of regulations, guidelines and best practices that make being prepared easier so you can focus on fun.

Yes, it is fun to dream about all the things you can do on a boat. However, it's even more fun to actually turn those dreams into reality!  So go ahead, take the helm, get out on the water and do the stuff you've been dreaming about. Why not turn your "dream boat" into a real boat? There's no doubt you'll be glad you did.  

best boat, Best boat buying website, best boat marina website, best boat travel website, best place to rent a boat, boat accessories, boat angler, boat apps, boat boondocking, boat buyers guide, boat camper, boat camping, boat dealers, boat DIY, boat Fishing, boat Fixer, boat Home, boat information, boat insurance, Boat Maintenance, boat marinas, boat marinas in Alberta, boat marinas in BC, boat marinas in Canada, boat marinas in Manitoba, boat marinas in Saskatchewan, boat marinas in the USA, boat marinas near me, boat products, boat rentals, boat repair, boat road test, boat sharing, boat sites near me, boat supplies, boat Tech, boat tips, boat touring, boat trade, boat Travel, boat traveling, boat travelling, boat vacation, boat vacation cost, boat websites Canada, Boating, boating Canada, Boating Canada's Boat Lifestyle Magazine, boating licence, Boating Lifestyle Magazine, boating website, Canadian marina websites, cost of boating, expert boat information, find a boat dealer, how much does a boat cost, how much does marina cost, how to choose a boat, how to drive a boat, how to start boating, marina products, marina supplies, motor boat, power boating magazine, start boating, top boat website, used boat reviews best boat, Best boat buying website, best boat marina website, best boat travel website, best place to rent a boat, boat accessories, boat angler, boat apps, boat boondocking, boat buyers guide, boat camper, boat camping, boat dealers, boat DIY, boat Fishing, boat Fixer, boat Home, boat information, boat insurance, Boat Maintenance, boat marinas, boat marinas in Alberta, boat marinas in BC, boat marinas in Canada, boat marinas in Manitoba, boat marinas in Saskatchewan, boat marinas in the USA, boat marinas near me, boat products, boat rentals, boat repair, boat road test, boat sharing, boat sites near me, boat supplies, boat Tech, boat tips, boat touring, boat trade, boat Travel, boat traveling, boat travelling, boat vacation, boat vacation cost, boat websites Canada, Boating, boating Canada, Boating Canada's Boat Lifestyle Magazine, boating licence, Boating Lifestyle Magazine, boating website, Canadian marina websites, cost of boating, expert boat information, find a boat dealer, how much does a boat cost, how much does marina cost, how to choose a boat, how to drive a boat, how to start boating, marina products, marina supplies, motor boat, power boating magazine, start boating, top boat website, used boat reviews