With outstanding performance, luxurious seating and two oversized swim platforms, the Star Step 220 IO is perfect for weekends on the lake.
Designed to combine the comfort and seating capacity of pontoon boats with the nimble handling of traditional runabouts, deck boats have been described as the nautical equivalent of a Jeep, being capable, powerful, and so much fun to drive. That's a fairly apt description, at least until we come to Starcraft's incredible Star Step 220 I/O – a truly top-of-the-line deckboat with enough additional power and refinement that it's more Range Rover than basic SUV.
The key to the Star Step's added performance lies below the waterline, where it's unique stepped hull incorporates a cutaway design with a longer running surface, delivering faster planing, less bow rise and better performance with lower horsepower. Hence the name "Star Step" – formed from the contraction of "Starcraft" and "stepped hull." Its deep V, reverse-chine hull and side sponsons further add to its stability and straight-line handling.
The magic in this boat continues above the waterline as well. It's huge, open cockpit provides comfortable seating for 13 people, with three on the aft bench, three more up front and six easily along the portside lounge. The driver gets a high-back swiveling Captain's chair with a flip-up bolster and a sliding base, so the boat adapts to fit you rather than the other way around. Lift the hinged seat cushions and you'll find ample storage for all sorts of gear.
Underfoot, a snap-in carpet makes cleaning, well, a snap – just pop it out to hose out the sand, or to dry it out quickly after a long day of tubing or swimming. The Star Step 220 I/O is built with watersports in mind, as evidenced not only by its cavernous in-floor storage for skis and other bulky gear, but by its generous front and rear swim platforms – each with a telescoping boarding ladder.
The front ladder is particularly useful when you beach your boat for a picnic. The rear platform, with its delightful fast-drying, non-skid surface, includes an extension for even more space, and a small wet storage locker located here is the perfect spot to store wet tow ropes. Entry into the main cockpit is through a convenient port-side walk-through, with a small transom gate.
The full-beam rear sunpad covers this access when set in the prone position, but the cushion flips up easily when you want to pass through. You can also set the seatback in a reclined lounge position. Under the port-side cockpit seat is a cooler storage pad which accommodates a removable 38-litre cooler in an easilyaccessible but secure nest. The helm console has a large storage compartment in its base, along with a small but useful sink with faucet just ahead of the windshield.



Throughout the cockpit, stainless steel beverage holders can be found just about anywhere you would be tempted to set down a drink. Overhead, a Bimini top provides a convenient escape from the sun. The Star Step 220 I/O comes with a long list of standard features, including niceties such as an AM/FM stereo with MP3 input, courtesy lights, docking lights, a removable table with screw-in base and upgraded upholstery for 2015. But the option list is equally inviting, with add-ons including a wakeboard tower, through-hull exhaust, underwater lights and bow filler cushions available.
Our test boat was equipped with MerCruiser's all-new, 250 horsepower 4.5L V6. This brand-new engine is the first "purpose-built" powerplant in the MerCruiser lineup, designed from the oil pan up as a boat engine, and not as a marinized automotive mill. What that means is mountains of low-end grunt, quieter operation by flipping the throttle body around so it faces away from the cockpit, and improved ease of use with the oil fill, dipstick and other service bits located up top and at the front of the engine compartment.
With its beefy tilt steering wheel and sportscar-inspired dash (complete with a 70 mph speedometer) the Star Step 220 really invites you to put the big Merc to the test – and I couldn't wait to oblige. Heading out from the marina at Oakwood Resort on northern Indiana's beautiful Lake Wawasee, I took a few minutes to get comfortable as we idled through the no-wake zone. Once clear, and with nothing but open lake ahead of me, I took a firm grip on the wheel and put the hammer down.
One of the great things about MerCruiser's new 4.5L V6 is that when you open it up, you unleash all 250 horses at once. It's a perfect match for the Star Step's stepped hull, rocketing the boat up on plane in a touch over three seconds as the speedometer runs up to the 20 mph mark. That's impressive, especially when you remember you're driving a deck boat. Alone in the boat with a half-tank of fuel, it was only seconds before 20 mph turned to 30, then 40. With just a bit of positive trim, the Star Step settled in quite comfortably at close to 50 mph. Pretty awesome, really, for a boat that will accommodate a dozen guests. Who needs a V8?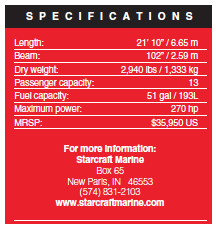 Turning into the open lake, I began easing the boat into a series of evertightening slalom turns. Like a champ, the Star Step obediently went wherever I pointed it – that reverse-chine hull simply dug in and banked like a jet. Although calm weather left the lake with a near-glassy surface and minimal chop, even full-throttle donuts through my own wake failed to entice the hull to lose its grip. The Star Step 220 is a boat that easily inspires confidence, providing a perfect balance between a thrilling ride and steady, predictable handling.
And, it's a deck boat. With seating for thirteen! It was hard to shake that thought as I spent far more time than necessary carving fast figure-eights in the lake's gentle surface.
If you like the idea of a pontoon boat but prefer the look of polished fibreglass, then you might want to spend some time behind the wheel of Starcraft's Star Step 220 I/O. It's quick, it's sporty, and with its luxurious seating and versatile layout, a great family boat for fun in the sun.

best boat, best boat models, best boat trailer, best center console, best centre console, best performance boats, best pontoon, best runabout, Best Used boat, boat accessories, boat parts, boat reviews, boat tests, boat touring, BOATING Buyer's Guide, boating guide, BOATING in-water Tests, boating lifestyle, Boating Lifestyle Magazine, BOATING rentals, BOATING rentals near me, BOATING traveller, boating vacation, go boating, go boating Canada, how to choose a boat, marine accessories, New Boating Products, new boats for 2023, performance boats, Power Boating Canada, Tender boat, top boat models, top boats, top cottage boat, top cruiser, top power boat best boat, best boat models, best boat trailer, best center console, best centre console, best performance boats, best pontoon, best runabout, Best Used boat, boat accessories, boat parts, boat reviews, boat tests, boat touring, BOATING Buyer's Guide, boating guide, BOATING in-water Tests, boating lifestyle, Boating Lifestyle Magazine, BOATING rentals, BOATING rentals near me, BOATING traveller, boating vacation, go boating, go boating Canada, how to choose a boat, marine accessories, New Boating Products, new boats for 2023, performance boats, Power Boating Canada, Tender boat, top boat models, top boats, top cottage boat, top cruiser, top power boat