Looking for a versatile fishing boat with pro features, but at a price that anyone can afford? Starcraft's Renegade 178 DC delivers in more ways than one.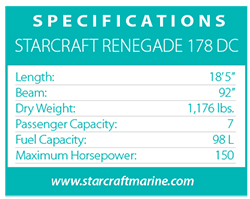 While most anglers love the idea of having a top-of-the-line tournament fishing boat, the reality is that most of us simply can't justify the top-of-the-line price tag that comes along with it. Starcraft certainly gets this, as evidenced by its remarkable Renegade 178 DC, a versatile, durable multi-species fishing boat that packs all the key features of its high-end tournament rigs into a consumer-friendly package that's far more affordable to weekend warriors like me.
Although the company has managed to bring the new Renegade in at a price well below that of the high-end stuff they build for full-time tournament pros, Starcraft achieved this by being judicious with the standard feature list rather than cutting corners and compromising quality. The hull, for example, is still made with a thick .100 gauge bottom and hefty .080 gauge sides, giving this boat the strength to handle the bumps and bangs that go hand-in-hand with navigating shallow stumpy bays or the relentless pounding of trolling in a good offshore chop. And just like the big boats, it lets anglers fish in comfort from ice-out to freeze-up thanks to the protection of its dual consoles and full walk-through windshield. There's a lot of boat to like here, so let's take a closer look.
The Renegade 178 DC stretches 18 feet, five inches in overall length and with a generous 92-inch beam. It uses Starcraft's legendary Power-Trac reverse-chine hull design that provides an effective balance between the easy planning of a traditional modified-V hull and the rough water comfort of a deep-V design. Like the pro boats, the Renegade is backed by Starcraft's Lifetime Plus 6 warranty that guarantees the hull for life and the interior equipment for six full years. While the Renegade may have been designed to fit a recreational angler's budget, there were absolutely no concessions made in build quality.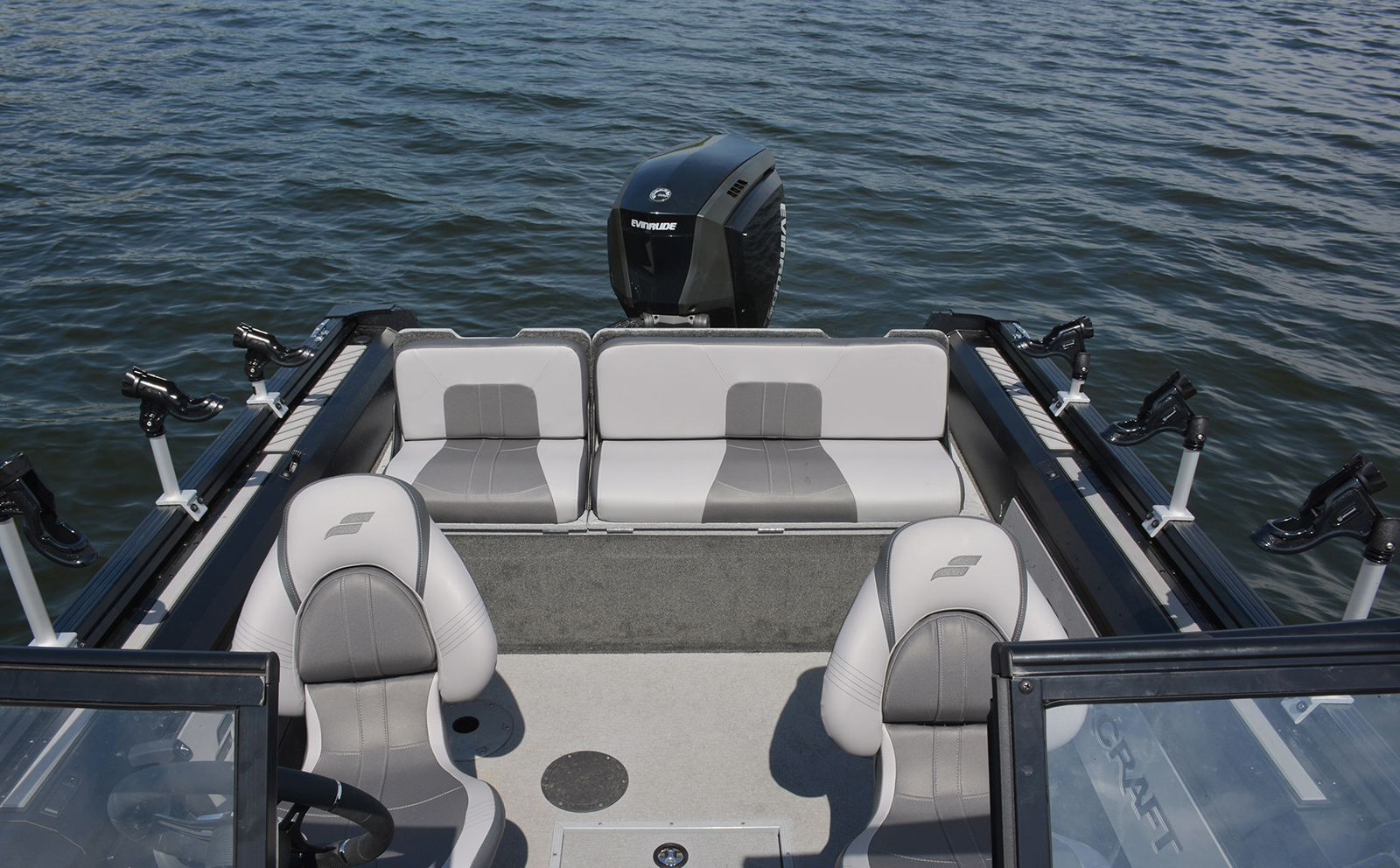 Built For Versatility
The interior layout of the Renegade 178 DC is designed to do multiple things very well. It follows a proven footprint with a large, raised casting deck in the bow and a full-depth main cockpit with a smaller raised deck spanning its open stern. This approach gives the Renegade tremendous versatility, and not just for fishing.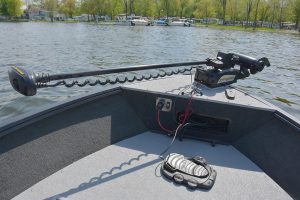 The raised bow deck gets pretty well everything right. It's high enough to provide great visibility when casting to distant targets, yet low enough to the water that anglers can land hooked fish without reaching. It's expansive surface is finished in durable marine vinyl – a far more sensible choice than the traditional carpet, given how much faster it dries and how much more resilient it is to heavy-duty use. The front deck has a raised pad for mounting an electric motor, with a bow panel adjacent containing the associated electrical connection and a convenient trim switch for the main engine. More than spacious enough to permit two anglers to fish in comfort without bumping elbows, it conceals a vast amount of storage space for gear beneath its surface, as well as a 68 L FreshCatch aerated live well with a bait bucket. There's even an in-floor rod locker with six individual tubes along the centerline, accessed by a panel that lifts between the consoles. A bit more storage space for tackle would be a welcome addition up front, perhaps in the form of mesh compartments mounted along the carpeted insides of the gunnels to keep items like plies and small boxes from getting underfoot. This wouldn't increase the cost of the boat by much but would greatly add to its utility. I didn't see anything like this on the option list, but perhaps Starcraft will add it one day.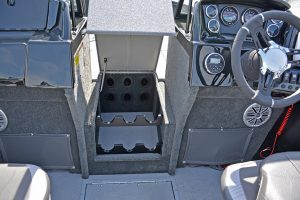 The main cockpit is kept open for uncluttered trolling, contributing to the Renegade's appeal for anglers who like to pursue many different species of fish. Vinyl flooring continues through this space, making the entire boat a cinch to clean at the end of the day, with snap-in carpeting available as an optional upgrade for those who prefer it. Plenty of freeboard in the cockpit provides added comfort when fishing in larger swells, while creating enough room to accommodate a top-loading rod locker in each gunnel as well. With a further oversized storage locker in the main cockpit floor, finding space for bulky gear isn't a problem in this boat.
Look very carefully and you might just spot the channels in the extruded gunnel caps that reveal Starcraft's Integrated Gunnel Track System (IGTS). IGTS is a wonderful standard feature that makes it easy to mount rod holders, downriggers or other accessories anywhere in the boat, and without having to drill any holes in the process. Need to move something? No problem – IGTS really contributes to the Renegade's versatility and is a fantastic feature.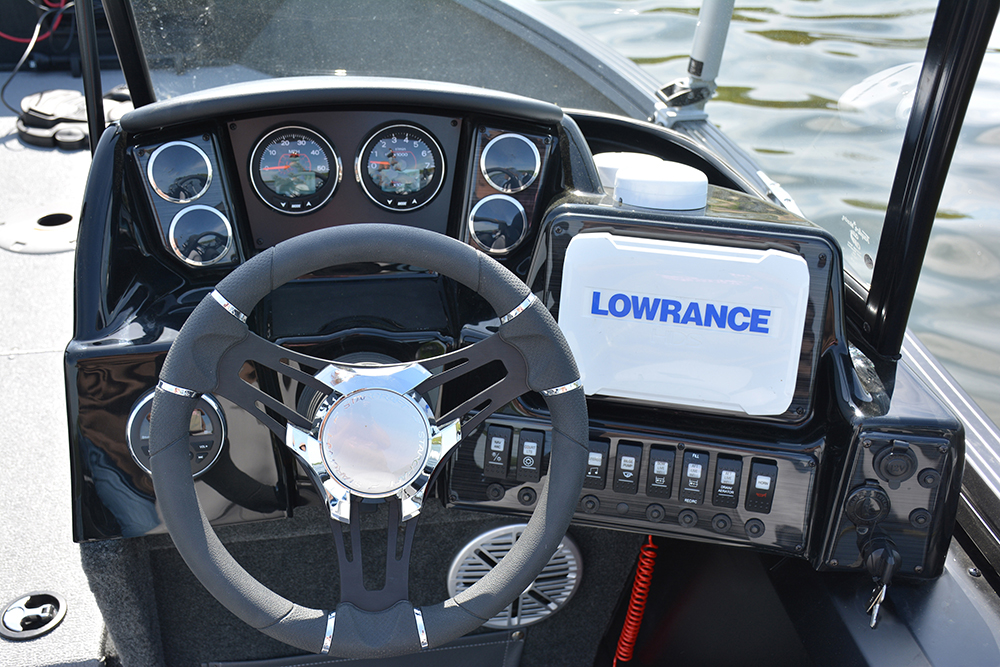 So too is the new-for-2019 helm console, which nicely complements the Renegade's fresh, contemporary look. With space for a big flush-mount, touch-screen display and a stunning Stella designer steering wheel, the Renegade's console shares a lot of DNA with the top-end tournament boats. A neat row of illuminated toggle switches for electrical equipment like lights and the live well pumps sit to the right of the wheel, along with a 12-volt accessory outlet and twin USB outlets. To the left of the wheel, there's a standard AM/FM stereo that streams music directly from your phone via Bluetooth.
The equally spacious passenger console provides a cavernous glove box up top for storing valuables safely out of harm's way, plus a pair of drink holders and a useful grab handle.
Across the stern, the Renegade features a second raised casting deck that houses further storage in its base, plus a second 94 L FreshCatch aerated live well. Two live wells? Absolutely – just like the big tournament boats the twin live wells in the Renegade allow anglers to keep their catches separate should they compete in the occasional weekend tournament. It also allows one well to be used for bait while the other stores the catch, and that's a convenience that anyone can appreciate the first time they use it.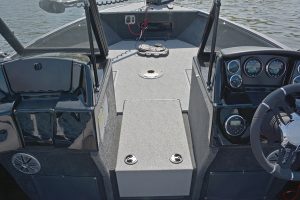 An available split bench seat option across the stern gives the Renegade even greater versatility by providing a full-width bench seat when you need to carry passengers, and folding down to create an even larger rear casting deck when you don't. It's an optional upgrade, but one that a lot of buyers will find appealing. A three-step boarding ladder is also available, and absolutely worthwhile.
Starcraft's Renegade 178 DC is rated to handle outboards of up to 150 horsepower. I always like rigging boats with maximum power, and with an Evinrude E-TEC 150 G2 bolted to its transom, our test boat ran like an absolute champion, planning easily, accelerating quickly and attaining a top speed of well over 45 mph. That's truly outstanding performance for a recreational fishing boat that can seat up to seven people.
Dropping back to a 115 would save a few bucks at the time of purchase, but the boat runs so well with the 150 it seems a shame to give up those extra few mph on the top-end – especially when the difference on a monthly payment will only amount to a few bucks. With modern engines like the E-TEC delivering such great fuel economy to start with, the 150 doesn't cost much more to operate, even over a full season of serious fishing.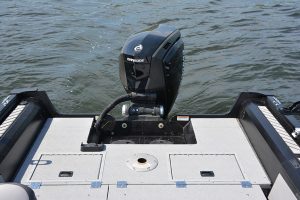 Starcraft keeps the Renegade affordable by focusing its standard equipment list on the features that really matter. But there are a few enticing options for this boat that are absolutely worthwhile. Spring for the available Lowrance HDS Carbon display flush-mounted right in the dash, get the factory-installed bow-mount Minn Kota electric motor, and order the available ProMariner built-in battery charger right from the start. Hydraulic steering is also worth the comparatively small upgrade fee, especially if you're buying the boat with maximum power.

If you've always wanted a fully-rigged pro-style fishing boat but without the tournament-grade price tag, you'll definitely want to check out Starcraft's delightful Renegade 178 DC. This is a well-made, well designed boat that's more than just a great fishing rig – with its available stern bench seat it's also a terrific family runabout with plenty of space for gear.  

By Craig Ritchie

best boat, best boat models, best boat trailer, best center console, best centre console, best performance boats, best pontoon, best runabout, Best Used boat, boat accessories, boat parts, boat review, boat reviews, boat test, boat tests, boat touring, BOATING Buyer's Guide, boating guide, BOATING in-water Tests, boating lifestyle, Boating Lifestyle Magazine, BOATING rentals, BOATING rentals near me, BOATING traveller, boating vacation, Fishing Boat, go boating, go boating Canada, how to choose a boat, marine accessories, New Boating Products, new boats for 2023, performance boats, Power Boating Canada, Starcraft, Tender boat, top boat models, top boats, top cottage boat, top cruiser, top power boat best boat, best boat models, best boat trailer, best center console, best centre console, best performance boats, best pontoon, best runabout, Best Used boat, boat accessories, boat parts, boat review, boat reviews, boat test, boat tests, boat touring, BOATING Buyer's Guide, boating guide, BOATING in-water Tests, boating lifestyle, Boating Lifestyle Magazine, BOATING rentals, BOATING rentals near me, BOATING traveller, boating vacation, Fishing Boat, go boating, go boating Canada, how to choose a boat, marine accessories, New Boating Products, new boats for 2023, performance boats, Power Boating Canada, Starcraft, Tender boat, top boat models, top boats, top cottage boat, top cruiser, top power boat