Living in Canada is a bit of a double-sided coin for the passionate fisherman. On one hand, we're blessed with a huge number of lakes and rivers, each stuffed with
a variety of fish species including bass, walleye, pike, muskie, perch, trout, salmon, whitefish and more. While this wealth of opportunity might represent a Utopian world for anglers, it also represents a special challenge when it comes to buying a fishing boat.
You'll want a boat capable of gliding silently through the weedy shallows, yet capable of trolling in deep water and eating occasional chop. You'll want the protection of high freeboard and a full windshield to keep the spray out on windy days, yet windshield out that won't interfere with casting. You'll need plenty of capacity for guests and their gear, and in a small enough package that you can still tow it with a mid-sized vehicle and launch it from rough, unmaintained ramps.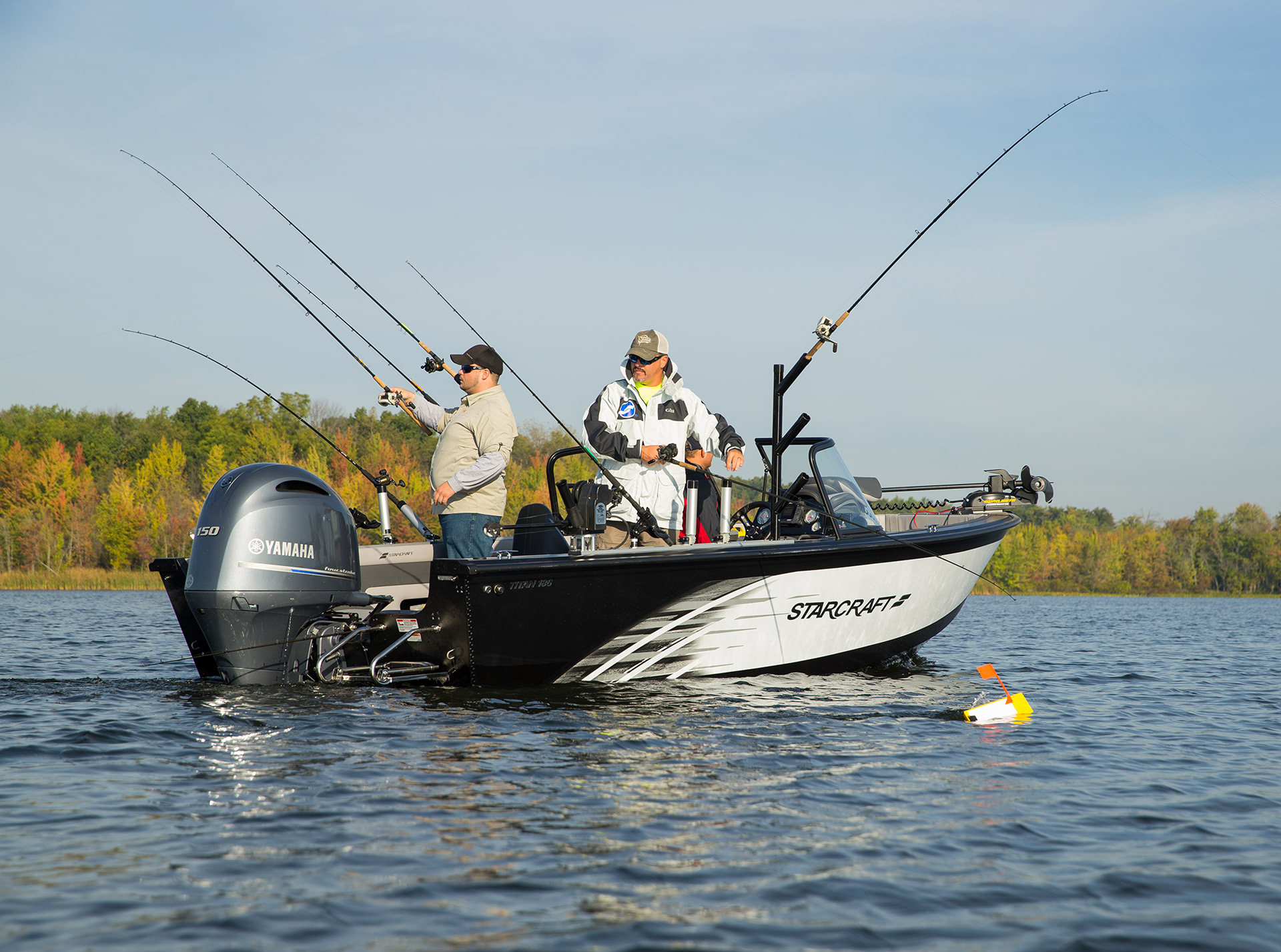 Celebrating its 113th anniversary this year, New Paris, Indiana-based Starcraft Marine has unveiled an all-new model for 2016 that seems to answer every Canadian angler's call. The all-new Starcraft 186 Titan DC not only bridges the angler's seemingly conflicting demands but fills a real void in the fishing boat market.
The Titan owes much to Starcraft's best-selling 176 Starfish model. In fact, it's built
on an all-new Power Trac hull that's based on that of the Starfish, but in a longer, wider, and slightly taller scale that gives it an entirely new level of performance. Constructed from massive .125 inch aluminum plates on the bottom and beefy .80 plates on the sides, the Titan is aptly named since this is much heavier aluminum than what one normally sees on a boat of this size.
The battleship-like build is further evident in the double-riveted chine and transom seams. What you don't see is the internal torsion beam construction below the floor, which gives the Starcraft 186 Titan a stiff, solid hull that won't flex or twist under load. The result of all this engineering is a tremendously smooth ride, crisp handling, and the ability to eat choppy waves and large boat wakes with ease.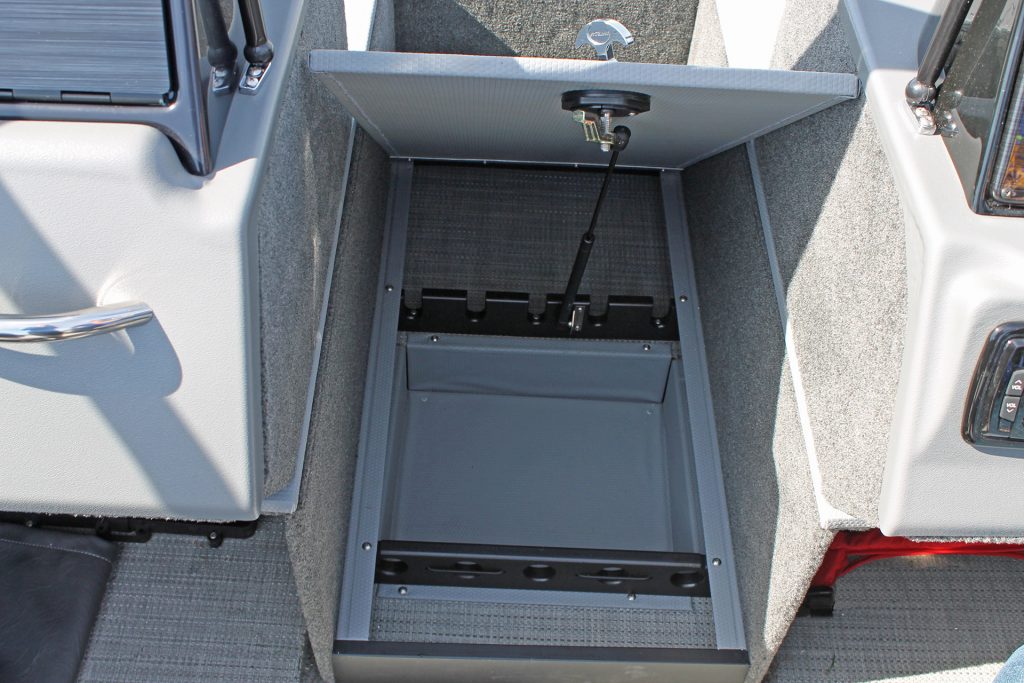 The other result of this heavy-duty construction is remarkable durability and longevity. Starcraft backs the Titan with its Lifetime Plus 6 limited warranty, which provides lifetime coverage on major structures like decks, transoms and other major components, plus six full years of coverage on components, including marine grade carpet and upholstery. It's even transferable to the second owner.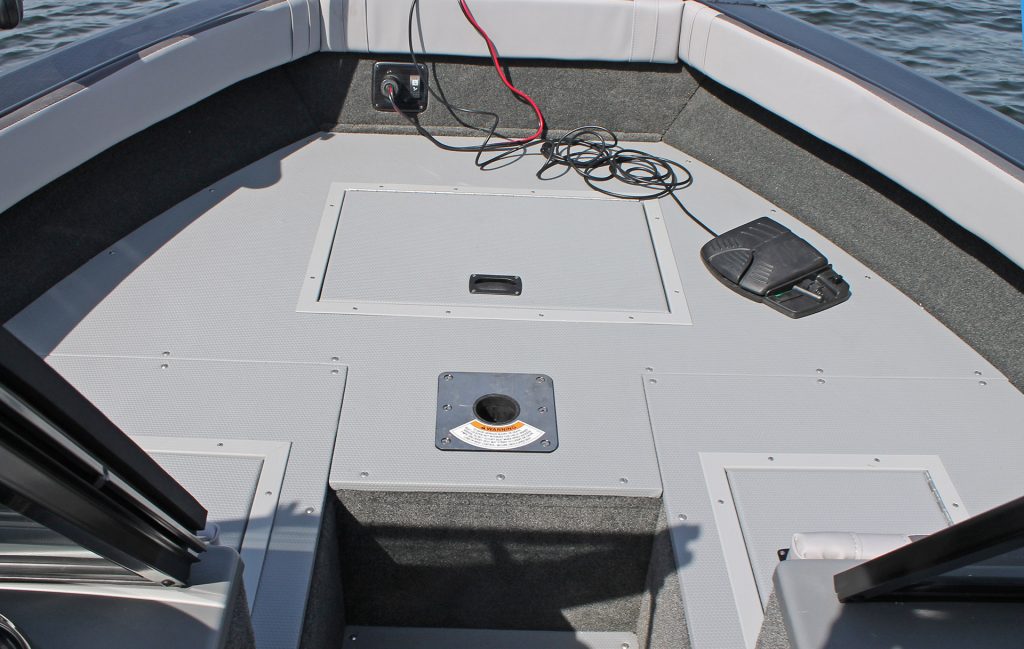 The Starcraft 186 Titan DC follows the proven dual console layout with a raised front casting deck, big walk-through windshield, and an open main cockpit and raised stern deck. Because the Titan carries its full beam all the way forward of the windshield, the bow deck is absolutely huge for a boat of this size, with plenty of room for two anglers to fish without getting in each other's way or knocking elbows. Two hatches provide access to a pair of massive in-deck storage compartments, while a third hatch reveals a 68L aerated live well.
Between the twin consoles, a large in-floor rod locker provides secure protection for those expensive fishing rods when they're not in use. The passenger console offers the expected large, secure storage compartment up top to keep wallets, truck keys and other important things safe. While below it, a second door opens to reveal a slotted cabinet that holds two Plano 3600 boxes.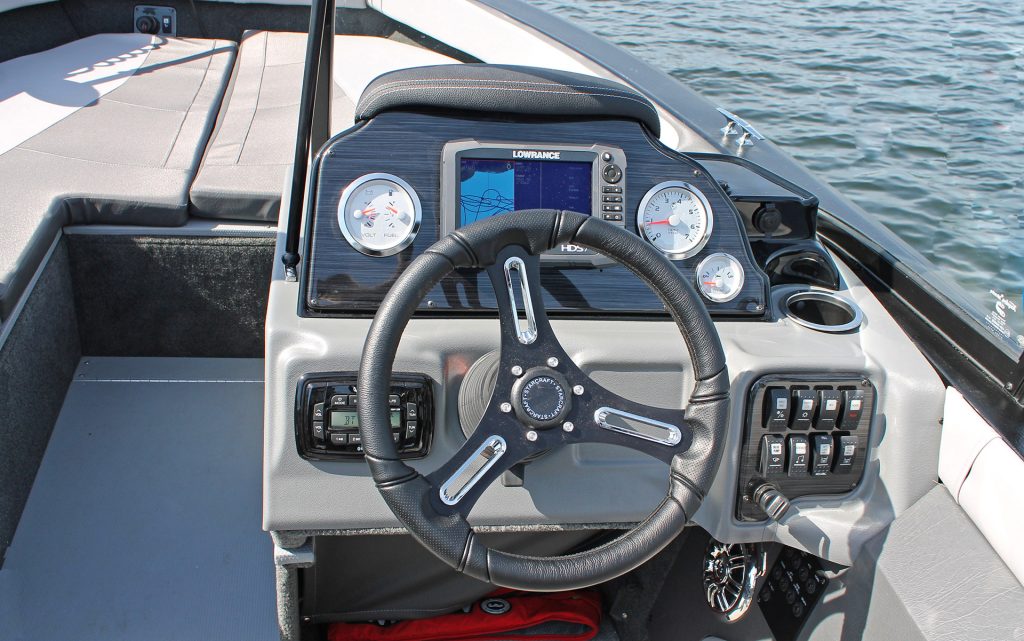 The driver sits behind the Starcraft 186 Titan's stylish pro console, a neatly organized helm that offers easy-to-read lighted gauges, an Infinity PVR250 AM/FM stereo with Bluetooth, a 12-volt PowerPoint and enough space to easily accept large, flush- mounted multi-function displays. The supportive helm seat swivels and rides on a sliding base. Hydraulic steering is a much- appreciated standard feature, along with a stylish, chrome-on- black Torcello steering wheel with tilt adjustment.
The main cockpit has four seat bases, in addition to the ones in the raised bow and stern casting decks. The Starcraft 186 Titan comes with three seats, and you can order a fourth one. The flooring on our test boat was finished in Sea Weave, a relatively new synthetic surface that provides greater comfort and non-slip properties than traditional vinyl, but with similar durability and easy clean- up. Snap-in carpet is available as an option.
A huge in-floor storage compartment in the main cockpit accommodates bulky gear, while there's additional lighted storage space in the spacious gunnel side walls. One really nice cockpit amenity is the provision of padded coaming around the top of the gunnels, something you really come to appreciate after a full day of fishing. The gunnel tops are quite wide and fully reinforced for mounting rod holders, accessory racks or downriggers.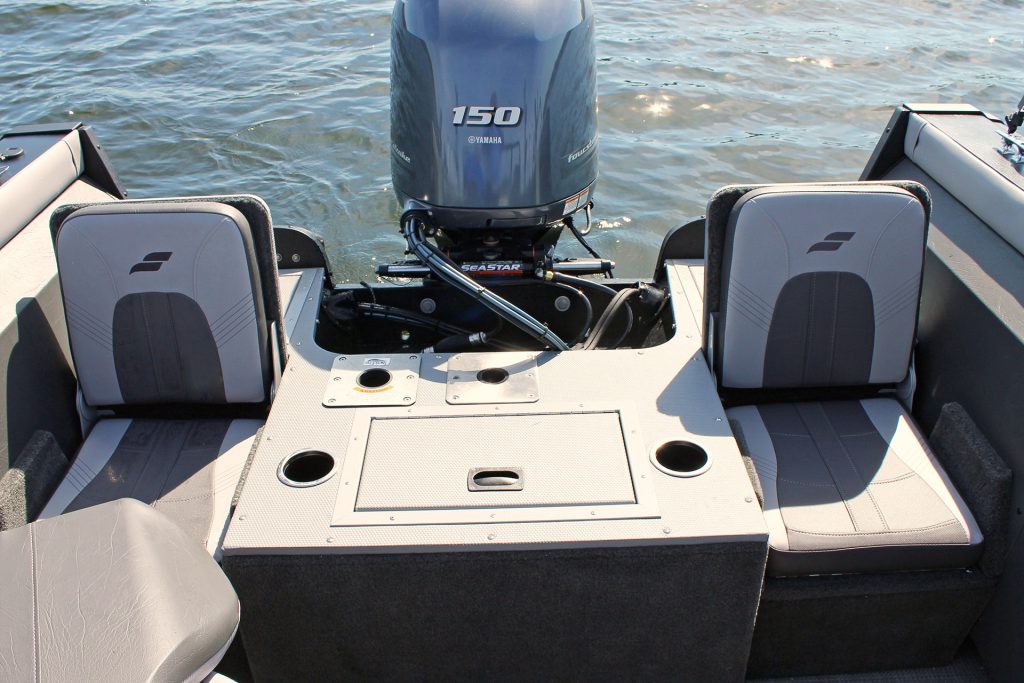 Twin jump seats in the stern flip up to accommodate guests in surprising comfort, or fold flat when not required to extend the raised rear casting deck. Two beverage holders and a 95 L live well occupy the central portion of the rear deck, along with the aluminum seat base. There is room to add an optional ski pylon as well.
Although rated to handle outboards to 175 horsepower, the Starcraft 186 Titan DC's Power Trac hull is so efficient that it offers truly impressive performance with a 150. I expect most Titans will probably be sold with 150s or even 115s, saving the owner a few bucks in the purchase price, improving day-to-day fuel economy, and giving up no more than a few mph of top-end speed.
Our Starcraft 186 Titan DC was rigged with a Yamaha F150 – one of my favourite outboards and a great match for the 1,450- pound Titan. Thanks to that wide, high-performance Power Trac hull design, time-to-plane is pretty much instantaneous with a touch of negative trim – when you put the hammer down the boat simply lifts up flat, like an elevator, and gets on its way.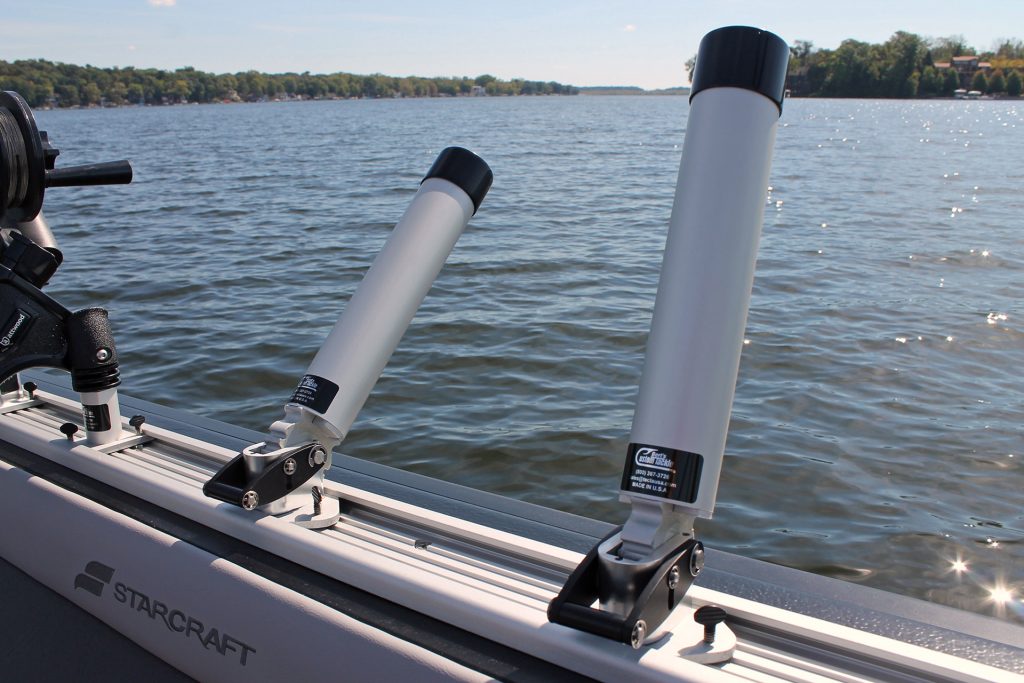 It doesn't take a lot of trim adjustment to bring the Titan up on a nice, clean running attitude, making it a very easy and comfortable boat to drive. The hydraulic steering and the beefy Torcello steering wheel provide excellent feel, while handling subtle course corrections nicely. Even repeated attempts to purposely over-steer the boat into inappropriately tight turns failed to make it misbehave, or even ventilate the prop. The hull just dug in and absorbed my clumsy maneuvers so well that I doubt my passenger even knew what I was up to.
Lake Wawasee was glass-flat for our sea trial, and the only rough water I could find was the wake of a passing speedboat – which I immediately charged. The Titan simply cut right through it, without so much as a bump. It was only then that I happened to glance at my GPS to see we took that wake at about 40 mph, which made the Titan's performance even more impressive. At wide-open throttle I managed to coax the GPS up to 48 mph while turning approximately 6,000 rpm.
It's not surprising that the all-new 186 Titan DC raises the performance bar even higher than the legendary 176 Starfish it is based on. Anglers in search of a versatile, well designed and beautifully-made fishing boat that really can do it all need look no further.

best boat, Best boat buying website, best boat marina website, best boat travel website, best place to rent a boat, boat accessories, boat angler, boat boondocking, boat buyers guide, boat camper, boat camping, boat dealers, boat DIY, boat Fishing, boat Fixer, boat Home, boat information, boat insurance, Boat Maintenance, boat marinas, boat marinas in Alberta, boat marinas in BC, boat marinas in Canada, boat marinas in Manitoba, boat marinas in Saskatchewan, boat marinas in the USA, boat marinas near me, boat products, boat rentals, boat repair, boat road test, boat sharing, boat sites near me, boat supplies, boat Tech, boat tips, boat touring, boat trade, boat Travel, boat traveling, boat travelling, boat vacation, boat vacation cost, boat websites Canada, boating Canada, Boating Canada's Boat Lifestyle Magazine, Boating Lifestyle Magazine, boating website, Canadian marina websites, expert boat information, find a boat dealer, Fishing Boat, how much does a boat cost, how much does marina cost, how to choose a boat, how to drive a boat, marina products, marina supplies, motor boat, power boating magazine, Starcraft, top boat website, used boat reviews best boat, Best boat buying website, best boat marina website, best boat travel website, best place to rent a boat, boat accessories, boat angler, boat boondocking, boat buyers guide, boat camper, boat camping, boat dealers, boat DIY, boat Fishing, boat Fixer, boat Home, boat information, boat insurance, Boat Maintenance, boat marinas, boat marinas in Alberta, boat marinas in BC, boat marinas in Canada, boat marinas in Manitoba, boat marinas in Saskatchewan, boat marinas in the USA, boat marinas near me, boat products, boat rentals, boat repair, boat road test, boat sharing, boat sites near me, boat supplies, boat Tech, boat tips, boat touring, boat trade, boat Travel, boat traveling, boat travelling, boat vacation, boat vacation cost, boat websites Canada, boating Canada, Boating Canada's Boat Lifestyle Magazine, Boating Lifestyle Magazine, boating website, Canadian marina websites, expert boat information, find a boat dealer, Fishing Boat, how much does a boat cost, how much does marina cost, how to choose a boat, how to drive a boat, marina products, marina supplies, motor boat, power boating magazine, Starcraft, top boat website, used boat reviews