"A Stylish New Release Brought To You By Brunswick's First All-Woman Design Team!"
By: Mike Burns
It is said that good things come in threes, and such is the case with Sea Ray 260 SLX, a new addition to the SLX line, which is available in three different versions: outboard, sterndrive, and wake configuration. In 2022, Sea Ray unveiled their new SLX 260 models with quite a bit of fanfare, and so they should have.  These latest additions to the Sea Ray fleet were first and foremost, designed by an all-female team. The project was led by Sea Ray Senior Design Manager Carrie Fodor and Brunswick Boat Group Senior Industrial Designer Kristin McGinnis. Fodor, who grew up boating on the Great Lakes, has worked for Sea Ray since 2008, combining her passion for drawing and boating by becoming a designer.
We had the rare opportunity to test three different models recently – two outboard versions and the sterndrive version. These new models are all very similar from the transom forward and feature new design elements such as an S-sheer line, dynamic center crease and elongated bow, which were first integrated on Sea Ray's Sundancer 370 Outboard in 2021.
For our first boat test, we met up with Carrie Fodor at the Brunswick Media Event at the Chelsea Piers in New York City, where she gave us an informative personal tour of this impressive new model.  With a full tank of fuel, and four passengers on board, we set out to a Hudson River to go pay a visit to the Statue of Liberty.  The congested ferry and commercial traffic didn't make for ideal conditions for a sea trial, but we were able to put the 260 SLX through its paces.
Our test model in New York was powered by a single Mercury 300 Verado w/SmartCraft DTS.  Quickly popping up on plane, we found a comfortable cruising 'zone' between 4000 to 4500 rpm, which moved us along between 24.6 mph to 32.2 mph.  The wake from the boating traffic made it a bit challenging to run at WOT, but we did reach 47.2 mph at 5350 rpm.   In more ideal conditions, and with a lighter load, speeds in the low 50's can be expected.  Cornering was solid, and overall the boat offered up a very comfortable ride.
Later in the season, we had the opportunity to test two other models in Florida.  First up was another outboard version, which we tested at Mercury Marine's infamous (and once upon a time 'top-secret') testing facility – Lake X.  Mercury was unveiling their new (and world's first) V10 outboards.  These naturally aspirated 5.7L outboards are available in 350 hp or 400 hp.  Our boat for this test was fitted with the 350 hp model. 
Acceleration was nothing less than phenomenal right from the hole shot, to mid-range acceleration.  Cruising at 35.1 mph at 4500 rpm was effortless, and we reached a top speed of 51.9 mph at 6120 rpm.  With a lighter load, this particular test boat was reaching top speeds in excess of 53 rpm.  The V10 power was noticeably quiet, thanks to Mercury's Advance Mounting System (AMS), which cradles the powerhead to isolate vibration, while refined tuning dampens induction sounds and nearly eliminates all injection noise.  If you want to bring a bit more attention to yourself around the dock, Mercury's exclusive Advance Sound Control feature allows you to toggle between a whisper quiet exhaust tone or a more aggressive 'growl' while idling.   Another key feature is the Adaptive Speed Control, which allows you to maintain a constant rpm, despite changes in load, maneuvering, or sea condition.  This is particularly useful when carving out aggressive turns.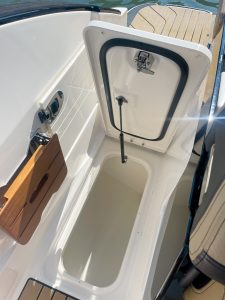 Our final test took place on Florida's east coast Intracoastal Waterway, where we had the opportunity to check out the sterndrive model.  The main advantage to the inboard/outboard version is the unobstructed and wide open stern, which some may prefer for watersports, or general swimming and snorkeling.  On the down side, you do loose a bit in performance, when compared to outboard power.
Sterndrive power on the SLX 260 comes from a Mercury MerCruiser 6.2L MPI ECT Bravo Three engine with SmartCraft Digital Throttle & Shift (DTS). No matter what model of the SLX 260 you choose, operators will enjoy Dual Digital Dash with 9-inch Simrad touchscreen displays with Mercury VesselView Mobile, Active Trim control and monitoring, and CZone digital switching. Sea Ray's trademarked Dynamic Running Surface, which automatically optimizes running attitude and trim, is an optional upgrade for both models.
The 260 replaces the SLX 250 in Sea Ray's upscale sportboat category. Though the interior may seem somewhat similar, closer inspection reveals numerous upgrades. A spacious aft sun pad remains the focus for the sun worshipers. A USB charger, phone caddy and audio controls are readily at hand.  A transom locker conceals an insulated cooler and is also an ideal spot to store mooring lines, etc.  The port section of the pad lifts to reveal a massive fore and aft locker that reaches far forward below the cockpit seating – perfect for large items like lily-pad floats, modern inflatables, or multiple skis and boards. Raise the sun-pad module to expose what would be the sterndrive's engine compartment and find a sizable, drop-in caddy, perfect for bulky items. Remove the caddy to reveal a meticulously arrayed bilge, with easy access to pumps, the water tank, steering pump, batteries and a pre-assembled digital switching module.
Cockpit seating features an L-shaped bench to port, an adjacent bench seat to starboard, and companion and helm seats forward. Seating wraps the open bow, and storage is found below nearly all of it, which is a key factor of the added capacity over its predecessor. Highlights include another sizable compartment that extends under the helm, with dedicated storage for pedestal tables and bow filler cushions.
A great attention to detail was noticed throughout. For example, rather than seat cushions and backrests butting tight, which is quite common, gaps allow for airflow to reach this common moisture point and it also makes cleaning much easier. Another handy feature is the inductive charging pad at the helm, and a practically invisible set of slots allows phones and even tablets to be propped horizontally or vertically.
Another key feature of the SLX 260 is the optional Power Tower, which conceals an extendable power sunshade, and the tower itself can be raised at press of a switch, which is ideal for trailering or trying to squeeze under a low clearance bridge.  
A tip of the hat must go to the talented all-female design team at Sea Ray for a stellar addition to their fleet.   And we can't forget about Mercury either as they continue to design and engineer impressive additions to their line up, such as the just released V10 Verado, which I'm sure will be highly successful.   
Specifications
LOA: 28'7 / 8.71 m (w/outboard)
Beam: 8'6"/ 2.59 m
Draft: 34" / 86 com (outboard up) – 19" / 48 cm (outboard up)
Dry Weight:  5,425 lb / 2,461 kg
Bridge Clearance: 5'3" / 1.60 m without tower – 8'5" w/tower
Deadrise at transom: 21 degrees
Fuel: 75 gal. / 284 L
Water: 14 gal. / 53 L
Holding Tank: 6 gal. / 23 L
Capacity: 15 people / 2,190 lb. /
993 kg – Maximum: 3,210 lb. / 1,456 kg
For more information: www.searay.com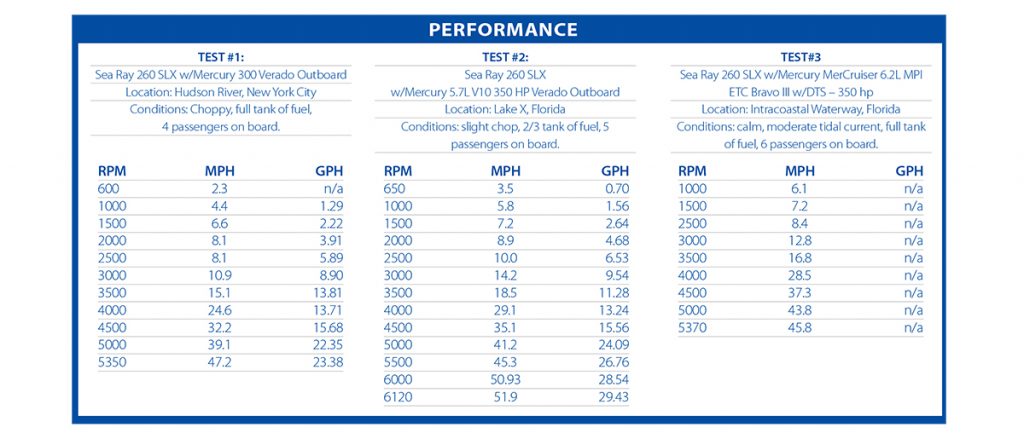 boat life, boat test, Boating, boating adventures, boating life, discover boating, lets go boating, nautical, on the water, outboard, powerboating, safe boating, Sea Ray, Sea Ray 260 SLX, sterndrive boat life, boat test, Boating, boating adventures, boating life, discover boating, lets go boating, nautical, on the water, outboard, powerboating, safe boating, Sea Ray, Sea Ray 260 SLX, sterndrive