It wasn't long ago when Wellcraft's iconic offshore name Scarab was dominating the waters. Remember the famous TV production Miami Vice, world renowned Don Johnson and their 38 Scarab KV chasing the drug bandits of the sea?
The Miami Vice theme was music to my ears, says Bill Taylor, who brought the famous Wellcraft boat to the Canadian market place along with the official Miami Vice boat. He took it to boat shows across the country and running Don Johnson look-alike contests where the winner would spend a day on the boat back in 1986.
Wellcraft at that time had an enormous following with offshore and its great to hear they are back on the waves promoting their rich heritage.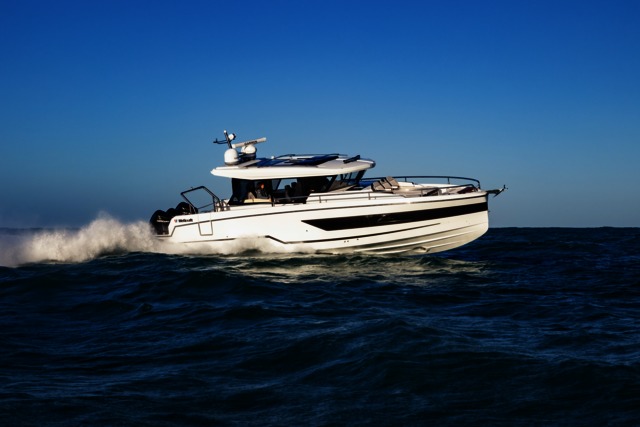 After six decades, Wellcraft is still here with its strong history of power and performance as Wellcraft is now widening its offer built for all types of boating, providing a new perspective and enthusiasm for boaters.
The all new Wellcraft 355 is a performance cruiser with outboard power that will provide a wide range of capabilities and purposeful functions, responding to tough demands and meeting challenges. It has outstanding design, comfort, and most importantly, speed and seaworthiness. Designed to push the limits, Wellcraft utilizes its rich heritage of offshore experience to drive it into this new market.
There is a new breed of enthusiastic performance boaters. They want to see the world from a different perspective," explains Nick Harvey, brand director, "Instead of gazing at the sea from shore, they shove off and never look back."
Designed to Push Limits
Wellcraft teamed up with designers Michael Peters, Pawel Denert and Camillo Garronni. This winning team created the design to offer a fast and sea-worthy American outboard commuter for those looking to push their limits further and faster in every sea conditions. With triple Mercury or Yamaha engines, providing up to 1,050HP the Wellcraft 355 reaches top speeds over 50 knots (60mph).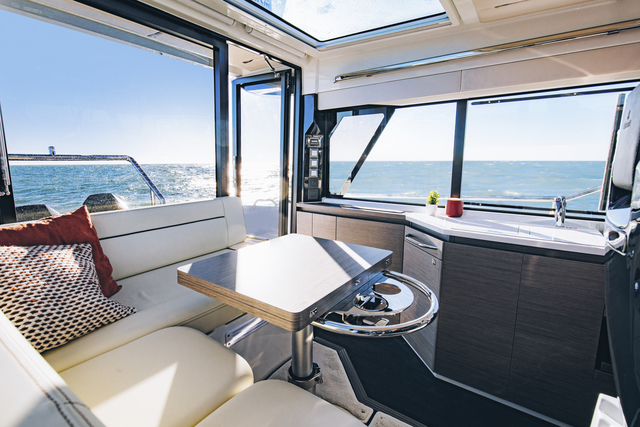 With strong luxurious design, The Wellcraft 355 combines the thrill of piloting at high speed and the ability to discover unexplored places with a lifestyle of relaxation and luxury. The spacious wheelhouse has a fully equipped galley which can comfortably fit five passengers. A sliding side door at the helm allows convenient access to the side passage and front cockpit. Three large sunbathers, with a spacious bench in the bow, create a luxurious place for relaxing. On the either side of the aft cockpit, two large side gates enable easy boarding access.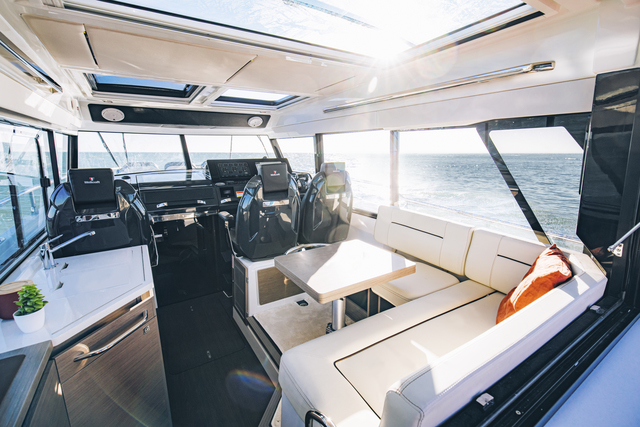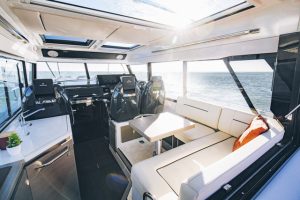 One noteworthy feature of the Wellcraft 355 is the connection between the wheelhouse and the aft cockpit: simply open the top-hinged window and entrance door and feel the outside getting inside. Find the real luxury feeling of the Wellcraft 355 stepping down in the spacious front cabin with a full[1]size bed and ensuite bathroom with separate shower. Overall, you may sleep up to four people onboard!

Discover more about the new Wellcraft 355 on www.wellcraft.com/wellcraft355

best boat, best boat models, best boat trailer, best power boat, best used boats, boat accessories, boat buyers guide, boat guide, boat lifestyle, boat Lifestyle Magazine, boat parts, boat rentals, boat rentals near me, boat reviews, boat touring, boat traveler, boat vacation, boating Canada, go boating, go boating Canada, how to choose a boat, new boat products, new boats for 2022, top boat models, top boats, top power boats best boat, best boat models, best boat trailer, best power boat, best used boats, boat accessories, boat buyers guide, boat guide, boat lifestyle, boat Lifestyle Magazine, boat parts, boat rentals, boat rentals near me, boat reviews, boat touring, boat traveler, boat vacation, boating Canada, go boating, go boating Canada, how to choose a boat, new boat products, new boats for 2022, top boat models, top boats, top power boats